There are predators, and then there are apex predators. In whatever environment they may prowl, the hunters at the very top of the food chain are big, fast, agile, and armed with sharp claws or teeth. And in the world of offshore fishing boats, the Twin Vee 40 GFX center console is the final link in this chain.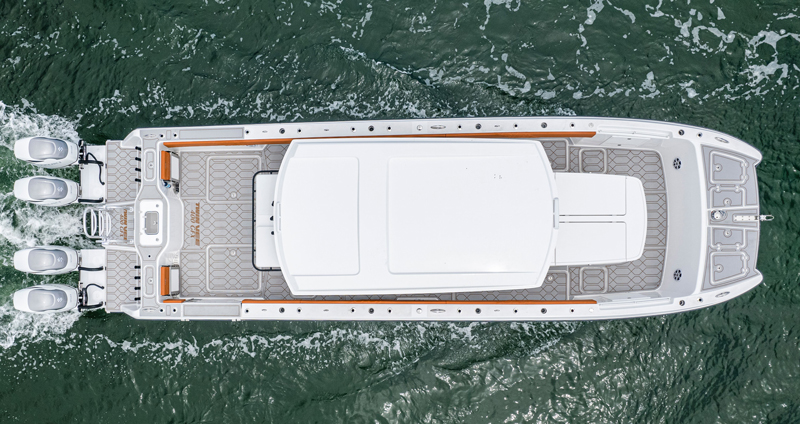 Size Matters
With 40 feet of LOA and 12 feet of beam, as you'd expect, the boat has an extraordinary amount of deck space both fore and aft. There's also plenty of room to fish your way right around the console and forward console double-coffin box. Yes, this boat's so big the coffin box is a double-wide (and also does double duty as a mega-lounger, of course), with 118 gallons of capacity per side. And while it would take an utterly epic fishing trip to fill both sides up, if you do so you'll barely be denting this boat's fish-hauling abilities because the twin in-deck fishboxes hold another 175 gallons each. That's a total of 586 gallons of fish-stowing capacity — you could land a dozen each of tuna, mahi-mahi, and wahoo, toss in a few swordfish, and then add in a 10-man limit of tilefish, and never even coming close to running out of space to ice them down.
Multispecies hauls like that require a predatorial platform that's equipped to fish in multiple fashions, something that's not a problem on this boat. It's got all the accouterments that are on par for a 40-foot fishing machine, like twin 45-gallon livewells in the transom (fed by Hooker variable-speed pumps), a massive tackle and rigging station in the back of the aft leaning post, 20 flush-mount rodholders in the gunwales plus eight rocket launchers on the pipework and 10 more at the transom, fresh and raw water washdowns, and so on and so forth. But twin Vee also rigs this boat out with a lot of unexpected features that are ideal for applying diverse tactics. The electric reel outlets you might want for winching up those tilefish, for example, are present and accounted for. Or the underwater LEDs and the T-top floodlight bar you might like when you spend the night swordfishing. Heck, transom-mounted tuna tubes are even an option, as are dual 22-inch MFDs at the helm.
Ready to Pounce
As for speed and agility, rigged with quadruple Suzuki DF350A outboards you can easily cruise for the blue water at speeds in the mid-40s. Bump the throttles up to a fast cruise and you'll go on the attack at around 50, and when you firewall the throttles, bust past the 60-mph mark. You say you want to fish the far side of the Gulf Stream, or head for the islands? Cruising at 4000 rpm and 40 mph the 40 GFX Center Console gets an impressive 0.9 mpg, providing a range of over 600 miles. If you can stand to pull the throttles back even more and cruise in the low 20s, range stretches to a rather amazing 800-plus miles — you could cruise all the way from Miami to Maine with just one stop for fuel in the Carolinas.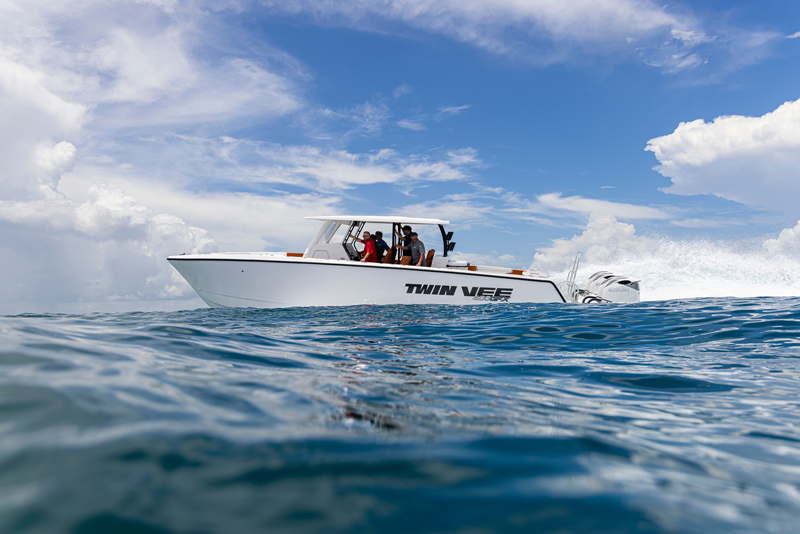 Part of this speed and efficiency comes from the powercat design, which often out-performs monohulls of the same size and power. But the way this boat is built is also partially responsible. Twin Vee vacuum-infuses the fiberglass parts for the 40 GFX Center Console, while reinforcing critical areas with carbon fiber to keep strength at a maximum while also minimizing weight. That results in a displacement tipping the scales at just 14,500 pounds, significantly less than some competitors of similar dimensions.
Atypical Pinnacle
There are a number of big feisty cats these days, including several at or over the 40-foot mark, but the Twin Vee has a number of features not often seen among its competition. For starters, this boat takes its fishing a bit more seriously than many others. Rather than design in a monster console cabin — which can reduce fishability by eating into deck space — it keeps the console simple and svelte and utilizes the forward section for those gigantic fishboxes rather than belowdecks berth space. Also note the absence of additional bow-cluttering seating and (God forbid) frou-frou junk like electric dinette tables and wet bars. On top of that the boat has second-row seating, something not commonly seen until you jump up to a larger size class. And finally, we have to circle back to that extraordinary range. Very few center console outboard boats can even come close to it at displacement speeds, much less while cruising at over 20 mph.
Is the Twin Vee 40 GFX Center Console the king of the jungle? We'll leave that to you to decide. But as for its place in the food chain, there can be no debate — this carnivore sits at the top.
Twin Vee 40 GFX Specifications
LOA – 40'0"
Beam – 12'0"
Displacement – 14,500 lbs.
Draft (hull) – 2'3"
Transom Deadrise – NA
Fuel Capacity – 750 gal.
Max. Power – 1600 hp