The Mid-Atlantic region boasts a wide variety of fishing opportunities that are sure to satisfy any angler's addiction, whether you hope to catch a croaker or bag a bluefish. But sometimes the right spot can be tough to find, especially for beginner anglers who haven't spent years searching out new hotspots. So, we've compiled a list of some of the best fishing piers and bridges for anglers of all skill levels, all of which meet some basic criteria. The first is accessibility, which means they are a short distance from parking and provide plenty of room to fish. Next, we took basic amenities into account. Then we made sure they were all beginner friendly. The next time you want to wet a line, consider giving one of these spots a shot (listed from north to south).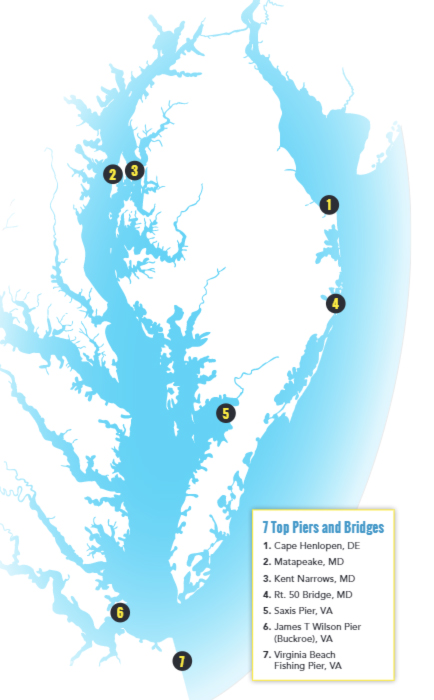 Cape Henlopen, DE - With a quarter-mile pier open 24/7 year-round, and nestled right at the mouth of the Delaware Bay, Cape Henlopen provides anglers with the opportunity to hook into monster bluefish, stripers, red drum, black drum, flounder, rays, spot, and croaker. Cape Henlopen State Park offers bay, ocean, and pier fishing. Fishing cut bait (mullet, spot, or bunker) will do the trick for bluefish, striper, rays, and drum. Spot and croaker will accept Chesapeake Sabiki rigs with Fishbites, squid, bloodworms, or shrimp. If you don't have the patience to let bait sit, bluefish and striper will also violently attack jerk-baits and spoons. Flounder will hit live minnows or Gulp! Swimming mullet fished on the bottom. Visit destateparks.com for information on passes, tags, and fees. Tip: If bluefish are cutting you off, consider tying on a wire leader.
Matapeake, MD - The pier at Matapeake juts out into the Chesapeake Bay just south of the Bay Bridge, and offers 650 feet of lighted, 24-hour fishing access. The most common catches are white perch, rockfish, spot, croaker, and cownose rays, and when salinity levels are on the low side blue and channel catfish may also be in the mix. There are also on-site picnic areas with grills, restrooms, and plenty of parking. Note: a small fee is required with "pay and display" machines at the parking lot. Tip: Try dropping bottom rigs with bloodworms or Chesapeake Sabikis tipped with Fishbites inside of the cove created by the pier and breakwater, instead of casting out into the Bay. Most of the fish in there will be small but it's a great way to catch fresh spot for bait, then turn around and heave it into the Bay for larger fish.
Kent Narrows, MD - Kent Narrows provides shore anglers with one of the very best opportunities to catch stripers from a pier in the Middle Bay. This spot is easily accessible since the pier is five feet from the parking lot on the west side of the narrows. The most common tactic for fishing here is fishing small high low rigs or Sabiki rigs tipped with fish bites or shrimp for spot and white perch, and the spot can then be used for live-lining. The striper bite often picks up around sunset, especially when there is current moving through, and the best way to target them is casting small swimbaits and soft plastic jerk baits rigged on jig heads or throwing two- to four-ounce inline weights (depending on the current, which can get very strong here) with leader and a bucktail teaser hook.  Tip: Cast parallel to the shadow cast by the bridge lights at night.
Rt. 50 Bridge, MD - The next time you leave for a vacation to OCMD, don't leave your rod at home! The Rt. 50 bridge offers phenomenal fishing for a wide variety of species including striper, tog, spot, flounder, stingray, and bluefish. Even sheepshead and red drum show up here from time to time. The best way to fill a bucket with live spot to use for bait is to use a Chesapeake Sabiki (tipped with shrimp Fishbites of course) dropped near the pilings. Inevitably, small sea bass will outnumber the number of spot that you hook into. That being said, it is rare to catch a keeper sea bass here as the larger sea bass tend to congregate outside the inlet, but the small ones still put a little bend in your rod while you search for spot. When it comes to bluefish and striper, you will find massive schools of bait getting churned up by feeding fish at early morning or sunset. The best way to target these fish is to use a paddle tail swimbait or straight tail bait like a BKD or fluke on a jig head, Gotcha plugs, or cut up the spot you catch and use them for bait. Flounder are another fun species to target here, and it is impossible to beat a bucktail or a Carolina rig with Gulp! Swimming Mullet (hot colors are white, chartreuse, and nuclear chicken). If you prefer fishing bait, chunks of cut bunker, mullet, or spot on a bottom rig will result in rays, stripers, bluefish, and the occasional drum. The current is always ripping here so make sure to use heavy enough sinkers to maintain bottom contact (same goes for jigs when flounder fishing). Tip: Bring a pier drop net, because if you do connect with a big fish, the net will be essential to land it.
Saxis Pier, VA - The public fishing pier at Saxis extends 200 feet out into the harbor, and you can find just about any salty species that swims in the Bay here: bluefish, rockfish, speckled trout, croaker, and redfish are all possibilities. For a real adventure try some night fishing, because the pier is lighted and open 24 hours a day. This pier is also handicap accessible. Tip: These waters are chock full of blue crabs, and they're a favorite prey of the fish. Try baiting up with peeler or soft crab to get fast bites.
James T Wilson Pier (Buckroe), VA - This 700-plus-foot pier offers anglers a shot at red drum, speckled trout, weakfish, bluefish, striper, flounder, Spanish mackerel, croaker, spot, small sharks, stingrays, and even at hooking into a cobia. The pier features a small bait shop. Cut bait and Fishbites on high low rigs are the preferred baits and smaller hooks or Sabiki rigs with Fishbites or bloodworms will yield spot and croaker. If you catch spot, throw it on a circle hook and toss it back out there. Live bait is your best bet at hooking into the monster cobia that shows up in the summer. Note: Parking is limited and there is a small fee to fish from the pier. Tip: Experiment by using a high low rig with two different baits, then stick with whichever one gets the most hits.
Virginia Beach Fishing Pier, VA - The Virginia Beach fishing pier has all the amenities one could ask for including a bait and tackle shop, rod rentals, and restrooms. Another plus is that there is no fishing license required on the pier. The pier offers fishing for kingfish (roundhead), spot, croaker, Spanish mackerel, bluefish, sharks, flounder, and red drum. Sabiki rigs or small hooks on high low rigs will yield spot, kingfish, and croaker. Cut bait on a bottom rig will catch bluefish, sharks, rays, and red drum. Gotcha plugs and spoons will work for bluefish and mackerel. There is a small fee to enter the pier. Tip: There is a two rod per person rule, so bring a small rod to catch bait and then toss it out fresh on your big rod.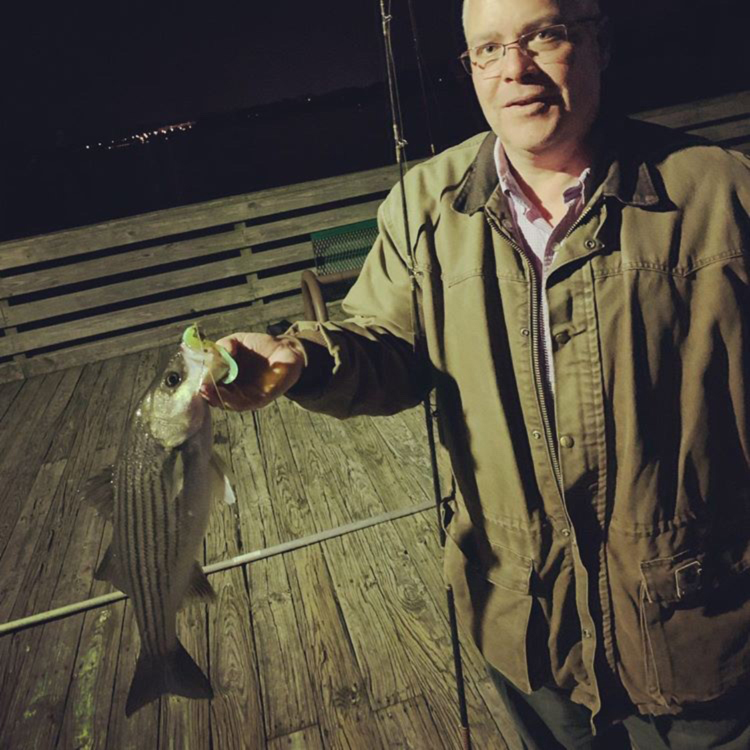 There are many other piers and bridges in our region which could easily have made this list — Point Lookout, Ocean View, and the James River Bridge all jump to mind — as well as plenty of beaches and shorelines offering public access and a hot bite. But we can't cover them all in one breath and this list should give beginner saltwater anglers a solid foundation of starting points he or she can check out. So grab the rods, load up the cooler, and get ready to FISH!
Fishing Piers on Hold
Two awesome fishing hotspots that normally might have made this list are currently closed to the public. The first is the Bill Burton Fishing Pier, the remnants of the old Rt. 50 bridge in Cambridge, MD, which has been closed to the public since the winter for structural evaluation. The DNR currently says they're awaiting a report from an engineering firm before deciding whether and/or when the pier can be reopened. This spot has long been a favorite for catching white perch, spot, rockfish, catfish, and for crabbing as well. We'll pass on more info as soon as it becomes available.
The Sea Gull Fishing Pier, jutting out from the first island of the Chesapeake Bay Bridge-Tunnel at the mouth of the Bay, was another top-tier fishing pier in the region which gave anglers a shot at virtually every salty species swimming in the Mid-Atlantic. It was closed in 2017 as a result of tunnel construction with a reopening originally scheduled for some time in 2022. However, construction has been slow and the authorities are now saying the pier should tentatively reopen in 2024.
-By Ian Rubin
Sign up here to get the weekly FishTalk Chesapeake Bay and Mid-Atlantic fishing reports in your email inbox, every Friday by noon.