You want a brand-new center console fishing boat, it has to be big enough to take the entire family out casting, you want a turn-key rig right out of the box, and it has to cost under $30K including a motor and a trailer? Hah! Good joke. Modern day boat pricing is about as funny as a heart attack, because the sticker shock you're in for could lead to palpitations. There's at least one exception, however: the Bayliner Element F21.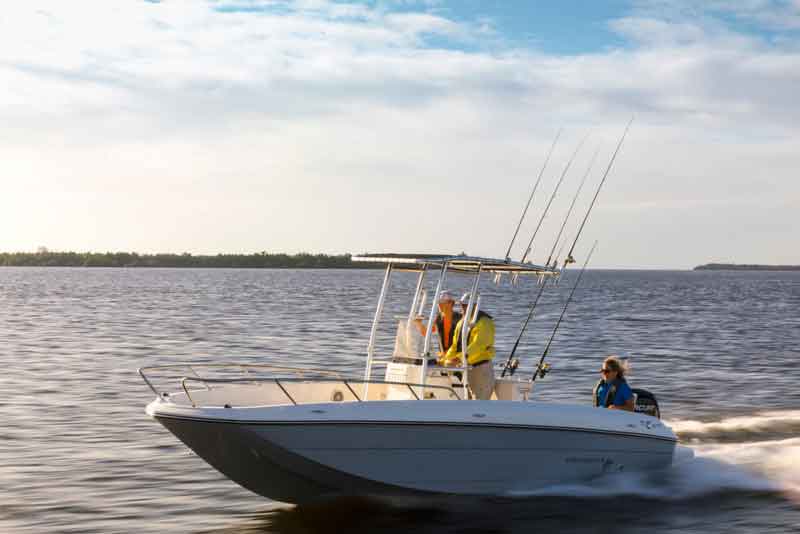 You may remember that last year we included the Element F16 in our round-up of 10 top center console fishing boats under $20,000. But that model's just not large enough to take out more than a couple people. Up-size the concept to the F21, however, and you get a maximum capacity plate that reads 10 and real-world fishability for four or five people.
The F21 actually lists at a bottom-line $27,339, but that price doesn't include a few items we'd consider must-haves, like a T-top with rodholders, a fishfinder, and a VHF radio with antenna. Add all this stuff and you'll still be ready to fish for under $30,000, and where you cast your lines is limitless thanks to the included tandem axel galvanized trailer with brakes and a swing-away tongue. More importantly, the other basics are all present and accounted for: a cooler under the flip-back seat (upgrade to the leaning post and you get four rocket launchers), a livewell in the aft casting deck (a second well under the forward console seat is optional), three vertical holders built into each side of the console, and under-gunwale rodracks.
We need to point out that this boat probably won't be a dedicated troller's first choice since it doesn't have flush gunwale mounts, but this is a conscious engineering decision on Bayliner's part. The gunwales are kept uber-thin, to gain as much interior volume as possible. And yes, you will spot some cost-cutting measures, like hatches that lean open on a strap instead of a strut, the use of plastic cupholders, and the use of rail-mount rodholders on the T-top. Still, all things considered these don't amount to a high price to pay, in order to pay such a low price for a brand-spanking-new boat.
With the stock Mercury 115 EFI FourStroke outboard, cruising will be mellow in the low- to mid-20s, with a top-end reaching into the 30s. If you're willing to up the ante to a 150, cruise jumps into the low-30s and top-end breaks 40-mph. It's a fair bet that many people will want the additional power and speed, but truth be told, just how often do you really want to cruise a 21-footer at 30-plus-mph anyway? Added bonus to going with the 115: you'll only be burning four or five gallons per hour at cruise, as compared to seven or eight with the 150. So, is more power really more better? Your call.
Don't forget that the F21 has Bayliner's M-hull hull design. This makes for an incredibly stable platform, much more stable than an average deep-V. It's also quite efficient and easy to plane, which is one of the reasons the boat can get by with a relatively small powerplant. On the flip side, you won't want to go blasting from Smith Point to Smith Island at full-tilt when there's a steep chop on the water.
If you want a no-frills fishboat that delivers the most size for the least cost, the Element F21 should definitely make the short-list – and that's no joke.
Bayliner Element F21 Specifications:
LOA – 20'8"
Beam – 7'9"
Displacement – 2,645 lbs.
Draft (hull) – 1'4"
Transom Deadrise – 21 degrees
Fuel Capacity – 44 gal.
Max. Power – 150 hp
Area Dealers – Riverside Marine, Essex, MD, (410) 686-1500