You've filled the cooler on your 2360 Bay Ranger with stripers, but there's a redfish bite 10 miles to the south and the run will be a serious pain in the butt, thanks to a 20-knot breeze. In bays like the Chesapeake, windy days make for a short, tight, pound-your-teeth-out type of chop. Even better, in most 23' boats such conditions also make for a soaking spray and gear-breaking vibrations. Are you going to wimp out and head for the dock, or will you make the haul and mine those far-off grass-beds for red drum? It's an easy choice with the 2360 underfoot—but you'll kindly tell everyone to sit down, hold on, and shut up before you nail the throttle.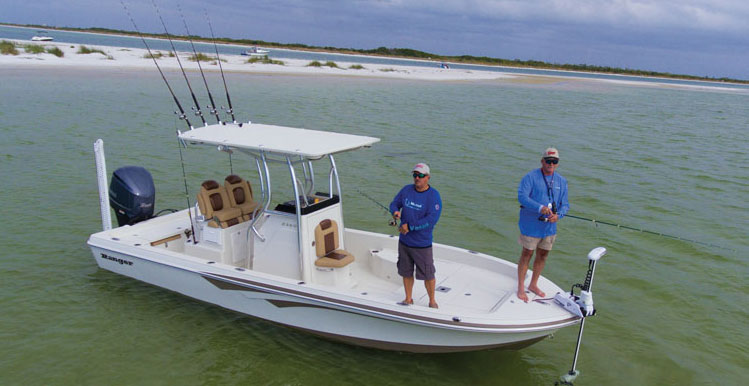 Open her up and this boat maxes-out at close to 50-mph with a Yamaha F300 on the transom. That's almost as much speed as you'll make when towing this rig down the interstate. Speaking of towing: the Bay Ranger comes with a custom-fitted trailer that's like no other. Ranger builds all of their aluminum trailers in-house, with oil-filled bearings (read: 30,000 miles without maintenance), stainless-steel fenders, and LED lights.
Of course, you probably care more about how the boat itself is constructed. For an obvious example of how the Ranger is put together, just glance down at a deck hatch. Note how a single, long hinge runs along the entire hatch. Stresses are evenly distributed down the entire length, so bent metal and ripped fiberglass will never be an issue. Now check the underside of the hatch. Yup, it's fully finished, thanks to RTM molding. The same process also ensures an optimal resin-to-fiberglass ratio, so the hatch is light while maintaining maximum strength. Go ahead and jump up and down on one, to prove it to yourself. One beef with the hatches: the one at the anchor locker doesn't have a gas-assist strut or a strap to secure it when open, so it smacks the deck and could chip gel coat if opened carelessly.
Ranger has a unique way of chemically bonding multiple layers of fiberglass, called Pultrusion, which allows them to make glass denser and thicker than traditionally possible. They use it to construct the 2360 Bay Ranger transom, and pultruded plates are used for hardware backing throughout the boat. All cavities are pressure-injected with foam, the switch panel is rubberized and watertight, and coring is high-density urethane. Put it all together and you have a boat that feels like a seamless one-piece machine underfoot when running through the waves—no BS necessary.
Interior design and engineering is also top-notch, and once again there's proof available at a glance. Start with the folding seats in the aft casting deck. Opened up, it's a comfortable cruising spot for two passengers. Flipped down, it becomes part of the deck and is completely solid underfoot. Now stroll up to the bow of the boat and check out the stowage compartment in front of the console. It's deep and has a recess molded into it, which securely holds a five-gallon bucket. Drop your cast net into your bucket, put it in this compartment, and you'll be ready to throw at a moment's notice when that school of mullet or bunker suddenly surfaces.
Some of the other standard fishing features on the Bay Ranger include a 30-gallon livewell in the leaning post, a nine-foot locking rodbox, a 240-qt. fishbox, eight gunwale and transom rodholders, a raw water washdown, and trolling motor pre-wiring. Of course, you expect to find stuff like this on a fully-rigged bay boat. And you also expect the red-hot top-end performance. But after fishing from the Bay Ranger for a while you'll realize there's one more unexpected bonus: You can chop through that chop without getting beaten and soaked. Good thing—who knows how long that redfish bite is going to last?
Quick Facts:
LOA – 23'5"
Beam – 8'6"
Displacement – 2,700 lbs
Draft – 1'4"
Transom deadrise – 20 degrees
Fuel Capacity – 90 gal
Water capacity – 0 gal.
Max HP – 300
Visit Ranger Boats.