Where the Middle Bay ends and the Lower Bay begins depends on one's point of view. Although I worked in Maryland for a decade while supporting management of dredged material for the Port of Baltimore, it always seemed a bit odd to refer to Southern Maryland waters as the Lower Bay. Geographically, Virginia waters are the Lower Bay. But, when you're looking down from above the Bay Bridge, anything below Cedar Point is a long way south, and thus the Lower Bay from a certain perspective. From a fishing perspective, what's more important are the current interactions around Cedar Point that extend a few miles southward, especially in the fall as schools of bait fish move south, and the many fishing opportunities to be found in the vicinity.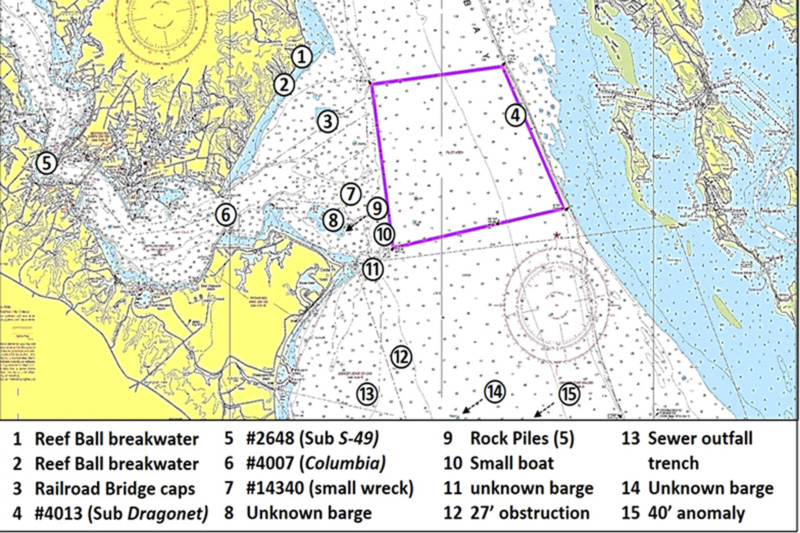 This area is where I caught my first monster redfish during a Walleye Pete walk-on charter. Southern Maryland is a long haul from Northern Virginia, and a lot of effort. So, a charter trip here and there is a welcome break. Plus, each trip is a learning opportunity. Going out with a charter captain or guide is a great way to gain local knowledge and fishing insights, and also how to fish safely in skinny waters since many fishing spots are also hazards to navigation. But for starters, charted wrecks and obstructions around Cedar Point provide substantial fishing opportunities.
There are two locations along the Chesapeake Ranch Estates where large reef balls were poured and deployed by residents to protect the steep cliffs and the homes above them. Homeowners are not able to install hard shoreline structures to protect the sandstone cliffs, which are inhabited by a Tiger Beetle species that is endangered in Maryland. Residents for years were therefore prevented from saving their homes from the progressive erosion of the cliffs and subsequent collapse. About 15 years ago, homeowners secured a permit to install reef ball breakwaters. There are two locations where triple lines of large reef balls were installed (sites one and two shown on the chart). When conditions favor striped bass foraging along shorelines, these are spots to check.
The Little Cove Point Fish Haven, site three, is a short distance away. There are substantial shell piles and artificial reef structures made from materials of opportunity, especially in the southeast quadrant. This fish haven is worth checking out especially when wind conditions make waters farther out in the Bay too rough.
Site four is the demolished submarine Dragonet, Record Number 4013 in the Automated Wreck and Obstruction Information System (AWOIS). The sub was sunk as part of naval warfare research and development after World War Two. What's left of the sub is too deep to provide reliable reef fishing opportunities in the Bay environment. Also very deep is the wreck of S-49 (AWOIS #2648), a pre-war submarine in the Patuxent River west of Point Patience, shown as site five. Another wreck that is more often passed over than fished is the barge Columbia (AWOIS #4007), site six. Yet there are sometimes stripers there, so check the fishfinder when running by it.

AWOIS #14340, site seven is a small, unidentified wreck. The wreckage has the appearance of a small recreational boat in an image screenshot taken from the Bathymetric Data Viewer (BDV). Site eight is a rectangular-shaped barge-like object inside the fish haven boundary. There is no record of a barge deployment in the fish haven, nor is there an AWOIS or Electronic Navigation Chart (ENC) wreck recorded at the site. So, this is either an undocumented wreck or undocumented barge deployment. The BVD image of this feature looks free of protrusions. Five linear clusters of granite were deposited at the fish haven at site nine. But due to the error associated with Loran-C that was used at the time of deployment, the clusters straddle the permitted reef boundary, mostly on the outside. For the full fish haven layout, see "Bridges Under Troubled Waters" (Young, 2018). Site 10 is another small wreck, with an image profile resembling a recreational boat.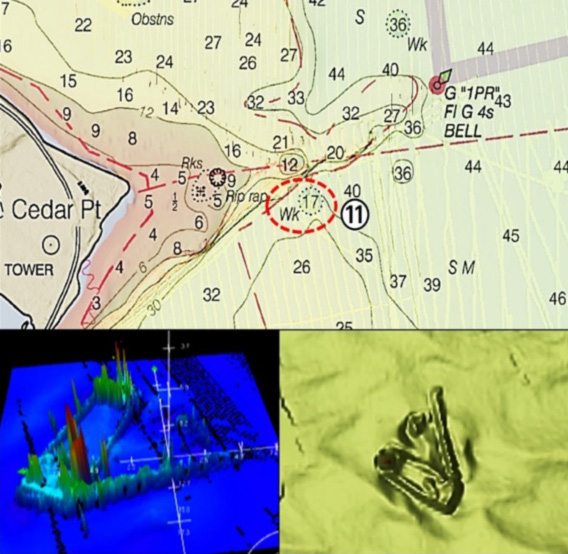 A charted but unidentified barge is located at site 11. There is an elongated object that extends at about a 45-degree angle from one corner of the barge. It seems too long to be a spud. There's another object nearby. Perhaps this was cargo. Regardless, it's a substantial structure. When the ruins are pressured by multiple boats, try the barge. Least depth is 17 feet, and most fishers head towards the visible ruins.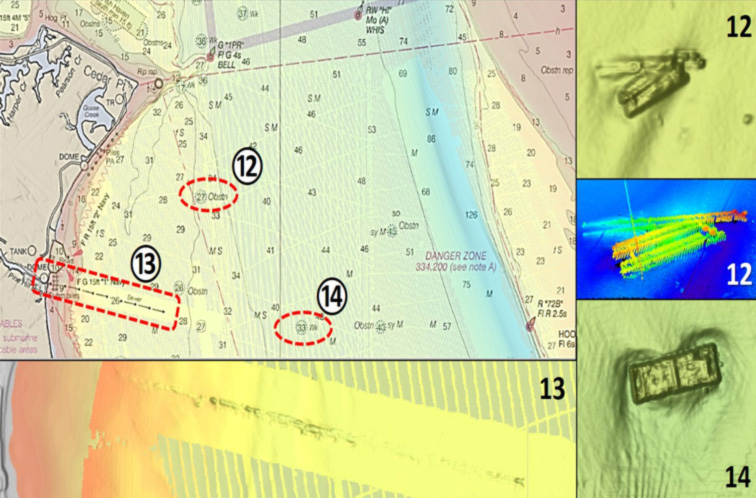 There is another substantial structure at site 12. The narrow, elongated profile of three unidentified objects shown in a 3-D color multibeam sonar image resembles multiple causeways. At site 13, look for a trench along the alignment of a sewer discharge pipe. An unknown barge is located at site 14. The barge appears intact in the BVD imagery and is about 100 by 25 feet. Both images suggest that this is a deck barge with bulwarks to contain deck cargo. The barge appears to be intact.
Although the lighthouse ruins (diagramed in "Bridges Under Troubled Waters") are the primary sportfishing draw, the fish havens, wrecks, and shoreline structures offer a range of light tackle fishing opportunities. If one isn't producing, check the others.
See our Chesapeake Bay Fishing Reefs Guide to get the lowdown on other mad-made wreck and reef hotspots in the Bay, plus a few in the ocean off the DelMarVa coast.
Author Wayne Young is the author of "Bridges Under Troubled Waters: Upper Chesapeake and Tidal Potomac Fishing Reefs," and "Chesapeake Bay Fishing Reefs, Voyage of Rediscovery." Both are available at Amazon, and you can find his Facebook page at Chesapeake Bay Fishing Reefs. Look for his new books, "Phantoms of the Lower Bay" and "Hook, Line, and Slinker."