Lower Chesapeake Bay Fishing Report, April 9 Update:
The Tackle Box checked in this week to let us know that from Port Tobacco to the Wilson Bridge there are catfish of merit, including some in the 50-pound range. Abel's Wharf in Breton Bay and the public fishing area behind Ryken High School are both producing healthy catches of channel cats as well. With stripers shut down anglers have been putting a lot of pressure on the cats, but their numbers can take it. Cut gizzard shad, cut white perch, chicken, livers and fresh-cut menhaden will all suffice. Reports are identical from the Rappahannock from Tappahannock up to above Port Royal, and in the James from Hopewell to Dutch Gap. The Tackle Box also let us know that while there are rumors of white perch in the creeks, the bite hasn't been exceptional as of yet and we're expecting them to pick up them.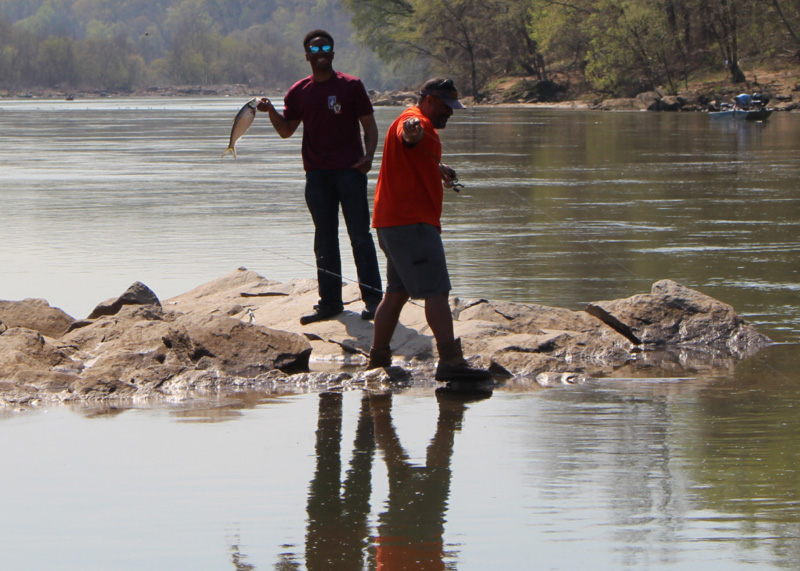 Shad runs have kicked into high gear from the Potomac south and although last week's rains had water levels up over the weekend, in most areas it had settled out enough that water quality was good and more than suitable for fishing. Contributor Eric Packard spent several days on the Potomac in DC this week casting tandem rigs with small spoons and shad darts (with a split shot added for weight), catching hickories by the dozens. Silver, gold, and chartreuse spoons with a split shot added a few feet up the line (and a 10-count allowed for sinking) all produced. Angler in Chief Lenny Rudow also visited the shoreline near Fletcher's, and reported that the rod was bent almost continually. Reports from the Rappahannock in the Fredericksburg area and the James near Richmond are ranging from strong to very strong, again with catches measured by the dozens. If you're into shad fishing, get out there NOW! And if you're interested in this fishery but need some intel on rigs, tactics, and choosing hotspots, check out this video Packard and Rudow shot just this week:
---
Lower Chesapeake Bay Fishing Report, April 2 Update:
Anglers who want a strong tug on their line are turning to targeting blue catfish in increasing numbers. The Potomac, Rappahannock, and James are all chock-full of them. Guys who hit the waters this week enjoyed steady catches, with fish varying greatly in size. While there are plenty of little guys, anglers have also been hooking up on monster cats out of nowhere, and one reader let us know he caught 12 blues in the three- to five-pound range, then suddenly one well over 30 pounds jumped on the line. They've been taking fresh-cut gizzard shad, menhaden, and chicken liver — the juicer the better!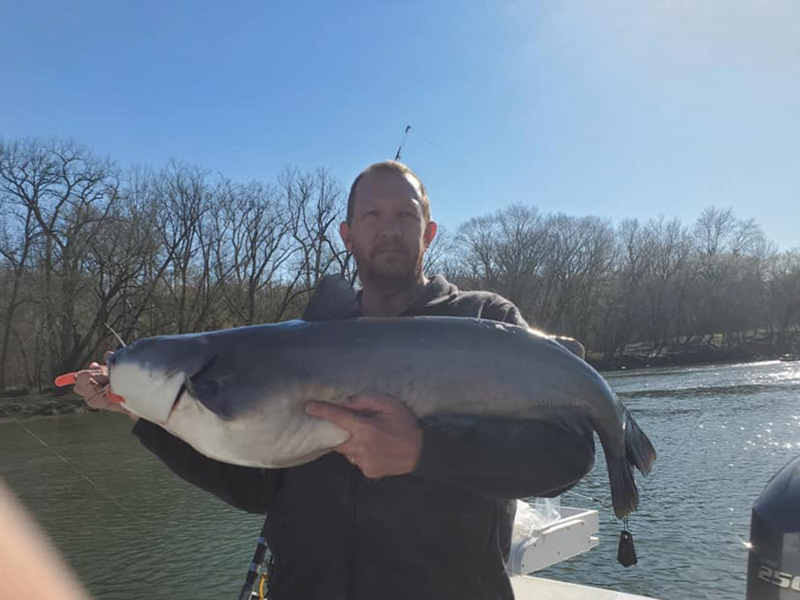 In the Rappahannock and the Potomac, shad have moved in. Reports from readers and contributor Erick Packard were of good bites on shad darts and small spoons. Within the past week we saw a strong uptick in their numbers and anticipate that more should be moving in with warmer weather, however, note that the heavy rainfalls mid-week could muck up the waters in some locations. Shad anglers may want to also carry along some catfish gear just in case muddy conditions require switching to Plan B this weekend.
The remnants of the perch run are still ongoing. While the run this year wasn't crazy, a slow and steady trickle is continuing for both whites and yellows. Both species will take bloodworms on a bottom rig, but in some areas grass shrimp on shad darts have proven more effective.