Lower Bay Fishing Reports
Lower Chesapeake Bay Fishing Report, July 30 Update:
Some more flounder reports have come in for the Lower Bay region, a development which we certainly hope to see continue. Point Lookout in Cornfield Harbor, the lower Rappahannock, and The Cell all got mentions for the flatfish with most on the small side but several keepers coming to the net.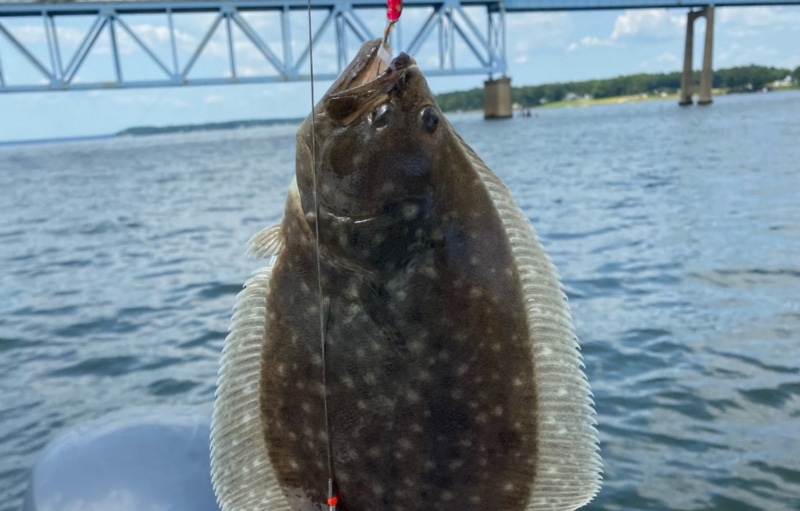 Some bull reds are wandering the Lower Bay and while we didn't hear of any specific red-hot bites, the Targets produced a few fish for readers soaking crab baits and/or tossing jigs. We also had our first report this season of someone finding them under working birds and breaking fish "south of the Target Ship and west of the Pocomoke." Report from the Targets also include cobia, and while chumming bunker with eels in the slick continues to be the top-producing tactic, we also heard from some successful sight-fishers this week. Smith Point and Windmill were also mentioned as productive zones for the cobia.
Spanish mackerel numbers are on the rise, as they continue heading north mixed in with snapper blues at times. Trolling spoons behind planers is the ticket, as usual, and spotting breaking fish is the number-one way to locate the very scattered concentrations of fish.
Anglers targeting bottom fish in the lower Potomac and Rappahannock are reporting mostly spot, but some croaker—including just-keeper size—are also in the mix. The best cooler we heard about had six croaker and a load of eating-sized spot. Fishing bloodworms, lugworms, and Fishbites on bottom rigs is the method of choice.
---
Lower Chesapeake Bay Fishing Report, July 22 Update:
Cobia have taken center stage in southern Maryland waters, in perfect time with the striped bass closure. The Tackle Box checked in to report that chummers using chum logs and cut alewife are setting up chum lines and scoring some seriously beautiful fish. Anglers using live eels set in the chum lines seem to be getting the most strikes. While the bite is good, cow nosed rays have been spoiling some good times, chomping up baits intended for cobia. This is a bummer but although the schools of rays are pesky, they are also an indicator that you're in the right area. Speaking of, the area from the Target Ship to Smith Point and down to the mouth of the Rappahannock has been the hottest zone for cobia anglers.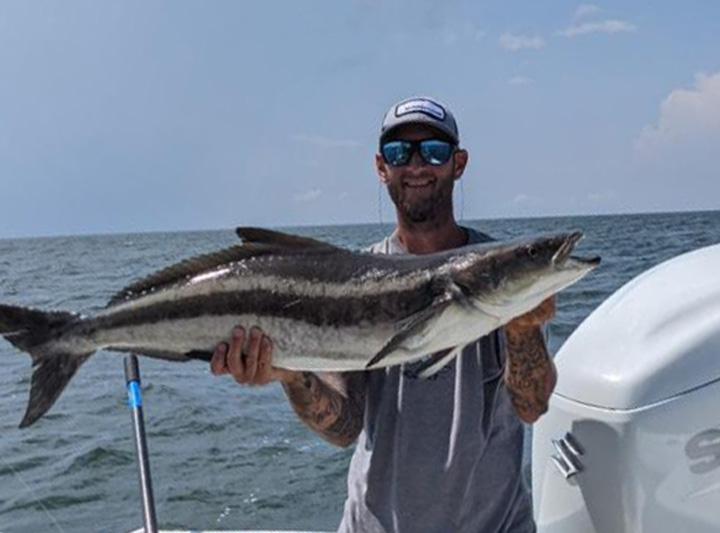 Sight fishers aren't running into the ray problem, and have also been scoring some whoppers this season, but windy conditions make sighting fish difficult some days. Trollers using big surgical eels are having some success as well, though we haven't heard as many reports of success from the trolling fleet as we have from the others. We've heard numerous reports that the fish are more plentiful and bigger than last season with few below the 40-inch minimum size.
Perch are in the rivers for lure casters along the shoreline, although the bite is in flux due to high water temps and stained water. The Tackle Box suggested looking for clean water free of nettles. They also mentioned that the creeks are not as productive for perch recently because tide flows have been poor and the nettles are thick. Sticking to deeper pockets of water to drop bottom rigs with bloodworms, lugworms, or Fishbites has been the go-to.
Spanish mackerel are producing occasional reports from trollers catching them, mixed in with blues. Blues have also been reported at the Targets. Spoons and other flashy indestructible metal things are the favorite.
Just-keeper croaker are popping up in the bottom fishing mix through the Lower Bay, but we can't point to any one spot as "hot." We heard of a few from the Rappahannock, a few from the Tangier/Pocomoke, and a few from the Piankatank, in the nine to 10 inch range.
---
Lower Chesapeake Bay Fishing Report, July 16 Update:
STRIPER ALERT: as of the publishing of this report on July 16th, striped bass fishing will be closed in Maryland waters — as it already in in Virginia and the Potomac — through the end of the month. This includes targeting them for catch and release fishing. We have received many reader requests for more detailed information about the closure, such as specific lures or tactics that may or may not be used, but we can't expand beyond the DNR's latest guidance and unfortunately have no further information on how the state will determine enforcement of the regulations. The best we can do is to suggest taking all reasonable measures to comply with the law while enjoying your pursuit of other species.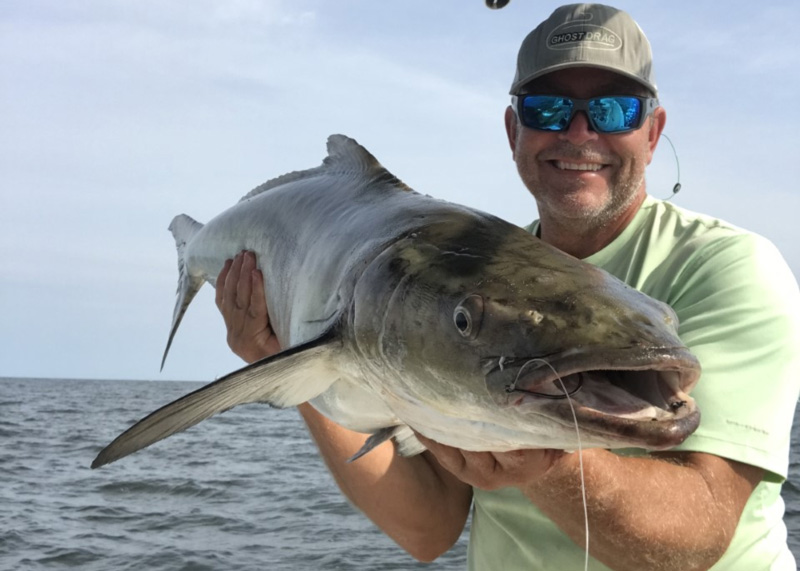 We heard about a lot of mixed results from the cobia hunters this week. Some caught a fish or two, a few caught more, and many others went home with a skunk or some bluefish in the box. Smith Point picked back up a bit, with a couple of readers reporting the best success with live eels on the bottom followed by bunker chunks. Those fishing bunker also caught some bluefish, and of course rays continue to be problematic. We heard multiple reports from boats that were absolutely annihilated by the rays this week. Additionally, the Tackle Box reported that the Mud Leads, below the Target Ship, and most anywhere in the Triangle have been holding cobia. They mentioned that there have been many boats out at a time in these spots, and recommended heading out before the fleet if possible. Trollers are also finding some cobia using surgical eel lures, which bluefish are also hitting. The Tackle Box heard of boats that caught a dozen or so blues between 18 and 25 inches this week.
We were excited to hear that more Spanish mackerel snuck up the Bay this week, too. Trolling for them is the best right now, although some anglers are reporting catching them on shiny tossed spoons. Number One Drones are a fan favorite for the Spanish Mackerel trollers, and preliminary reports are that those utilizing them are the ones getting great results.
Flounder reports are coming in, too: the Tackle Box had positive reports from Point Lookout Bar and at Cornfield Point in the Potomac. They suggested drifting with live minnows and said anglers are also catching with squid strips drifted near bottom. If you're after them, just be prepared to catch lots of little ones that have to be thrown back for every one of legal size.
Further south, the Cell popped up again this week as a good place to try for a variety of species, with cobia in the vicinity and spadefish on the structure. Readers report catching the cobia sight-casting, but windows of opportunity have been short due to the frequency of windy days. Spades have been biting tiny clam bits, fished in a clam chum line. Anchoring up directly over the structure has been a key to success.
Reports of spot were excellent this week, despite the bloodworm shortage. As the Tackle Box put it "if you can see water, you are in the presence of spot." Lugworms, FishBites, and shrimp are favorite subs for the bloodworms right now. A few croaker have been in the mix for bottom fishermen as well, mostly from the Rappahannock down, though more are throwbacks than keepers. Some flounder (mostly undersized) are also being caught by those fishing along ledges in 12 to 20 feet of water. Although perch have been finicky in the creeks, targeting them has been excellent in the rivers. A combination of lack of tidal flow, an abundance of nettles, and stained water seems to have sent a lot of perch to the cleaner water in the deeper river areas.
---
Lower Chesapeake Bay Fishing Report, July 9 Update:
Angler in Chief Lenny Rudow went on a cobia hunt early this week, with decent if unspectacular results. He says Monday fishing live eels on bottom in a chum slick in 22 feet of water northwest of the Target Ship was the ticket, with one 50-incher coming over the rail and some ray harassment on bunker chunks. Many of the boats at the ramp reported slow action off Smith Point, though a couple did hook up and one reported losing a "very big one" at the boat. The action was a bit better at Windmill Point with fish up to 50 inches reported, and we heard from three boats hitting the Target Ship but drawing a blank. Another boat reported catching three fish north of the Target Ship, all well over 40 inches (congrats, Spencer, David, and Joey!), all on live eels on bottom. Tuesday the AIC says he had a better bite with three hook-ups, one keeper lost at the boat, one throwback around 36 inches, and one just-legal fish. One of the nicer cobia did hit a bunker chunk but again rays were problematic and eels accounted for the other two fish. The Tackle Box notes that the rays are presenting a major hassle for those using bunker chunks, but there's still enough success to make it worth the effort for sure.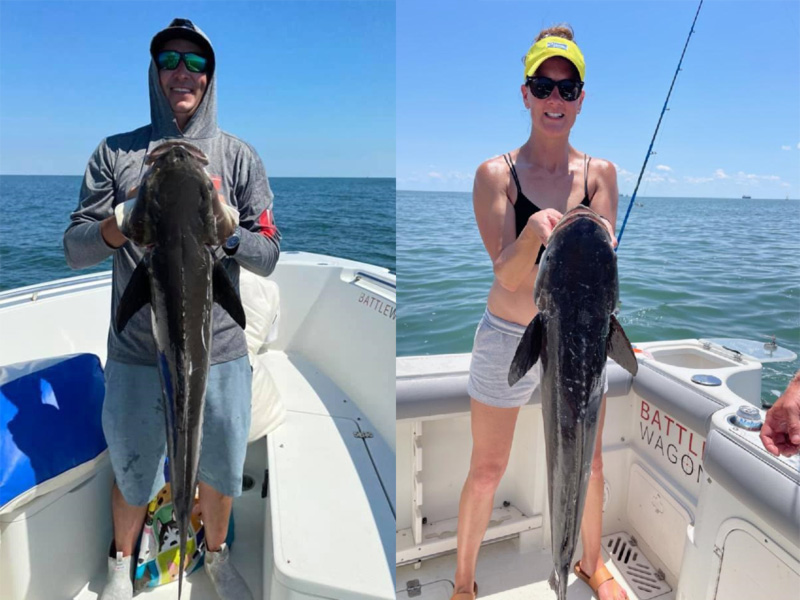 Bottom fishermen in the Rappahannock are reporting some croaker, spot, and perch action on bloodworms, including a few fish large enough to put in the box. We also heard from two readers who found Spanish mackerel in the main-stem Bay outside the mouth of the river, churning water briefly at times; one put four in the box and the other had a half-dozen. No word of blues from the trollers… although one cobia fisherman reported catching a blue better than four pounds on an eel — oops!
A couple readers checked in to report from The Cell early this week, before the wind moved in. There was a good cobia bite on fish to 50 inches (but most low-40-somethings) including some sight-casting. Those who dropped anchor and chummed clam bits also found lots of spadefish willing to bite. Many were on the small side but we did also get reports of nice-sized fish. Captain Cook of First Light Charters also visited The Cell this week, and confirmed excellent spadefish action.
Speck fishing in general seems to have slacked off a bit with the heat, but that doesn't mean you can't get 'em. Contributor Eric Packard found several nice ones up to 21 inches on an Electric Chicken paddle-tail fished on a half-ounce head, while casting to riprap in the lower reaches of the Potomac. Fishing early in the morning before the sun started beating down did the trick.
---
Lower Chesapeake Bay Fishing Report, July 2 Update:
The Tackle Box reports that the cobia bite was centered around Smith Point Light in recent days and when the weather has been good it wasn't uncommon for chummers and chunkers to raise a half dozen big fish. Unfortunately, the weather hasn't been good much of the time and lots of difficult conditions have made many recent days tough. There were cobia catches made all week using live eels, chunked alewife, and chum, and trollers are getting some too, but the south winds have made it particularly difficult for sight-casters to enjoy good action much of the time.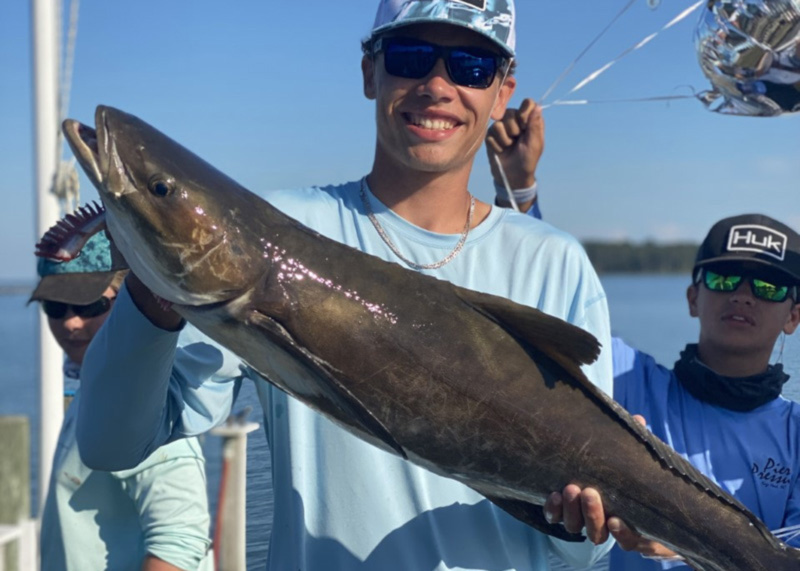 Reader reports of Lower Bay cobia fishing throughout the area are also getting better by the day, with boats enjoying catches up into the half-dozen range. Windmill Point and the mouth of the Rap, Smith Point, plus the Gwynn Island areas have all proved excellent starting points, with chummers reporting the best success on live eels fished in a slick of bunker. There are also reports of success coming from the Target Ship area, though contributor Eric Packard checked in after trolling red hoses behind planers there this week and had only a single solid pull-down that didn't come tight. Mixing spoons into the spread produced a handful of snapper blues.
The Tackle Box also notes that speckled trout are on both the western and eastern shore, for lure casters using bucktails, jigs or even swimming plugs. On a less positive note, however, bottom fisherman are having problems getting their bait at times because there are not enough bloodworms coming out of Maine. They're saying that the new imported "Lugworms" are a good substitute and are sold by weight, so a package produces a good amount of bait consistently instead of the hit or miss nature of a dozen bloods.