Middle Chesapeake Bay Fishing Report, May 14 Update:
Our favorite traditional hotspots are once again proving worthy of having their names in the books — Thomas Point, Bloody Point to below Poplar, Buoy 83, and the CP Buoy are all producing fish. While the trophy season has been slow overall, these places have proved the most reliable so far. Multiple, but not extraordinary, reports of keeper fish came in from all of them this week. Angler's Sports Center and Alltackle in Annapolis confirmed this, echoing that while the season hasn't been a hot one, these areas are your best shot right now. Angler's also mentioned that the channel edges are producing fish. Alltackle suggested trolling tandems or umbrellas and rigging up with whites and chartreuse. White has been dominating this season.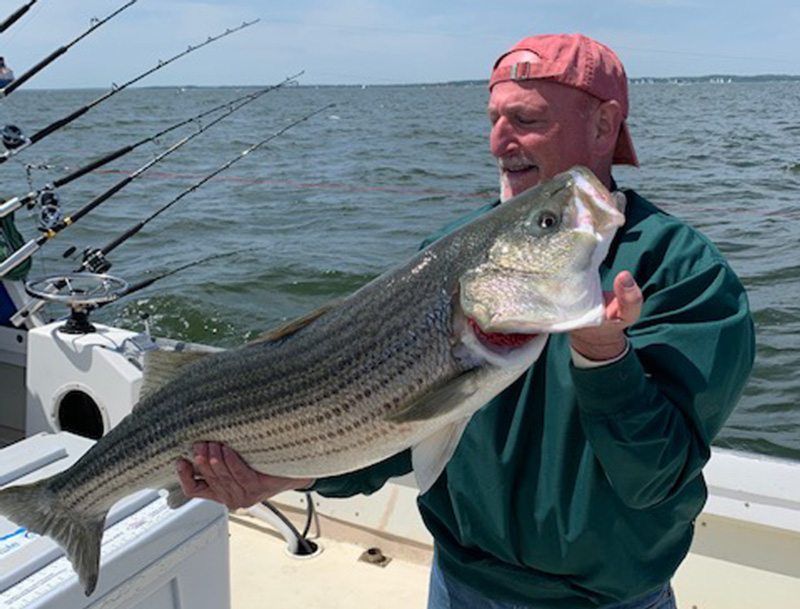 Undersized fish are around and waiting for the limit to drop. Our Angler-in-Chief hit up Thomas Point Light early in the week, where he found plenty of small fish willing to hit. The shallows around structure were also holding good numbers, and he found that five-inch white paddle tails were working best. The shallows produced some decent fish, as well as plenty that will still be throwbacks come summer.
Angler's Sports Center also let us know that white perch are now hanging out in the tribs, and are fine with grass shrimp on a bottom rig. Bloodworms are working as well, plus FishBites. Shad darts and other small jigs are a popular offering too. We also had a reader report of perch at Hackett's, along with some rockfish and blue cats.
For those who tried to tune in to Live With Lenny last night we apologize for the technical difficulties, evidently we broke the internets. The show has been rescheduled for next Wednesday evening at 5:00 p.m. when we'll have a striper season update and discuss targeting invasive species like snakeheads and blue cats with David Sikorski from the CCA.
---
Middle Chesapeake Bay Fishing Report, May 7 Update:
From the ship anchorage to the Thomas Point area was definitely a hot zone opening weekend, with many of the reports of success coming from that area in 35 to 45 feet of water. White tandems were stand-out baits. There were also some reader reports of success off Bloody Point, and in the deep water to the west-southwest of Poplar Island. Many anglers were complaining of thick jellies fouling their lures in this zone, so be sure to pull 'em often and keep them clean if you troll here — jellified lures do not catch fish.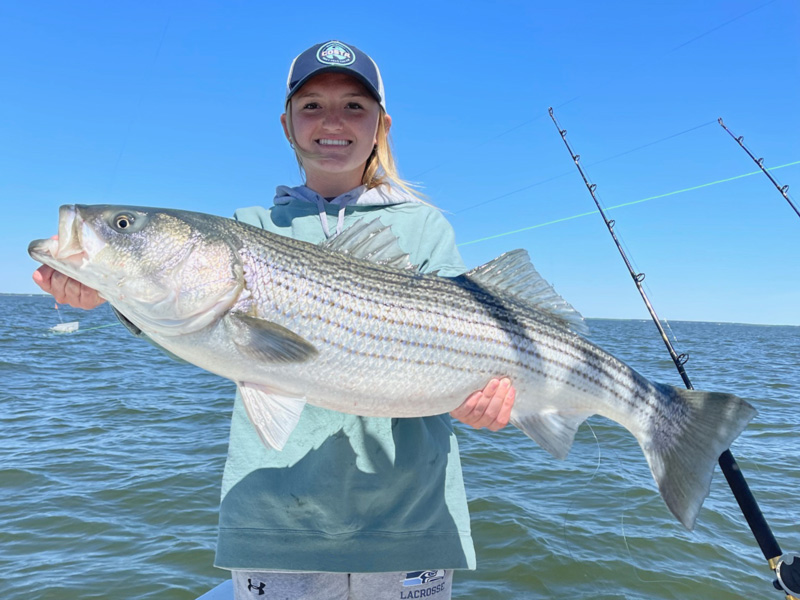 AIC Lenny Rudow said Sunday morning around 10:00 there was a fleet stretching from west of Bloody Point clear down to two or three miles south of Poplar, but he didn't see any bent rods and most anglers who did catch reported catching their fish very early or very late. He also noted that there are schoolies around, and tossing jigs to structure in four to 10 feet of water produced a handful of fish in the 16- to 25-inch class over the weekend and dozens mid-week at sunset. He also said that soaking bunker chunks near TPL in 28 feet of water produced some nice catfish. Mid-week reports also indicated an early and/or late bite with less midday action for most anglers. Alltackle in Annapolis confirmed this, adding that the CP Buoy and Hacketts produced some fish, and confirming that the bite around Thomas Point was better than most. They heard of a couple 40-plus inch fish this week, although they mentioned that the season is off to a slow start.
If you struck out on trophies last weekend during the Maryland Chesapeake Bay and Potomac River rockfish season openers, don't feel bad — you weren't alone, and not by a longshot. We ran an informal poll in multiple Facebook groups to find out the ratio of boats that came home with versus without fish (though we note that several anglers did report releasing trophy-sized fish, and for that folks, you have our kudos). After asking folks to report on the number of keepers they caught including skunk trips, waiting for the posts to remain up for 24 hours, and counting keeper fish only (multiple boats did report undersized fish), here are the results: 18 boats reported catching two or more trophies, 44 boats reported catching one trophy, and 113 boats reported a skunk in the box.