Middle Bay Fishing Reports
Middle Chesapeake Bay Fishing Report, July 30 Update:
Ready for the return to rockfish? Soon people, soon—August 1 is the date! Many Middle Bay anglers have turned to white perch to keep themselves busy through the closure, but even this has become a bit of a tough game at times. The perch seem to be shifting position according to the time of day, with the trib shallows, riprap, and piers producing mostly early and late for those casting Perch Pounders, Super Roosters, and similar lures. Mid-day, the fishing picks up in deeper sections of the rivers on areas of hard bottom, where Chesapeake Sabikis and bottom rigs with bloodworms, lugworms, or Fishbites are doing best. We had two readers report finding keeper sized croaker up to 10 inches in the Severn while perch fishing and one catching a half-dozen keepers from Eastern Bay, all on lugworms.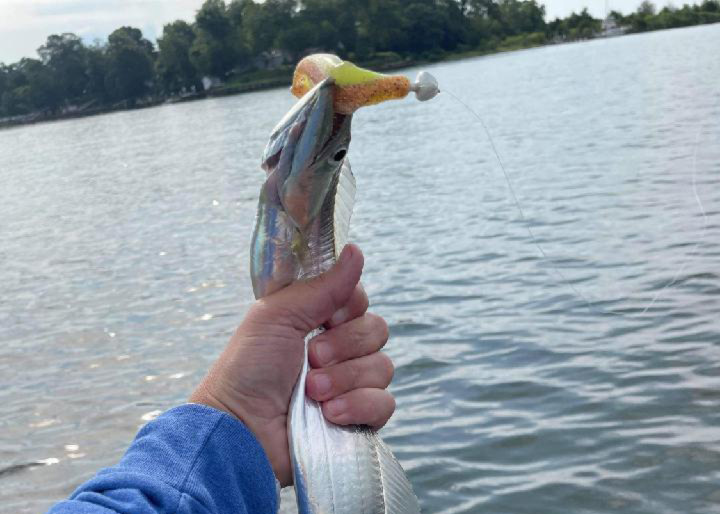 Cutlassfish? Yes, more cutlassfish! We had two more reports from the Patuxent this week, with electric chicken paddle-tails again doing the trick. Then contributor Eric Packard targeted them in the same waters and as we were putting this report together already had four in the boat. Paddletails and a small spinnerbait both took hits. We've also had reader reports from anglers picking them up in the Chesapeake Beach zone on spoons, while trolling for mackerel.
Multiple reports of Spanish mackerel as far up as the Choptank came in this week, with numbers improving as one moves south. Chesapeake Beach was mentioned by many as a good zone. The average catch was three to five fish, with some anglers finding a concentrated school here and there and building up stronger numbers (the best we had photo-confirmed was nine). This bite should only improve in the coming weeks. Snapper blues are also around and at times breaking water, but most are so small they're more of a nuisance than fodder for the cooler.
We said months ago that this could be the year of the specks, and for some anglers, this is a dream coming true. Several readers fishing the shallows reported solid catches this week from Poplar Island down through the Little Choptank (all on the east side). The average numbers weren't great (two to four fish) but we heard from more people who caught than not, and many of the fish are chunky specimens in the 20- to 22-inch range. Four-inch electric chicken paddle tails and white paddle tails of the same size remain top lure choices. Lots of accidental stripers were also in the mix and several folks said they encountered keeper-sized throwbacks while pursuing the specks. Angler's confirmed the reports and noted the Choptank as a hot zone as well.
---
Middle Chesapeake Bay Fishing Report, July 22 Update:
First off, the crazy catches: this week we heard of several more cutlassfish, one from the South, one from the Choptank, and multiples from the Patuxent. Contributor Eric Packard targeted them in specific in the Pax one morning and quickly found a pair of the critters willing to hit four-inch Electric Chicken paddle-tails on half-ounce leadheads cast to channel edges, before he moved on to target other species. This week also brought two reports of puppy drum in Mid-Bay waters, one small fish plus a 18.25-inch slot red (woohoo!). Angler's, Alltackle, and ITO echoed these reports, all mentioning that some of those wacky cutlass catches have popped up this week in the Middle Bay.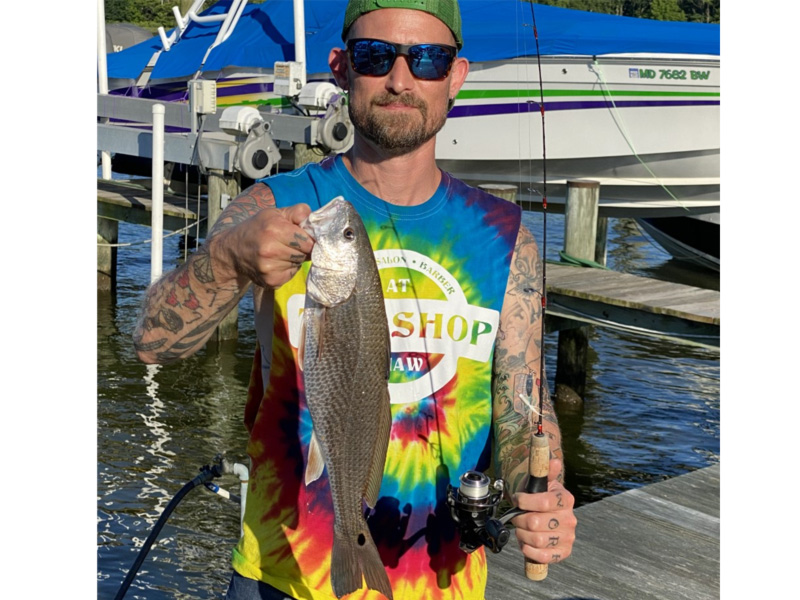 We heard from a number of anglers (six separate boats, actually) who went looking for specks from the Poplar Island area to the Little Choptank zone, unfortunately with mixed results. One had a single speckled trout, another had four in the box, and the others blanked (not including those pesky rockfish, which they did their best to stay away from but found prowling the shallows despite their best efforts).
Some other guys have turned to perch during the closure. The morning and evening bites are indisputably best, with perch headed to cooler, deep pockets of water during high-heat times. Angler's Sport Center reported that many guys are using Perch Pounders tossed near shore during the mornings, and bottom rigs to target fish later in the day. The Angler in Chief says heading south for the ICAST fishing tackle show cut his fishing short this week, but just before leaving town he did enjoy an evening on the South in pursuit of white perch and the fish were on deeper docks out in the river in far better numbers than they were up the creek. White and gold Perch Pounders cast out and allowed to sink to bottom prior to retrieving were effective.
Blues have now been reported as far up as Cedar Point Hollow, along with some mackerel. Thus far the mackerel fishing has been hit or miss north of the state line, but there are some schools of fish around and a couple lucky boats that got into them reported catches pushing a dozen fish. As expected, spoons behind planers is the way to get 'em.
---
Middle Chesapeake Bay Fishing Report, July 16 Update:
STRIPER ALERT: as of the publishing of this report on July 16th, striped bass fishing will be closed in Maryland through the end of the month. This includes targeting them for catch and release fishing. We have received many reader requests for more detailed information about the closure, such as specific lures or tactics that may or may not be used, but we can't expand beyond the DNR's latest guidance and unfortunately have no further information on how the state will determine enforcement of the regulations. The best we can do is to suggest taking all reasonable measures to comply with the law while enjoying your pursuit of other species.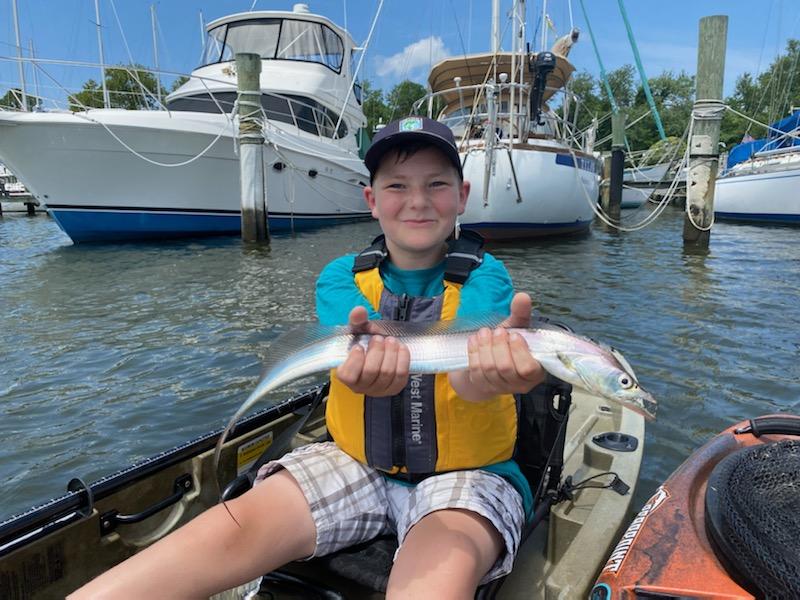 Crazy Catch Alert: We heard from a couple of readers including our own contributor Peter Turcik that they caught ribbonfish in the Severn! We also heard of one coming from the Choptank this week, and another in the Thomas Point area. They hit plugs and soft plastics (white paddle-tails got a reader's mention), which were being cast for stripers at the time. Contributor Eric Packard reported catching three ribbonfish between himself and his grandson while casting in the waters of the lower Patuxent. He said the fish were biting quite a bit, but proved difficult to hook up. Four-inch Electric Chicken paddle tails were getting the most strikes. Angler's and Alltackle also mentioned that there were ribbonfish caught this week, an exciting surprise for many local anglers.
The Angler in Chief says a trip to the Choptank/Little Choptank/James Island zone last weekend produced a nice catch of stripers up to 25 inches while they prospected for speckled sea trout in the shallows. Although they didn't find the specks that day, they did see one caught by a nearby boat. Later in the week a reader reported getting three trout in the 19-inch range in the same area. Then, the last day rockfish could be kept, the AIC fished the shallows north of the Choptank on the east side — and caught no keeper-sized rock but did get three specks to 20 inches, on four-inch white paddle-tails, plus lost a fourth at the boat! Hits came on a dead high tide and a slow, low retrieve. He noted that the fish were in clean water and when they encountered turbid water, the bite was nonexistent. So, while rock are out, it looks like speck fishing might make a solid alternative with hopes of a fresh fish dinner for Middle Bay anglers.
The AIC also noted that the lighthouse ruins on Sharps Island flats are loaded up with (small) rockfish, so during the closure this is probably a good spot to stay away from.
Unfortunately, we haven't heard a peep about mackerel making it up into the Middle Bay as of yet, but that could change any day as they have been encountered up to Point Lookout waters in the past two weeks.
Crabbing Report: If the striper closure has you down, consider going after crustaceans instead. The AIC reports that a couple of hours spent with the trot line last weekend filled the basket, in eight feet of water using necks.
---
Middle Chesapeake Bay Fishing Report, July 9 Update:
With stripers in relatively short supply aside from up north in the Patapsco and Poole's/Tolchester/Hodges zones, where there's been a big crowd, many anglers have been looking for perch. However, we heard reports from several readers which were seconded by the Angler in Chief that casting to the docks and rip-rap in the tribs has been a bit slower than expected. Yes, perch are around, but not in the hoped-for numbers. Casting Perch Pounders in white has been doing the best. Chesapeake Outdoors did mention that while the bite isn't where we'd like it to be, casting around heavily structured areas of three to four feet of water on the outgoing tide is producing. Eastern Bay was the favorite area to do this. Speaking of Eastern Bay, Chesapeake Outdoors also let us know that the live-lining bite there has been a bit better than most other areas. They also mentioned Kent Narrows as an area that produced fish. With stripers closing out on July 16th, we're hoping to see an uptick in other species caught, including Spanish Mackerel. We had our first solid reports of them up to the Tangier/Point Lookout area this week, so we're hoping that by the striper closeout, they'll be here! Check out our Lower Shore and Way South reports for more info on what's happening there.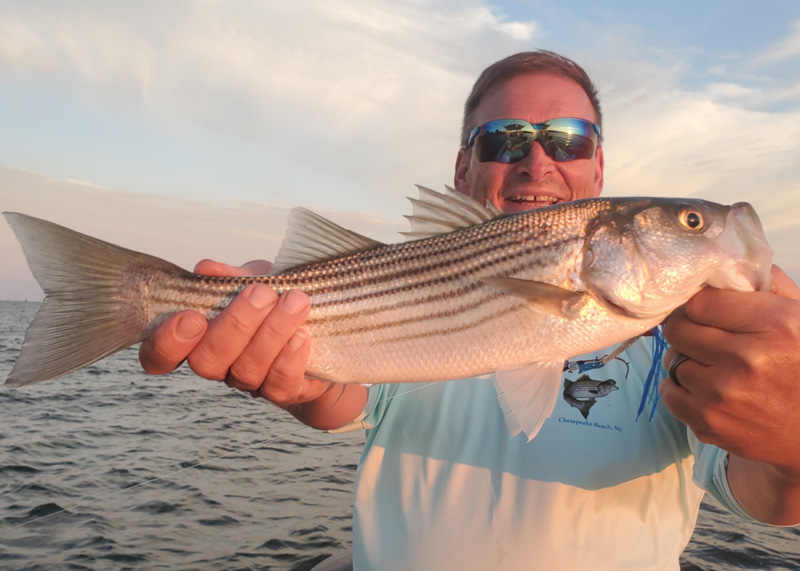 Spot are pretty much everywhere at this point — everywhere — in eight to 20 feet of water on live bottom. Just north and just south of the Bridges on the west side has been a good bet. The continuing shortage of bloodworms has led many anglers to shift to lugworms, which have been productive fished on bottom rigs or Chesapeake Sabikis. Fishbites are also doing the trick. Some croaker are also mixed in, though we didn't hear about any more big ones this week.
Several anglers hitting the Choptank and Little Choptank report that the speck bite has slacked off, and most of the fish hitting in the shallows are small (sub-legal) stripers with a few keeper fish mixed in. We did also hear about a couple small (very sub-legal) flounder in the Choptank this week.
For all you snakehead-hunting anglers— Tochterman's let us know of an awesome opportunity for kayaking and boating anglers to go fishing while helping clean the Bay of invasive species… and to win some cash! The first-annual Snakehead Bash is being held on August 14th, 2021 at Flying Point Park in Edgewood, Maryland. While there is a payout for the tournament, the snakeheads caught must be turned in dead and the DNR will examine the stomach contents of the presented fish. This will give the DNR a chance to perform their fisheries science magic that benefits recreational anglers fishing the Chesapeake, given that the snakes feed on some of our most beloved species. Additionally, proceeds from the tournament will be used to acquire DNR-approved largemouth bass, which will then be used to restock the Middle River. Here're the double-double bonuses: there's a $1,000 prize for first place kayak angler and a $2,000 prize for first place boat. Almost better? They'll have a chef on hand to prepare these delicious invasives. Entries are limited and must be in by August 1, so act fast if you want in.
---
Middle Chesapeake Bay Fishing Report, July 2 Update:
Angler in Chief Lenny Rudow reports a nice rockfish bite around the rocks of Poplar Island with the best action on the south side, and some pods of stripers popping up and breaking water less than a half-mile south of the island. However, he also says the vast majority of the fish are throwbacks, maybe 15 to one, and even the keepers he caught just barely made the mark. Another angler on the scene had found slightly better quality, with a 24-incher being the highwater mark.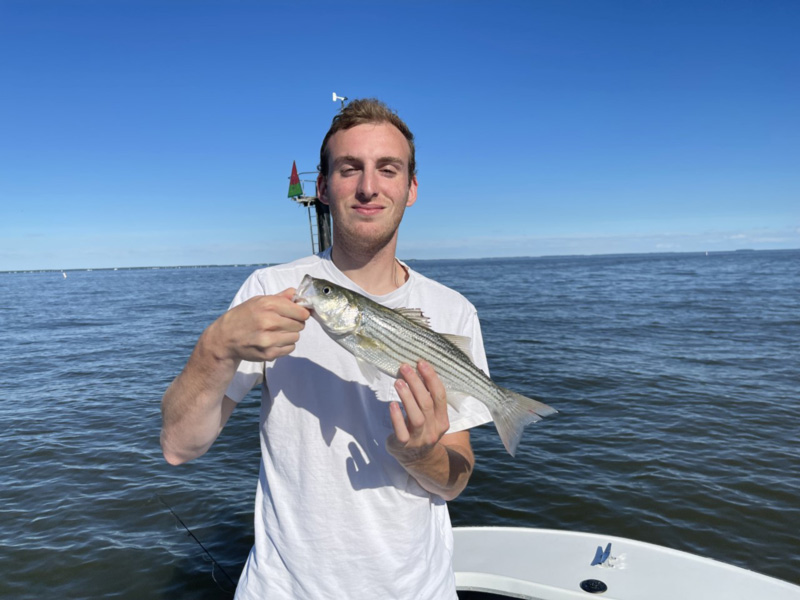 Reports from the upper western shore tribs including the Severn, South, and West finally include striped bass again after a weeks-long void. However, we heard of sub-legal fish, only, inside the river mouths. Four-inch plastics in white and Nuked Chicken were mentioned as effective.
Angler's Sport Center and Alltackle say that most boats are still running north and going to Tolchester, and also around Pooles Island. Livelining is best, some guys are jigging, and there are a few trollers, too. Some more trollers have been working in the Middle Bay on channel edges, but mostly picking up dinks. There are also lots of spot and white perch around. Interestingly, some croaker are also mixed in with the bottom fishing catch but they aren't only the micro-fish we've been seeing in recent years. Many have been keepers and/or darn close to keeper size.
Chesapeake Outdoors notes that while Tolchester has been the place for stripers and livelining is best for sure right now, another strong option in the area is snakeheads. They're back to biting and reports of success are streaming in. The folks at the Rusty Hook offered up a similar report and said that many anglers have been going after the perch and spot rather than rockfish, since they have been far easier to locate and catch.
The Tackle Box is reporting that rockfish are hitting top water lures at the Power Plant above Cove Point, and the rocks along the shoreline are loaded on the right tide and sun angle. Trollers are also finding some rockfish in the Pax in 25 to 40 feet of water, on the bottom, with small white bucktails tricking them into biting.