Middle Bay Fishing Reports
Middle Chesapeake Bay fishing Report, March 31 Update:
Tales of mixed success came in from catch-and-release rockfish anglers in the Middle Bay, with Bloody Point ID'd as a productive zone for some. A reader report of two fish caught (both in the 40-inch range) by a troller pulling tandem rigs came in, and one came from a jigger who found lots of bait on the meter but didn't get any tugs on the line. The fish that have been hanging around the shipping channel edge should be pushing further into spawning areas soon but as of this week there still seems to be a good amount in deeper water, the bite has just been more scattered. We did get one report a few miles north of the Bay Bridge from a boat trolling tandem rigs who caught five trophy sized fish in a few hours work. It's important to remember that today, March 31st, will be the last day anglers will be legally allowed to target rockfish for catch and release until trophy season opens on May 1. Targeting of rockfish is prohibited during the April closure to allow the big breeders to spawn.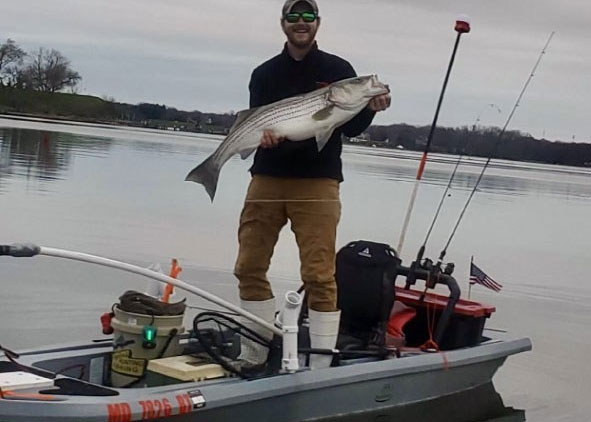 Angler in Chief Lenny Rudow reports trying his hand at catching salt pond white perch for an hour last weekend at Triton but failing miserably (not one nibble!) Most of the people he spoke with reported a similar experience, however, he also said he spoke with one angler who had fished early in the day on a high tide when the wind was down and had a nice catch of fish in the bucket. Tide and weather can be a critical factor at this time of year so check the conditions before planning your trip. White perch are now spawning in the Patuxent, upper Choptank, and other tidal tributaries. Blood worms on bottom rigs have been working well but grass shrimp and minnows are other good options to use as well. We also received a few reports of hickory shad and blueback herring showing up in the same areas as the perch on the Choptank. Popular lures include shad darts and flashy spoons. Hickory Shad, blueback herring, and alewife herring are all protected species, so fishing for them is strictly catch and release.
---
Middle Chesapeake Bay fishing Report, March 24 Update:
Some very big rockfish are still being caught on the days when winds and weather allow. We heard from three readers leaving out of Sandy Point, Annapolis, and Solomons, who caught 40-plus-inch fish both trolling and jigging. Three or four monster rock per trip was about average and all were working deep water of over 50 feet. I was able to get out with fishing guide Travis Long of Schooled Up Fishing Charters for a light tackle rockfish trip targeting the big ones. We concentrated our efforts near Eastern Bay and were rewarded with some big fish. I was able to land a 44-inch and a 41-inch fish while other anglers on the boat landed a 44, 41, and 38-inch in about 5 hours of fishing. We fished in 50 to 70 feet of water and found fish throughout the water column. The key was finding bait, as the rockfish were usually close by. Seven-inch chartreuse sparkle Z-Man flukes were the hot bait of the day. There is only about a week left to target rockfish for catch-and-release and with the way the weather has been, good fishing windows have been hard to come by. Anglers looking to get out should the most of those opportunities with the time that is left. Then we can hope for a successful spring spawn for these fish during the April closure.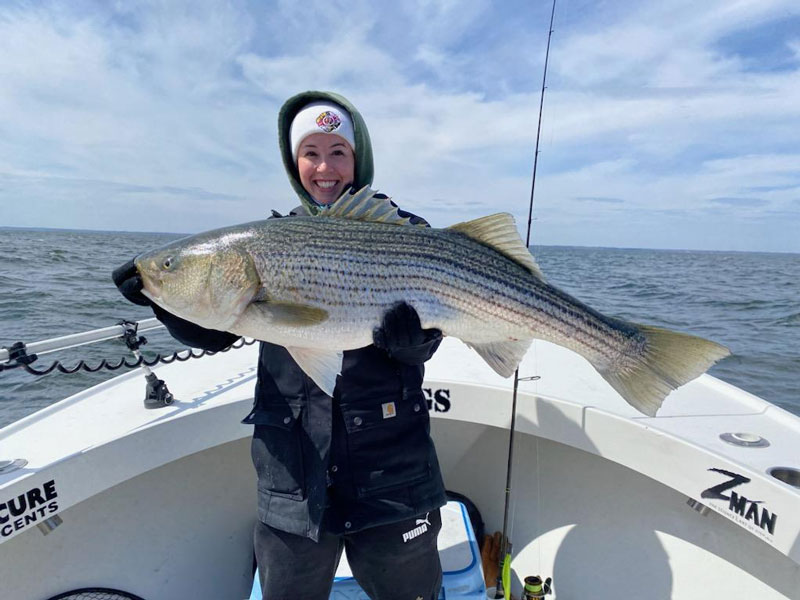 Perch sharpies reporting in from the Choptank say that some nice white perch in the 10- to 11-inch range are biting. They noted that bloodworms seemed to be the preferred bait over grass shrimp. The fish aren't in all the usual good locations, and it was mentioned that two out of three spots that are normally good proved slow while the third was hot, so if you don't find them hopping between spots is a good move. We received some reports of white perch being caught on the Patuxent near Wayson's Corner but that it wasn't hot and heavy yet. The perch have seemed to be coming through in small schools, but they should be running hard soon. White perch should also be moving up into Allen's Fresh if not already, but we haven't heard of any reports from down that way. Some post spawn yellow perch may also be in the area. A few anglers are catching perch along the bayfront with the best bite coming at night. Bottom rigs baited with bloodworm or grass shrimp are working well. One angler reported that nightcrawler has been outperforming other baits.
---
Middle Chesapeake Bay fishing Report, March 17 Update:
What's up with the yellow perch run in the Choptank River and its tribs? We don't know, but saying it's been brief fits and spurts so far is being kind; we heard from two more readers this week with catches between three and six fish (on minnow) and it seems most people's visions of full stringers have been going unfulfilled thus far. The tough fishing may be partially due to the unfavorable weather conditions this week. Strong northwest winds for consecutive days blew out the water in all the shallower tidal areas. It also made getting out on the Bay to fish nearly impossible with large waves. White perch will be moving further into the mid Bay tidal tributaries soon including the Patuxent and Choptank. On the Patuxent, areas around Jug Bay and Wooten's Landing are popular spots to target them. Areas on the Choptank up to Red Bridges are usually reliable. Grass shrimp and pieces of bloodworms on shad darts, small jigs, or bottom rigs are the best choices for catching the perch.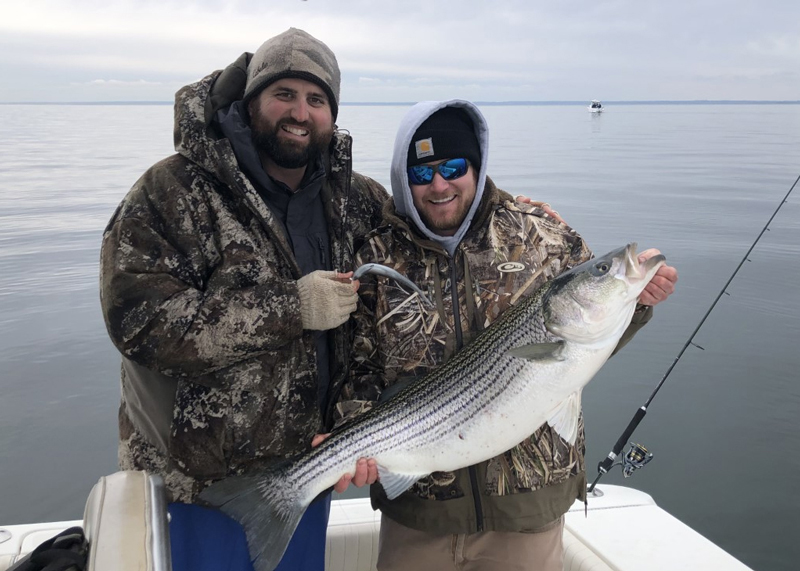 We had a couple of reports from C&R rockfish anglers who found success working the waters south of the Bridge while light tackle jigging. The numbers of fish caught wasn't huge for the most part, but the fish themselves certainly were with three topping the 40-inch mark noted. One angler mentioned that a 10-inch pearl soft plastic on a 2.5-ounce head in 60 feet of water was what did the trick. A few reports from trollers came in as well. One boat was trolling south of the bridge, though they didn't specify how far south. They caught around half a dozen fish over 40 inches on tandems while only having to clear their lines once due to the winter jellies. Another boat trolling in the shipping channel parallel to Thomas Point Lighthouse reported catching two trophy rockfish in the mid 40s during their outing. White tandem with a blue head caught both fish and the action came right after the tide switched.
---
Middle Chesapeake Bay fishing Report, March 10 Update:
The signs of spring are back, and fishing is improving in the middle Bay areas as winter draws to an end. Many anglers are heading out for catch-and-release fishing for big pre-spawn rockfish as they make their way towards their breeding grounds. Trolling large parachutes and bucktails dressed with sassy shads is popular, but can put a lot of stress on the fish. Jigging is working well right now and is a less stressful tactic for targeting the breeder rocks. Ten-inch BKDs and flutter spoons offer large profiles mimicking baitfish that can get the big ones biting. Anglers should remember that barbs on hooks must be flattened or ground off; when trolling, no more than six lines can be employed, and stinger hooks are prohibited. We had two readers check in after targeting the monster rockfish currently swimming though the Bay waters, and while both had slow fishing overall, both also caught a fish topping 40-inches, in one case on the only bite of the day. Finding bait concentrations and jigging Boss BKDs deep around them was what led to the fish.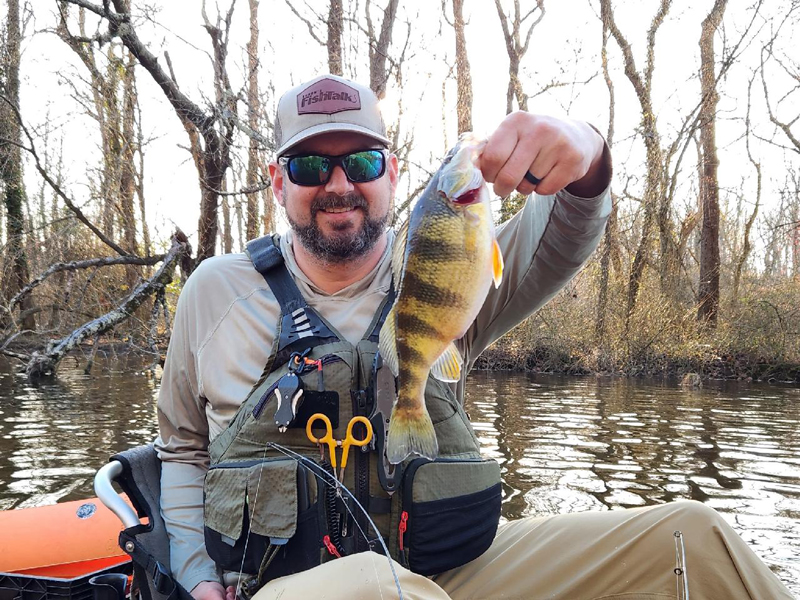 On the perch front we had a diversity of reports, starting with a skunk (aside from catfish) noted at Wayson's Corner on the Pax. FishTalk's Zach Ditmars visited the Tuckahoe over last weekend and experienced a slow bite, but did catch three large females on minnow, all pre-spawn (and all released) topping 12-inches; another kayak angler had a pair of similar fish, and reports from the shoreline were of little action. Those big females arrive first, so we expect that this area will have only gotten better and better by the day and could provide excellent action for the next week or two. Contributor Eric Packard hit Mason Springs and reported lots of yellows were biting white jigs but the bulk of the fish were small males (which usually marks the run winding down — it seems maybe the weather has the fish confused). We did hear from an angler who reported a steady white perch bite while fishing along the bayfront near the West River at night. Both grass shrimp and night crawler on bottom rigs got the perch biting as two hours of fishing produced around a dozen perch. This angler also reeled in one of the cooler catches of the week with a 30-inch rockfish caught on grass shrimp during his perch endeavors.
---
Middle Chesapeake Bay fishing Report, March 3 Update:
The yellow perch run has been a difficult fishery to target this year for many anglers in the middle Bay zone. We received multiple skunk reports from perch-searches who went out last weekend. Wayson's Corner, Red Bridges, and Hillsboro were all mentioned with dismay. The yellow perch should be running through those areas so it is hard to say if they are there and not biting or if they have yet to make it up those tributaries yet. By the middle of the month, white perch will begin moving up the tidal tributaries as well for their spring spawn. Their run is much more consistent and many anglers are patiently awaiting that opportunity to kick off.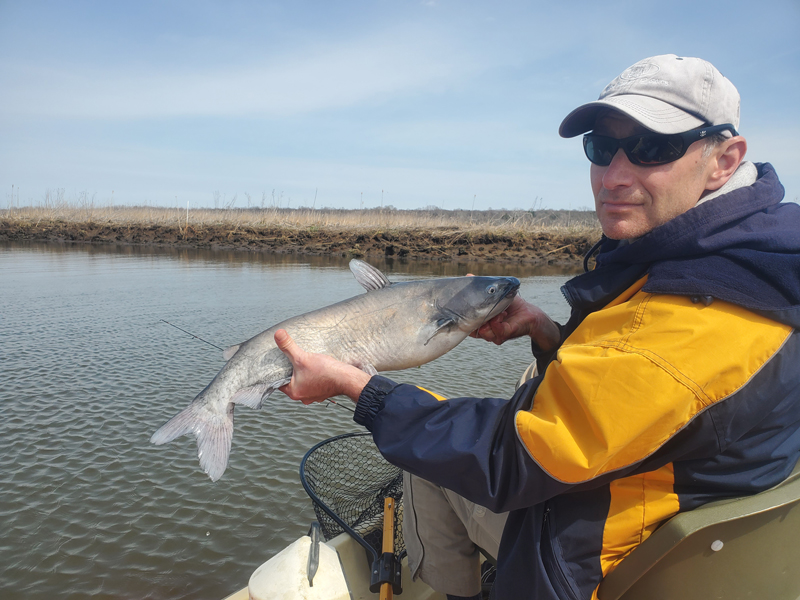 An angler fishing near the Benedict bridge from shore reported catching plenty of blue catfish this week. He used frozen alewives and most of the catfish were in the two to five pound range. The upper Patuxent around Jug Bay has also been producing plenty of catfish for anglers targeting them. A kayak angler fishing over the weekend reported catching a 30 pound blue cat just north of Jackson's Landing.
The rockfish bite in the main stem of Bay has been inconsistent over the past few weeks but guide Pete Dahlberg of Four Seasons Guide Service lucked out with a magical day on the water over the weekend. He and another angler headed out on a flat day and quickly found birds working bait. They even saw large stripers busting menhaden on the top. They caught a few fish over 40 with plenty other nice fish in the mix using 10-inch BKDs. They best fish of the day was a monster 50.5 inch fish weighing in at 55 pounds. The big fish are out there folks, it just takes a combination of skill and luck — lots of luck — to find them.