Middle Chesapeake Bay Fishing Report, December 4 Update:
The Angler in Chief reports spending his days in Eastern Bay lately, with the bite on the western side getting a bit tougher recently. He says there are fish up to 30-inches from Parsons clear out to the western edge of The Hill, but in small pods not mass schools, and they have been playing hard to get at times. He recommends using the birds as an indication of a general area to look, then searching with the meter to find small stacks of quality fish at or near bottom. Running every time you see a bird fluttering around is a dead end, because most of the time the schools are up and down rapidly — searching where they were recently and then finding them on the meter is key. The 30- to 35-foot zone has been best, with most of the fish caught right on bottom. Trollers also report success in the area particularly while pulling weighted umbrellas very close to bottom, especially on the west side of the Hill. Readers from the Choptank reported similar experiences this week with better action from both birds but similarly lock-jawed fish at times, with success on some up to 28 inches and one 35-incher that hit a Stretch 25 reported this week. Both trollers and jiggers let us know they were catching but more people got quality fish towing umbrellas and tandems. A few readers also reported finding fish to 26 inches off Chesapeake Beach, and trolling from Calvert Cliffs to Taylor's Island.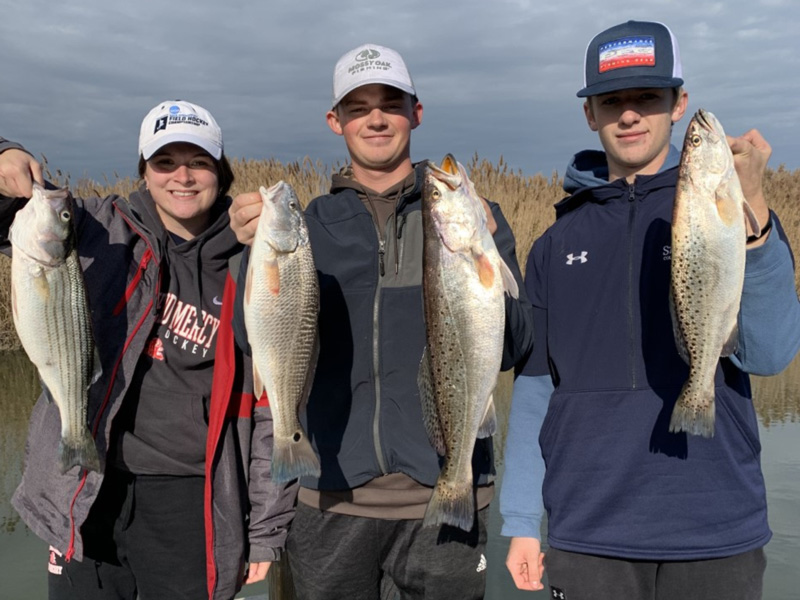 Two crazy-cool reports: First, we heard from a reader who got a legal slot red amongst the specks, small redfish, and stripers at the powerplant. Serious congrats go to Dillon! However, we also heard from two anglers who made the trip there in the past week and failed to put a single fish in the cooler (throwback stripers were reported), so be prepared to work for your fish. Second, anglers fishing on reefs, live bottom, and wrecks between Sharp's Island/Stone Rock area and Point Lookout, are reporting amazing numbers of sea bass including enough keepers in the mix to take home dinner with some regularity.
The Tackle Box is reporting a great bite from Hooper's Island Light to buoy 72, with birds often marking a frenzy in progress. Contributor Eric Packard spent a day fishing in the vicinity of 72A, where there were flocks of birds and almost as many boats. The mix of trollers and jiggers caught great numbers of fish but most were on the small side, with a few for the fishbox in the low 20s. Plastics on one-ounce heads and metal spoons were both effective. He also had a very good day off Point No Point late this week, with many throwbacks but about five in one making the grade with the biggest fish up around the 31-inch mark and over 20 keepers caught and released.