When the wind kicks up a nasty chop at favorite main-stem hotspots, knowledge of Bay area geography and tributaries like the Chester River can save a fishing day. Advance preparation enables adjustment of fishing destinations to areas with more favorable conditions. For trailer boaters like me, there's often a ramp that enables access to sheltered waters. For example, when a northeaster is blowing, putting in at Matapeake to fish the west side puts the boat in the lee of Kent Island. Tributaries offer additional options. A good ramp for marginal or no-go main-stem days is the public ramp under the bridge at Kent Narrows. From there, go south into Eastern Bay or north into the Chester. There are artificial structures, edges, shoals, and mounds to prospect in either direction. Just remember to get a ramp permit (Anglers Sport Center off Route 50 has them) on the way over.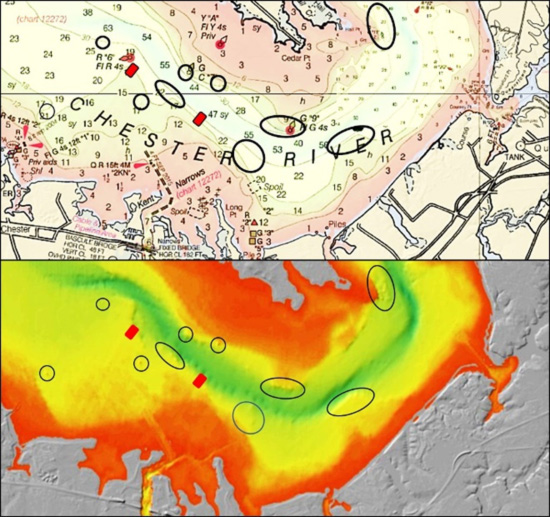 For this armchair voyage, let's assume a boat has launched at the Kent Narrows County public ramp and headed north up the narrows for the Chester. Just outside the north end of the channel, a variety of natural and artificial structures are just ahead. The circles on the graphic above are around natural structure. The two red boxes are two of seven locations where rubble from demolition of Simpkins Dam was deployed as substrate for oyster bars. Some of these reefs are small, and others larger. What I like to do is enter icons into the Navionics community layer, and then steer to the marks. In the river, sharp changes in bathymetry shown by depth contour lines aids in positioning as well.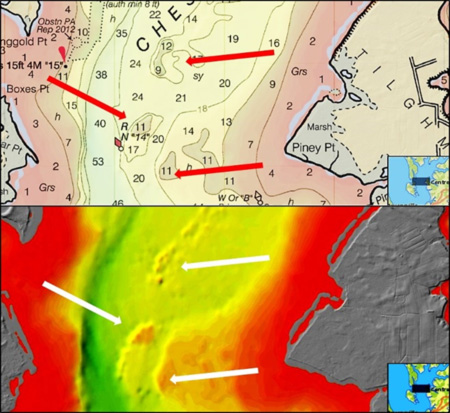 There are also remnant oyster bars where there is substantially more natural structure. Their location is charted, but the "DEM" image provides insight about where there are highpoints, edges, and drop-offs. The 20-foot-deep trough at lower left center in the bottom image is well positioned to funnel bait and create turbulence when currents are running.
Working the Lower Chester in the other direction, try the Simkins Dam rubble reefs shown by red boxes in the third graphic. These are oyster restoration projects, but the rugged bottom may draw bait and predators.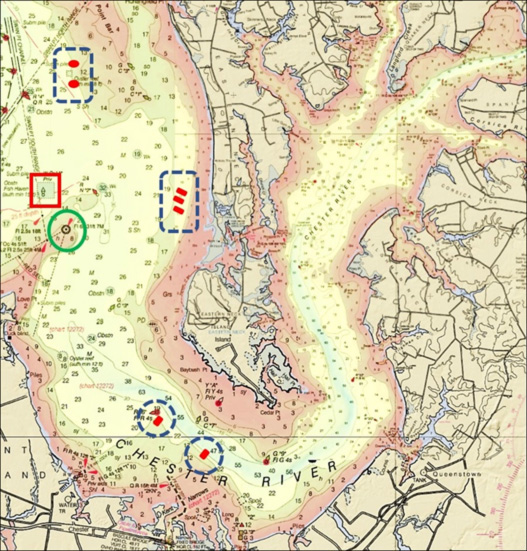 For large structure, especially when the well-known and heavily fished natural structure at Love Point Light is congested, try Love Point Fish Haven. Redevelopment of this reef site began over 15 years ago during my service as reef program manager. A substantial quantity of concrete bridge pan decking from a Bay Bridge re-decking project was stacked in the lower southeast corner upon recommendation of area charter captains. The deck pans are in a large pile at 39'04.00N x 76'17.38W. Additional material that was present when I ran a scan there almost a decade ago is shown in the layout drawing included in my 2018 reef book "Bridges Under Troubled Waters." Over the past few years, a lot more rubble from demolitions has been deposited in the southeast quadrant. Additionally, two crane counterweights and a crane cab filled with scrap iron and concrete were also placed in the site. All of this added material hasn't been mapped. However, it is easily found by running through the southeast corner with a side-scan sonar.
When fishing reefs like this, unless I'm casting surface and shallow running lures, high-cost gear stays in the tackle box. There are just too many hook-snagging traps down below. If conditions favor jigging, well-worn and less costly metal lures are used around the reef perimeter. This isn't a perfect solution, because reef configuration is irregular and sometimes materials are scattered along the edges. Using a weighted wire bottom bouncer may help reduce the potential for snagging. I also tie my own bottom rigs and use hooks bought in bulk to conserve costs. I'll also shift from braid to more abrasion resistant mono and bend on heavier mono leaders than used for light-tackle casting and jigging. Still, the potential rewards of fishing close to structure like this is well worth the risk.
See our Chesapeake Bay Fishing Reefs Guide to get the lowdown on other mad-made wreck and reef hotspots in the Bay, plus a few in the ocean off the DelMarVa coast.
-By Wayne Young, the author of "Bridges Under Troubled Waters: Upper Chesapeake and Tidal Potomac Fishing Reefs," "Chesapeake Bay Fishing Reefs, Voyage of Discovery," "Phantoms of the Lower Bay," and "Hook, Line, and Slinker." All are available at Amazon.com, and you can find his Facebook page at Chesapeake Bay Fishing Reefs.