Fishing reports published in print are generalized and weeks may have passed before the report gets into your hands, so for timely up-to-date reports, visit our Fishing Reports online. Current reports will be published every Friday by noon — just in time for your weekend fishing adventures. In the meantime, here's our monthly prognostication.
COASTAL FISHING FORECAST
The midwinter doldrums may be here, but that doesn't have to make for dull fishing. Even though the majority of sporting species have departed our waters or are now in a closed season, tautog are always out there and waiting for us to drop down green or white crab baits. Plus there's a chance those rockfish will decide to swim within the three-mile limit and provide some bonus action for oceanic anglers. We should also note that at least early in January last year, there were still oceanic bluefish to be found at the inshore wrecks and reefs. Will it happen again? Fingers are crossed.
FRESHWATER FISHING FORECAST
Trying to forecast what options await freshwater aficionados this month is like trying to forecast the weather without the benefits of any form of modern tech — you're just about guaranteed to be wrong. On the one hand, by the beginning of this month ice fishing in the western lakes could be an option. Or not. On the other hand, the pickerel will probably be in prime form along with some coldwater crappie and winter bass in the Eastern Shore millponds. Or, there could be a skim of ice over those waterways, making fishing impossible. Can we have a third hand, please? Trout will likely be biting in the rivers, yellow perch should be active in the upper tribs, and catfish should be willing to eat just about anywhere (wait — that's five hands). It all depends on the weather, folks, but no matter how cold or how mild it may be one thing is for sure: one or more of these freshwater bites will almost certainly be a surefire cure for winter cabin fever.
WAY NORTH CHESAPEAKE BAY
By now yellow perch should be huddling in the depths of the lower Susquehanna, where minnow and/or tubes fished deep should get them biting. And of course, those winter cats never quit. Anchor up within sight of the 95 bridge and send some chicken liver to the bottom. Boom!
UPPER CHESAPEAKE BAY
It's pickerel time, people. These feisty fish should be on their usual winter rampage right about now, hitting minnow, swimbaits, and inline spinners in the Baltimore creeks and Western Shore tribs. Offer up some smaller baits, and yellow perch could be in store, too.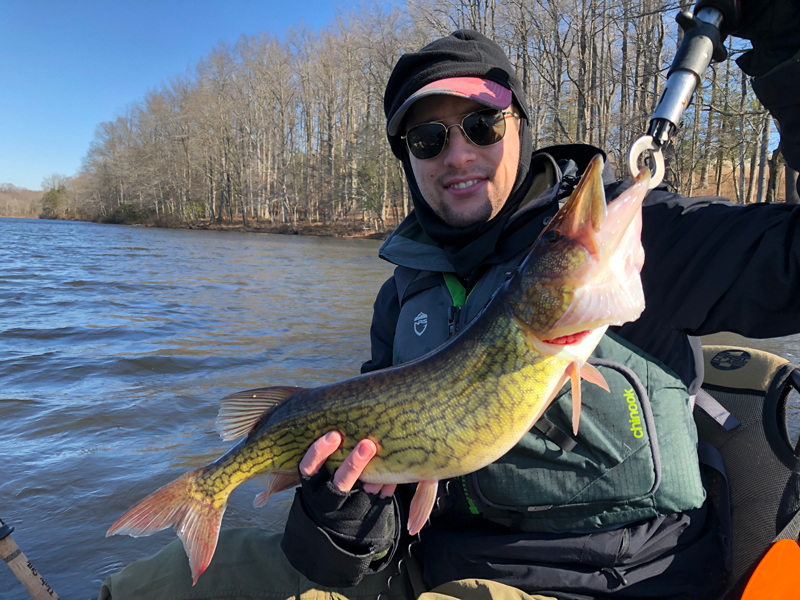 MIDDLE CHESAPEAKE BAY
See above and repeat for the tribs on both sides of the middle zone of the Bay. Note that in the larger rivers like the Choptank or Pax if you locate one of the deep holes yellow perch stage in over the winter, then drop minnow to bottom on a low or outgoing tide, you can often head home with a full cooler.
LOWER CHESAPEAKE BAY
Anglers living along the shores of the lower Bay, count your blessings. Whether you head for the James, the Rap, or the Potomac, you have a shot at winter trophies in the form of mega-monster blue cats. On top of that you could target yellow perch or crappie in the tribs. And it's not a long ride to the Way South zone, where saltier species could be in store. The rest of us are jealous!
TANGIER SOUND, POCOMOKE SOUND, AND LOWER EASTERN SHORE
Winter is a time to shine on the lower Eastern Shore. Well heck, truth be told this zone has pretty awesome fishing no matter the time of year. But the pickerel, perch, crappie, and bass fishing in the tribs on this side of the Bay just can't be beat. Expect the Nanticoke and Pocomoke to be wintertime highlights, and if the millponds remain free of ice they'll be a good bet, too. Added bonus: if the stripers come in close or you feel the urge to tog, the beach is just a hop, skip, and a jump away.
WAY SOUTH CHESAPEAKE FISHING FORECAST
Will trophy rock catch-and-release be a thing this month? Is the water still warm enough to find tog at the CBBT? At this point all we can say on both counts is maybe. But keep an eye on the NOAA data because last year at this time was when the falling temps started shutting things down (look for the upper 40s at least, or togging will likely be a bust). A bigger question in many angler's minds will be redfish — in recent years the inlets, lower Elizabeth, and the Poquoson area have all produced some surprising wintertime catches. It may be far from a sure thing, but if you don't go, you'll never know!