When searching for tautog, sea bass, and triggerfish off the southern DelMarVa Peninsula, Parramore Reef is one of your prime fishing destinations. Located on Parramore Banks, this circular fish haven is about a nine-mile run out from Wachapreague Inlet. The fish haven was permitted in 1971 to the then newly formed Seaside Sportfishing Improvement Association (SSIA). Later, it was incorporated into the Virginia Artificial Reef Program administered by the Virginia Marine Resources Commission (VMRC). This artificial reef offers a variety of structures laid out in patch reefs across the site.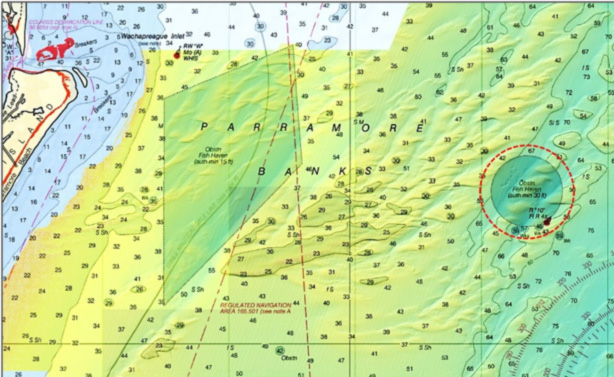 Early artificial reef development in Virginia was summarized in a 1983 paper prepared by Jon Lucy for the Virginia Institute of Marine Sciences. He reported that the fish haven was established where the tug Minominee and two steel barges were sunk by U-Boat gunfire in 1942. The tug's position is not recorded by the Coast Survey's Automated Wreck and Obstruction Information System (AWOIS). There is an obstruction, discussed later, which might be the tug's final resting place just south of the fish haven boundary.
Site development as an artificial reef began in 1974 with the deployment of two Liberty Ships, the USNS Page and USNS Mona Isle. These Liberty Ships were part of a group of six that were made available to Virginia in 1973. The effort to secure excess Liberty Ships for the newly permitted Triangle Reef was initiated by the Tidewater Artificial Reef Association of Virginia (TARAV) in 1972 in cooperation with federal and state agencies and legislators. This engagement led to passage of Federal legislation authorizing release of mothballed ships to states for use as artificial reefs. The six ships were released to the Virginia in 1974 and deployed between 1974 and 1977. Two are at Parramore Reef and the other four were sunk at Triangle Reef. To enhance their suitability for fishing, deck gear was removed and the hulls were cut down to just above the second deck.
The bottom at Parramore is characterized by large sand waves, an indication of strong physical energy. Scouring around artificial structures would not be surprising. Buildup of sediment around and even covering artificial structures, such as by sand displaced during major episodic storms, would not be surprising either. Closeup zooms of individual structures confirms that both types of effects are present at Parramore Reef.
Although the VMRC has an artificial reef webpage which shows approximate reef layouts, Parramore Reef is one of several for which the layout is not shown. However, the VMRC has grid layout drawings for each of the program's reefs. A major deposit of subway cars from the New York Metropolitan Transit Authority are in a large trough in the northwest quadrant at Location "1." The subway cars, several of which are on top of each other, sit in scour holes. Others are located at the southwest end of a narrow cut between two mounds near the center of the site. These latter cars are somewhat sanded in. A total of 50 "Redbird" cars and 44 stainless steel subway cars were deposited as patch reefs (spread out across the bottom).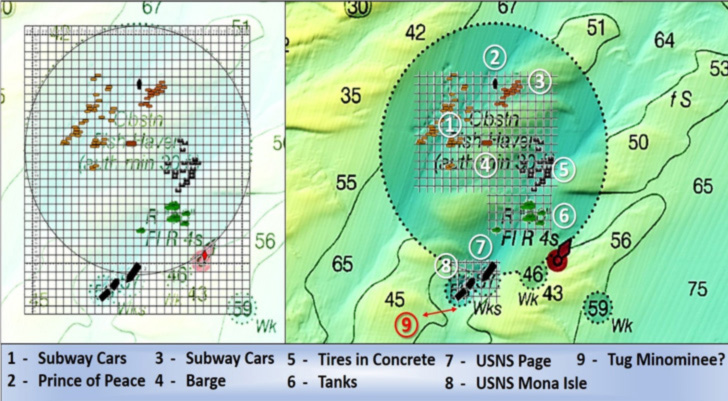 According to the VMRC grid, the structure at Location "2" is the hulk of an 85-foot steel fishing vessel, the Prince of Peace. Maybe so. However, the BDV image shows what appears to be a stack of subway cars. Best guess is that several subway cars were placed on top of the vessel hulk. The combination provides more mass and greater vertical relief than most areas. Just to the east at Location "3" is another subway car patch reef. A 95-foot Coast Guard barge is at Location "4," and tires-in-concrete (TIC) units are recorded at Location "5." A large number of shallow dimples rather than distinct objects are displayed by the BDV image. My assessment is that the relatively low-profile TIC units are covered by sand. Objects that correlate with tanks at Location "6" are visible. There is minor scouring around each.
The largest structures at Parramore Reef are at Locations "7" and "8." These are the two Liberty Ships. Both are charted as wrecks by NOAA. This charting is typical when field survey teams find obstructions or wrecks outside or straddling a reef site boundary. The positions are artifacts of inexact navigation technology, LORAN C, which was used as the time of deployment.
Although deployed intact, both ships were broken apart by the time of a VMRC 2010 side-scan sonar survey. The two halves of the Mona Isle have also moved apart. High waves generated by major storms create physical energy that can reach all the way to the bottom in coastal waters. The broken condition and movement of the Liberty Ship sections indicates that this fish haven periodically experiences such conditions.
Large openings where cargo hatches once existed and hull openings where the hulls have broken provide good water flow and pathways through the wreckage. This type of structure draws and holds large quantities of reef fish, including tautog, which in this region will often feed all winter. Bait drawn to the reef also pulls in predators including flounder, mackerel, bonito, bluefish, and cobia, during the warmer months of the year.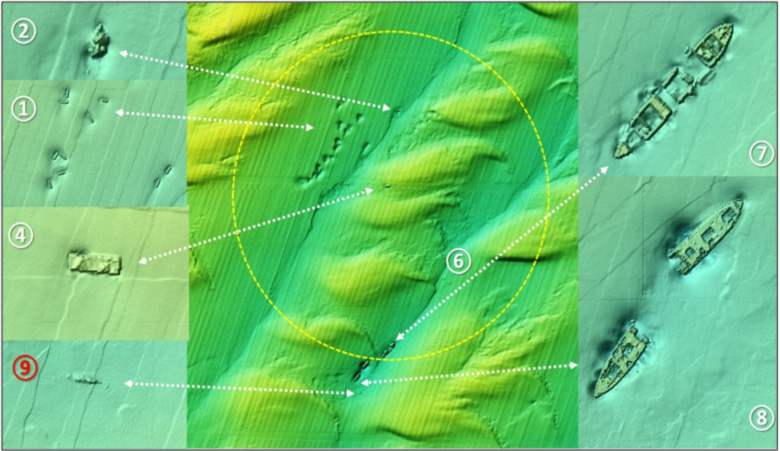 There is a hard structure just south of the Mona Isle at Location "9." This object is around 100 feet in length. There is another nearby unidentified object just to the west. Potentially, these objects could be the remains of the tug Minomenee and her barges.
On the way out to Parramore Reef from Wachapreague Inlet, boats pass through the north end of Wachapreague Reef. This site was established by VMRC as an offshore test site for experimental reef structures. The northern of the two reefs corresponds to concrete pipe deposits. It appears from the BDV image that the pipes have sanded in. The southern deposit consists of concrete "igloos." The visible patch reef shown on the grid correlates with these constructed reef modules. Each is sitting in a scour hole. However, the reef modules appear swept clear of sand. Although there's not a lot of structure, the Igloos may be worth a cast or drift through or two when passing by or drift fishing across the sand banks.
Use of electronics and waypoints is necessary to locate the artificial structures at these and other ocean reefs. VMRC coordinates for the center of the reef are 37'32.54 x 75'26.39. You can find more specific reef coordinates (along with coordinates for the other artificial reef sites in Virginia's waters) in the Virginia Saltwater Sportfishing Association's Virginia Artificial Reef Guide. Proceeds from sale of the guide support artificial reef development. Visit joinvssa.org/reef-program/ to get a reef guide or learn more.
See our Chesapeake Bay Fishing Reefs Guide to get the lowdown on other mad-made wreck and reef hotspots in the Bay, plus a few in the ocean off the DelMarVa coast.
-By Wayne Young, the author of "Bridges Under Troubled Waters: Upper Chesapeake and Tidal Potomac Fishing Reefs," "Chesapeake Bay Fishing Reefs, Voyage of Discovery," "Phantoms of the Lower Bay," and "Hook, Line, and Slinker." All are available at Amazon.com, and you can find his Facebook page at Chesapeake Bay Fishing Reefs.