Fishing reports published in print are generalized and weeks may have passed before the report gets into your hands, so for timely up-to-date reports, visit our Fishing Reports online. Current reports will be published every Friday by noon — just in time for your weekend fishing adventures. In the meantime, here's our monthly prognostication.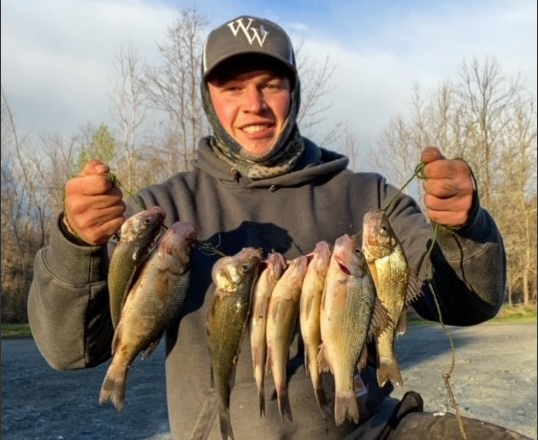 Coastal Fishing Forecast
February is a tough month for coastal anglers — heck, it's a toughie for anglers just about anywhere around here — and the chances are exceptionally good that the only real action taking place will be the tautog bite on the wrecks and reefs. Grab some crab and point the bow east, when and if the weather allows.
Freshwater Fishing Forecast
Will we be auguring through ice, or casting into open water? The question is a tough one to answer, but thanks to the blast of arctic air we had around the holidays there's potential for a real ice season this year in the western parts of our range. As usual, it all depends on the weather. Regardless, fast-moving trout waters will stay ice-free and fishable for the fly folks, and hopefully the Eastern Shore millponds will remain liquified as well. If they do, expect pickerel to be biting strong, bass to chew with some regularity, and crappie to pop up here and there as well.
Way North Chesapeake Bay Fishing Forecast
Winter is a prime time for perching where the Susquehanna meets the Chesapeake, and deep holes from Lapidum to Perryville often hold one of the best wintertime bites in the region. Small tubes and/or darts tipped with minnow and tied in tandem are always a good bet. Added bonus: drop some cut bait into the holes and you may well get into a tussle with a big, fat catfish, too. If the Northeast freezes up hard this can be an ice fishing destination as well, one of the few this far east in Maryland.
Upper Chesapeake Bay Fishing Forecast
If we start out by mentioning the Baltimore-area creeks and the Magothy River, you know what's next, right? Pickerel. And, maybe a yellow perch or two. Skim ice may be problematic at this time of year, or it may well leave us alone. Only time will tell. If you can get out, however, casting small minnow on shad darts under bobbers to piers and pilings will do the trick.
Middle Chesapeake Bay Fishing Forecast
Pickerel are also the headline fish this month in the Middle Bay zone, on the west side particularly in the Severn, and on the east side particularly in the Choptank and its feeders. When you locate a deep hole just downstream of a spawning zone this is also a great time to target those yellow perch, which are often balled up in tight schools as they anticipate the run. Look for times of low and/or falling tides, and sink minnow down deep right to the bottom.
Lower Chesapeake Bay Fishing Forecast
During the month of February we're sticking with the tribs in this zone, too. Pre-spawn perch can be found in deep holes near the spawning grounds, but many anglers in this neck of the woods will also be looking for deeper holes a bit farther downstream where the winter cats prowl. If you're aching to feel a big bend in the rod from trophy-sized fish, this is the best option in our entire region — the James, the Rap, and the Potomac are all prime destinations.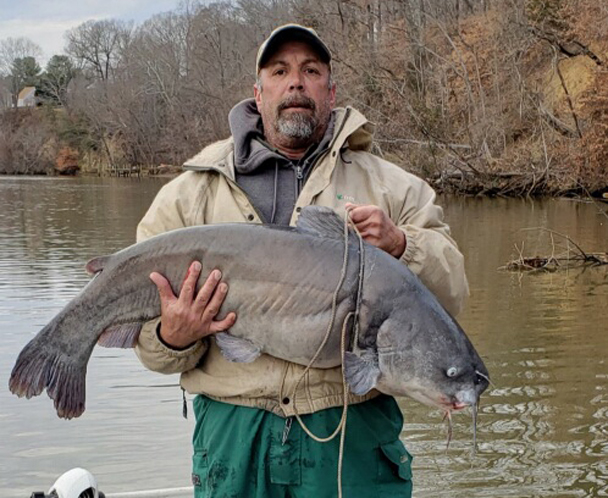 Tangier, Pocomoke, and Lower Shore Fishing Forecast
The fresher reaches of the lower Shore tribs are a great place to be for February fishing, and pickerel, perch, crappie, and bass are all going to be biting. As usual for this time of year skim ice can be problematic, but if you can find open water you can almost always find fish willing to snap up live bull minnow. Fun fact: right in the heart of Salisbury the Wicomico holds a lot more fish than one might guess.
Way South and VA Chesapeake Bay Fishing Forecast
We'd like to remain positive about the potential winter bite for puppies and perhaps specks in the inlets and southern Bay areas, but considering the arctic blast that hit during the holidays we're afraid the potential is a bit lower for 2023 than in years past. Of course, a big rebound in the temperatures could change all that by the time this edition goes to press. Fingers are crossed on that count, but meanwhile, remember that the same yellow perch, catfish, and pickerel options that anglers farther up the Bay will be focused on are an opportunity in the southern Bay tribs, too.