We all know printed fishing reports are generalized, and weeks have passed before the report gets into your hands. For timely, up-to-date reports, visit our Reports section. Current reports will be published every Friday by noon — just in time for your weekend fishing adventures. In the meantime, here's our monthly prognostication.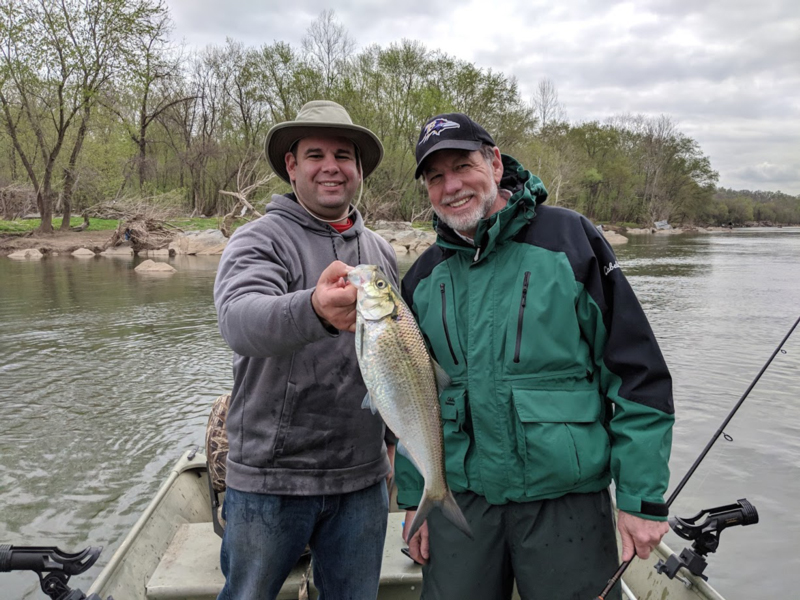 Spring is coming! Spring is coming! Our angling options are about to explode, which can make March a tough month, especially early on, as the anticipation of multiple incoming bites makes it very hard to live with limited options. For much of this month we'll have to be content with one of two main possibilities in Delaware and Maryland: fishing the coastal bay tribs for perch, and hitting the wrecks and reefs for tog. Virginia anglers may have another temptation to handle if the weather cooperates, in the form of puppy drum and specks in the Virginia Beach inlets. Last season that bite started up exceptionally early in the season, so if the weather warms up quickly don't be afraid to take some exploratory trips.
Later in the month it'll be time to start flounder hunting. Although the catch is usually on the thin side until April hits (two or three fish can be a good day), the crowds will be absent and dedicated flounder-pounders working the inlets from Ocean City down through Virginia can get in some early licks.
Holy cow people, it's all about to bust loose — perch runs up the tribs, crappie and bass in the lakes, and of course trout. Lots and lots of trout. During this month hatchery fish will get planted throughout our region by the thousands and in some cases by the tens of thousands a day. Delaware, Pennsylvania, Maryland, and Virginia all maintain good stocking schedule web pages (Google is your friend) and you can get those hatchery fish on a stringer with ease. Jars of Berkley Trout Nuggets will be flying off the tackle shop shelves, but casting spinners and float-n-flies will do the job quite well, too..
What about the region's lakes, ponds, and reservoirs? Expect the bass and crappie to start shifting from deep-water haunts to ledges and drop-offs closer to pre-spawn staging areas. But remember that swings in the weather will have significant impacts on the bite at this time of year, and if you can time your fishing trips to follow a several-day warming trend your chances of success will rapidly climb.
Upriver areas should also see the start of the shad runs later this month, but that will likely hit peak action in April. Keep your eye out for next month's edition of FishTalk if you want to tap into this fishery, because it will have a feature dedicated to the how-to/where-to of catching spring shad.
Expect this month to begin with yellow perch, and end with white perch. Both will be found in deep waters near Perryville, the channel between the Route 95 and Route 40 bridges, and similar areas at first, prior to their runs up into the spawning zones. Think: minnow for the yellows, grass shrimp or bloodworms for the whites. All the while catfish will be available for anyone dropping cut bait or chicken livers into the channels and holes. Remember, these fish have been swelling in size year by year — you might well hook into one as big as a trophy rock!
The perch runs are coming! The perch runs are coming! By the time this edition hits the streets we'll likely be hearing about yellow neds snapping up minnow on darts or bottom rigs, and by the time the month ends it's just as likely we'll be hearing about white perch chomping on grass shrimp. The tribs and the salt ponds that support runs will soon be hopping, folks! If you're not familiar with targeting the perch runs just check out Ring in the New Season with the Perch Run. You'll find a bunch of articles (some with videos) covering all the bases.
Again, we say: The perch runs are coming! The perch runs are coming! The one item Middle Bay anglers need to keep in mind is that in this zone the best yellow perch action on the Western Shore is ancient history, and while you can have a good day here or there you'll almost always catch more fish if you travel north or south, or cross the bridge and fish the east side. The Patuxent is an exception to some degree, but if you want to load up on yellows from a Middle Bay trib your best bet will be heading for places like Red Bridges, Hillsboro, Greensboro, etcetera.
The west side of the Bay holds plenty of spring perch action once you get from the Potomac south and the shad runs should start up this month, too. By the end of March these fish will in all likelihood be in full stride, as the run tends to lead northern areas by a week or two. Fredericksburg, Fletchers, and other traditional haunts had hickories moving through last year most of the month.
Those who want to feel a much heavier bend in their rods will be on many of the same tributaries, but instead will drop cut bait like gizzard shad or bunker down to the bottom in deep channels and holes. Yes we're talking about catfish, and yes some real monsters get caught as the weather begins warming up. Expect the James, Rappahannock, and Potomac to produce the highlights.
The sounds and the Bay may still be in a wintery mode as this edition reaches you, but the tributaries will be in prime form. Heading up the Nanticoke, Wicomico, and Pocomoke can produce epic numbers of perch right about now. Better yet, crappie, bass, and pickerel will all be on the prowl as well. Got minnow?
This zone of the Bay is the first to wake from its winter slumber, and if this year is anything like 2021, it'll happen in a big way this month. Will we get the same early rush from puppy drum? That's impossible to predict, but remember that last March the inlets, the lower Elizabeth, and Willoughby Bay were producing some absolutely fantastic catches with a few specks also in the mix. We could also see the tog snap back into action at just about any time; keep an eye on the water temps at the CBBT, and when they get back into the 50s get some crab baits and head on out there. Black drum may also move in by the end of the month, too, and up the tribs perch, shad, and freshwater species should be hitting as well.
ROCKFISH – Why haven't we said a darn thing about rockfish in this forecast? As we go to print it appears as though anglers will be able to catch and release rock in the Bay this month, followed by a month closed to all fishing, catch and release included, in April. However, there are some additional gear and location restrictions in effect. And to say that the rules and regs have been fluid and fast-changing recently would be an understatement. March should provide solid action on the Bay, and if you want to try C&R rock this month we say go for it (as long as the rules don't change) but we'd also advise carefully checking the MD DNR, VA MRC, and PRFC's latest regulations, as applicable, before wetting any lines.