Mid-Atlantic Freshwater Fishing Report, February 13, 2019 Update:
While fishing in the tributaries has been lackluster save for the increasing amount of perch being caught, freshwater fishing has stayed strong in recent weeks. Fish are still hanging around structure in deep water areas, particularly fallen trees and logs. Lake Anna is seeing similar patterns with the hot side offering an edge.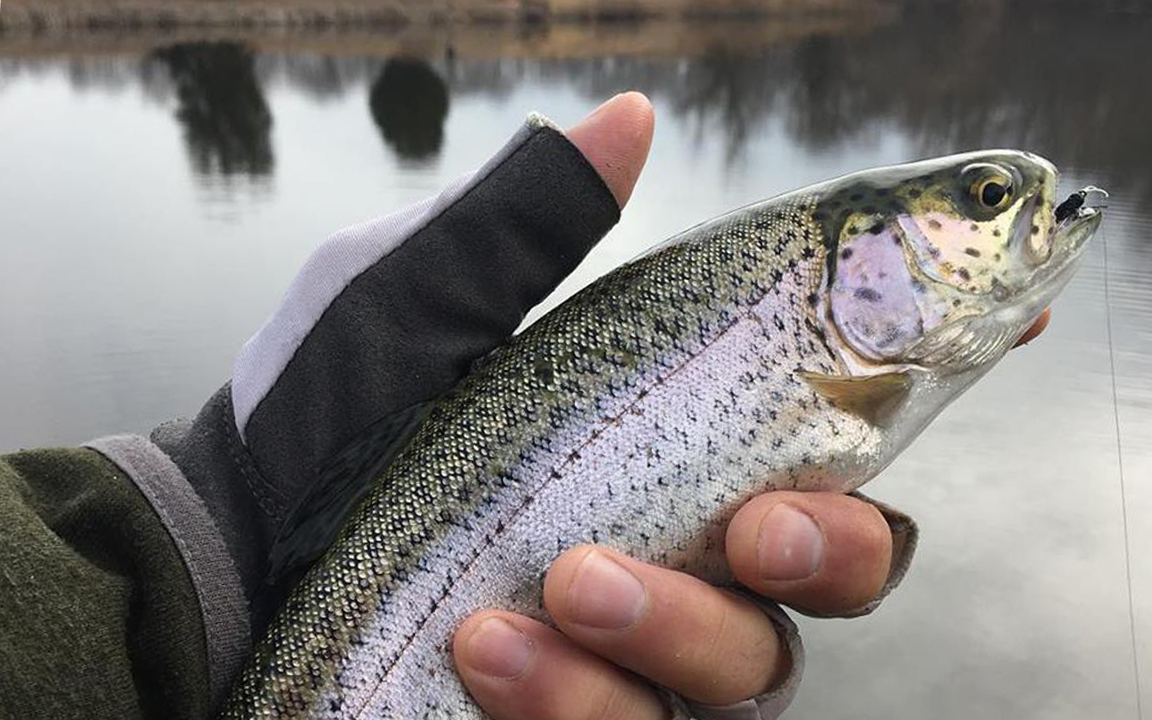 Trout fishing was made difficult this week by high rainwater levels are high, and runoff has made the water cloudy. Despite this, Hughesville is seeing a fair trout bite after a recent restocking. Lots of areas through the region have been stocked recently, and these hatchery-raised fish present relatively easy targets, so visit the trout stocking schedule for your state to find out where fresh fish have been planted.
---
Mid-Atlantic Freshwater Fishing Report, February 6, 2019 Update:
In the dead of winter, many anglers who typically would be heading out onto the Chesapeake and its tributaries to fish their brackish waters have been heading inland to the freshwater lakes, streams, and ponds speckling their area. Those desperate from the lack of productivity that northern Maryland's brackish waters have provided should consider heading to Deep Creek Lake in western Maryland, and Lake Anna in Virginia. Both are producing steady reports of crappie, yellow perch, and bluegills coming from their waters – though the fishing is quite different in these locations!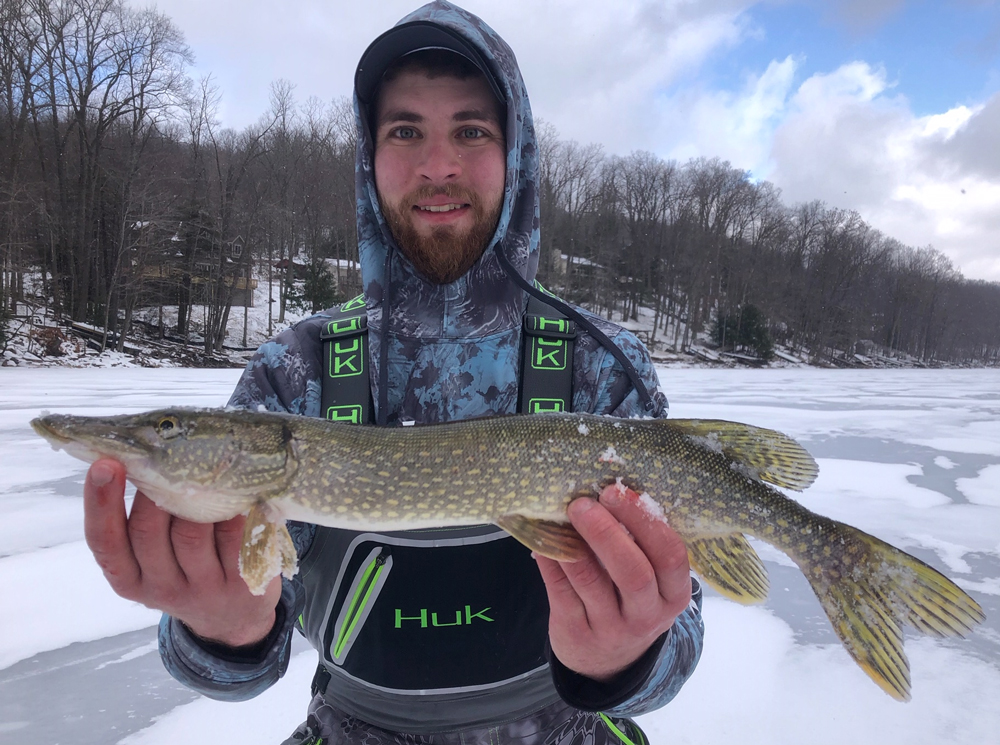 The ice at Deep Creek was getting iffy in the main lake but still holding strong in coves, and anglers braving the elements have been doing well there. Yellows, pickerel, and crappie have been plentiful for anglers opting to use a minnow on a shad dart in deep water where the fish have been hiding. Underwater structure present in the lake has been holding both species, and submerged fallen trees and stumps are always a good bet.
Lake Anna is experiencing similar patterns and results, with more bass in the mix, and anglers able to actually cast(!) there. Although ice was a problem until the warm days melted it away (as of Wednesday it had cleared out), St. Mary's Lake has also been a relative hotspot for anglers targeting crappie and fliers - both are being caught around structure in deeper waters on small minnow and a shad dart. We had reports of cloudy water near the shorelines, and that hitting areas with deep water and structure, such as dead trees and stumps, has been a safer bet than fishing near shore.
Outside the lakes, trout fishing has been good in a number of areas. Gilbert Run (Wheatly Lake) in southern Maryland, Calver Cliffs pond, and the Casselman River out west all came up in reports this week; the DNR has been stocking Maryland's freshwaters and planted 6,000 fish just yesterday. The trout were hitting Berkley trout baits, small crankbaits, spinners, and spoons in shallow water. In the mountains of Virginia Mossy Creek was reporting high water and an as-of-yet unknown impact.
Catfish hunters on the Potomac, Rappahannock, and James have also had high water to contend with, although the blue cat bite has been holding up. We heard from a couple of anglers who broke the cabin fever this past week on warm days and caught excellent numbers of mid-sized cats in the Potomac just downriver of DC, on cut bait set on bottom. A few larger fish were mixed in, too. 
---
Mid-Atlantic Freshwater Fishing Report, February 1, 2019:
With the recent harsh weather, freshwater is the one area in which anglers have some serious options. Headlining that list is the ice fishing bite - thanks to the recent deep-freeze there's hard water in some areas in the northern and western reaches of the Mid-Atlantic. We heard several reports from Deep Creek, where there were eight to nine inches of ice in the coves and five inches over the main lake. Caution is still in order, but it can reasonably be called safe at this point. And productive, too, as we heard from multiple anglers who caught a mix of yellow perch (up to a half-dozen) and walleye (a couple-few on average) on large shiners set on tip-ups in deep water (30 to 40 feet). The upper areas of main lake seemed to have the best bite. Check out Cheap and Easy Ice Fishing, to see how to jump into this game.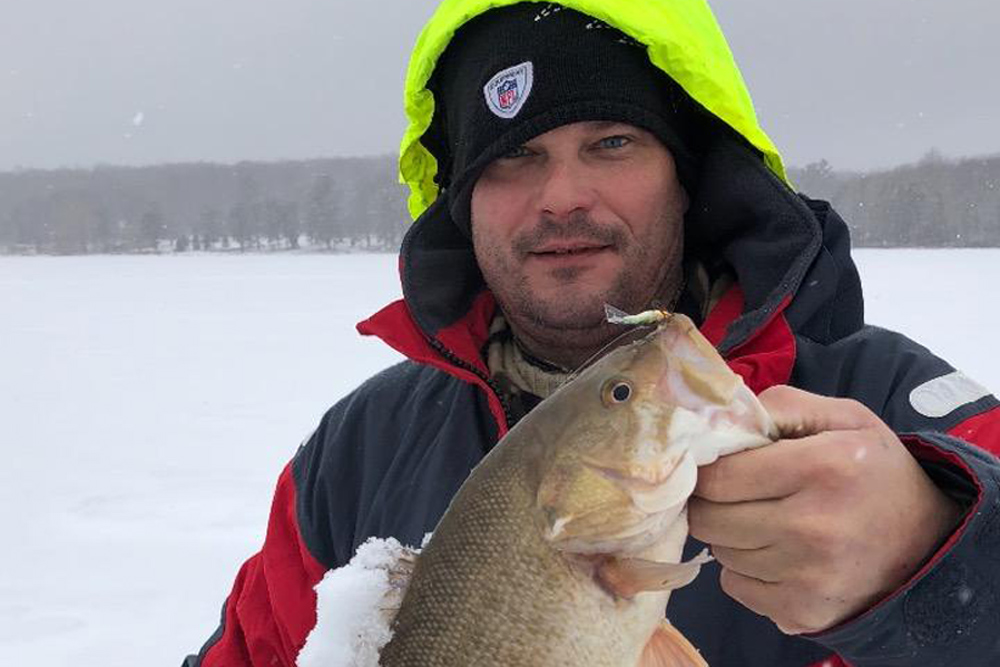 There's also good ice over several of the southern PA options. Sheppard Meyers is iced, but there are reports of some thin areas covered by snow and extreme caution is in order, and fishing there has been slow in general since the lake was re-flooded after dam repairs. We haven't heard anything from Marburg, but it's a safe bet that the coves are in good shape; the main lake is a different story. 
Trout anglers have a shot at some action, too, and there's been some pre-season stocking going on, but stick with moving water. Many of the stocked ponds in our region, even in southern areas, now have a coating of skim ice preventing fishing.
The Eastern Shore millponds remained an option as of last weekend (though this current cold could skim them up), but the bite was slower than it has been recently. Angler in Chief Lenny Rudow fished Salisbury last weekend and reported an extremely slow pick, with just one bass and one pickerel to show for his efforts. Minnow under a bobber were the only effective offering. Conversations with several other anglers confirmed similarly slow action for everyone, though crappie were also in the mix for some people. A few anglers hit the upper rivers on the lower shore but found similarly difficult and uncooperative fish, with some pickerel biting but overall slow fishing.
Reports from the southern reservoirs were also slow, as it seems the recent weather has taken a toll just about everywhere. Anna is reportedly a bit muddy to The Splits and beyond and anglers there could see fish down deep on the meter, but found it very difficult to get them biting. Same goes for Buggs Island. Again thanks to the weather, we have no reports this week from the upper tributaries catfish anglers.