Mid-Atlantic Freshwater Fishing Report, March 27 Update:
Well anglers, we've been advised to stay home and keep at least six feet away from other people. Tough, right? We're already feeling a little cramped up. But, we've got some groovy weekend plans that allow us to heed directions from our all-powerful, all-mighty regulators while getting off of the couch and onto the water. Is there ever a reason you should be fishing within six feet of another person anyway? Heck no! And is there ever a reason your boat should be passing six feet within another? HECK no! As long as we're sticking by long-mandated water-going etiquettes – and only heading out with our families – fishing is a green light. And as Monthy Python reminds us, you've gotta look on the bright side of life!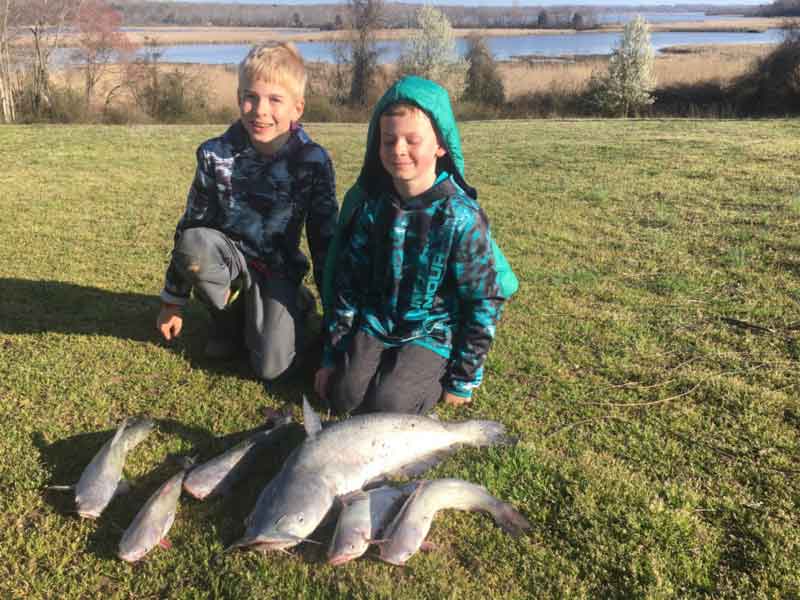 Meanwhile, some crafty anglers across the Chesapeake Bay area are getting creative with their fishing plans. Some tackle shops, such as Anglers and Alltackle, are taking your order and credit card payment on the phone, then running your gear out to the car. But, a few of our adventurous comrades have invented new tactics to keep human interaction to near-zero levels. One innovator chose this week to forgo the tackle shop, and instead reap nature's bounty. He trekked out the doors of his home, hiked into his yard, and tugged up some big ole worms. He traversed Alpine steps to his fridge, and foraged for some musty old cheddar cheese. And he crossed the great plush desert of his living room, spelunked into the vast cavern of his closet, and safely returned with none other than a bag of sweet, dry FishBites. This modern-day Columbus then led his sons Logan and Scotty on a pilgrimage to the deserted shores of the mighty Patuxent, where large blue catfish scour the murky depths in search of their next hard-fought scavenged meal. He then found himself and his sons landing blue cat after blue cat on hooks baited with that musty old cheddar cheese. The blue cats ignored the other baits in favor of that delectable dairy delicacy, ignoring the worms with an upturned snout (seriously). In these trying times, his story of triumph is an inspiration to us all. Chedder cheese! Who Knew? But really, the moral of the fable is this: while man plans and God laughs, fish aren't men and they haven't got plans. Nor do they really give a d___ about this coronavirus – blue cats are here, they're accessible from places you can easily practice social distancing, a lack of traditional bait does not mean you can't go fishing, and while we try to endure these times there's no better way to relieve some stress than cranking on catfish.
With the current home-binding situation, little looks more tempting than hitting up the rivers and lakes for some good ole social distancing in nature night now. Freshwater anglers should note that this has caused something of a mass migrations to the lakes, lochs, and tribs recently, and some shorelines are ending up busier than your local Chic-Fil-A would normally be. Still, anglers have done a great job respecting the social-distancing guidelines and other guys' fishing spots. Just remember that most fishing rods are about six feet long, so if you can cast side-armed without smacking someone, you're good.
To relieve some of the usual crowding Maryland hasn't said where they put them, but they did contribute many more trout to the freshwater waterways in the state this week to relieve overcrowding at the hatcheries.
The other big news this week was of the snakehead bite, which got red-hot when the weather warmed but then dropped off as the weather cooled back down. Look for this bite to fire up again as temperatures rise, and chill back out as they, well, chill. And note that this time, when they came on during sunny days they were hip to attacking topwater. Contributor Eric Packard caught 19 over the past week, fishing with only topwater and (when it clouded up and cooled down) white swimbaits.
---
Mid-Atlantic Freshwater Fishing Report, March 20 Update:
Yes folks, we know we're all tired of hearing about CV-19, but we need to mention that due to the current situation we had a tough time getting a hold of some of our usual contacts this week. We apologize for the somewhat abbreviated reports. The good news? For as long as it remains an option, the best way to practice social distancing is to go fishing!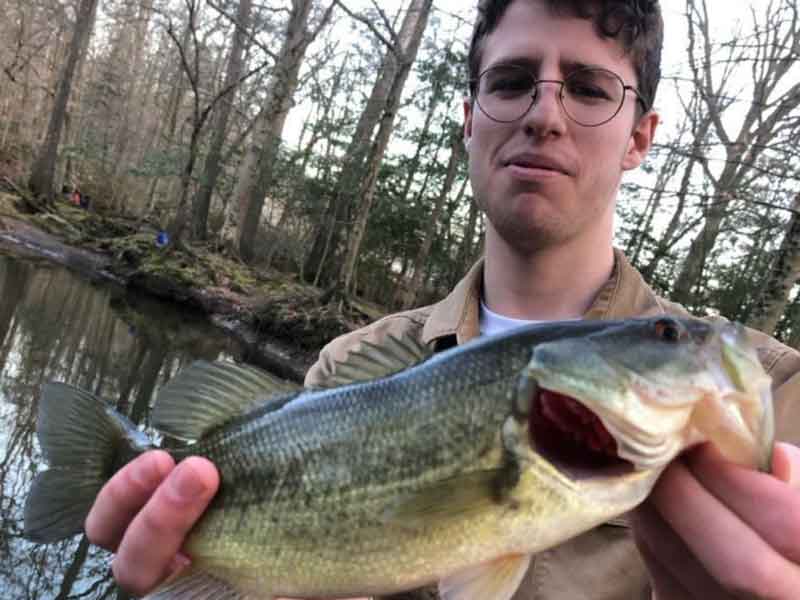 Many freshwater anglers have been joining the saltier crew in the headwaters of the tributaries recently to get in on the perch runs, where they've been picking up some crappie and bass as well. There have also been some surprise catches popping up in those areas, often in the form of ginormous catfish and some very large stripers. We had a couple of readers check in to say that they caught trophy-sized stripers in the Potomac (including one all the way up at Fletcher's) and in the Susquehanna.
Trout stocking has been put on hold in some areas (MD) and in Virginia stocking is continuing but is no longer being announced ahead of time in response to the nasty 19. While we wait for life to return to normal, however, remember that much of the stocking had already taken place and from an angling perspective eliminating the elbow-to-elbow crowds that sometimes popped up on stocking days could actually be a net plus for the fishing.
Snakehead anglers had a good week for the most part, on days when the sun was out and warming the waters. Word from Blackwater was of building catches, sometimes as many as a dozen fish in an afternoon when conditions were sunny. Crappie were in the mix for anglers loading up the hook with a small minnow instead of a big snake-bait. That said, Angler in Chief Lenny Rudow reports a tough day on the Transquaking yesterday, with the snakes mostly unwilling to bite. Despite talking with four other boats and six or seven people fishing at the bridge he was only able to confirm three snakes in the coolers (two on minnow, one on a white swimbait). We also heard of a few snakeheads coming from the Potomac's creeks this week but again, yesterday in specific was tough as Contributor Eric Packard reported a mix of crappie, bass, and perch in Mallows but only located one angler with a snakhead.
---
Mid-Atlantic Freshwater Fishing Report, March 12 Update:
Where does reporting on the tidal river bite spill into the Freshwater report? We're not sure, but we can't fail to mention that all around the dial the yellow perch run is now going full-tilt. Check the reports for the areas nearest you if the perch run is of interest, and act fast because we're now a full week into prime action on both western and eastern side tribs.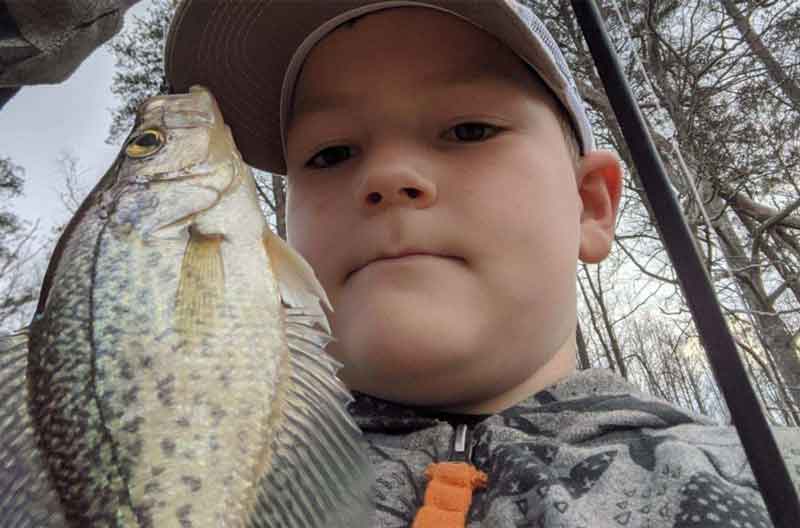 Meanwhile, the warmer weather and water has also been turning on largemouth bass, which are moving onto the drop-offs between deep and shallow water and have been trending shallower recently. Anglers hitting these areas have been enjoying good catches using grubs, swimbaits, Ned rigs, and diving crankbaits, and Set's Sport Shop also let us know that on sunny days the largemouths have begun venturing into the shallows as the water warms up. Crappie fishing, meanwhile, remains excellent. The Tackle Box mentioned that St. Mary's Lake has a great bite around the spillway and stumps right now, and suggested anglers head out with plenty of minnows. The same is holding true in the Baltimore-area and Virginia reservoirs, where bass and crappie are highly active right now.
On the trout scene, the Delaware downstate areas are now open in the Kent/Sussex county ponds that have been stocked and the Maryland DNR stocked an additional 7,250 trout this week in Allegany, Garret, Washington, and Fredrick Counties. Virginia has also been stocking hard this week throughout the state, with too many places in the mix to list them here; scroll down to last week's reports for the links to all of the state trout websites.
Snakehead report: Yup, just as you had hoped the recently warming weather has triggered a bit of a snakehead bite in the Blackwater complex and the surrounding areas. It hadn't get hit the boiling point this week and most of the reports we heard were of catches of two to five fish, but as warm weather continues to move in you can expect the numbers to grow exponentially in the near future. Minnow under a bobber have still been the best bet to date, though this week we did hear of a few caught on swimbaits and chatterbaits worked slowly just off bottom.
In other news of note this week, we've gotten a couple reader reports of walleye up the Potomac north of Great Falls, and also in the Susquehanna. But for sheer numbers nothing compares to the catfish. Between readers and tackleshops, it's hard to find a river anywhere between the PA and NC lines that doesn't get mentioned sooner or later for (mostly) blue cats, channels, or flatheads. Some particular stand-outs: the Susquehanna near the 95 bridge for blues and the dam pool for flatheads; the Potomac in and up from DC for blues, and the James from the mouth of the Chickahominy up.
---
Mid-Atlantic Freshwater Fishing Report, March 6 Update:
Yes, this is freshwater, but we still need to point out for anyone thinking about going fishing in the coming days: the yellow perch run is ON, in both the western and eastern tribs' historic spawning grounds. (Heck, most of the hotspots are far enough up-river to count as freshwater, anyway). If you haven't already, check out and Ring In the New Season with the Perch Run (for DE/MD/VA) or Maryland Yellow Perch Perchapalooza (MD only) to get all the intel you need to chase after these tasty fish. Meanwhile... you trout-lovers are surely getting ready for action, with Delaware's downstate pond stocking open to fishing starting tomorrow. Check the Delaware-dot-gov site for details. In Maryland, the DNR has been pouring fish into streams and ponds at a rapid clip, with over 4,000 fish getting dunked the past week; see the Fisheries Trout Stocking page to learn the whens and wheres. And yes the VDGIF has been quite busy stocking Virginia's waters, too, so here's the link for the VA trout stocking schedule.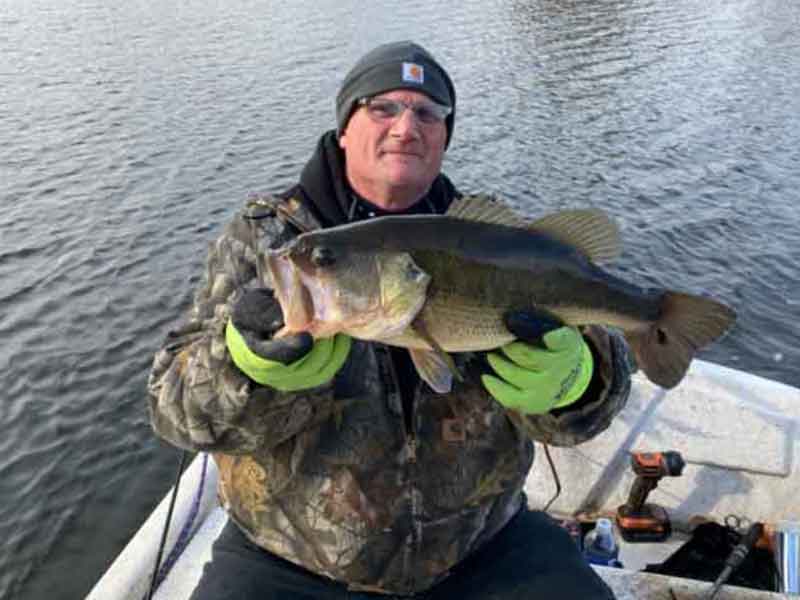 In the region's larger freshwater bodies ranging from the Baltimore reservoirs to St. Mary's Lake (which The Tackle Box mentioned was producing well) to Lake Anna to Deep Creek, bass are beginning to shake off the cobwebs and seem to have entered a rather early spring-mode already. We had a bunch of reader reports of solid bass bites this week all around the dial (though out at Deep Creek the fish are still holding deeper and moving slower) with Ned rigs, football jigs with craw trailers, and deep divers all proving effective when worked over points, drop-offs, and transition points. The five to 10 foot range came up as productive. We did also have some reports of slow days when the front passed through earlier this week, so weather may be playing a rather critical role as these fish get ready to feed up for spawning season. The fish seem to be a step ahead in the Eastern Shore millponds, where numerous reader reports came in from this week of steady bass and pickerel bites (the pickerel mostly coming on minnow). Crappie weren't as happening in the ponds as of yet but Contributor Eric Packard did get into them thick (along with yellow perch) in Allen's Fresh earlier this week. Historically March is a great month for crappie in the millponds and we'd expect this bite to explode literally any day now, for anglers drifting small minnow on darts and marabou jigs three or four feet under a bobber.
In northern areas there's good action on both perch and catfish, with Herb's mentioning that catfishing is still proving popular at the Conowingo dam pool. We also heard about plenty of cats coming from the tributary waters this week (The Tackle Box mentioned good action in the Potomac, and at Bushwood for boatless anglers) and as they begin to warm the catfish bite should only get better and better including for those monster blues - so check out Monster Catfish to get the low-down on the tactics, and get the heavy tackle ready!
We had a surprising dearth of reports for snakeheads this week, whether due to a lack of effort or a lack of biting. Still, a sunny day or two should activate the fish in shallow areas like the Blackwater complex, where big minnow suspended under a bobber can be expected to be the most effective offering until water temps jump up significantly.