Freshwater Mid-Atlantic Fishing Report, May 24 Update:
Trout stockings continue (scroll down to the first report of the month for links to the state schedules), and many rivers and creeks in northern and eastern areas of our region remain swelled but conditions have been improving through the week and most should be fishable this weekend. Although water levels ran high, stream and mountain anglers should now have the ability to try some fly fishing. In areas where water levels are low trout will spook and are difficult to land, so while levels remain up but the water has cleared there's a prime opportunity, especially for wild brook trout. Another good option in western rivers are smallmouth, which are in post-spawn mode and are feeding heavy to fatten up. Mossy Creek reports that the Shenandoah should be an excellent bet in the coming days and the upper Potomac is another good option.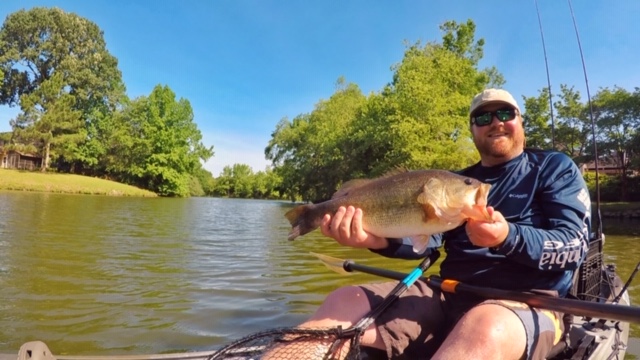 Farther east towards the Bay, reservoirs are clearly the best freshwater bet at the moment. Bass are in post-spawn mode and are hungry, fattening up to restore their energy levels but still are being caught relatively shallow, with spinnerbaits and crankbaits proving effective. Up north B&B Tackle reports that the first bridge in Lake Marburg has been a hotspot for both bass and crappie. Soft plastics such as Senkos are also taking their share of the bass here. The Baltimore area reservoirs are producing crappie for anglers fishing small minnow on darts and jigs, mostly at bridge pilings and deeper structure, as these fish have also moved back out off the spawning areas. This week Herb's Bait Shop let us know that bass bite has been more or less consistent in the last week, and anglers have said they're a good target species to fish for right now. With weather warming up, bass are on the move for food, are hungry because of the spawn, and the fish have been very active. Loch Raven has been a good area, as well as other nothern reservoirs. Reports from St. Mary's Lake and Piney Run Reservoir indicate that largemouth bass, crappie, pickerel, and yellow perch are all active. Casting small pearl and silver swimbaits has been a good bet for the panfish and at St. Mary's, shoreline anglers have been doing as well as boat angler. At Lake Anna, post-spawn bass are hitting steadily on spinnerbaits, crankbaits, and plastics in post-spawn locations. Most of the lake has cleared but in areas where water color is stained, root-beer and similar dark colors are out-performing lighter colors. Live bait anglers and to a lesser degree jiggers have also been enjoying a striper bite mid-lake from the Splits down, that's bounced between so-so and red-hot the past week. The fish are holding fairly deep but are schooled up and active, once located.
Snakeheads remain a prime target for anglers visiting creeks off the upper tributary areas on the Western Shore, and the Blackwater complex and surrounding areas on the Eastern shore. In either case the bite's trended towards becoming more of a topwater game, with frogs and Whopper-Ploppers headlining the action. Most of the reader reports we received this week ranged from two to five fish on the western side, and zero to three fish in the eastern zone. Remember that the Blackwater areas warm up very quickly and seasonal changes in the bite can be substantially farther along than other areas. Expect to start seeing fry balls there sooner rather than later, and don't be surprised if snake action in this area gains ground rapidly in the coming weeks.
In the western shore tidal rivers catfish abound as usual, and will chomp on cut fish or chicken breast on bottom. Speaking of catfish, congrats go out to Nick Palese, who pulled a new Maryland state record bullhead (4.9 pounds) out of the Big Gunpowder while bass fishing last weekend.
---
Freshwater Mid-Atlantic Fishing Report, May 16 Update:
People, we hate to sound like a broken record, but…yet again, thanks to substantial rainfall, rivers, creeks, and other areas of moving water are running high and muddy throughout the region. The effects are localized but widespread, and some rivers are much worse off then others, but as a general rule of thumb, focusing on larger bodies of water that are less effected by runoff is a good move. Trout anglers can still check the stocking schedules (scroll down to see links to the schedule for each state in the region) but many western waterways are too riled to be fished effectively.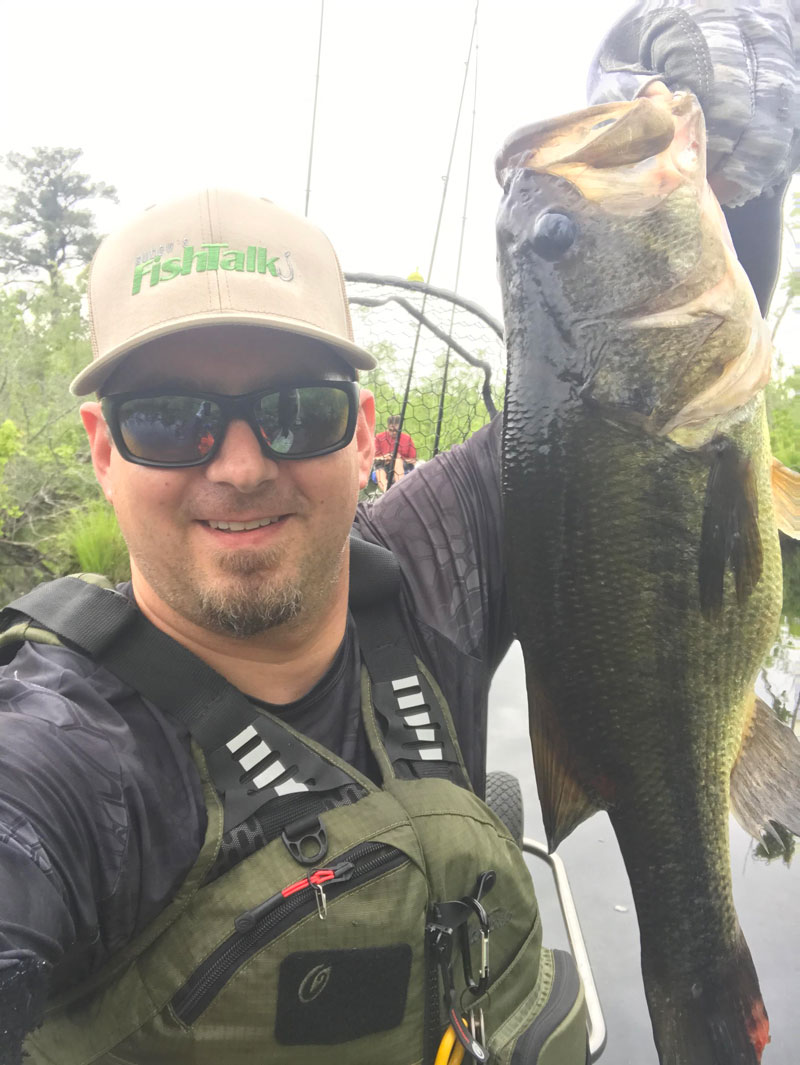 We did get good reports again this week from the area reservoirs, where bass and crappie are holding in shallow water, often around structure. Crappie have been particularly active, and are hitting small tube jigs, Beetle Spins, and two-inch twisters. Red/white and white were the top color picks, though if you encounter muddy water dark blue or purple may be a better choice. Contributor Eric Packard hit several lakes and ponds this week and caught all of the above plus some pickerel and yellow perch, and reported that a white Beetle Spin with a gold blade produced best for the panfish, and a white swimbait was the top producer for larger fish.
The snakehead bite has become much tougher on the Eastern Shore as the tremendous pre-spawn spring run seems over. However, snakehead fishing has held up better on the Western side of the bridge in recent days, with the fish active throughout the region but the creeks on the Virginia side of the Potomac offering the best bet. Chatterbaits and swimbaits remain popular options. Our other ever-present invader, the blue catfish, is also available in good numbers and ready to bite in virtually all of the western shore tributaries. Scratch that – just make it all of them. Even in the rivers that had formerly been cut off to the cats by the formerly salty Bay, they're now being caught on bunker chunks and chicken breast.
One specific point of interest: we've received some pics of very nice largemouth bass this week, especially from the Norfolk-area ponds. In the warmer parts of our region it seems that they've done spawning in small bodies of water, and are feeding hard. Spinnerbaits, swimbaits, and topwater cast to shallow structure and deadfall has been the ticket.
---
Freshwater Mid-Atlantic Fishing Report, May 10 Update:
Fishing for stocked trout remains a mainstay for many anglers throughout the region; scroll down to find links to your state's stocking schedules. Wild brook trout are also an option for those willing to travel a bit to the west and north sections of our region, and the continued high water conditions have allowed many brook trout to grow to an unusual size, but muddy waters are making fishing difficult in some areas. Due to the scattered nature of the past week's rainfall it's very difficult to predict where you'll find fishable water, and where it's mucked up. Same goes for the smallmouth fishery, and our Freshwater Correspondent Jim Gronaw reported this week that many of the southern PA/northern MD creeks and rivers are "goofed up." Reports from the upper Patuxent and Potomac are much the same, although there's been a snakehead bite up above the 214 bridge in the Pax, and in the creeks of the Potomac. Apex Predators checked in again this week with more snakeheads to report from the Virginia side of the river– they've been tearing them up with great regularity right through the spring.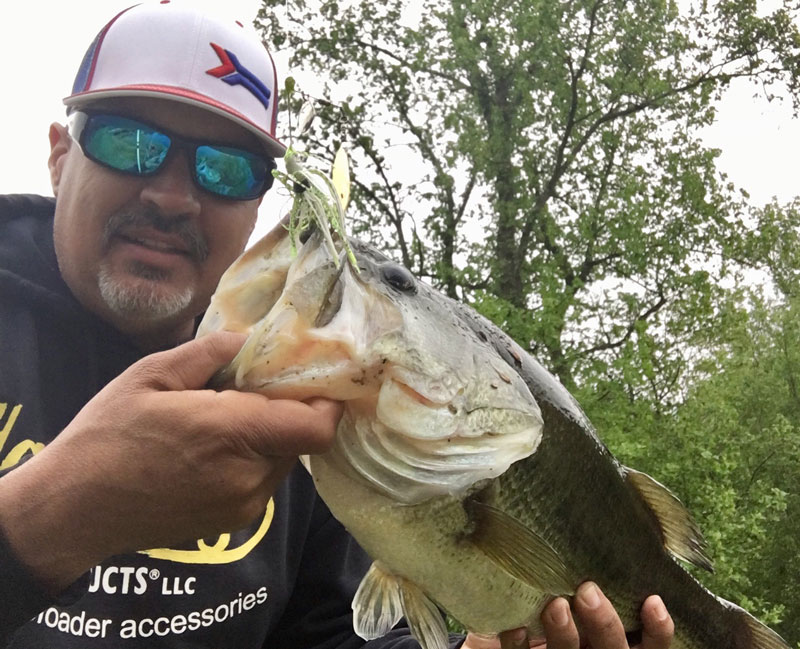 Otherwise, reservoirs continue to be the best bet to be sure you'll avoid dirty water conditions. Reports from the Baltimore reservoirs indicate excellent action on bass and also a few pike for anglers casting plugs, and crappie for those soaking minnow or tossing two-inch tubes. Most of the fish are shallow and crappie can be seen spawning in many areas. We also received reader reports of crappie massing around beaver dams from both Piney Run and St. Mary's Lake this week. The Tackle Box also checked in to say that St. Mary's Lake is hot, with crappie, bluegill, and bass especially prevalent. Spinners, plastic frogs, and crankbaits have been working well for the bass and Beetle Spins and marabou jigs tipped with minnow will tempt the crappie, whereas live crickets are working great for bluegill. To the west out at Deep Creek the fish are a click behind in spawning, and bass are just beginning to do their thing as the crappie are starting to move shallower. Reports from Lake Anna indicate that the striper bite has picked up, especially for those using live bait, and crappie and bass are shallow and on a rampage. Five feet of water up to the shoreline, around structure, is best. We also had several reader photos sent in this week of beautiful largemouth bass caught from various unnamed ponds and lakes in the Norfolk area, so if you live in this neck of the woods and want to get in on some bass action, now's a great time.
On the Eastern Shore reports of success from the snake hunters dropped off this week, and local sources tell us that they believe the fish have spawned and the eggs have hatched but the fry is still too small to be spotted in fry balls. Angler in Chief Lenny Rudow took a trip to the Transquaking last week and while they saw plenty of fish rolling, over and over again the snakeheads grabbed the minnow and yanked the bobber under violently only to immediately spit the bait. Fortunately, a steady channel catfish bite kept the rods bent all afternoon. Anglers back at the ramp had between no and three snakeheads and those who caught did best on lures (chatterbaits were mentioned) as opposed to live bait.
---
Freshwater Mid-Atlantic Fishing Report, May 2019:
Freshwater fishing has been on fire in the past week. Lakes, ponds, reservoirs, and streams have been active with warming weather, much of the area has avoided swamping rainfall, and a variety of species are being caught. On top of that, Tochterman's reported that the slow striper bite has been encouraging many anglers to venture to freshwater sources for their fish dinner. Starting in the northern areas, reports came in this week of crappie having moved into the shallows and entering spawning mode, particularly in smaller bodies of water that warm more rapidly than some of the large, deep reservoirs. In the southern reservoirs in our area, however, from Southern Maryland (confirmed at St. Mary's Lake) down through Virginia (confirmed at Lake Anna), even in bigger waters the crappie are up along the edges and full-on spawning. Bass are also in the shallows throughout the range. Crappie, bass, and pickerel have been abundant at Loch Raven, as well as the other Baltimore reservoirs and area lakes and ponds. We also had a report from Loch Raven this week of a mix of bass and pike caught from the shoreline, on spinners. The Tackle Box confirmed that St. Mary's is red-hot, and reported that crappie are taking live minnow suspended by a bobber, and bluegill are eager to hit live crickets. Bass have been close to shore in the shallows and can be found around structure. Anglers are using soft plastic frogs, crankbaits, buzzbaits, and spinners. With fish in the shallows, casting topwater is an option as well.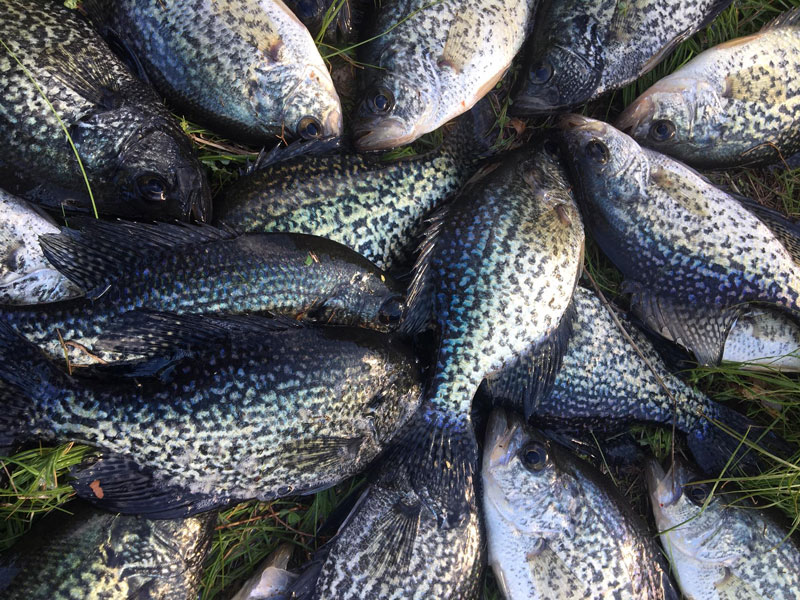 The excellent all-around freshwater action has overshadowed trout fishing in recent reports, but don't forget that stockings are still underway in some areas. Visit your state's stocking web sites, to get the scoop:
In other freshwater news, catfish and fishing for snakeheads remain two top options in the upper portions of Bay tributaries. See your local area's reports, for more details. The epicenter of the snakehead bomb is still on the Eastern Shore (see the Tangier and Lower Shore report) but this week we heard reports from many Western Shore tribs as well. Almost all of them, actually, with the strongest reports coming from the creeks of the Potomac. Similarly, reports of catfish are basically coming from everywhere and anywhere anglers drop cut bait or chicken breast down to the bottom.
There were also mixed reports this week from upper tributary freshwater areas, ranging from the James above Richmond, to the Susquehanna, all pointing to the same thing: where you find acceptable water levels and clarity, smallmouth bass have been active. However, it all comes down to conditions and last week's scattered storms affected many areas differently (and some not at all). We can't confirm current conditions in each and every river system, but we can suggest that a quick visual survey (or a call to a local) is in order before you try fishing and if you find poor conditions, the best bet will be to move on and hit another spot. Same goes for trout anglers heading west to do some fly fishing.