Freshwater Fishing Report, November 27 Update:
Hi anglers, we hope you all enjoyed a fantastic Thanksgiving! Trout anglers have been picking away at the last of the stocked trout in the region, and we heard from a couple of readers this week who found a few hold-over fish in lakes and ponds off the beaten path in Maryland. Virginia still has new fish going into the water on a regular basis; check their stocking page for the latest.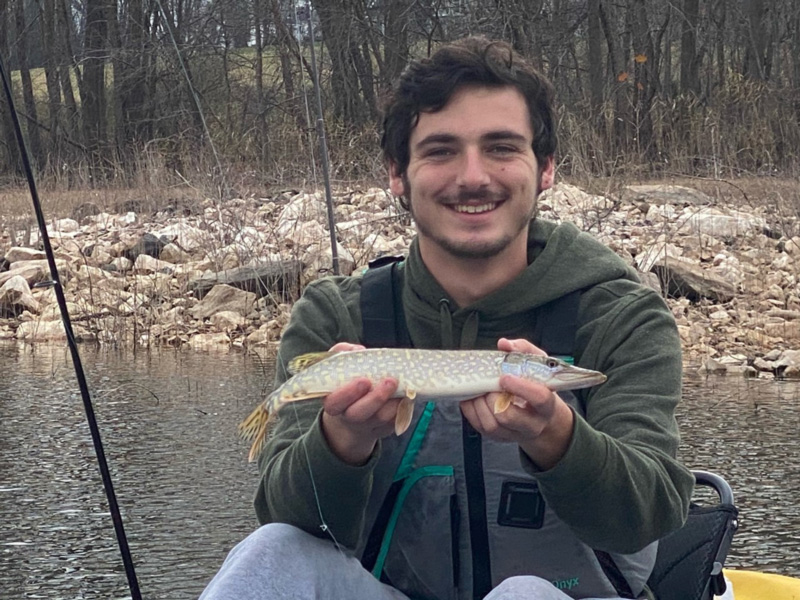 On the reservoir front, a FishTalk kayak angling brigade including our resident peddlers Zach Ditmars, Eric Packard, and David Rudow hit Tridelphia and reported rather amazing action with over a dozen northern pike and several dozen bass slapping their blade-baits, twister-tails, and quarter-to eighth-ounce swimbaits. Whites, blues, green, and Electric Chicken colors were all working well at points and rocky edges. The pike were small ones, but can anyone remember talk of pike this plentiful in our region? We sure can't. Reader reports from other reservoirs indicate a similarly good bump in the bass action this week, with one angler hitting Lake Anna also reporting over a dozen bass on blade-baits. Underwater points with drop-offs were fingered as producing. Crappie continue to be pulled up from area reservoirs anywhere there are bridge pilings or deepwater structure. A reader who spent a day at one of the "mid-shore" millponds on the Eastern Shore also reported a good crappie bite, with small minnow on hair jigs three feet under a bobber producing the most bites.
As for the snakehead crew it was pretty quiet this week for "normal" anglers, but we did hear from a bow-fisher who got eight in a Western shore trib.
---
Freshwater Fishing Report, November 20 Update:
FishTalk sharpies Zach Ditmars and Eric Packard went inland last weekend, and report that a few bass were biting in Rocky Gorge but overall the action was slow, no doubt related to the unsettled weather we've been having recently. Reports from readers hitting Lake Anna and Lake Chesdin were similar, with off-color water and a tough bite. There are also reports from St. Mary's Lake of absurdly high water levels, which over-topped the spillway and rose above the rip-rap on the dam. The bright spot for reservoir anglers is that crappie are still hitting hard around deep-water structure, as reported from the action around bridges at Anna. Deep Creek Lake wasn't as affected by the difficult weather conditions this week. Largemouth and smallmouth bass were still caught around drop-offs on imitation crayfish and crankbaits. Deep Creek Outfitters also let us know that some walleye were caught on minnow this week.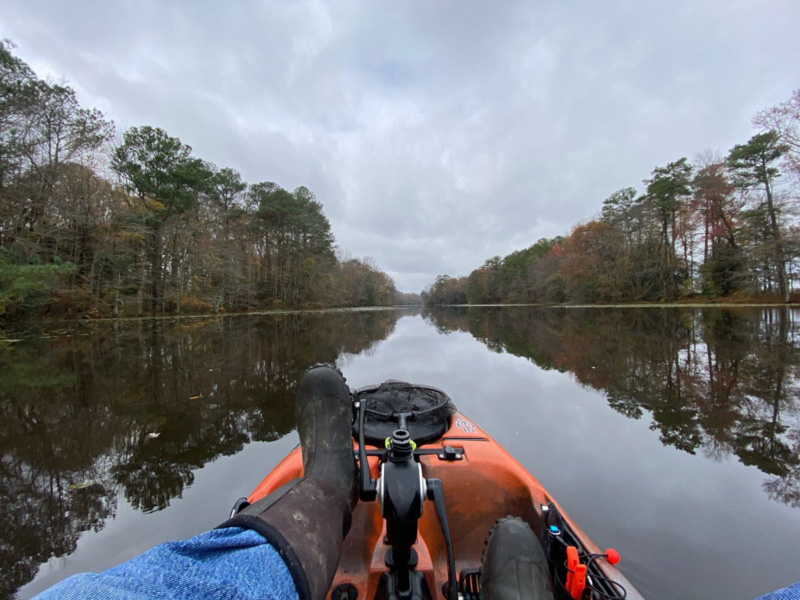 While reservoir anglers had a relatively tough week, guys headed to streams enjoyed renewed water flows throughout much of the state. Managed trout waters are great fun for fly fishers, and the stock remains plentiful. If you're looking to gear up with some new flies be sure to check out Tochterman's in Baltimore — the longest-running family-owned tackle shop in the United States, they opened up a beautiful new fly shop this year.
Not much word from the snakehead sharpies this week, perhaps due to the weather. We would note that the upcoming weekend warmth may well trigger some bite, though, especially for anglers fishing minnow in the afternoon after the sun's had a chance to warm things up.
---
Freshwater Fishing Report, November 13 Update:
Reservoirs are a great place to be, right about now! Deep Creek Outfitters checked in to let us know that the lake has great fishing going on. The waters have long calmed down for the season, providing ample undisturbed opportunity for anglers to get after the fish from shore and by boat. Smallmouth bass have moved into their autumn haunts, and although the weather is still fairly warm, they're no longer operating in summer-mode. They can be found in deeper water along edges and drop offs, as well as in SAV. Small crankbaits and plastic worms are a fan favorite right now. Walleye are also biting, and taking minnow. A couple walleye were also reported from Liberty this week, by an angler who knows (and is not disclosing) where the big underwater rock-slides are. At Lake Anna there are stripers and bass being caught, but right now the crappie are in prime form at deep-water structure and the bridge pilings hitting two- to three-inch tubes in white, pearl, and red/white. Pickerel action is also ticking up pretty much anywhere they're found and it should continue to improve as water temps drop.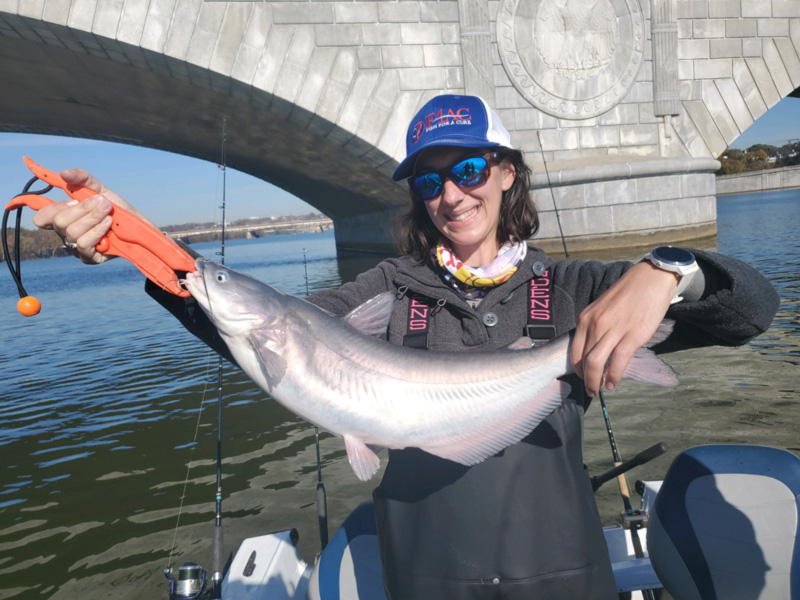 Angler in Chief Lenny Rudow reports that catfishing for blue cats in the upper Potomac River in D.C. is absolutely off the hook right now, and in about six hours of fishing during the Fish For a Cure last weekend they caught over 800 inches of cumulative catfish on fresh bunker chunks and chicken livers. Pretty much everywhere they stopped with depths of 15 to 30 feet near the pilings of multiple different bridges produced plenty of bites, with the largest fish at 36.75-inches. Bloodworms and minnow also caught 'em, and a nice largemouth bass decided a bull minnow was too tempting to pass up, too. November is usually a great month for blue cats in many of the Western Shore rivers so if you want to feel their heavy tugs, now's the time to try for 'em.
Trout stocking in Maryland is mostly a done deal for the fall but the DNR is reporting that there are still lots of fish in the trout management areas. We haven't been hearing about a ton of pressure on the fish so we'd expect that's accurate and going after them would be a good prospect. Virginia is still putting fish into the water in a wide range of areas; check their Trout Stocking page to see the latest. Dittos for PA, which had a stronger trout stocking schedule in October but is still adding fish into the mix.
---
Freshwater Fishing Report, November 6 Update:
Freshwater fish have been moving into their winter modes of behavior, moving further from shore and hanging around structure and ledges. The recent warm-up could reverse this trend temporarily, but as we gathered the fishing intel this week it was too early to say if it's happening or not. Contributor Eric Packard let us know that shortly before the weather became so unsettled he found the bass biting strong on wacky worms, Ned rigs, Beetle Spins, and paddle tail jigs — whatever he casted they were snapping up, and he and another kayak angler fishing the reservoir landed 33 bass, three yellow perch, and a pickerel.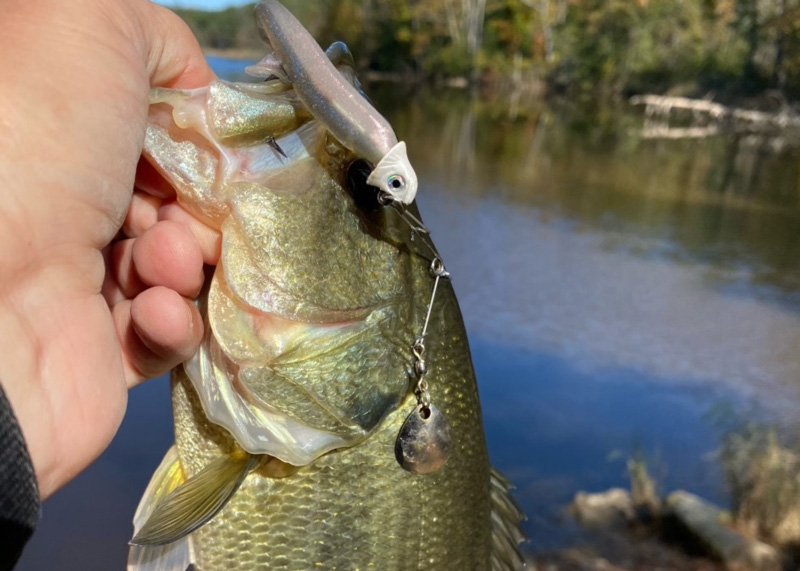 Anglers who have been waiting for the fall trout season this year aren't disappointed – following the trout stocking programs, the regions' waters are flourishing with fish. Fly fishermen using nymphs in the rivers are doing exceptionally well, enjoying steady water levels and beautiful change of seasons in addition to great fishing. From the stocked ponds and lakes we had reader reports this week of great catches on Berkley trout bait as well as artificials like small spinners. The bulk of these fish will probably get caught over the next few weeks but right at the moment, hot and heavy action is still available.
As we go to digital press with this report we hadn't yet heard much noise from the snakehead sharpies, but the sudden jump in temperatures paired with sunny skies means a resurgence of action from this species is likely; if you're considering takin a shot at 'em, this weekend probably presents the best potential opportunity you'll see for the next five or six months.