Coastal Fishing Report, March 27 Update:
Well anglers, we've been advised to stay home and keep at least six feet away from other people. Tough, right? We're already feeling a little cramped up. But, we've got some groovy weekend plans that allow us to heed directions from our all-powerful, all-mighty regulators while getting off of the couch and onto the water. Is there ever a reason you should be fishing within six feet of another person anyway? Heck no! And is there ever a reason your boat should be passing six feet within another? HECK no! As long as we're sticking by long-mandated water-going etiquettes – and only heading out with our families – fishing is a green light. And as Monthy Python reminds us, you've gotta look on the bright side of life!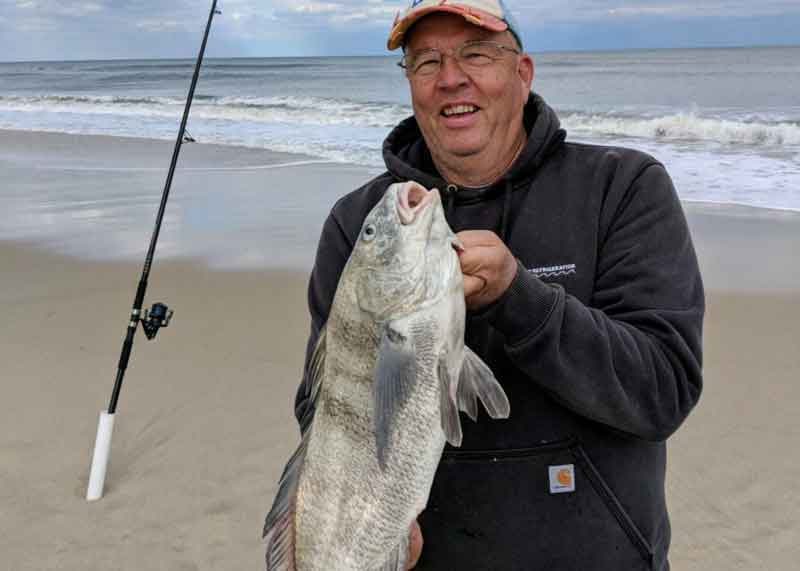 Is there any better place for social distancing than the Atlantic? We think not. Alltackle in Ocean City reported that during this whole fiasco, boats leaving the docks have been returning with tales of fair to great toggin' days on the wrecks. (Note: call ahead at (410) 213-2840 to place an order for bait and/or tackle, pay by credit card, then pick up curb-side). While the bite's been a bit finicky, when the tog are on it's easy to load up on 'em. Anglers are also reporting a couple more flounder showing up, after last week's initial report. This week we had reports of two coastal bay flatties, one caught in the Thoroughfare in OC and one caught in an undisclosed Virginia coastal bay. In the coming days, we expect the bite will pick up big-time as more move in.
We also have our first report of action in the suds this week, with the first black drum of the year that we've heard of being caught from a beach in Virginia, on a chunk of peeler crab.
---
Coastal Fishing Report, March 20 Update:
Yes folks, we know we're all tired of hearing about CV-19, but we need to mention that due to the current situation we had a tough time getting a hold of some of our usual contacts this week. We apologize for the somewhat abbreviated reports. The good news? For just as long as it remains an option, the best way to practice social distancing is to go fishing!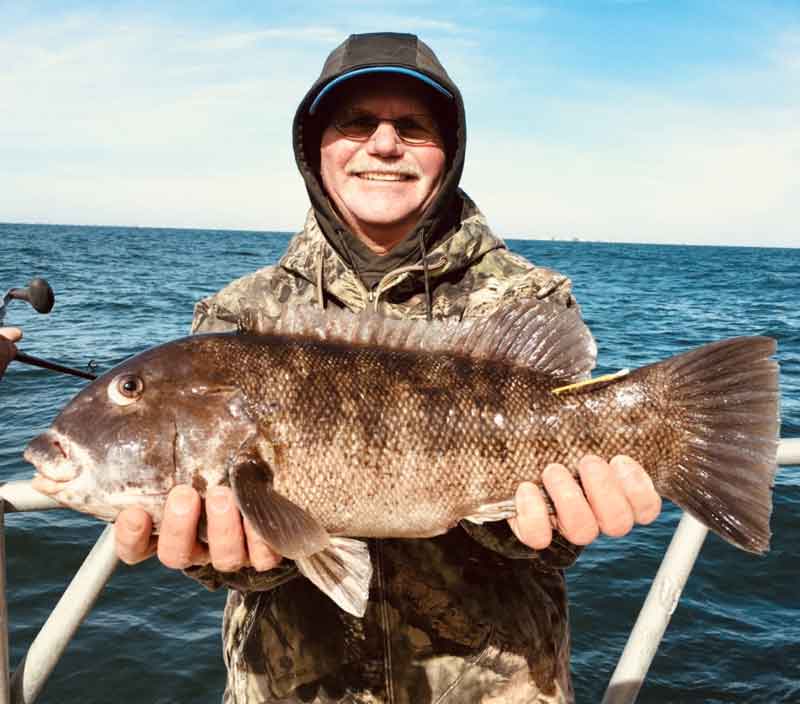 Tautog on the inshore wrecks continues to offer the most reliable action along most of the Mid-Atlantic coastline (same deal as usual, crab baits fished on the reefs and wrecks), but that's begun to change and will change rapidly from here on out. In last week's report we mentioned that in 2019, our first inshore flounder reports popped up this month—and this week we had our initial report of a flounder caught in the bay behind Ocean City come in, from Coastal Correspondent John Unkart. We almost always get a report or two from Wachapreague first, which leads us to believe that there are at least a few flatties moving in there, as well. Expect them to be few and far between for the next week or two but going flounder fishing is now a realistic option and it'll only get better from here on out. Check out How to Fish for Flounder in DelMarVa Coastal Bays and Inlets, before you give it a shot.
Offshore? We didn't manage to find anyone to talk with who made it out there this week, but tunas have been snapping off the NC coast (both yellowfin and bluefin). And water temps have come up enough to allow for a deep dropping backup plan without being dogfished to death, so it wouldn't be a waste of fuel to try an exploratory trip any day now.
---
Coastal Fishing Report, March 12 Update:
While tog remain the top target along the coast and are surely still at the reefs and wrecks, gusty winds have limited the ability to get out after 'em recently. We had no reports from DE, and Captain Monty Hawkins of the Morning Star out of OCMD reported battling tough seas and a slow bite. That said, he also had some days recently with very large fish coming over the rail, including a 15.5-pounder and multiple other double-digit fish. Similar reports came from Virginia Beach this week, with more moaning about strong winds than anything else (although some big bluefish were also encountered around the wrecks), but a handful of large specimens being caught. That said the temperatures are a whole lot friendlier than they were a month ago, so if you see a weather window the timing is good to pull the trigger and catch tog without having to freeze half to death.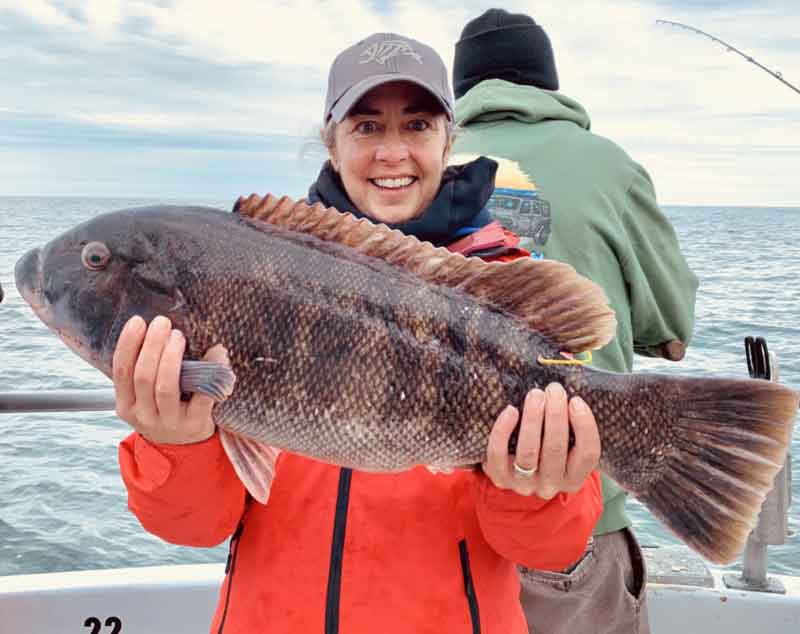 Alltackle reported that aside from the tog bite, they heard of a few black sea bass and the occasional odd flounder being picked up around the inshore reefs. Although it's certainly on the early side it wouldn't be a bit surprising if we heard of a flounder or three getting caught this month in the coastal bays. Feeling adventurous? An exploratory trip could prove interesting… but until then, bay anglers in Indian River and in OC working the Route 90 bridge have caught a released a few small stripers recently, while tossing white and yellow plastics. Anglers working the VA inlets are still finding a smattering of specks and reds, mostly on soft plastics, but no flatfish just yet. A better bite's been reported from the CBBT; see the Way South report for details.
---
Coastal Fishing Report, March 6 Update:
Tog had continued biting right up until the winds made it a bit difficult to get to them, up and down the coast. In fact, late last week Capt. Monty on the Morning Star had reported some of the best fishing of the season thus far, including some trips with multiple double-digit fish. As usual, crab fished tight to the wrecks and reefs was the ticket. A lot of the other action in southern ports of our region have cooled off a tad, however, with running down for the big bluefin no longer an option and the end of the special February sea bass season.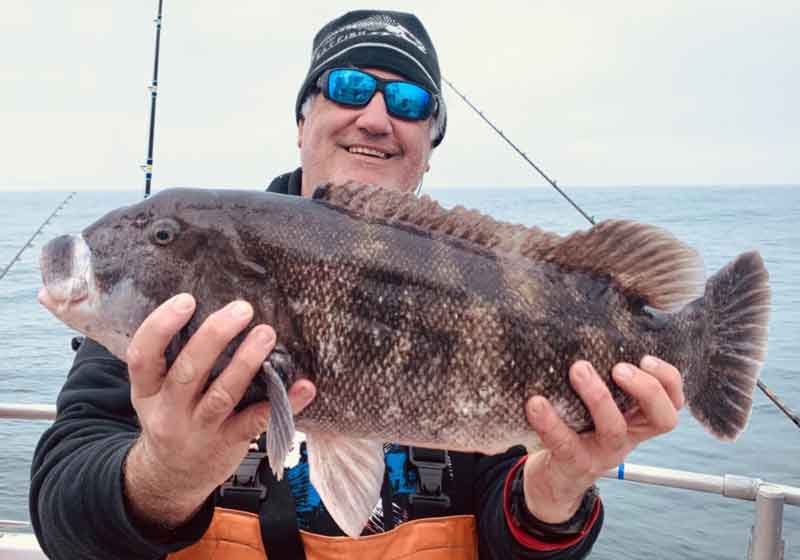 Finally, however, some other options are also beginning to develop along the coasts: as with the Chesapeake tribs, yellow perch are beginning to run up the coastal tributary rivers. Most reports thus far are of small (male) fish so the best of the run is definitely yet to come, but it could begin in earnest literally any day now. Coastal anglers in Virginia should also check out the Way South Report, because there's some action cranking up that's worth staying inshore for ranging from tog at the CBBT to specks in the Elizabeth.
Another sign that spring is about to hit and fishing is about to bust loose: the first of the red drum have now popped up down at Hatteras. Several were dragged through the suds by surf fisherman casting cut mullet. This is a great foreshadow of things to come, people!! Get ready!