Coastal Fishing Report, July 3 Update:
BEEP-BEEP-BEEP - Attention Anglers: Everyone should be aware that there's currently a bit of a bloodworm shortage, and you may have trouble locating this uber-expensive but uber-effective bait. Anglers around the dial are reporting that Fishbites Bloodworm flavor has been the next best thing. So if you call around and come up blank on the bloodies, reach for the Fishbites. We now return you to our regularly scheduled fishing report. - BEEP-BEEP-BEEP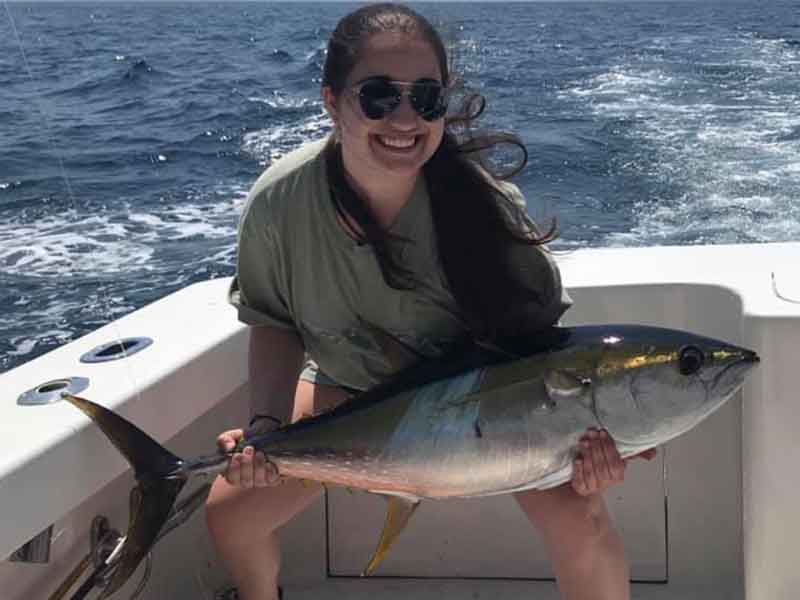 Happy Fourth, anglers! Get out and enjoy the holiday on bluewater. We can't think of a better way to spend the weekend celebrating. The Ocean City Fishing Center let us know that boats headed to the canyons are enjoying slow but steady yellowfin and bigeye bites. Trolling a spread of skirted ballyhoo and plastic lures has been the primary mode of operation. Coastal Correspondent John Unkart reported that the Jackspot has been loaded up with big chopper bluefish. If you missed it, be sure to check out Unkart's feature article about fishing there, Hit the Jackpot Fishing at the Jackspot, in our July edition (or just click on the preceding link - it'll take ya there!). Additionally, the Fishing Center heard that while cruising the Atlantic blue, multiple boats sighted mako sharks this week. Quite a few boats located scattered mahi offshore as well, although no outstanding catches were reported. Boats that were further in provided the first reports of triggerfish we've heard this year, under floating objects and pots. When you encounter something floating in the water, from a beachball to a hunk of wood, toss some squid chunks and look for that flash of silver to see if they're there.
Inshore, the sea bass bite has tapered off a bit and gone from fantastic to just good. Flounder are still accessible on the wrecks and reefs, however, and in numbers good enough to make targeting them more than worthwhile. Speaking of flounder, they bite has marginally picked up in the inlets with reports going from okay up north (Indian River and Massey's) to fair at the Thoroughfare in OC, to good in the VA inlets and at the CBBT. Drifting squid chunks or bumping pink, white, pearl, and chartreuse soft plastics along bottom is the ticket to bringing 'em in right now. The inlets and backbays in Delaware and Maryland are also holding some stripers, caught primarily on soft plastics. Few are keepers, but they do pop up now and again.
From the surf, we're hearing that the kingfish bite is good. Coastal Correspondent John Unkart continues enjoying the steady stream of kingfish biting in the Assateague surf - although ponies bathing in the surf did get in the way of a cast or two this week. He also reeled in several stripers this week, fish that didn't make the 28-inch coastal minimum but one that looked like it would have been a keeper in the Maryland portion of the Bay. Anglers fishing the surf from VA's piers are reporting blues, kings, and an occasional trout in the mix.