Upper Chesapeake Bay Fishing Report, November 27 Update:
Hi anglers, we hope you all enjoyed a fantastic Thanksgiving! Tochterman's and Fishbone's checked in to let us know that the trolling bite along channel edges has been productive, although slow at times. Anglers trolling have largely been pulling tandem BFGs and Blue Water Candy lures and staying away from bucktails, which have been less productive for trollers in the past week. If you're going to troll, Fishbone's suggested heading towards the lumps in the Patapsco and southern part of the channel. The lower Chester has also been noted as holding some fish. Boats jigging have been catching some rock, especially bouncing bucktails and jigs with rubber skirts off the bottom. However, as bird action has been sparse and sporadic jiggers have needed to do some serious searching with the depth finder before getting into the fish. Also, we did have a photo-verified report of an Upper Bay monster striper this week, stretching the tape to just over 45 inches, trolled up in an undisclosed location north of the Bay Bridge.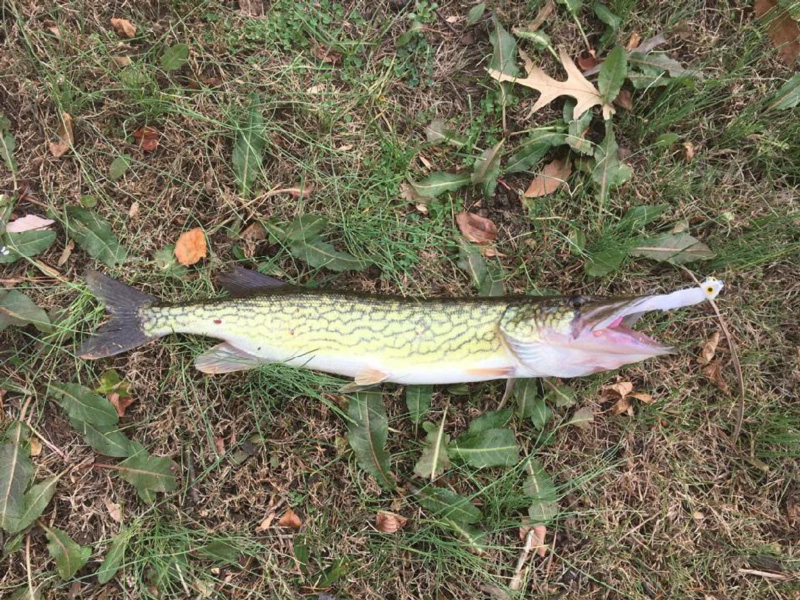 Reader reports of pickerel in the Magothy continue to flow in, including one from FishTalk bro Steve Rudow who got a 21-incher and a reader who topped the dozen mark with fish up to 24-inches. That species' come-back after a few slow years in this trib seems to be complete, with more pickerel reports coming from here than anywhere else on the western side, in 2020. At Beachwood not only pickerel but also some bass have been throughout the area accessible by shoreline, surprising anglers throwing crankbaits, shallow diving Rapallas, and #2 Mepps. Yellow perch are beginning to occasionally show up as well.
---
Upper Chesapeake Bay Fishing Report, November 20 Update:
While areas north of the bridge haven't seen any of the trophies moving into the Lower to Middle bay area recently, schoolies are still in good supply and a fun target for topwater anglers and trollers. Topwater fishing has been great at sunrise and set. Angler's Sport Center let us know that the mouth of the Magothy and the Chester both have topwater action to offer. Jiggers have also been doing well in the lower Chester, chasing pods of fish indicated by birds and meandering along the edges dropping from 15 to 25 or 30 feet within sight of the Kent Narrows bridge. The Severn was identified as a possibility as well, although less and fewer consistent reports came from the area. For trollers, sticking to 25 to 30-foot waters in the channel edges has been a common move. Stripers varying in size can be found in these areas, and they haven't been shy about biting. Umbrella rigs with Sassy Shad and spoons and Spoonbrellas are popular right now, with weighted rigs pulled deep doing the bulk of the catching. Anglers mentioned that white is a standout color.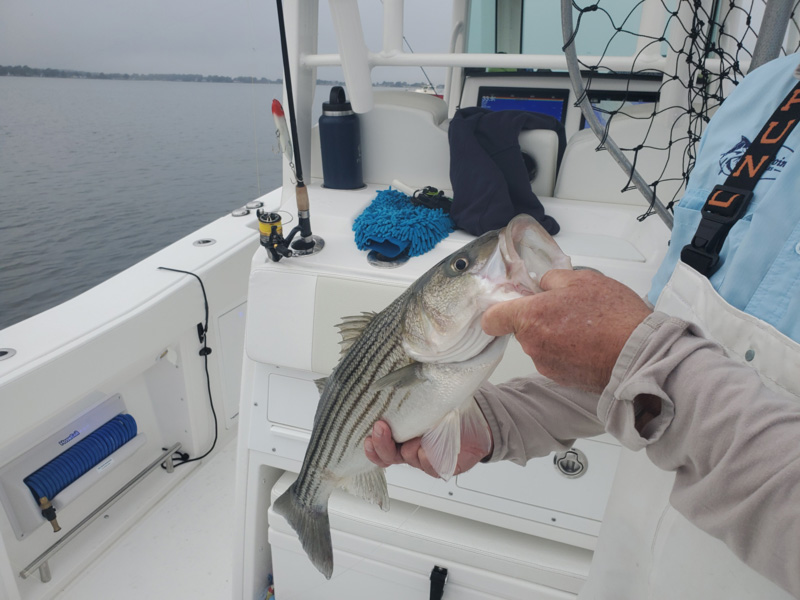 Boats that aren't out targeting stripers are tuning to the white perch bite. They've moved into deeper water, and can be plentiful if you get into a honey hole on hard bottom in 25-plus feet. Bloodworms and FishBites on bottom rigs remain a favorite.
---
Upper Chesapeake Bay Fishing Report, November 13 Update:
Schoolie action remains strong and is providing plentiful opportunities for anglers to enjoy action-packed, surprisingly warm November days on the water. Tochterman's let us know that while topwater has been dominating the morning and evening bites across the board, jiggers are doing well throughout the day. Most are sticking to the unfailing classics: pearl, white, and chartreuse BKD or Gulp! lures. These have been essential to have on board and in abundance for anglers fishing the Key Bridge (which was also mentioned by Herb's as a good bet), the Love Point rocks, and the mouth of the Chester. The bulk of the action has been centered in these areas, with scattered catches also coming from Podickory Point to the mouth of the Magothy. Regardless of whether you're cruising channel edges in hopes of spotting a school of stripers on the depth finder or parked at your favorite spot, the catch coming from under birds also remains consistent enough that it's smart to have an eye on the horizon at all times. Light tackle trolling or jigging along the channel edges has been a strong play as well.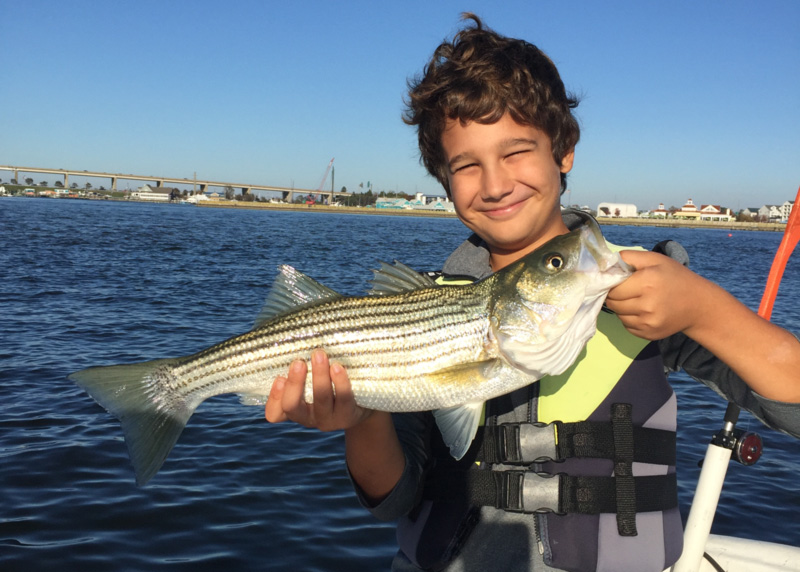 Cooling temperatures have prompted white perch in their migration from the shallows and rivers out to deeper water. If you're after a perch fry, look for 15- to 25-foot depths with hard bottom.
---
Upper Chesapeake Bay Fishing Report, November 6 Update:
We checked in with Tochterman's, who let us know that there's plenty of striped bass action going on. Most boats are searching for birds, trolling the channel edges, or jigging them. Bird-searchers are often encountering a batch of fish that is primarily comprised of schoolies, with some larger fish underneath. To combat catching the little ones, anglers have been jigging under the birds or letting their lures sink before retrieving. Readers who reported in to us this week corroborated Tochterman's reports, letting us know that Love Point and the mouth of the Patapsco are top producing areas. A few nice fish were also caught this week in the lower Chester. Readers also mentioned again this week it was trolled Spoonbrellas that several found a winning offering, and confirmed the reports of good action in the lower Patapsco. Jiggers also reported success by the Key bridge and in the Patapsco, with white, pearl, and chartreuse five- and six-inch plastics proving effective on fish mostly in the low 20s but sometimes breaking the 30-inch mark. Two anglers who had tuned in for last week's Live With Lenny confirmed the observation made then that skirt-less jigs were out-catching the skirted variety.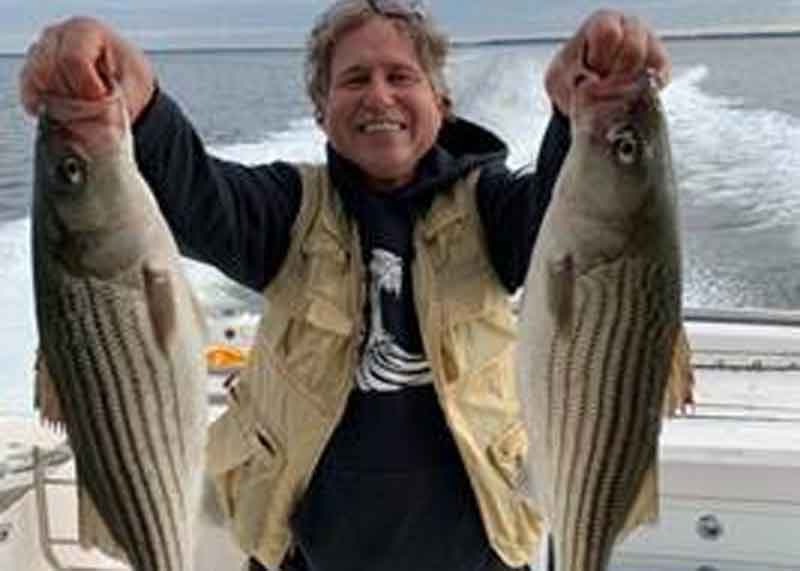 While the striper bite is solid, some anglers are also targeting white perch and catfish. White perch are making their way into deeper water, and shoreline anglers are having a bit more trouble accessing them. If you're hoping to stock up for winter, heading out this week during the fair weather we're expecting could be one of your last chances. Tossing out a bottom rig with bloodworms or FishBites is the classic safe bet.