Way South Chesapeake Fishing Report, November 27 Update:
Hi anglers, we hope you all enjoyed a fantastic Thanksgiving! This week we were happy to hear that although the bite has slowed down, anglers are still enjoying getting in on the last of the fall speckled trout bite. They're leaving shallower and northern areas but Ocean's East reported that specks are in the inlets along with some puppy drum, followed by schoolie stripers that'll hit the same four-inch soft plastics. Chartreuse, sparkly green, pearl, and white have been by far the best colors. If you're looking to up your speck-to-striper ratio, sticking to sparkly curly tails is a great way to do so. If you're hoping to catch a few more trout before the season shuts down, head out now, a could snap or two could shut this down at any time!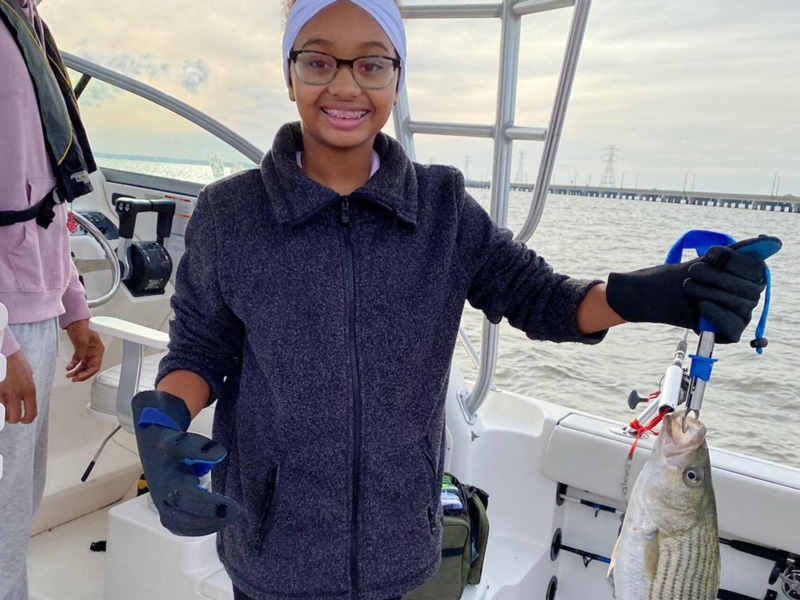 Ocean's East is getting plenty of reports of some puppy drum and tog in the Bay, which are becoming more common. Tog have been taking green crab, and puppy drum are gravitating towards mullet and live gudgeon. The islands of the CBBT have been a solid option, though the tog are up tight to the structure and break-offs are common – bring plenty of rigs and bait. There are also growing numbers of stripers at the CBBT, with the best bite at night along the lightlines. Stripers are becoming more common through the rest of the area as well and we had a reader report from the James that trolling Stretch 25s proving productive, with a nice 22-inch slot striper showing up among the more common 16- to 18-inchers.
---
Way South Chesapeake Fishing Report, November 20 Update:
With an influx of specks moving down from northern waters, Virginia anglers are enjoying great speck fishing at the marsh islands, structure, and occasionally deeper water than we found them in throughout summer. Four-inch soft plastic paddle tails, Gulp! Shrimp or Jerk Shad, and fresh shrimp under corks are all good bets for the specks. Twister-tailed four-inch soft plastics with some sparkle in rootbeer, chartreuse, and salt and pepper were all hot choices this week. While many of the trout are small right now, there are keepers and the occasional jumbo fish mixed in.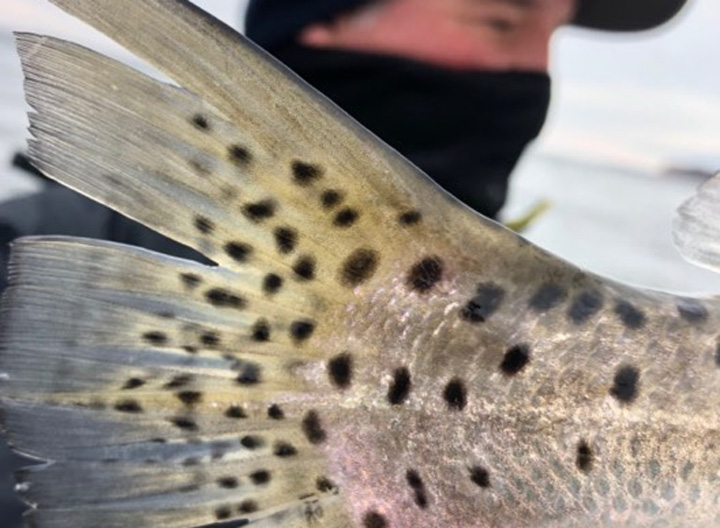 Around the CBBT, the tog bite is picking up. Ocean's East reported that going for them with sand fleas or crab chunks is common, and there are plenty to be picked up around the pilings. They didn't hear a whole lot about drum, however, crummy weather for most of the week did keep plenty of boats off the open water and that could be why.
Large (over-slot for release) stripers are in the game right now. Trolling from the Cell to the CBBT the favorite option. A few big fish breaking 40-inches were reported to Oceans East. Those more interested in putting fish in the box fast have been tossing jigs and spoons close to the CBBT structure and catching some 20-somethings. We heard that the second island produced a few box-fish last week.
---
Way South Chesapeake Fishing Report, November 13 Update:
Ocean's East let us know that there are still specks hanging around shorelines and the islands. While they're beginning to thin out, warm weather has prevented them from fleeing in big numbers and the bite is still good. Anglers tossing twister-tails and sparkly soft plastics or fishing shrimp and/or live bull minnow under corks are bringing 'em in. Most of the specks aren't huge, but there are still some large ones being caught. Bigger tugs come from time to time from reds, mostly in the inlets, and often on shrimp baits. Hampton correspondent Chuck Harrison checked in after a trip to the HRBT late this week which confirmed that report, having caught numerous 14- to 16-inch specks, one 19-incher, and a 22-inch redfish.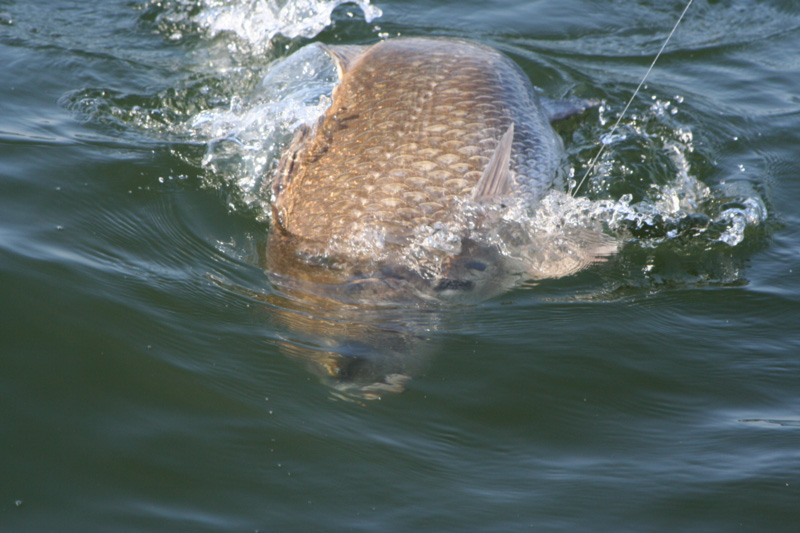 Ocean's East also reported that there are plenty of tautog around the CBBT, eager to take sand fleas. Although they said that many of the fish have been small, there are keepers mixed in, and working for them will eventually pay off. Oddball hold-out sheepshead popped up a few times this week at the CBBT too, quite late for them but not too much of a surprise with the balmy November we're having. 
Thinking about rockfish? The channel edges have been cruised by plenty of trollers this week, many of whom caught some stripers but didn't bring home dinner due to the size constraints. We have gotten a few reports of anglers hooking into them around the bridge and the HRBT (despite Chuck's experience; he reported not-a-one mixed with his trout) as well, but finding one the right size can be difficult. And we should also note that we did hear from two other readers trolling for stripers in this zone who struck out completely, too. Anglers jigging have reported some success with them, bouncing six-inch white, chartreuse, and pearl soft plastics off bottom, but again mostly throwbacks.
---
Way South Chesapeake Fishing Report, November 6 Update:
Dropping temps haven't scared off the speckled trout yet, with Ocean's East reporting that they're still showing up around the HRBT and the inlets as well as on the eastern shore creeks. Nicer fish have shown up occasionally, with plenty of keepers in the mix. Although they've begun to thin out slightly, we're hoping that they'll stick around for a bit longer. Most boats have been bringing them aboard with four-inch soft plastics and GULP! jigs or paddle-tails. Whites and greens have been standouts, especially glittery green twister-tail grubs. Swimming plugs and small half-ounce white bucktails dressed with chartreuse, pink, and purple twisters have also been effective.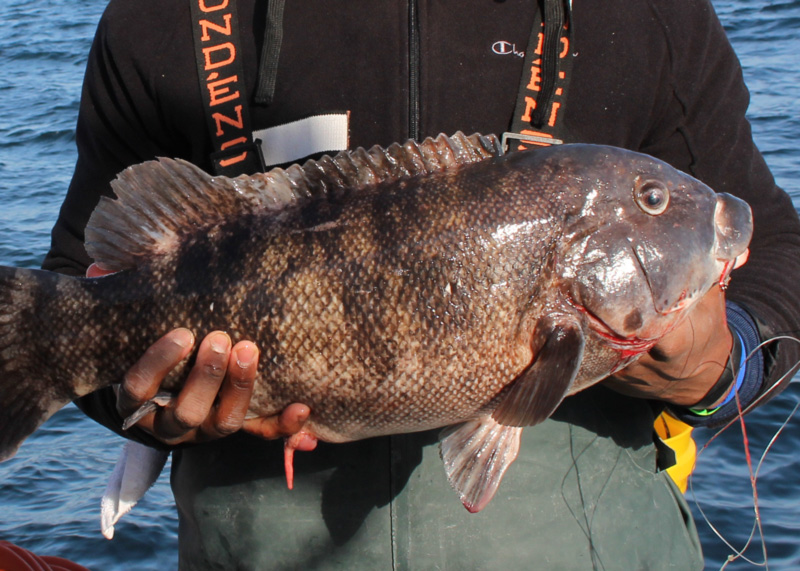 Ocean's East also reported plenty of taugtog around the CBBT, eager to take sand fleas. Although they said that many of the fish have been small, they suggested sticking with it if you want to take home some fish. Some keepers are mixed in, and working for them will eventually pay off. An oddball hold-out sheepshead or two still pops up here and there as well, though this action has tapered off and can be expected to end in the near future.
The channel edges have been cruised by plenty of trollers this week, many of whom caught undersized schoolie stripers but didn't bring home dinner. Anglers are also hooking into a fair number of stripers around the bridge (and the HRBT), too, and some hit the slot. Still, the majority throughout the area are small. Stripers are coming in with the specks right now in the shallows and inlets, as well. It hasn't been uncommon for anglers targeting the specks to find mostly small rockfish on the ends of their line.