Way South Chesapeake Bay Fishing Report, July 3 Update:
BEEP-BEEP-BEEP - Attention Anglers: Everyone should be aware that there's currently a bit of a bloodworm shortage, and you may have trouble locating this uber-expensive but uber-effective bait. Anglers around the dial are reporting that Fishbites Bloodworm flavor has been the next best thing. So if you call around and come up blank on the bloodies, reach for the Fishbites. We now return you to our regularly scheduled fishing report. - BEEP-BEEP-BEEP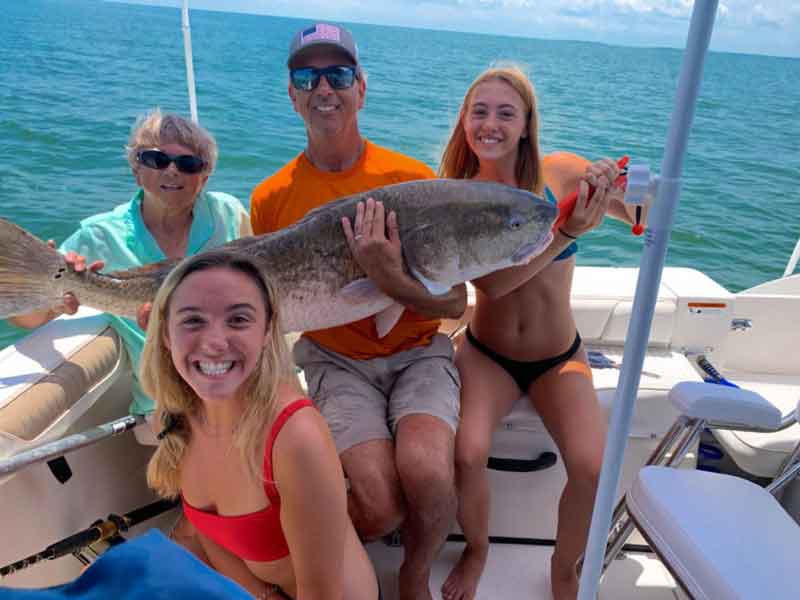 Happy Fourth, anglers! We're sure you'll be celebrating on the water this holiday- and the birth of our nation isn't the only thing to light off fireworks for. The cobia bite right now is absolutely killer. Around the CBBT and Cape Charles, FishTalk readers have been slamming them sight fishing. With cobia lolling on the surface, tossing live eels at them is providing excellent results. Ocean's East reports that some very nice cobia are still coming in, with multiple reports of fish in the 40 to 50 pound range. Those fish were often caught alongside others, and with plenty of cobia to go around, waiting for the big one before boxing number three can be a good move. Although this week's reports weren't quite as spectacular as last week's and some of the fish seem to have shifted slightly north, plenty are still being caught with a dozen or so shots at spotted fish when conditions cooperate. Additionally, we had some readers report reeling them in on trolled surgical tubes and out of chum slicks. However, we also heard from a reader who gave chumming a try this week and said that sharks were a constant hassle while employing this technique within sight of the CBBT, to the point that it was impossible to catch the target species. Also from the CBBT: while we only had one reader check in with a flounder report, the pic he sent was of a true doormat - there are some big ones down there, for sure.
Although we heard less from the drum-hunters in this ares the past week, there were a couple reports of utter monsters being caught (see above!) including the first we've heard of thus far jigged up with a spoon on light tackle, under birds. The runner-up for cool-fish-we-want-to-catch this week is Spanish mackerel. They've finally made their way into the Bay, in a big way. Trollers hitting the channel edges are reporting catching multiples while pulling Drones, Clarks, and other metal spoons at a fast pace. Adding to the excitement, multiple blues are also coming in. Ocean's East reported that the number of Spanish Mackerel and blues jacked up quite a bit this week. They mentioned that spadefish can also be found now occupying their usual haunts, and that they continue to hear from anglers who caught speckled trout in shallow grass beds and off points. Sparkly four-inch paddle tails in white, pearl, chartreuse, and pink are the go-to for many anglers.
Crabbing Report: Get out and crab. Don't even think about the seafood store. If you've got fresh chicken necks, hit the water and get that bushel. (The crabbing is really good, though there are lots of females in the mix).