Coastal Mid-Atlantic Fishing Report, December 31 Update:
Welcome to the final fishing report of 2021! Here's hoping that 2022 is a better year, both fishing-wise and otherwise. Note that as of the end of the year sea bass go out of season up and down the coast (DE, MD, and VA). Up to now, however, a great late December bite has continued along the coast for wreck and reef anglers, and this past week on the Morning Star they had healthy catches of sea bass (though Capt. Monty notes his 16-trip streak of full boat limits on the species came to an end). Along with bass, however, an unusual number of scup have been swinging over the rails with some anglers catching 20-plus fish. This presents the opportunity for some targeted scup fishing in Maryland and Delaware waters, hopefully for the next week or two. Bluefish are also in town and have been smacking baits in good numbers.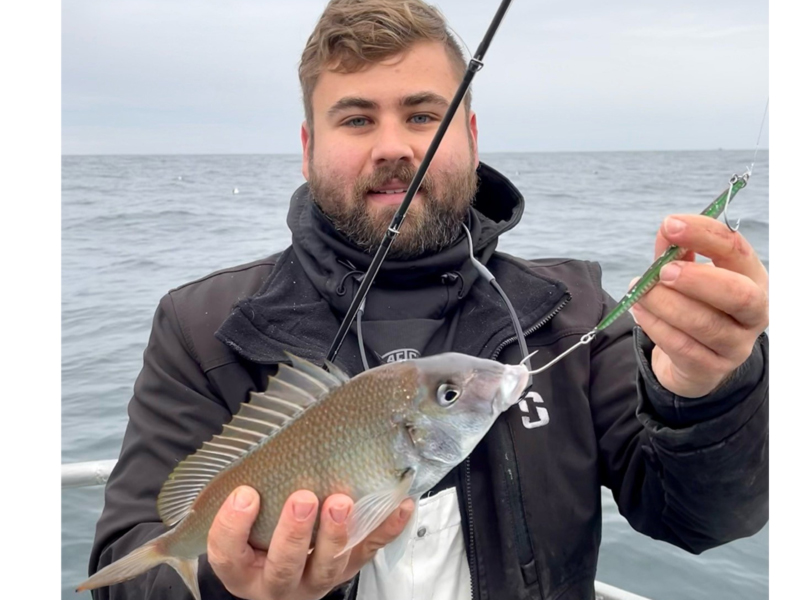 Down the coast off VA reports coming in from the Big Worm are much the same while fishing the wrecks with plenty of sea bass, some nice flounder in the mix, and a fair number of bluefish as well.
Reports of oceanic stripers of all sizes have been coming in from the Delaware and Ocean City coasts. Boats heading beyond the three-mile limit to target sea bass and tog have been finding them in big schools, however, we hadn't yet heard of any within three miles of the beach. Speaking of tog: they're biting for the few anglers targeting them over wrecks and reefs in all three states, and will likely soon be just about the only game in town if you want to take home dinner.
No reports from the beach nor from offshore, this week. Both will likely remain quiet — very quiet — for some time to come.
---
Coastal Mid-Atlantic Fishing Report, December 23 Update:
Happy holidays, anglers! Best wishes for an awesome celebration and we hope you and your family are looking forward to a fish-filled 2022. But we have one week of fishing in 2021 left, so: Sea bass are providing nearly all of the coastal action right now. Boats running out of OC and Virginia Beach are reporting frequent limit days and constant tugging on rods. Occasionally, anglers are pulling up a surprise flounder as well. We've seen some photo-confirmed into the mid-to-upper twenties this week, including some slabs that Captain Drew Payne of Big Worm Charters got his crew on. Up in OC the flatties haven't bees so evident, but sea bass have been chewing and Capt. Monty on the Morning Star continues to report limit catches plus porgies and oddballs like bluefish here and there. What about the tog? We didn't have any solid intel on 'em this week, but the inlets should still provide a shot a smalls with an occasional keeper, while boats heading out to the wrecks will be catching them right through the winter.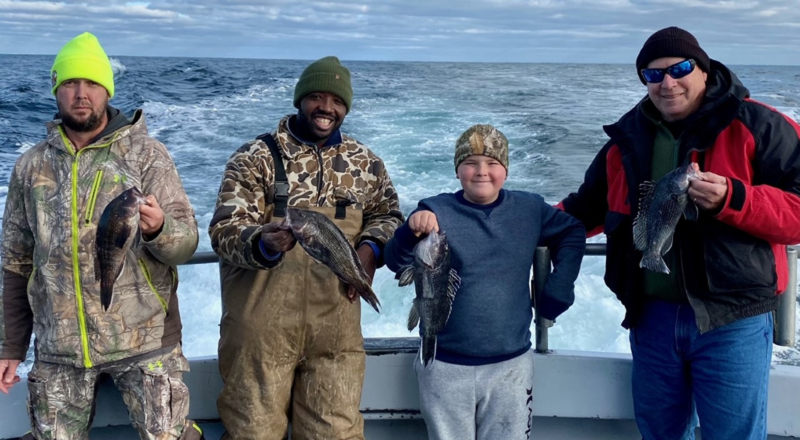 ---
Coastal Mid-Atlantic Fishing Report, December 17 Update:
Most of the fleet aside from a handful of party boats and larger charters are now out of the water, but those that remain wet are killing it inshore. Capt. Monty on the Morning Star out of Ocean City hit his 12th boat limit in a row on sea bass trips this week, and caught some porgy along with them. He does note that he's been running a bit further than usual and this week noted that more small fish have been pushing farther out, but has been filling the coolers none the less. In Virginia Beach the Big Worm is also enjoying full coolers of bass with an oddball species here and there, but they've also been fortunate to encounter good numbers of flounder at times alongside the wrecks and reefs holding the sea bass.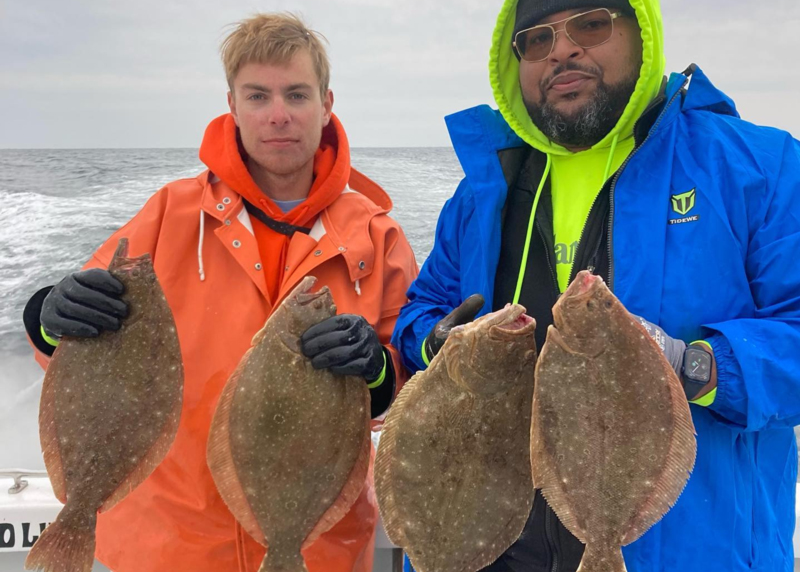 Sorry, striper aficionados, still no solid reports of rockfish in the suds nor of mass schools outside the inlet, even though they are showing up in halfway decent numbers (a couple-few per day per boat working hard at it with eels) off the mouth of the Bay. However, we did have a report from a reader who ran up to New Jersey late last week and found that everyone was saying the fish had cleared out mid-week. We're pretty darn sure they didn't head north, so those fish could show up on our coastal doorstep at any time now.
---
Coastal Mid-Atlantic Fishing Report, December 10 Update:
Surf anglers hoping to tie into big rockfish are mostly staring at the sand and waves by most reports; a rare throwback is being caught here and there among the dogfish, but that's about it. And while a few large fish have filtered into the region, the bulk of the big rock are still being reported thick on the New Jersey coast. Considering the recent chill in the air, however, that should be changing in the very near future.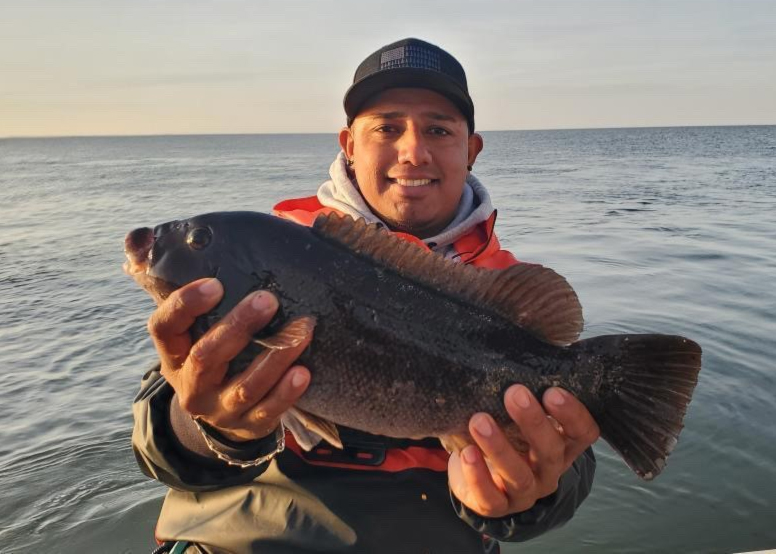 A couple reader reports came in from tog anglers working the rocks at Indian River and in Ocean City, with both reporting a good bite from mostly undersized fish but a handful of keepers in the mix. Old Inlet is also reporting tog in Indian River, ranging from 14 to 22 inches. We heard from one angler out of Lewes also catching tog, and Captain Monty says the first tog trip of the year on the Morning Star will take place today weather allowing. Meanwhile the sea bass bite has held up magnificently for boats running to the inshore wrecks and reefs and dropping squid and clam baits. Recent trips off OC have included not just limit catches of bass, but also a few scup and some chunky bluefish. Bottom fishing has also been good out of Virginia Beach, where the Big Worm continues to report full coolers of sea bass plus some nice flounder in the mix.
No reports from offshore this week, but it's still warm enough out in the deep that dogfish shouldn't present a deterrent to those targeting tilefish just yet.
---
Coastal Mid-Atlantic Fishing Report, December 3 Update:
For the first time this season we're getting steady reports of nice striped bass being caught from the beaches — unfortunately, the beaches of New Jersey. Thus far the only fish being mentioned in the surf in our region is dogfish. That should change soon, however, as those fish make their way south. In Indian River and Ocean City a few stripers are being caught, but they're mostly small locals. Tog are still being caught around the inlet rocks and although the majority are undersized, we did hear from two readers who had fish in the box this week while fishing green crab. In OC there are also good numbers of stripers around the bridges as well as around the inlet rocks, but again the majority are undersized. The ocean City Fishing Center confirmed this, adding that a few flounder are coming in still, as well. The bite for flounder is slow and inconsistent, but the occasional hookup can be reasonably hoped for.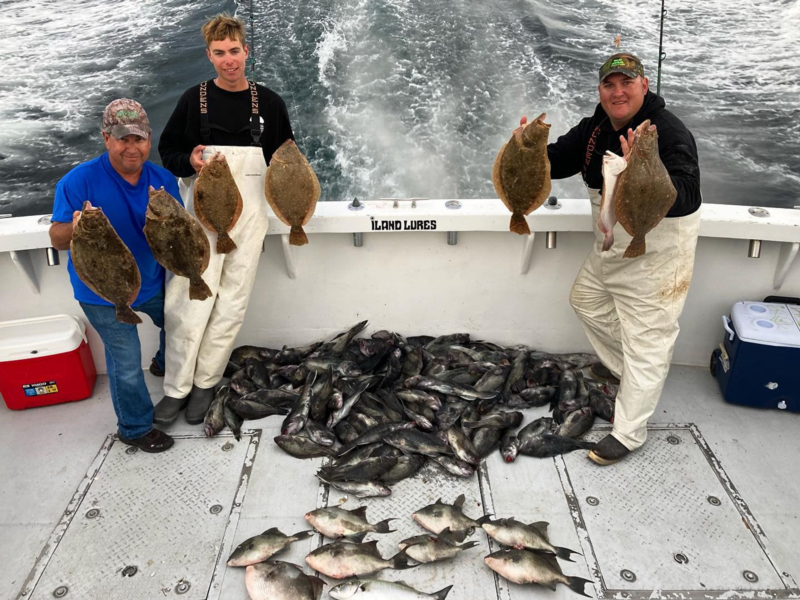 Wreck and reef anglers are enjoying a still-solid sea bass bite and this week Capt. Monty reported his eighth boat-limit trip in a row on the Morning Star. He did note that he found fish in some spots that weren't interested in biting, so if you're not getting bites moving around until you find some cooperative fish may be in order. The Ocean City Fishing Center reported plenty of sea bass boats hitting the docks after a successful day as well. To the south the story is much the same, with Virginia Beach boats catching bass pretty much hand over fist. On the Big Worm this week they also reeled up a number of trigger fish and flounder, on top of piles of bass.