Coastal Mid-Atlantic Fishing Report, February 25 Update:
For much of the past week the winds have been blowing and the boats have been sitting at the dock. That said, Big Worm was finally able to leave the dock after a stretch of tough weather, and found the February sea bass snappin' off Virginia. A couple of days in the past week they loaded up without a problem, so though it looks like a fairly rough weekend is coming up, if you can get out for some last licks there could be a good bite in store. Some big boats running south to NC waters have been returning with monster bluefin.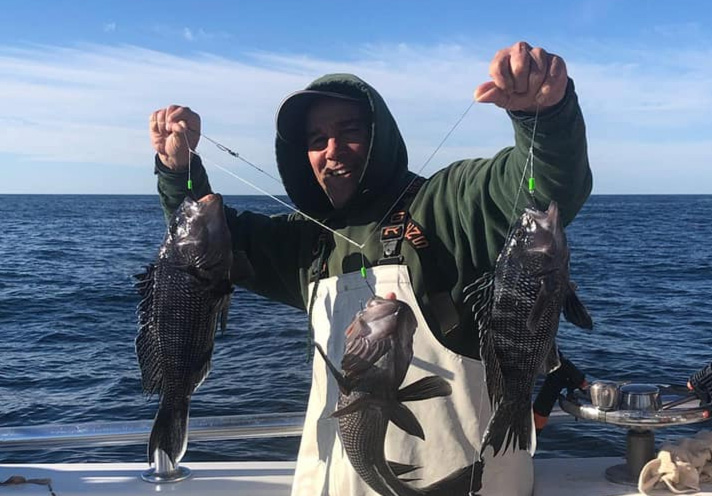 We haven't heard much on the tog front, likely because of the tough weather. Capt. Monty on the Morning Star has turned his attention to reef building lately; visit the OC Reef Foundation to pitch in and give the cause a boost. We also have no word from the surf or back bays this week, though there still should be a few stripers milling around the bridges behind OC and we did hear of one redfish caught in Virginia waters this week (inside the Bay; see the Way South report).
---
Coastal Mid-Atlantic Fishing Report, February 19 Update:
Thanks to the awesome weather this week with low winds, sunny skies, and temperatures in the mid-80s, hordes of anglers headed out onto the water and sent us fantastic reports of the action. Not.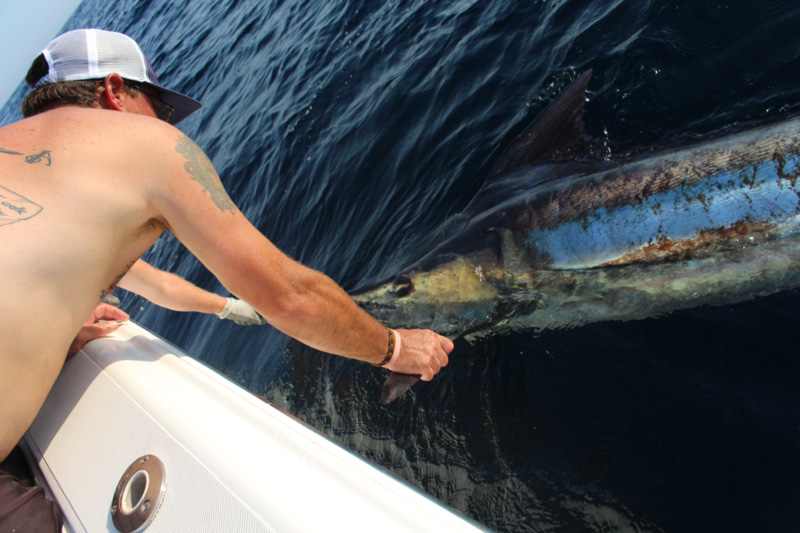 Fishing off the coast
Has become a game of waiting
Checking the news to see
If poor weather is abating
Sea bass are in special season
For Virginia anglers with a pass
But the frigid season
Won't let them leave the docks at last.

Look for the weather window
There's tog possible, it's true.
When the wind, cold, and rain cooperate once more
We'll be able to hit the waters blue.

(I'm sorry, I had to)

Seriously, though: Weather remains a barrier for boats looking to get to toggin' and sea bass grounds. Although Virginia's sea bass special season is still open, we didn't hear from anyone who was able to leave the docks this week. With how good the fishing was earlier this season, we hope it'll hold up when this weather finally breaks. Additionally, tog should still provide a bite unless the weather has sullied their appetite as much as it's ruined our winter fishing opportunities. Once we find a window, we're hoping to hear some more reports on what's going on along the coastline.
---
Coastal Mid-Atlantic Fishing Report, February 12 Update:
Well, folks... Foul weather has been keeping boats at the docks, so our report's a bit thin again this week. However, we did hear that Big Worm Charters made it out at least once this week offshore for the VA black sea bass season going on right now, and reported that they've been catching plenty of bass, including some very nice ones up to 6.5 pounds. Aside from the bass, we're also hearing that some tog are coming up at the wrecks on the rare occasions weather allows. Off OC, there are confirmed reports of several tog being caught that exceed the 10-pound mark including one that hit a hefty 18 pounds.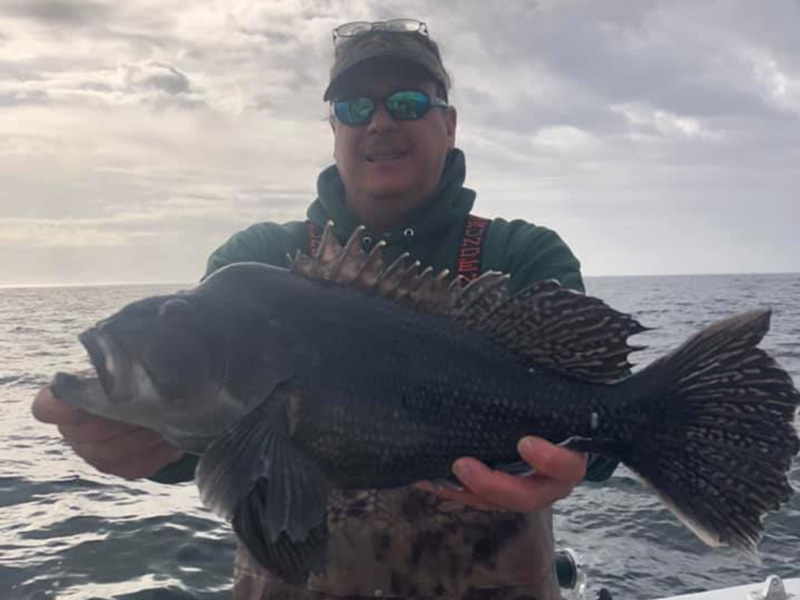 There's no intel from the bays or surf but when the weather calms down, we'll hopefully have more information coming for you.
---
Coastal Mid-Atlantic Fishing Report, February 5 Update:
Well, most of the boats were grounded this week. Wind and snow made it impossible to get offshore, and the weather was cold enough to keep anglers off the shorelines and bays. As such, our report is thin this week. Thin, as in non-existent. Fortunately, the February Virginia sea bass season has opened up so there are some options beyond togging. Unfortunately, we found exactly zero first-hand intel from anyone trying to fish for 'em — hopefully next week we'll have more of a report for you.