Coastal Mid-Atlantic Fishing Report, November 27 Update:
Hi anglers, we hope you all enjoyed a fantastic Thanksgiving! Offshore reports were mostly MIA this week, and while we heard rumors that a swordfish or two came in for deep-droppers at the southern canyons, we were only able to confirm one catch. We also had a single report of a bigeye, which hit a squid bait 800 feet down in 1200 feet of water at the Norfolk. The inshore front had a lot more action this week and Captain Cook from First Light Charters checked in from Delaware to let us know the sea bass are still biting in 95 feet of water and he came home with a full cooler this week, plus found tog closer to home on the wrecks. Captain Monty out of OC hasn't started in on the tautog just yet, but is still pulling up plenty of bass with a triggerfish and flounder mixed in here and there. A bit farther down the coast inshore off Virginia Beach anglers are still experiencing better diversity, and we had a reader report this week of a great mix of species at the Triangle wrecks including a main catch of sea bass, triggerfish, and blues, plus a very large black drum and a large slot red drum. Jigging over the structure in 110 feet of water did the trick.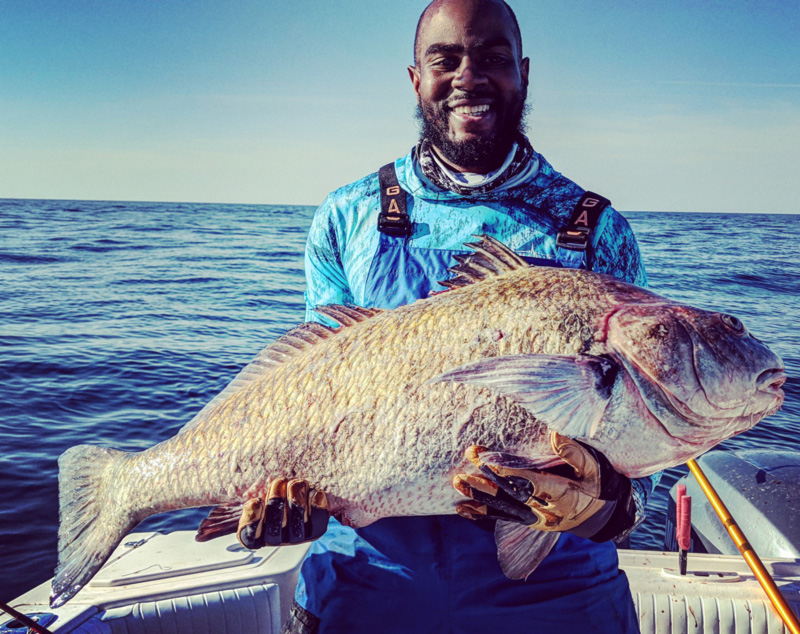 Inside the inlet at OC, reports are of an excellent tog bite on sand fleas and crab around rocky areas. Many miss the limit by a hair, but weeding through them does put fish into the cooler. First of the outgoing was fingered as the best bet. The striper bite has also picked up all along the coast with a few keeper-sized seaside fish (among many more throwbacks) showing up in Ocean City at the inlet and around the Rt. 50 and 90 bridges, and also down at the CBBT. Best action at the CBBT has been at night, around the lightlines.
---
Coastal Mid-Atlantic Fishing Report, November 20 Update:
Nothing quite as dramatic to report as last week's red snapper and the Opah the week before, and rough seas kept most oceanic boats pinned to the docked this week, but those that escaped for the canyons reported a few swordfish and blueline tiles. Still, most of the action has been happening closer to home. Although one could normally argue that a swordfish will always be infinitely more exciting than catching sea bass, with the way that bite's been going, we're not quite sure. Boats on the wrecks and reefs are slaying them and while Capt. Monty on the Morning Star has reported that although it's been a bit tough on occasion, overall, limit days are not uncommon. The steady stream of bass leaving the water includes some pretty chunky fish, as well. Mixed in with the sea bass are a fair number of triggerfish and still a few flounder, too. Most of the flounder coming up are a good size, with the occasional doormat.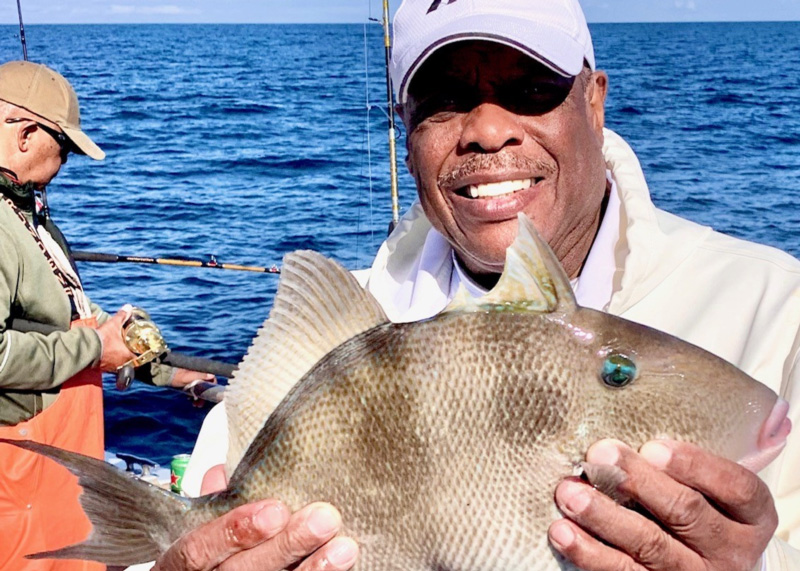 Tog have moved in throughout the inlets, and are providing fair-to-good action for anglers using green or peeler crab or sand fleas (which are becoming tougher to find) anywhere there are rocks and structure. In Indian River and Ocean City, inlet anglers are also having some luck for small blues which have appeared once again, and striped bass which are mostly undersized but providing some action on soft plastics cast in the inlet or around the bridges. A run of red drum also hit the OC inlet, and while most are small some slot fish are indeed in the mix. Better redfish action can be found in the VA inlets, where speckled trout are also in the mix for anglers casting plastics and fishing fresh shrimp.
Surf fishing is a similar story, with most anglers targeting blues, some remaining kingfish, and an occasional striper. A "real" fall run for rockfish hasn't yet materialized on the beach and sources up north are reporting that it's just now heating up in New Jersey, so stay tuned as water temps continue to drop and fish (hopefully) make their way further south.
---
Coastal Mid-Atlantic Fishing Report, November 13 Update:
Crazy catch alert: A reader sent in a picture of a bona fide red snapper, caught on a wreck near the Parking Lot — now, that's one heck of a cool catch! Other than that, the talk from the inshore wrecks and reefs is still of a good sea bass bite, with a few triggerfish and some flounder in the mix. We did hear from one reader who hit the Light Tower that at least one day last week the fish in that area weren't interested in playing so running to a hotspot a bit farther out might be a good move.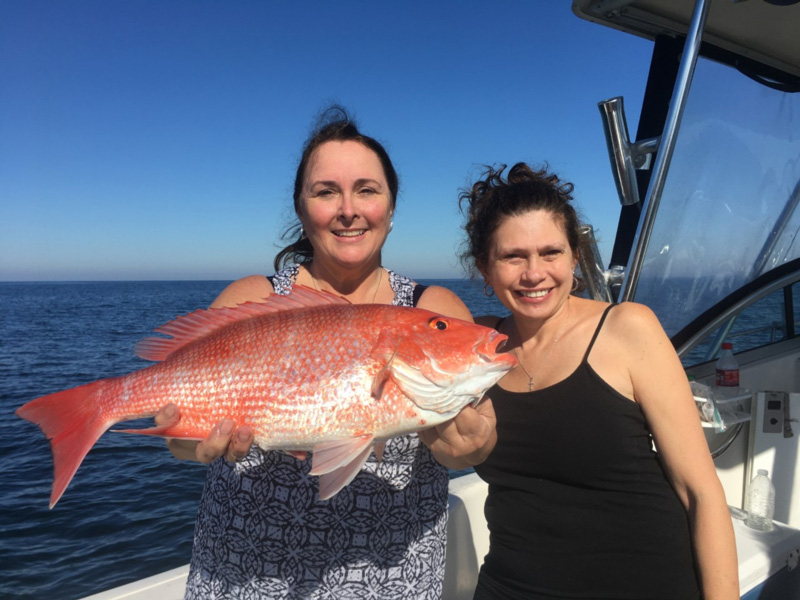 Offshore boats are getting some sword bites on deep drops, but not in the numbers of last fall. The water temps are dropping, so hopefully the pace will be picking up in the near future. Meanwhile, boats dropping meat-rigs with squid baits to the bottom in 300 to 400 feet are catching all the bluelines they can handle (limits are the norm), plus an occasional golden tile. An Opah did come in to the dock in Virginia Beach last week, too, and it was a biggie at 143-pounds.
Surf anglers are feeling the benefits of a warm autumn— kingfish and the occasional small blue are still biting. While we wish they could stick around into the winter months, unfortunately, we're already seeing the bites drop off. In Virginia, an oddball red is also being reeled up on occasion. Striper reports from the oceanside are still minimal (one exception – plenty of throwbacks and a very occasional keeper coming from anglers fishing around the bridge pilings behind OC, MD) and Jersey anglers are reporting some fish but not big numbers, so we probably need a blast of cold before getting a keeper striper in the surf becomes a realistic possibility.
---
Coastal Mid-Atlantic Fishing Report, November 6 Update:
With little action reported offshore, quite possibly due to low effort and difficult weather conditions earlier this week, most of the intel on the bite along the coast was focused inshore and from shore. Boats hitting the wrecks continue to report great sea bass catches. The black sea bass bite throughout the past year has been absolutely off the hook, and limit days are no longer surprising for boats spending a good chunk of time on the water. Further inshore, however, we've seen a drop in the number of flounder leaving the water as they move south for winter. Anglers fishing the Ocean City inlet and in Indian River reported limited flounder catches, with most caught on drifted baits along bottom.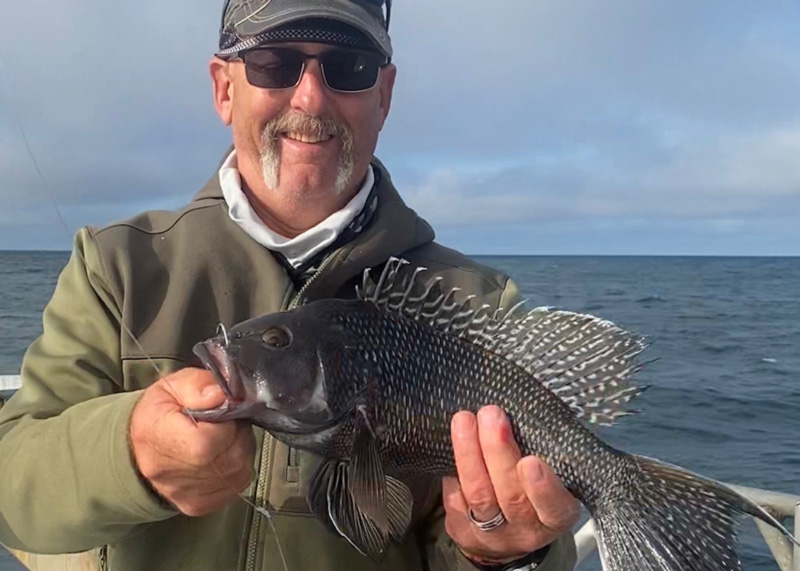 Surf anglers continue to catch kingfish. There are fewer numbers than before, but it's still worth getting a little sandy to catch the last of the season. Virginia surf anglers are enjoying a better mix, with some redfish in the catch and some slot stripers and specks also showing up both in the suds and on the piers. As the water cools down, we're expecting to hear more about taugtog.