Coastal Mid-Atlantic Fishing Report September 29 Update:
The arrival of Fall has not brought the good fishing weather anglers were hoping for. It's been tough to get through the inlet lately, which means oceanic intel is in short supply. We likely won't have any good reports from the canyons until after the weekend, so make sure to check back in with us next week for the latest offshore reports once the weather becomes more favorable, but until then we do know that Capt. Monty took the Morning Star out early this week and found the sea bass biting. What was more of a surprise, some mahi have remained inshore post-storm. He reported a 4.5-degree temperature drop and didn't expect to see them, but at least a few are still swimming in waters relatively close to port.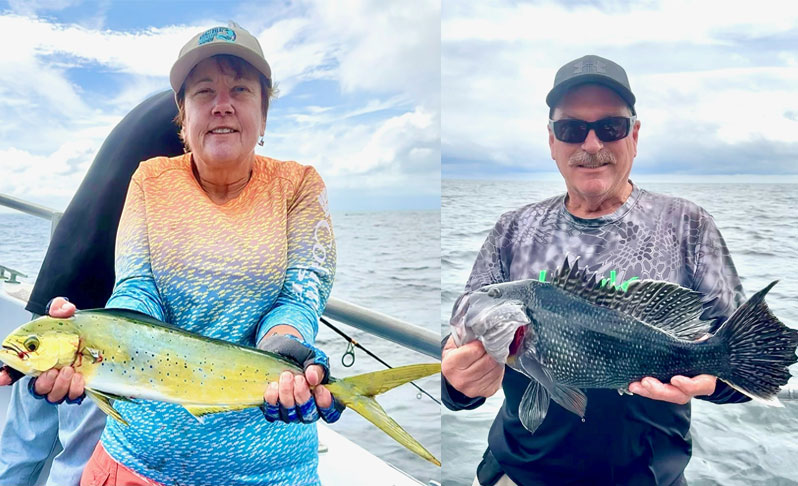 It looks like the stiff northeast winds won't reside until next week so most of the coastal fishing will be limited to inside the inlets and bays. Luckily, the fishing has been great in these areas despite the poor weather. We checked in with the Fish In OC crew who reported that the bite at the Route 50 Bridge is hot for rockfish, bluefish, reds, and some sheepshead. Swimbaits are doing most of the catching, but sand fleas and crab baits have been needed for the sheeps. Most of the bigger rockfish are 29 to 34 inches with a few slot fish being caught too. A few of the reds caught by anglers have been just over slot in the 32- to-35-inch range. We heard a few reports of anglers fishing at the Oceanic Pier catching some sheepshead and a few keeper flounder. A few days this week have been calm enough to surf fish, but most days have been rough and require more than 10 ounces to hold bottom. One angler surf fishing Assateague at the beginning of the week reported that they found a window where five ounces held bottom and caught a mix of rays, sea trout, flounder, and spot. The winds are making things tough right now, but next week's weather looks to be more fishing friendly.
---
Coastal Mid-Atlantic Fishing Report September 21 Update:
The Atlantic has been dealing with choppy seas and turbid water – and it looks like it will only get worse the next few days –  but there were a few fishable days this week. Good reports came from the wrecks and reefs in the 100-foot range where sea bass and flounder are hitting an assortment of jigs. Mahi-mahi are still being caught around buoys and other floating structure. Those fishing with Captain Monty of the Morning Star were treated to some good fishing this week with his crew putting plenty of fish in the box during. He made sure to send his anglers home with plenty of mahi and some nice sea bass. Monty reported that there were multiple bursts of mini mahi mayhem during his trip this week. Along the Virginia Beach oceanfront, trolling for Spanish mackerel is still productive for boats trolling spoons. There are still some king mackerel and albacore around as well but that has been a hit or miss bite.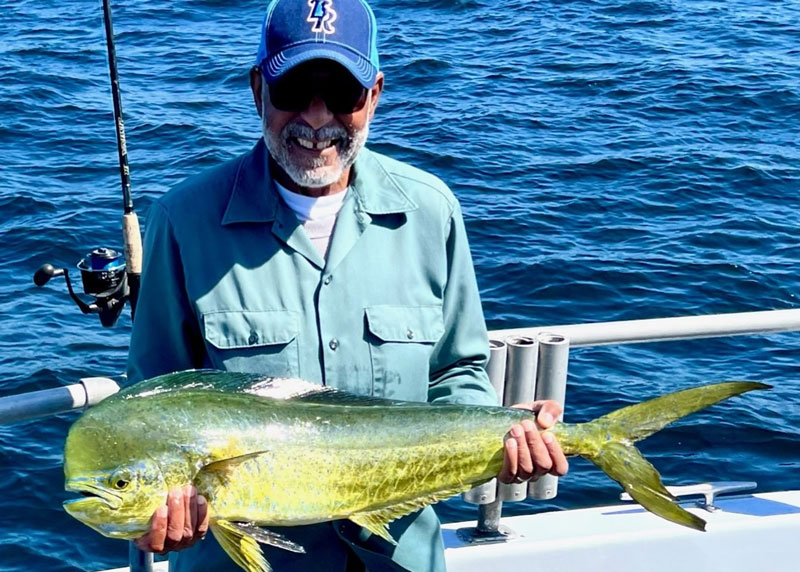 Boats heading out to the offshore canyons are finding some great catch and release fishing for marlin and other billfish. The Ocean City Fishing Center told us that a few yellowfin tuna are being caught but that the big news has been the number of white marlin hanging around. There are even some swordfish being caught. Charter boat Rhonda's Osprey had a great day offshore this week with four white marlin releases on top of catching a limit of mahi.
Fishing at the OC inlet and in the coastal bays has been productive this week. Scott Lenox from Fish In OC hit the back bay this week with some live bunker and had a good trip catching several undersize flounder near Martha's Landing. He did also manage to catch a 22-incher weighing just over four pounds. A few other anglers fishing near the Route 50 Bridge combined for a limit of big bluefish, a keeper rockfish, and a few flounder up to 23 inches. Sheepshead fishing has also been very good for anglers using sand fleas or peeler crabs in the inlet.
Surf fishing was difficult earlier this week, conditions improved, and unfortunately are now going backwards. Dave Moore from Shark Whisperers checked in and let us know that the Assateague surf has decent numbers of kingfish and spot, and that a few pompano are showing up as well. One big redfish (a 37 incher) did show up last week, too. Another angler fishing at Assateague landed a 19-inch flounder and a few small pompano during an evening trip. We also have seen some reports that there are a lot of whelk shells showing up on the beaches. Unfortunately, surf conditions will likely be unfishable for several days as a coastal storm heads our way. Keep an eye on the weather but it may be best to wait for better weather next week before hitting the surf.
---
Coastal Mid-Atlantic Fishing Report September 15 Update:
The coast will be dealing with rough seas as Hurricane Lee moves north in the Atlantic. Luckily, it seems we will be spared from a direct hit but Lee will be close enough to send swells our way. Before the rough seas, fishing was good and Fish In OC let us know that the flounder grounds have been super productive. The charter boat Fish Bound had anglers catching door mats this week with fish up to nine and a half pounds. Despite a shortage of tuna the offshore fishing fleet has also seen some solid days. One boat returned to dock this week after releasing five white marlin and boxing two tuna. Another boat had a sailfish release and boxed a few tunas as well.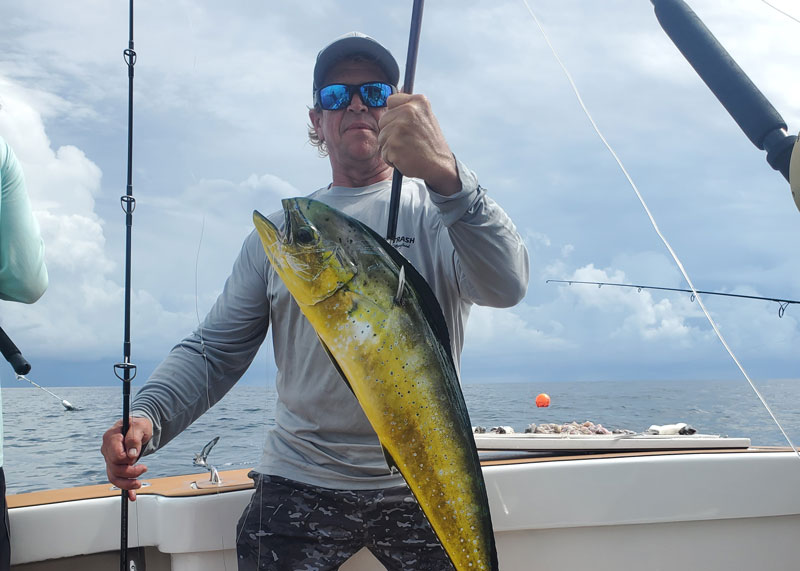 AIC Lenny Rudow says he spent a day at Poor Mans last Sunday where they caught a dozen mahi off the balls, and had some unidentified vicious sea creature demolish a mullet dredge — ripping off an entire bar and multiple additional baits, then coming up and shredding the back of a squid daisy chain teaser. He noted that the water has been shifting fast, and one day the marlin show up in one canyon then the next they're a canyon or two away.
The mahi have been inshore, too, and captain Monty Hawkins of the Morning Star checked in after another fabulous day spent in their pursuit. A few of their early stops at buoys produced goose eggs, but it quickly turned into mayhem as Monty found the fish and his anglers were bringing fish in the boat left and right.
Hurricane activity in the Atlantic hasn't made for calm seas at the beach as of late, but there have been a few days where fishing was manageable and surf anglers made sure to take advantage of it. One angler fishing the south OSV at Assateague earlier in the week reported catching a butterfly ray, flounder, spot, and pompano. Dave Moore from Shark Whisperers Guided Trips got out one evening and reported that the currents were strong at Assateague and that it took 12 ounces or more of lead to hold bottom. His efforts were rewarded with a 35-inch red drum but that was his only fish of the night. The surf will likely be rough into next week as the hurricane off our coast will be generating big swells, so keep that in mind. While the seas are rough, the best bet will likely to stay on the bayside where fishing has been good. The rock jetties and other hard structures near the Ocean City inlet have been holding decent sized sheepshead. Rockfish and bluefish are still being caught from the Route 50 Bridge. These fish typically hangout near the bridge pilings, so casting jigs and metal lures will be the best way to catch them. Fall fishing will be kicking into gear soon, so be ready to take advantage of it.
---
Coastal Mid-Atlantic Fishing Report September 8 Update:
Despite getting closer to fall, temperatures this week felt like the middle of summer as record heat set in across the region. Luckily it didn't seem to affect the bite too much as plenty of anglers found good fishing along our coastal regions. The OC Fishing Center reported that there were several sailfish caught his week by boats out at the canyons. Virginia Beach boats are seeing the sails as well. One boat checked in at the dock after four white marlin releases and two sailfish releases and another had four sailfish releases. Captain Monty Hawkins of the Morning Star checked with some action catching inshore mahi. Multiple trips this week produced, sometimes slow but steady and other times hot, along with some scattered sea bass at a few of their stops.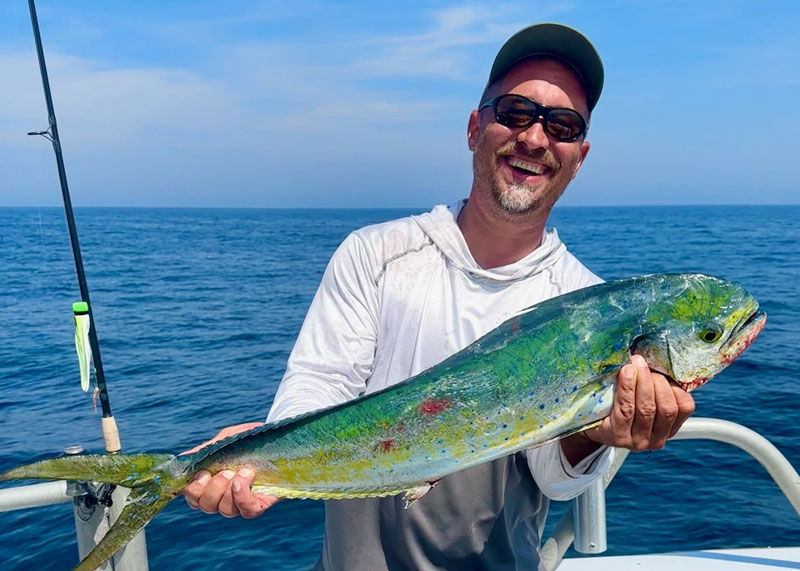 Fish In OC let us know that there has been a good sheepshead bite around the Ocean City inlet jetties and other bayside structures. An angler fishing the south jetty this week caught some throwback tautog and a few sheepshead, including a citation sized fish weighing just under seven pounds. Another boat of five anglers had one heck of a day targeting the sheeps, catching a boat limit with fish up to six and a half pounds. These fish are eagerly hitting sand fleas paired with sweeper jigs. Bluefish and rockfish are still on the table for anglers fishing near the bridges. Gotcha plugs and jigs are still doing the bulk of the catching for fish sitting near pilings in the current.
Captain Brian Esteppe of Y Knot Fishing Adventures checked in to let us know that the flounder bite has slowed up a bit this week at the nearshore wrecks off the Virginia coast, but if you put in the time, you will probably find your dinner. In the coastal bays and channels, flounder fishing is providing decent action as boat traffic is slowing down for the season. The largest flounder are being caught on live spot or finger mullets. Brian also told us that there is a good bottom fishing bite going on right now with kingfish, croaker, trout, and spot keeping rods bent.
There is good news for surf anglers since last week was plagued by high tides and flood conditions along the beaches. Water temperatures are still very warm, so the best fishing is still during the early morning hours. Conditions have been much more favorable, and that trend should continue into next week.
---
Coastal Mid-Atlantic Fishing Report September 1 Update:
There was a lot of tropical activity in the Atlantic this week between Hurricanes Franklin and Idalia, which made for rough conditions at times. Boats fishing the offshore canyons have seen a mix of billfish including blue marlin, white marlin, and even a sailfish this week. The tuna bite has been so-so, but we did see some nice size bigeye tuna and quality yellowfins hit the dock. Angler in Chief Lenny Rudow spent a day at the Washington and said they raised a few whites on the troll and got sharked to death when they tried chunking (multiple dusky sharks were circling in the chunks moments after they started flowing), but bailing for mahi-mahi at the pots saved the day.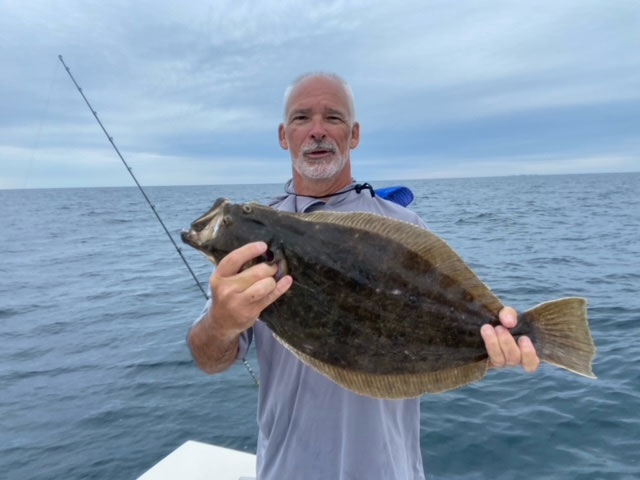 Captain Cook of First Light Charters reports that the flounder bite at the Old Grounds is excellent and produced several limit catches the past week. He noted that cutlassfish are mixed in, as well. Captain Monty of the Morning Star was able to get out to the nearshore wreck and reef sites for a few short trips this week. As always, he makes it a point to add to the growing number of reef structures in our waters courtesy of the Ocean City Reef Foundation. After dropping some reef blocks on one trip, Monty was able to put his anglers on a nice class of flounder. A late week trip provided a very tough sea bass bite, but after some adjusting, his crew found a great peanut mahi bite and after a few hours the anglers had brought in enough for a boat limit.
Surf anglers are dealing with rough waves and over-wash conditions late this week. Parts of the OSV at Assateague were even closed at times due to high water. The better bites were found before the storms approached. One angler fishing the Maryland side of Assateague found some nice red drum willing to bite, landing 19, 32, and 35-inch fish while using chunks of whiting. The bite window was short, and all fish were caught within 45 minutes. Another angler fishing at Assateague reported a great spot bite all morning long on Fishbites. He also landed a few sea trout, a clearnose skate, and lost a battle with a shark. Once the storms clear off the coast, fishing should get back to a more normal late summer bite.
In the more protected waters of the coastal bays, there has been some great fishing which hopefully is showing a sign of things to come as we approach fall. Sea Hawk Sports Center let us know that the seaside bays have continued to produce good late season flounder action. The best bite has been during the last part of the incoming and beginning of the outgoing but clean water is the most important factor for finding bites. Drifting silversides and minnows on any variety of flounder rig is tempting keeper size fish in the boat anywhere down to Wachapreague. Fish In OC had a boat check in that caught seven nice rockfish, five weakfish (on the smaller side), and a chomper bluefish. Fishing near the Route 50 Bridge is still good with anglers catching plenty of rockfish on jigs. We heard a report of a good bite on live eels too. The inlet jetties have been producing some sheepshead. The best bite has been on sand fleas, but other crab baits should work too. It is shaping up to be a great fall, so grab some rods and get to fishing because it should only get better from here on out.