Tangier Sound, Pocomoke Sound, and Lower Eastern Shore Fishing Report, June 30 Update:
AIC Lenny Rudow says he made a foray to the Honga and Bloodsworth last weekend but timed it too soon after the storms and found churned, muddy water just about everywhere he went. A few areas held some small rockfish, but the specks weren't willing to cooperate. He also mentioned that rays were super-thick everywhere he went. Light tackle guide Pete Dahlberg with Four Seasons Guide Service has been covering these same areas finding success along leeward shorelines and areas with clean water. Dahlberg has found the early morning bite to be the best with topwater lures getting some big explosions from rockfish and even a few speckled trout. It's not always easy and he mentioned having to cover 102 miles during a trip this week to put together a solid trip for his anglers. Running that much was worth it because they landed a mix of rockfish, speckled trout, bluefish, weakfish, and even some black sea bass.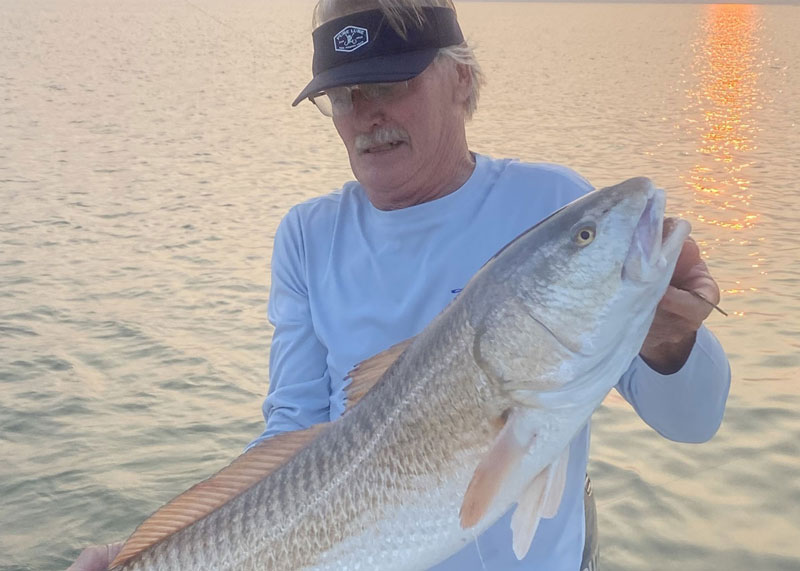 Captain C.L. Marshall of Tangier Sound Charters has been fishing the shallows of the Tangier and Pocomoke sounds with most days producing stellar fishing. One trip this week produced a mix bag of specks, rockfish, bluefish, cobia, and even a surprise stud sheepshead. Another trip brought them bull reds, nice sized black drum, specks, and rockfish. The specks and rocks are mostly caught throwing artificial lures like X-Raps or paddletails while the larger game fish have been tempted by chunks of fresh cut bait. Current rips, grass beds, and other shallow structure are all areas you'll want to take some casts. We also had a reader report from the Pocomoke, where a bull red hit a suspending plug followed by several very nice specks attacking in the early morning hours.
Sea Hawk Sports Center let us know that the cobia have been fairly cooperative when anglers can find them but there aren't huge numbers around yet. Most of the fish have been landed by chum or chunks of fresh bunker. Live eels have also worked well, and sight fishing has boated some fish when conditions allow. A 7/0-9/0 circle hook on a fishfinder rig deployed with bait in the 15 to 25-foot range is a good starting point. The best reports have come from the lower Pocomoke Sound down to the CBBT.
---
Tangier Sound, Pocomoke Sound, and Lower Eastern Shore Fishing Report, June 23 Update:
We are finally seeing some rain return to our region and although it will help with drought conditions, it doesn't make for great fishing weather. In the Tangier and Pocomoke, rockfish and speckled trout are making up much of the shallow water action. Both fish are being caught over grass beds and near shallow structure. Paddletails, jerkbaits, and topwater baits are all getting hit with the best bite coming in the early mornings. Popping corks are also a top producer and can get the attention of nearby fish on calm days. Z-Man soft plastics work great for the shallows and hold up catch after catch.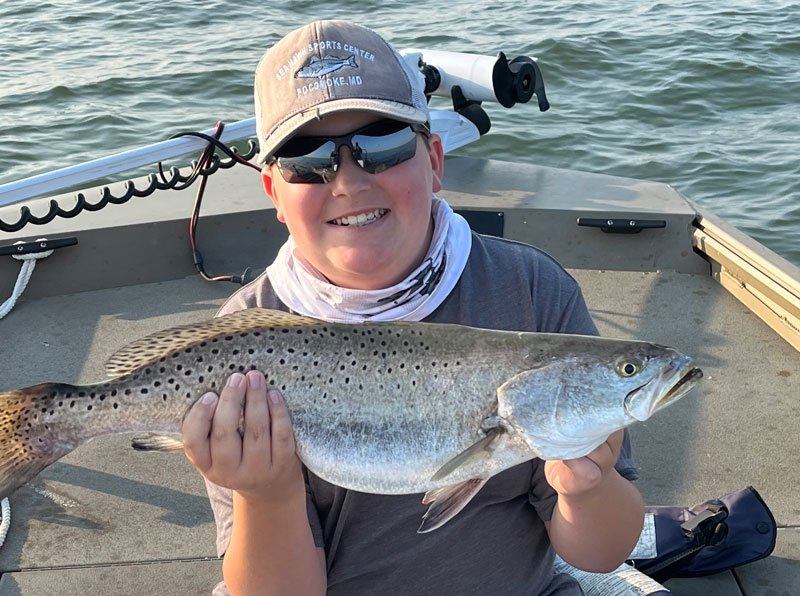 Conditions have not been very favorable for those in search of flounder along the seaside inlets. Clean water has been the most crucial component to a successful trip and some days it has been hard to find. When favorable conditions are present, fishing has been pretty good. Sea Hawk Sports Center hosted the first annual Mike Taylor Flounder Frenzy tournament and the top three places all cleared the four-pound mark with the big fish weighing in at over four and a half pounds. Flounder rigs tipped with Gulp! baits, minnows, or silversides have done the trick for getting fish in the boat.
We are a week into cobia season and good reports are coming out of the sounds and along Virginia's lower eastern shore. Most fish have been coerced into the net with chunks of fresh bunker on fish finder rigs. Chum bags help to draw fish into the area which can help even the pickiest brown brawlers to bite. The best reports have been from areas surrounding the CBBT north to the Pocomoke Sound. The magic depth has been between 12 and 25 feet of water. Some anglers have taken advantage of sight fishing opportunities when the water is calm, casting live eels or bucktails dressed with large soft plastics. Captain C.L. Marshall of Tangier Sound Charters has been spending more time chasing the cobia now that the season is open and his efforts are paying off. One trip this week produced five cobia, a box of bluefish, and a stud speckled trout. Another trip produced three cobia and a bunch of bluefish up to three pounds. It's safe to say that the bluefish are here in force and the Spanish mackerel should be soon to follow. The crew at Sea Hawk has been catching the blues around structure while tossing X-Rap-10s. Schools holding nice sized blues in the three- to five-pound range have been popping up here and there with a few 30-inchers being boated this week.
---
Tangier Sound, Pocomoke Sound, and Lower Eastern Shore Fishing Report, June 16 Update:
The shallows of both the Tangier and Pocomoke sounds have been very productive with a variety of fish willing to bite this week. Rockfish, speckled trout, red drum, and even a few black drum are being caught with most of the action in the shallows near structure and grass beds. We have seen some windy days this week which can make it difficult, but not impossible, to find fish. Clean water is always your best friend, and you can usually find it along protected shorelines. We heard of an epic day from a few anglers fishing in the Tangier who caught six reds, a limit of rockfish, and five citation speckled trout. Another angler in the Tangier caught a 28-inch citation speck in the shallows. The specks have been limited in number but the quality has been world class.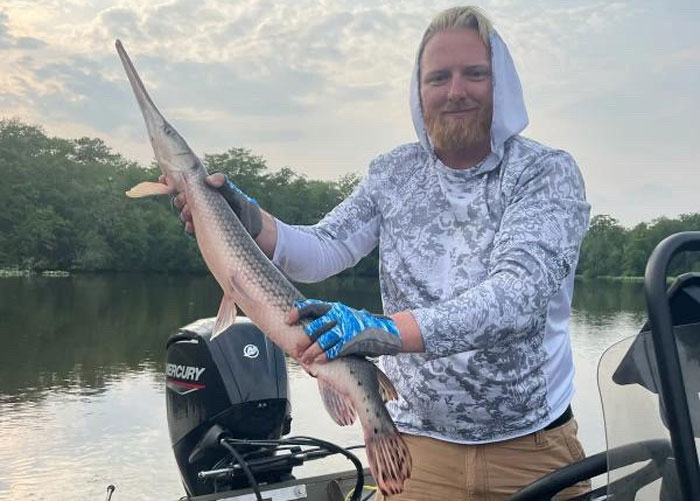 Captain C. L. Marshall of Tangier Sound Charters says that the bluefish have made a showing around structure in relatively shallow water. They are eagerly hitting plastics, but shallow diving hard baits are getting bit too. Bluefish have been between 18 to 25 inches and rockfish have been caught up to 30 inches. If you make it out on the water in the early morning hours, there has been a great topwater bite. Surface plugs and spooks are getting exploded on when thrown in the right locations.
Cobia season opened on the 15th this week which has many anglers sitting atop their towers on the lookout for the man in the brown suit. Lower Bay anglers have been catching more daily and we should see a steady influx of fish into the sounds and main stem of the bay as we progress through the summer. Cobia like to hang out along channel edges and anywhere there are humps on the bottom where there is a slight depth change. Live eels or spot works best when bait fishing, but sight fishing and trolling are popular options too. We should have more reports on this front after the weekend.
---
Tangier Sound, Pocomoke Sound, and lower Eastern Shore fishing reports, June 8 Update:
Reports continue to come in of a solid striper bite in the shallows and at the islands on fish up to the upper-20s, with specks popping up here and there. Slinging jigs and poppers continue to produce, and one reader noted that peeler crab did the trick. Guide Pete Dahlberg of Four Seasons Guide Service has been getting on quality rockfish with topwater lures in the early morning hours. He reported that the thick hazy smoke from the Canadian wildfires has kept fish hitting surface lures well into the day. Along with the rocks, Dahlberg has been finding scattered speckled trout and even some puppy drum. Side scan imaging has been a key tool to make tough days good and good days epic when searching for fish in shallow grass beds and stump fields.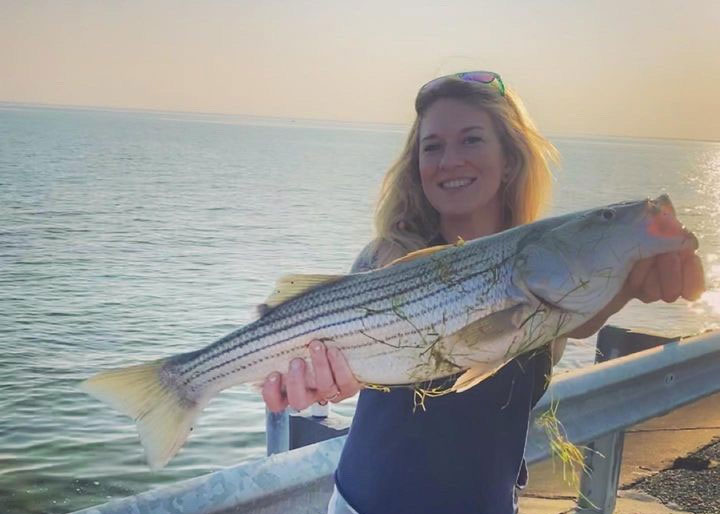 Anglers fishing the Bay side of the Eastern Shore of Virginia have found some consistency with the red drum fishing. Trolling large paddletails has proved effective but drifting chunks of cut bunker on fish finder rigs is also a common tactic. Tangier Sound Charters has been finding some quality reds in the shallows while pitching out soft crab near grass beds. Specks and rock have also been putting a bend in his angler's rods. A running tide has provided the best bite and clean water will always be preferred. Stiff winds have made finding clean water difficult on some days, but focusing fishing efforts on protected shorelines has rewarded anglers with quality fish.
Captain Steve's Bait and Tackle let us know that on the seaside, most fish have been in shallower water during whichever tide offers the best water clarity. They had a boat came back to the dock this week with three keeper flounder, the largest measuring 19 inches. One reader reported going to the coast to target flounder last weekend and discovered the water too churned up to even justify making the attempt. It seems like the wind is finally beginning to drop back a notch, so hopefully it will have settled out enough by the weekend for the bite to crank back up.
---
Tangier Sound, Pocomoke Sound, and lower Eastern Shore fishing reports, June 2 Update:
The shallows of the Eastern Shore are yielding a mix of species this week as anglers seek sheltered water from the persistent winds. As is usually the case, clean water and structure has been the name of the game. Bait fishermen are doing well throwing peeler crab on fish finder rigs. Speckled trout, redfish, and mostly stripers are cruising the shallows looking for bait on the edges of grassy flats and in stump fields. Sea Hawk Sports Center told us that their crew has been throwing paddletails, Rap-10's, and popping corks which has produced many quality fish. They even ran into a nice class of bluefish that peeled drags and showed them some aerial exhibitions. The blues were tight to submerged structure. We also had a reader check in after fishing the Honga early in the week, where he was targeting specks with five-inch Electric Chicken and chartreuse plastics. He did locate two nice ones (a 22" and a 24"), but he said small rock between 14 and 18 inches were present in much larger numbers. Contributor Eric Packard let us know he spent a day on Walleye Pete's boat casting in the shallows last weekend, racking up rockfish up to 25 inches and also encountering a pair of specks in the 20-inch range. Paddletails cast around grass beds and structure did the trick, and a few also struck topwater poppers.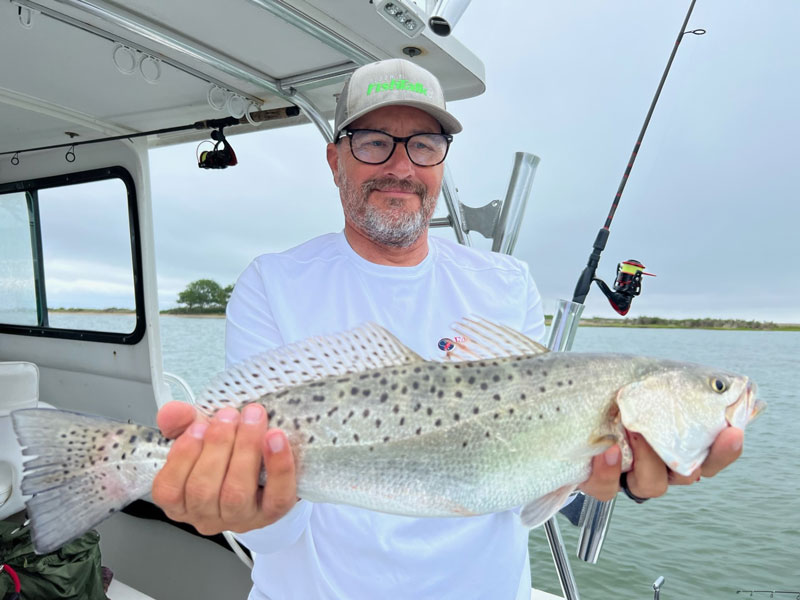 In the Pocomoke Sound, boats are finding a good amount of bull red drum when drifting peeler crab. Tangier Sound Charters was able to land seven reds, a handful of stud specks, rockfish, and some bluefish during a trip earlier in the week.
The seaside flounder bite has slowed a bit as the coastal bays have been plagued with dirty water. Sea Hawk reports that anglers who have been able to find clean water are catching fish, however, in shallow depths during the start of the outgoing tide. Silversides and Gulp! baits paired with chartreuse or pink teasers have been the most productive.
Cobia are starting to move into the Bay and larger schools will begin to show up this month. The season opens June 15 so make sure to get all your gear set up and ready to go now.