Upper Bay Fishing Report, August 25 Update:
Fall like temperatures have been a welcomed sign of summer winding down. While some may wish for summer temps to stick around, many anglers are ready for the action that fall usually brings. Anglers Sport Center let us know that the rockfish action in the Upper Bay is still good. The cooler temperatures recently have the fish feeding more frequently throughout the day. Live lining is still working great but boats dropping live eels or trolling channel edges are catching plenty of fish too. A reader checked in after fishing near Pooles and came up with some nice rockfish that took live eels. We also had a report of solid action still taking place in the Patapsco, with live spot resulting in limit catches on fish up to 27 inches. Anglers says that there are plenty of live lining worthy spot around the western span of the Chesapeake Bay Bridge and Podickory Point. We have also seen reports of eater sized spot between eight and 10 inches moving into the upper Bay. Plenty of small croaker and white perch will also keep you busy while bottom fishing. Bloodworms or Fishbites are all you need to start catching. We are still also hearing of small black sea bass being caught as far north as the Key Bridge. Although most aren't keeper size, they are still a really cool bycatch in the upper Bay.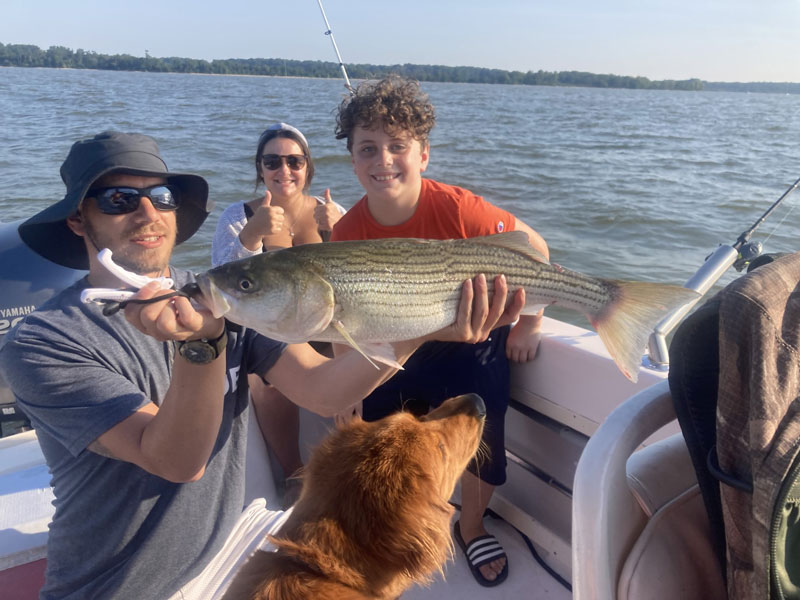 The white perch fishing is also good in the rivers and tributaries. Nearshore structures like rock jetties, docks, and old pilings are some of their favorite hangout spots. Small puppy drum have also made their way above the Bay Bridge and although the higher concentrations have been to the south, there are some cruising around with the perch. Throwing small spinners or jigs on an ultra-light setup is a fun way to target these fish. If you can get live minnows, putting them on a small jighead under a bobber is also a great way to catch them. Blue catfish are also getting more active as water temperatures have cooled down a bit. They can be found in all the upper Bay tributaries as well as out in the main stem. Many anglers have good success targeting them near Sandy Point and the mouth of the Magothy. Dropping down chunks of fresh cut bait can lure these fish to your lines and give you a good fight once you hook up.
---
Upper Bay Fishing Report, August 18 Update:
The Patapsco is still the hotspot for rockfish in the upper Bay and the charter fleet is still hounding the fish near the shipping docks. The Key Bridge and Bay Bridge pilings are also producing fish for boats live lining spot. Spot are abundant and easy to catch. All you need is a bottom rig tipped with some Fishbites and you should be getting tapped in no time. Shore fishermen are catching them from their docks in the rivers, but they are also being caught at the upper Bay shoals and oyster bars. Three-to-five-inch spot are great live lining size, but we have heard reports of eater size spot over eight inches being caught too.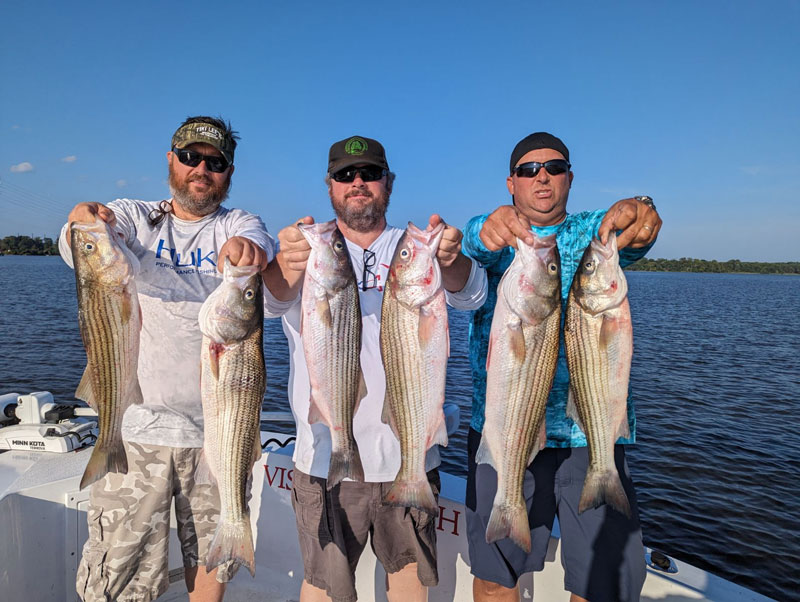 Shoreline points and other nearshore structure around Hart Miller Island and the mouth of the Patapsco have seen good topwater action during low light hours. A moving tide has been key for finding these fish willing to hit surface lures. Boats trolling the channel edges west of the Key Bridge are catching rockfish with more regularity. We heard from one boat who caught a 22 and 23-inch keeper and another who caught rockfish up to 25 inches. Water temperatures are still very warm and dissolved oxygen is low which makes it hard on the rockfish. If you are going to release a fish that you catch, it is best to keep it in the water as you release it; if you must take them out, minimize time out of the water and don't let the fish flop around on the deck of your boat. Proper handling will help reduce catch and release mortality.
Bluefish have made their way up to the Love Point area, and two readers checked in this week after some success. One boat reported catching four keepers on pink spoons while trolling. Another said they caught two (also keepers but not huge) while jigging spoons over good marks on the meter in search of rockfish.
Bottom fishing is great right now all throughout the upper Bay. Anglers Sport Center let us know that the Bay Bridge is providing excellent fishing opportunities for spot, small croaker, white perch, and even some sea bass. Surprisingly enough we have even seen sea bass caught well into the Patapsco this week. If you want some steady bottom fishing action, head out to Six or Seven Foot Knoll and drop down some bottom rigs with Fishbites or bloodworms. There are plenty of fish to keep you busy. The white perch are also in the shallows of all the tidal rivers near dock pilings and rock jetties. If you want some fun light tackle perch action, grab an ultralight rod with a small spinner to cast to these nearshore areas and you have a good chance to catch a bunch. Small puppy drum are even being caught above the Bay Bridge which fight hard for their size and are a cool bycatch in the upper Bay.
---
Upper Bay Fishing Report, August 11 Update:
Upper Bay anglers have been enjoying good fishing this week as we move into late summer patterns. Despite being in the "dog days" of summer, we have been experiencing some rather comfortable weather this week. The cooler temps have been welcomed by both anglers and fish alike. We checked in with Edgemere Bait and Tackle for the latest report on rockfish from the upper Bay. They said the early mornings have seen the most action and the topwater bite has been good inside the Patapsco and at Hart Miller Island. Most fish range from 16 to 22 inches. One pattern that has changed is that the trolling bite is really picking up along the channel edges. The deeper water has been producing a nicer grade of fish between 20 to 27 inches. Boats that are live lining spot or eels are picking up fish at the Key Bridge and at the shipping docks in the Patapsco.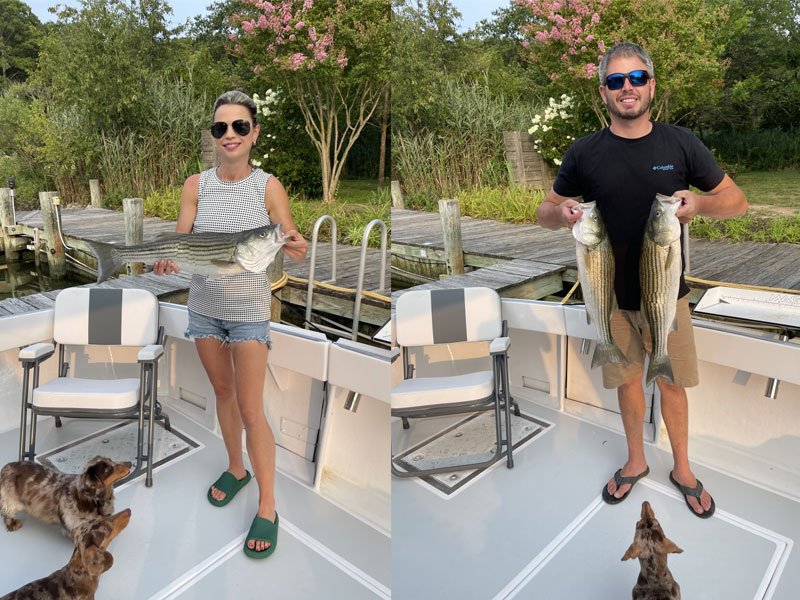 There are also plenty of catfish in the upper Bay rivers and some nice sized blue cats have been caught around Hart Miller recently. Night crawlers have been working well along with chunks of cut bait. Drop down these baits on fish finder rigs near ledges or holes for some fun action. Its always. Great idea to target the blue cats because they are invasive, but they are also delicious!
Fishbones Bait and Tackle says the perch bite is great in the rivers. Casting any small jig or spinner to nearshore structure is a good way to catch them. The perch often school up so once you find a few, there are likely plenty of others nearby. The perch are also being caught around Fort Carrol, the oar piers, and at Seven Foot Knoll. Fishbones says the best bait has been bloodworms or lugworms dropped down on a bottom rig. Spot and croaker are also being caught in these areas using the same bait. Some surprise fish that have been caught recently in the upper Bay are black sea bass. That's right, we have been getting some reports of these fish as far north as the Patapsco mostly caught while bottom fishing or jigging. There was even a keeper sized fish caught at Thomas Point Lighthouse and some close to keeper sized fish caught at the Bay Bridge this week. As long as the salinity stays high, these fish should continue to push north as we move through the late summer.
---
Upper Bay Fishing Report, August 4 Update:
Striped bass season is open again in Maryland waters of the Chesapeake Bay. The bite was hot in the upper Bay and from the reports we received, it looks like things are picking up right where they left off. Edgemere Bait and Tackle gave us the latest report on the rockfish front. They said that the Patapsco River is still producing a lot of fish with some shorts mixed in but plenty of keepers. The largest fish this week have been up to 26 inches. The early morning topwater bite has been good in the shallows between Seven Foot Knoll and up into the Patapsco but that bite has been shutting down by seven in the morning. Jigging has been producing fish around the pilings at the Key Bridge and anglers dropping down live eels or spot are getting a lot of bites too, though we also heard from a reader fishing near the bridge early this week that one evening the fish turned up their noses even at the eels. (Hey, that's fishing!) The larger schools are still far up in the river near the shipping docks, and it may take some searching around to find them. You can usually find the school by looking for the charter fleet. However, you'll be dealing with a lot of boat traffic and pressure from other anglers. It is also important to remember that water temperatures are very warm and catch and release mortality can be high if the fish aren't handled properly. It is best to keep them out of the water as little as possible and properly revive them before releasing them. Make sure they swim off strong so that we can enjoy catching these fish for years to come.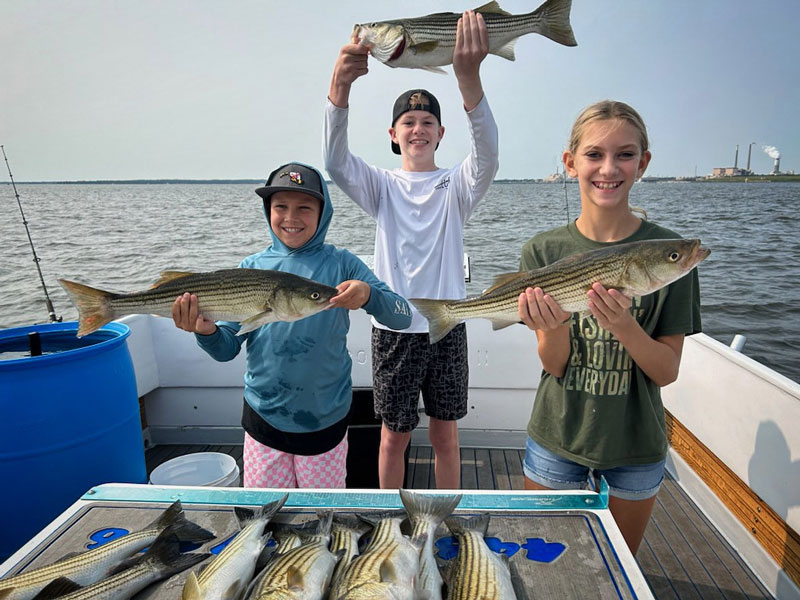 The white perch bite is also excellent in the upper Bay this week. Both the shallows and deeper water hangouts are producing good fishing for anglers. Small spinners work great when fishing nearshore structure like docks and rock piles. In deeper water areas between 10 and 20 feet of water the perch are being caught using bottom rigs tipped with bloodworms or Fishbites. Spot and small croaker will also be found in these areas and can make for a fun day of steady catching. White perch and spot are great to eat so if you are looking to have a fish fry or even just take a few home for dinner, they are plentiful and easy to target. Areas like the shallower pilings of the Bay Bridge, areas off Sandy Point, mouth of the Magothy, and the Seven Foot Knoll are all good areas to bottom fish. We have also seen some small puppy drum in the 12-inch range move into a lot of the middle Bay rivers, and we had a report of some small sea bass all the way up into the Patapsco, so some surprising catches could be in store for upper Bay anglers.