Upper Chesapeake Bay Fishing Report, July 28 Update:
Red Alert: It's come to our attention that anglers fishing around pound nets are being cited by Natural Resources Police. We have reached out to the DNR to attempt to get clarification on why (no laws have changed), and will report back to you asap. Meanwhile, we suggest giving the nets a wide berth to avoid any unfortunate situations.
The summer rockfish closure is still in effect until August 1st in Maryland waters of the Chesapeake Bay. This prohibits anglers from directly targeting rockfish. Before the closure, most of the rockfish action was centered in the Patapsco, so once the season reopens, we will make sure to let you know where the best bite is. Water temperatures will still be very warm in August, so if you plan to catch and release, make sure to use proper handling techniques to minimize stress on the fish.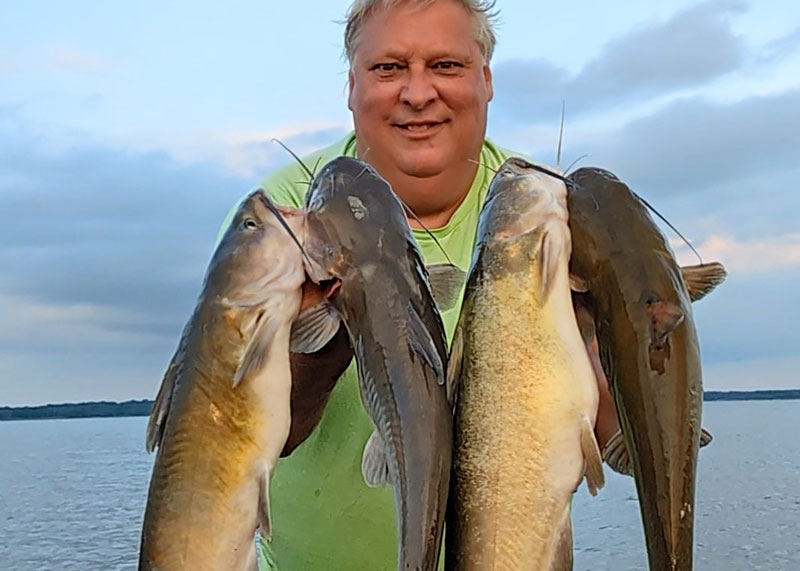 Many anglers have been turning their attention to perch and catfish while we wait for rock to reopen. Anglers Sport Center says the blue catfish bite in the upper Bay is steady in the Magothy and Patapsco. Fresh cut bait on fish finder rigs works great to lure these fish in. White perch are all over the shallows and in deeper water too. Docks, rock jetties, and bulkheads are all places the perch like to school up in the shallows. Throwing a small spinner or a minnow under a bobber are two of the top ways to catch them. Out deeper, the schools of perch will be holding near oyster bars and shell bottom like the Seven Foot Knoll. Bottom rigs tipped with bloodworms or Fishbites should have them biting in no time. You can expect spot and small croaker to be in the mix too. The spot bite has been great anywhere from Sandy Point up to Fort Smallwood Park. The spot tend to hangout anywhere from five to 20 feet of water and will bite the same bait as the perch. As we get into late summer, more eater-size spot should start to show up.
Snakeheads can be found in just about all the upper Bay rivers. They will be more concentrated towards the backs of these rivers near grass or shallow marsh areas. The snakehead spawn began at the beginning of the month and fry balls will be seen popping up from now until September. Topwater frogs are one of their favorite baits. Chatterbaits and buzzbaits are great to throw if you want to cover a decent amount of water. Angler Eddie Weber from HOCB was fishing the Severn this week when he landed a monster snakehead weighing over 10 pounds and measuring over 30 inches. Fish of this size can be caught throughout the upper Bay tidal tributaries, so go catch them up.
Spot, White Perch, and Croaker are being caught all around the Chesapeake Bay Bridge. Anglers are finding luck jigging with Chesapeake Sibiki Rigs tipped with either Bloodworms, Lugworms, of Fishbites around the pilings and at Dropoffs. We also heard about a 10.5 inch black sea bass showing up at the Bridge this week.
---
Upper Chesapeake Bay Fishing Report, July 20 Update:
Many anglers in the upper Bay have been enjoying great action for rockfish this summer. However, most are now counting down the days until the end of the month. The summer closure is upon us which means rockfish season is currently closed until August 1st in Maryland waters of the Chesapeake Bay. While the closure prevents anglers from directly targeting one of the more popular fish in the Bay, there are many other species to pursue. Anglers Sport Center recommends getting out to target white perch or spot since both are plentiful in this region of the Bay. Anglers reports that spot are being caught in water that is around 10 to 15 feet deep and some hotspots include the western part of the Bay Bridge, Podickory Point, and the mouth of the Magothy. You will likely find some white perch and small croaker mixed in. Bottom rigs tipped with bloodworms, lugworms, or Fishbites should do the trick.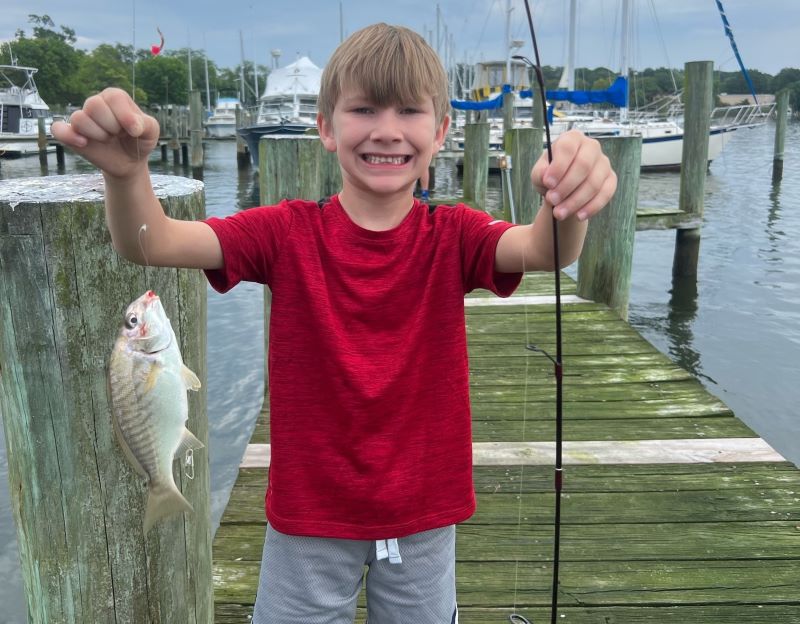 Another fish that isn't too hard to target are blue cats, and they are plentiful in the upper Bay. They can be found along channel edges inside the tidal rivers and out in the main stem. The blue cats are an invasive species and eat a lot of our crabs and native fish, which gives us a great reason to target them. Any variation of fresh cut baitfish, peeler crab, or chicken on a fish finder rig should attract these fish to your line. Be prepared to catch them anywhere from one pound up to 40 plus. There are a lot of the big ones cruising around the bottom of the upper Bay that would make for a good fish fry.
Snakeheads are still spawning, and they are in just about all the tidal tributaries. They will be more concentrated towards the back of the rivers and near grass flats. Chatterbaits work great for covering water and casting along marsh banks and topwater frogs work great when conditions are calm. Keep an eye out for fry balls when on the water because the parents are likely close by.
---
Upper Chesapeake Bay Fishing Report, July 14 Update:
It has been a great summer of fishing for upper Bay anglers with rockfish providing most of the action. The larger schools of rock have been concentrated in the Patapsco for the majority of summer thus far and based on reports, those fish are still hanging in the same areas. There has been a lot of boat pressure accompanied with this area so some days it does take a little more searching around to find them. A few anglers reported a tough morning bite this week, but that the bite turned on in the evenings most days. Despite the good fishing, anglers will have to give the rockfish a break as we enter the summer closure which will be in effect from July 16th through July 31st. During this time, no targeting of rockfish is allowed in Maryland waters of the Chesapeake Bay. This closure will give the larger schools that have been getting fished every day a break and fishing should be prime as we head into August.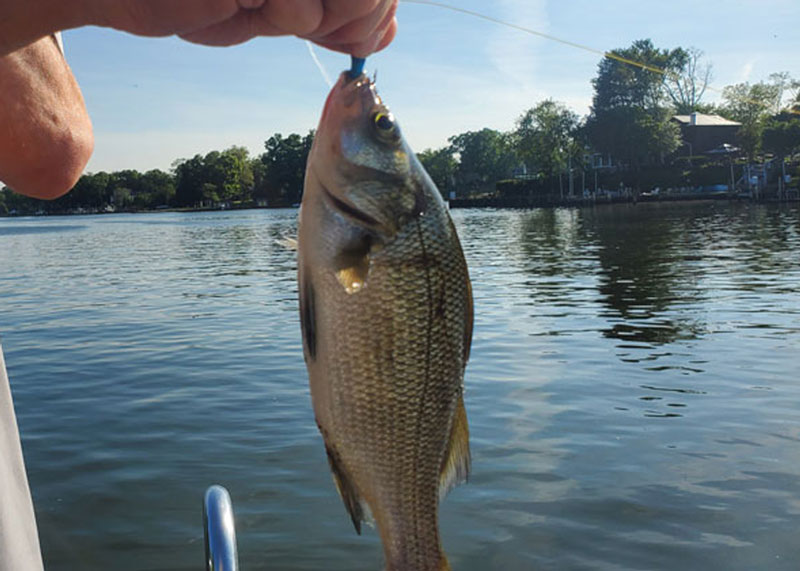 While rockfish are off the table for a few weeks, there are lots of other fish that can be targeted in the upper Bay this time of year. Anglers Sport Center reports that the white perch fishing has been great in the shallows and at the mouths of the tidal rivers. They recommend throwing small spinners near docks and riprap. Perch also love small jigs or live minnows floated under a bobber. Large schools of spot are plentiful in the upper Bay right now. They are a great eating fish, so if you want steady action while filling up a cooler, they are a good option to target. All you need is a bottom rig paired with small bits of bloodworm flavored Fishbites. The best fishing for them has been around Six Foot Knoll, Podickory Point, and off Sandy Point in 10 to 20 feet of water.
If you still want to target some bigger fish, there are plenty of blue catfish marauding around the upper Bay tidal tributaries. Good fishing for the cats is usually from the Magothy to the Patapsco and anywhere in between. A variety of fresh cut bait or peeler crab tossed out on a bottom or fish finder rig will give you a good chance at hooking up. Edgemere Bait and Tackle recommends snakeheads as a solid option to target throughout the second half of the month. We are in the thick of their spawn and fry balls are popping up just about everywhere. The Gunpowder and Bush River can provide some great snakehead fishing throughout the summer. Look for grass fields and shallow areas in coves or tidal creeks. Topwater frogs are one of the most popular lures to throw, but if you are looking to cover a lot of water, chatterbaits will be a good option. The snakes are in just about every tidal body of water in the upper Bay, so get out there and catch 'em up!
---
Upper Chesapeake Bay Fishing Report, July 7 Update:
There were already a lot of boats in the upper Bay due to the large schools of rockfish in the Baltimore area, but the fourth of July holiday brought that to a whole new level. Anglers still managed to catch fish this week despite the increased boat traffic. We had four different readers check in this week to let us know that the Patapsco bite remains strong. There were reports of success fishing off Fort McHenry, as well as casting to the piers, pilings, and bulkheads of both branches. Livelining, jigging, and trolling were all catching fish with most being 20-somethings. Another angler found success with the rockfish outside of the Patapsco, but still close to the mouth. They reported catching and releasing a 20 incher along a rock jetty at the end of an incoming tide, and kept a 31-inch fish at the beginning of the outgoing tide in open water after spotting bait and marking fish. Both fish were caught on half ounce jigheads with a five-inch chartreuse Z-Man soft plastic. White six-inch paddletails were also reported effective in the area.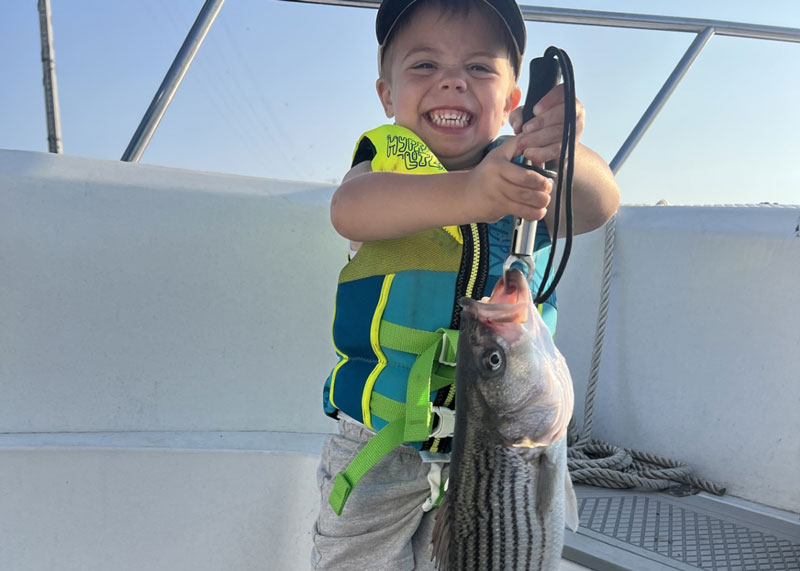 We checked in with Anglers Sport Center who let us know that the white perch fishing is hot right now in the upper Bay rivers and at the Chesapeake Bay Bridge. The pilings on the western side of the bridge are producing some nice sized white perch. Many boats are dropping down bottom rigs tipped with bloodworms or FishBites. In shallower waters around rock piles and other nearshore structure, casting a variety of spinners usually gets the perch biting. Spot are also being caught from Sandy Point up to the Patapsco. The area's just outside the mouth of the Magothy have proved productive for spot along with perch and small croaker. A simple bottom rig of Chesapeake Sabiki rig tipper with small bits of bloodworm flavored FishBites works great. If you don't feel like running to the Patapsco, there has been decent reports from boats live lining at the Bay Bridge. Either end of the tide swing has been best. Remember that all areas of the Chesapeake Bay in Maryland will be closed to targeting rockfish from July 16th to July 31st and make sure to get your fix in before then.