Upper Chesapeake Bay Fishing Report, June 30 Update:
The best rock fishing still seems to be happening in the upper Bay with many boats traveling from all over to get in on the action. Reader reports continue to flow in from the Patapsco, which has been the highlight of the Chesapeake Bay rockfish bite thus far this season. Most of the fish are in the low- to mid-20s with a few in the 30-inch class being caught by live liners and jiggers. Trollers are reporting a bit less success for some reason (though most are still catching fish), while a couple of live liners reported catching a limit in mere minutes off Fort McHenry. One boat wanting to stay away from those live lining decided to try their luck trolling off Fort McHenry and reported quickly picking up their two fish limit. Both fish were caught on umbrella rigs. The downside to fishing in this area recently has been the crowd, which is extensive. Reports have varied between 30 and 150 boats depending on the day of the week and the weather.

Snakehead action has been good on the upper Bay for most of the summer. Bow fishermen are finding plenty of fish in the rivers but rod and reel anglers are also reporting success. The snakeheads are starting to get into spawning mode, so you'll want to start looking for fry balls. Casting a lure near them like a topwater frog or weedless fluke will usually produce a reaction bite from one of the parents. Focus on areas protected from the wind where there are grass flats during your searches.
Edgemere Bait and Tackle reports that bottom fishing has been supplying anglers with steady bites. Shore anglers and boats are catching a mix of white perch, spot, and small croaker just about all over the upper Bay and its tributaries. The larger schools of spot have been from the mouth of the Magothy down to Sandy Point. One boat bottom fishing near the Bodkin reported steady action but most of it was courtesy of small croaker not breaking the six-inch mark. They also picked up some white perch and spot, but it took a while to weed through the hardheads. Small bits of Fishbites were getting bit shortly after reaching the bottom. The white perch can be caught on the main stem of the Bay, but also in most of the tidal tribs. Using light tackle gear is a fun way to fish for them in the shallows, and they can be caught by throwing small spinners or jigs to nearshore structure. Make sure to bring a stringer along because they are excellent eating.
---
Upper Chesapeake Bay Fishing Report, June 23 Update:
We had multiple readers check in from the Patapsco, where rockfish action is still hot on fish into the mid 20s with a few in the 30-inch class popping up here and there. One boat hit the river to live line and caught their spot in 12 feet of water, putting around 30 in the live well after 40 minutes of bottom fishing. They then ran up around Fort McHenry and caught their two keepers in less than 10 minutes. We also heard from a troller working the area that at least one day last week, the bite shut off and his lures went untouched. Most anglers are live lining spot, but jiggers are reporting success as well.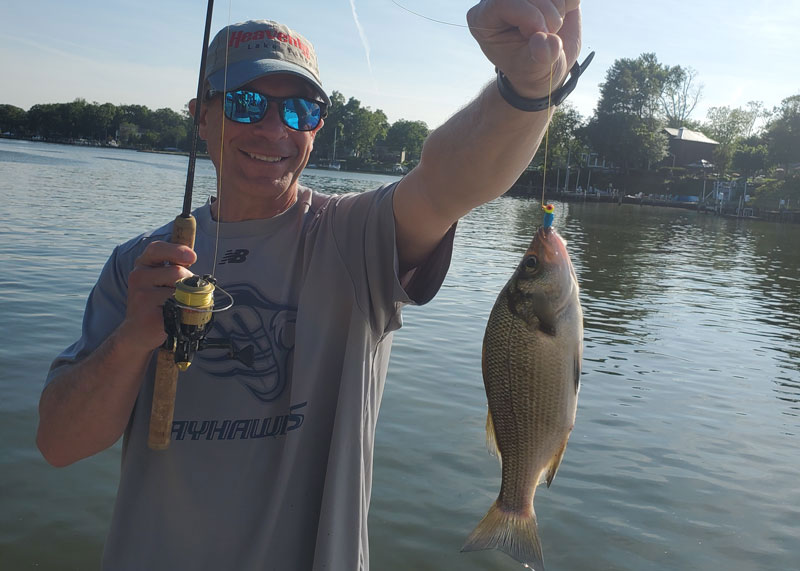 I was able to get out on a rockfish charter this week with the Backdraft where we had steady rockfish action. We headed into the Patapsco towards the shipyards and found schools of fish hanging close to pilings in around 25 feet of water. Once we dropped down our spot, it was nonstop action and we had a boat limit of 26 fish in around 45 minutes. Most of our fish were between 19 and 22 inches but we did have a few up to 26 inches. After catching our rockfish, we headed to the mouth of the river to bottom fish where we had steady pickings of white perch, spot, and small croaker… lots of small croaker. Larger schools of spot have been at the mouth of the Magothy and south towards Sandy Point, so if you want to fill the live well quick, head to those areas before searching for your rockfish.
Fishbones Bait and Tackle reports that the rockfish bite has been tough just about everywhere else. Live lining spot seems to be producing the most action at places like Love Point and the Bay Bridge. One pattern that does seem to be consistent is that rockfish are hanging close to docks in the shallows of the rivers. We have seen this both in the rivers south of the bridge and north. The bite has been best in the early morning and late evenings. There aren't huge schools of fish, but if you cover enough docks, you should find a few bites. White perch are also abundant in the shallows near structure. Many anglers are catching them with small spinners or jigs in the shallows but bottom rigs with bloodworm baits works well in deeper water. You can also try floating a minnow under a weighted bobber close to structure. Whichever way you fish for them, catching perch is always a good time.
---
Upper Chesapeake Bay Fishing Report, June 16 Update:
The upper Bay is where most of the steady rockfish action has been taking place over the past few weeks. There have been large schools of rockfish in the Patapsco and near Hart-Miller Island, which has drawn a large chunk of the middle and upper Bay charter fleet to that area. Boats are both trolling and live lining spot with equal success. A few readers checked in from the Patapsco, which still seems to be holding the lion's share of the rockfish including some very nice fish. One mentioned that it took just an hour to catch a limit of stripers between 25 and 30 inches. Although there are fish in this area, be prepared to deal with a lot of boat traffic while fishing. The Key Bridge has also been a hot spot in the upper Bay for live lining. Some anglers are reporting that jigging soft plastics through the schools of rockfish is working too. Swan Point and the Love Point rocks have seen some action as well with live spot and soft crab producing better results than artificial lures.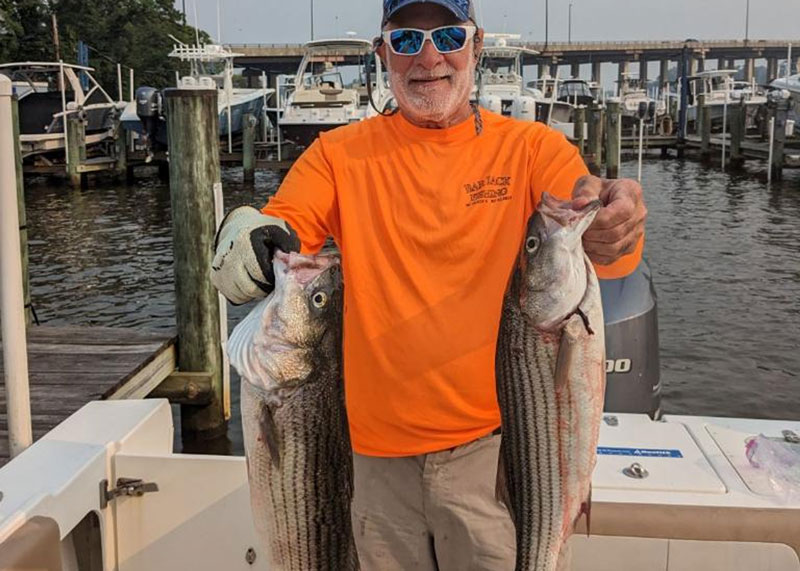 We checked in with Fishbone's Bait & Tackle who let us know that the white perch fishing was really good this week. All of the upper Bay rivers now have perch in their usual summertime hangouts. Shore anglers are casting out bottom rigs baited with blood worms or lug worms and catching nice eater sized perch. Some spot are also in the shallows of the rivers and are being caught alongside the perch. Using ultralight gear while perch fishing can be a lot of fun and we highly recommend it. Small spinners or soft plastic jigs work great. You'll want to focus your efforts near docks, rock jetties, and other shoreline structure that the perch like to hang around. If you want to load up your live well with spot before searching for rockfish, start looking for them between 10 and 20 feet of water. The mouth of the Magothy and off the beach at Sandy Point are good places to find them. Many anglers prefer to use Fishbites for bait because they are sturdy and can handle catching multiple fish. Plus, they are cheaper and can work just as well as blood worms.
---
Upper Chesapeake Bay Fishing Report, June 8 Update:
The upper Bay seems to be the place to be for rockfish right now with the Patapsco and Hart-Miller Island being the hotspots. The Key Bridge has also been producing plenty of rockfish near the pilings and rock piles. The larger schools of fish have been cruising around these areas in around 20 feet of water, but with more fish comes more boats. A good portion of the charter fleet is running trips to these areas, so you'll have some competition. Your best bet will be to get out on the water early. A few readers checking in from the Patapsco and Baltimore Harbor areas reported better results than most other portions of the upper Bay. Multiple fish in the 20s and two fish in the 30-inch range were reported. One reader noted that there was a great topwater bite as the sun went down. Another angler reported trying to fish with the fleet of boats at the Key Bridge last weekend but mostly marked small fish on the bottom. They then headed further upriver to cast lures to docks and rock jetties. They caught some nice rockfish with the two largest coming in at 24 and 26 inches. A boat trolling in the Patapsco found success with medium sized spoons on a number two planer where he caught a 28-inch rockfish. He mentioned spoonbrellas also worked and he landed four shorties prior to getting his keeper.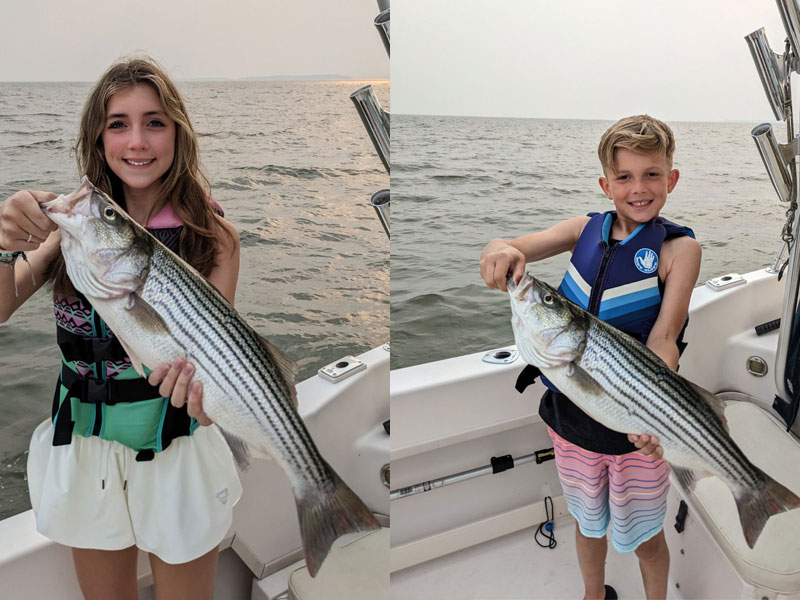 Anglers Sport Center highlights that a mix of channel and blue catfish can be found in every river in the upper Bay. The blue cats will be the more common catch as they are found in just about all tidal waters including the main stem of the Bay. The Magothy is a popular location to target the blue cats and dropping down cut bait on fish finder rigs between 10 and 20 feet of water usually produces some nice catches. Anglers at Sandy Point have also been catching quality sized blue cats with some surpassing 30 pounds. Spot have now shown up in regularity at Sandy Point as well and anglers are catching them by casting out blood worms, lug worms, or Fishbites from the beach. The spot are also being caught around the shallower pilings near the Bay Bridge and at points north up to the Patapsco. Live lining at the pilings on the East side of the Bay Bridge has produced the best results for anglers targeting rockfish. You should be able to find spot or white perch in 10 to 15 feet of water before heading to live line.
---
Upper Chesapeake Bay Fishing Report, June 2 Update:
All areas of the Chesapeake Bay and its tributaries are open to targeting rockfish now that June has arrived, and the upper Bay seems to be where most of the action is taking place. A large chunk of the charter fleet are fishing in the Patapsco and near Hart Miller Island. They are finding decent schools of striped bass in 15 to 25 feet of water. Spot have now made their way north of the Bay Bridge and are being caught up into the Magothy. There aren't a ton of spot around, but based on reports it sounds like there are decent schools hanging around the bay bridge in 10 to 20 feet of water. It may take some moving around to pick up enough for the live well before heading to live line for rockfish. Bottom rigs tipped with either blood worms or Fishbites should get them biting.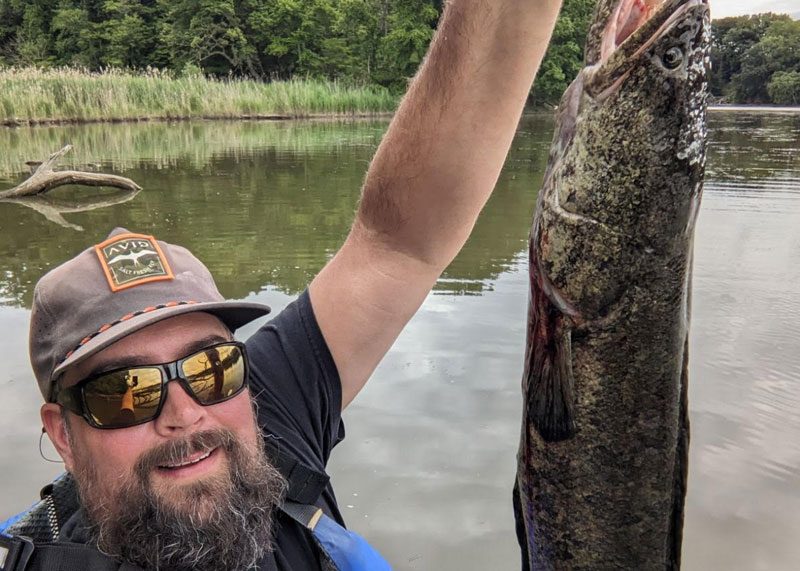 The east side of the Bay Bridge is holding fish into the low-mid 20s, but from several reader reports it sounds like live-lining is catching the lion's share of the fish and jiggers are only getting lucky here and there. We did have one good jigging report from the Patapsco, where casting to docks, structure, and the bridge pilings produced fish up to 24 inches on white and chartreuse BKDs. There were also a couple of reports of snakeheads biting in the upper Bay tribs and creeks this week, including the chunky one seen above. Anglers Sport Center let us know that white perch are now consistently being caught in shallow water. There have been large schools of nice sized white perch at the Bay Bridge around the pilings in 10 to 20 feet of water. Bottom rigs with blood worm work well but small spinners like stump jumpers or twisty tail jigs work great too. Anglers in the Magothy have been finding that the perch are biting best around the last hour of daylight. Blue cats are also biting well in the Magothy and Patapsco. These fish are abundant in the upper Bay and are a popular option for many anglers. They can be caught from shore or boat by throwing out chunks of fresh cut baitfish.