Upper Chesapeake Bay Fishing Report, September 29 Update: 
Fishing weather last weekend and the beginning of this week kept many anglers from getting their lines wet. Windy conditions have prevailed recently which has limited most of the productive fishing to areas with protected shorelines or during the short windows when the breeze dies down. The tough weather has brought cooler temperatures which has water temperatures dropping steadily. Most areas of the upper Bay are hovering around the upper 60s to low 70s and once we reach the mid 60s, there will be a mass exodus of baitfish leaving the smaller tributaries to head for bigger water. The cooler temps already have many fish moving into their fall feeding patterns.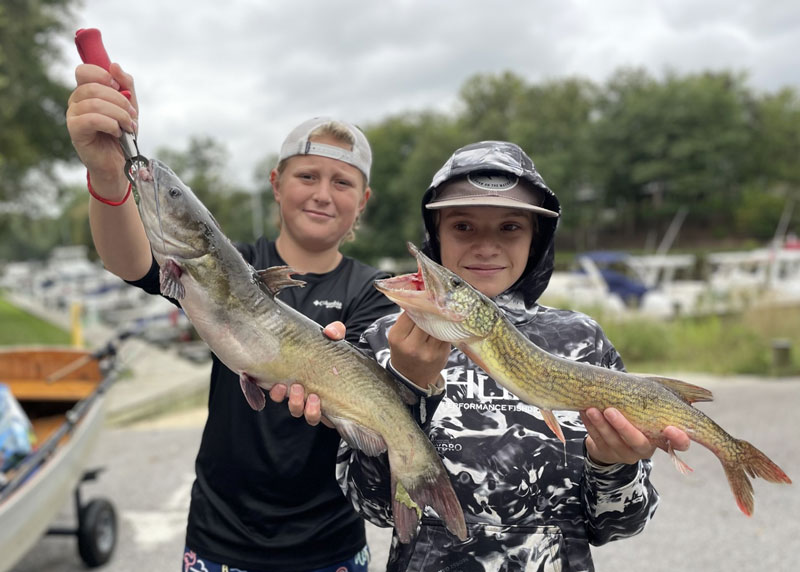 Anglers Sport Center let us know that fishing for rockfish is still good in the Patapsco, around Hart Miller Island, and near Pooles Island. Spot are still around and many boats are still live lining for rockfish near the Key Bridge and near the Baltimore Harbor. Eeling has become a popular option too and most tackle shops in the area are carrying them right now. The biggest fish in the upper Bay seem to be coming from the Pooles Island area but plenty of mid 20s size fish are being caught all around. An angler fishing just north of Hart Miller caught three quality rockfish while live lining eels. The fish measured 31, 27, and 25 inches respectively. Jigging soft plastic jigs and trolling umbrella rigs is also a good option this time of year. Anglers using these tactics have found good success in front of Fort Caroll. We are starting to see some of the rockfish school up to blitz on small menhaden, so look for that action to increase as we move further into fall.
White perch are still biting good in the rivers, but they will begin to head for deeper water as water temperatures drop. Working shorelines with small spinners and jigs has been catching fish around docks and rip rap. Live bait such as grass shrimp or minnows is also working well. Sometimes the bigger perch prefer the live bait, so keep that in mind when looking to put some on a stringer. When targeting them in deeper water, dropping down bottom rigs or Chesapeake sabiki rigs tipped with Fishbites gets them biting. The lumps and knolls in the upper Bay are holding fish right now and their numbers will increase as the perch school up and leave the tidal tributaries.
---
Upper Chesapeake Bay Fishing Report, September 21 Update: 
The start of Fall usually means great fishing opportunities on the Chesapeake. There are plenty of those on the upper Bay right now with multiple species available for anglers. There are still plenty of spot around areas with hard bottom and they can be picked up using bottom rigs tipped with bloodworms or Fishbites. Sandy Point, the mouth of the Magothy, and Six- and Seven-Foot Knolls are good places to bottom fish. Many spot are perfect live lining size but there are also some eaters in the mix that would make for a great dinner.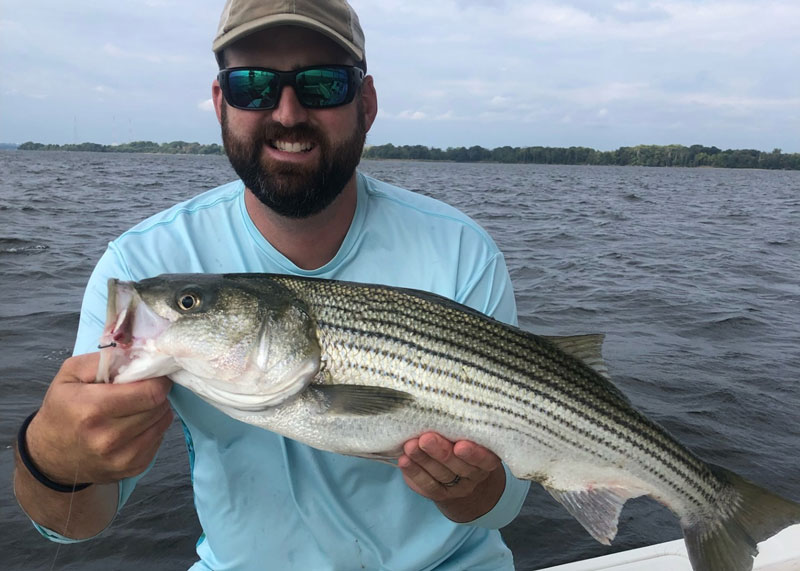 White perch fishing in the rivers is still good for anglers targeting the shallows with light tackle gear. Artificial lures like spinners and jigs are working, but those fishing with live minnows are out-catching artificials right now. Slip bobbers or weighted bobbers with a jighead underneath is a good set up for fishing live minnows. Cast them next to structure and if there are perch in the area, they likely won't be able to resist the bait.
The cooler temperatures have started to push baitfish such as peanut bunker and bay anchovies out of the tidal creeks and into the rivers. They will keep moving through the rivers and eventually out towards the mouths as we move through the fall. The rockfish will follow, and we are already seeing signs of fish chasing bait in open water. Fishbones Bait and Tackle let us know that the largest class of rockfish is still being caught between Pooles Island and the Patapsco. Fish on the upper end of the slot and even some over slot fish are being caught using a variety of different techniques. The eeling bite has really picked up and many boats are live lining them at Pooles Island, Hart Miller Island, the Key Bridge, and near the shipping docks in the Patapsco. Trolling channel edges with tandem rigs or small umbrella rigs with shad baits is also working well right now. Unfortunately, the weekends forecast looks less than ideal and fishing will likely be impossible if the wind forecast holds up. If the forecast prevails, it would be a good weekend to organize some tackle and get ready for Rocktober.
---
Upper Chesapeake Bay Fishing Report, September 15 Update: 
A cold front has brought some cooler weather to our region this week and it is finally starting to feel like fall. If this trend continues, as water temperatures drop fishing will start to shift to fall patterns in the Bay. Right now, the best rockfish action has been from Pooles Island down to the Patapsco. There have been some larger fish hanging out around the Pooles area and many anglers are live lining eels and spot to catch them. There are several deep holes on the eastern side of the island along with the Tolchester Lumps to the east which are good areas to search for rockfish. Angler Sport Center told us that the Patapsco, Key Bridge, and shipping docks near the Baltimore Harbour are all still providing good fishing for rockfish this week. Many boats are still live lining in these areas with spot or eels, but some are making the transition to trolling along the channel edges, which has proved effective. We should start to see more open water action as water temperatures drop. Rockfish will begin to school up and chase bait in open water so it is important to keep an eye on the horizon this time of year for any bird action or breaking fish that may pop up.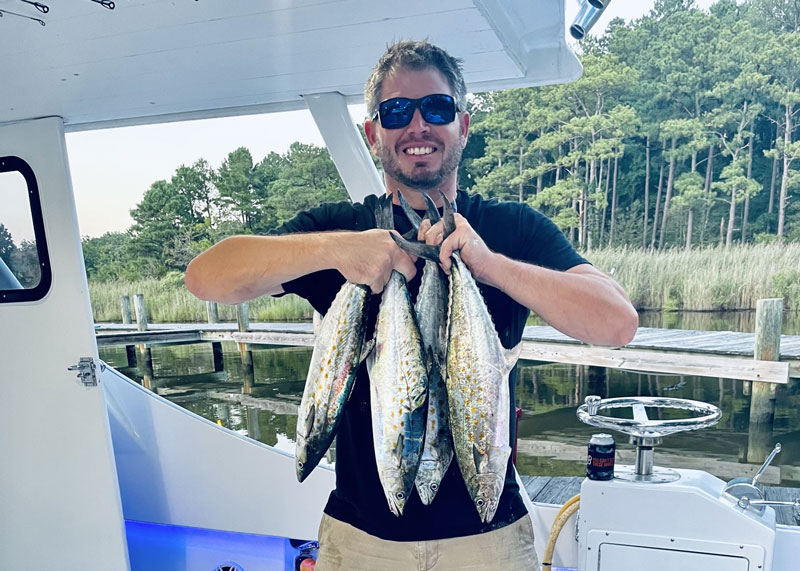 A few bluefish have been showing up for trollers pulling spoons in the lower sections of the area, but not in numbers as great as farther south. Mid-week we also had a report of a patch of Spanish mackerel hitting spoons near the Bay Bridge. Oddly the blues weren't with them, but who's complaining!?
Bottom fishing is still good and should remain productive throughout the end of the month. Most hard bottom areas such as shoals or oyster bottoms are good areas to bottom fish. You can find this type of bottom near Seven Foot Knoll, the mouth of the Magothy, areas around Sandy Point, and the western span of the Bay Bridge. Dropping down bloodworms or Fishbites in these areas will give you a good chance to catch white perch, spot, and croaker. There are even some keeper sized sea bass showing up that have been stumbled across. One angler fishing near the Bay Bridge found some earlier this week. He was fishing an area with "snaggy" bottom using a bottom rig tipped with pieces of soft crab and caught six keeper sea bass up to 14 inches along with a few undersized fish in the eight-to-12-inch range. The sea bass will likely be found close to areas with hard bottom structure so focus on bridge pilings, artificial reefs, or wreck areas.
---
Upper Chesapeake Bay Fishing Report, September 8 Update: 
The heat this week made fishing almost unbearable for the better part of most days. Fortunately, there looks to be some cooler weather on the way that should improve fishing conditions. Anglers Sport Center checked in to let us know that white perch, spot, and croaker are still being caught in large numbers inside the tidal rivers in the upper Bay. Casting small spinners or shad darts near shallow structure like docks, rock jetties, or fallen trees is a great way to catch a ton of the perch. If you are fishing deeper water, they recommend using bottom rigs tipped with bloodworms or Fishbites. Anglers also let us know that there are a lot of live lining sized spot around the western part of the Bay Bridge and in the Podickory Point area. Along with the small spot, some anglers have been catching eater sized ones in the mix. Now is the time of year to target them if you want to bring some home for dinner as they have had all summer to add on some size.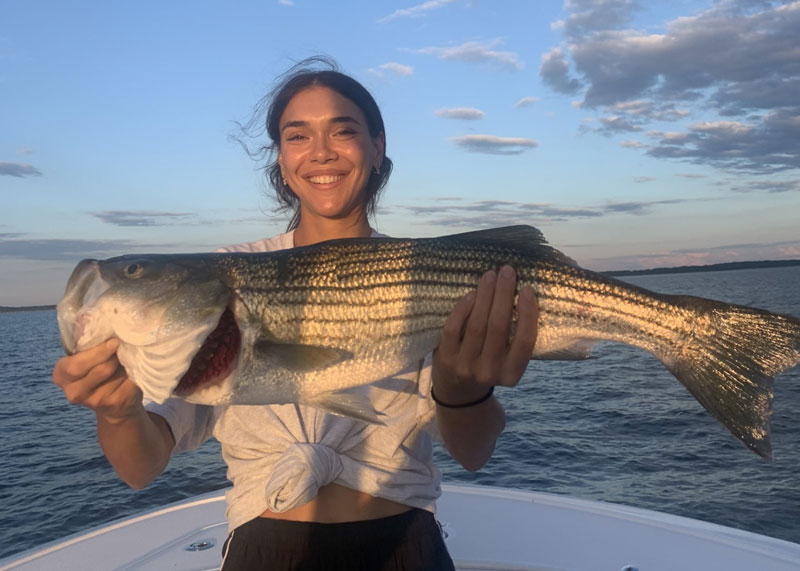 The bulk of the rockfish in the upper Bay are still holding near Pooles Island and in the Patapsco. Many boats are still live lining since spot have been plentiful and easy to catch. The pilings at the Key Bridge have been a hot spot but the shipping docks near the inner harbor are also holding plenty of fish. Once water temperatures begin to drop, jigging opportunities will become more abundant in open water as the rockfish should school up to chase bait in the rivers. Other methods that are working right now include live lining eels and trolling the channel edges. We heard of a few reports from anglers fishing near the Love Point rocks who had luck catching keeper sized rockfish while live lining. The shallows are still most productive during low light hours where topwater baits like spooks and poppers have been enticing to hungry rockfish.
---
Upper Chesapeake Bay Fishing Report, September 1 Update: 
A large portion of the charter fleet is still heading into the Patapsco to live line for the rockfish that have been schooled up in the river most of the summer. These fish are eagerly hitting spot, but some boats are transitioning to live eels which is working great too. Edgemere Bait and Tackle let us know that boats are mainly fishing at the Key Bridge and points north towards the shipping docks. Some schools of fish have been hanging around the old dock pilings so anchoring next to them and dropping down baits has been producing good results. Boats that are trolling channel edges between the Baltimore Harbor and the Key Bridge are also picking up fish. No matter where you are dropping your lines, most rockfish have been between 17 and 23 inches but there have been some fish caught towards the upper end of the slot range. While the largest schools of fish have been in the Patapsco, anglers are also finding scattered rockfish near submerged structure and at Hart Miller Island where the early morning bite seems to be best. Anglers eeling around the lumps and edges north of Pooles Island are reporting good action on rockfish too, and one checked in this week after catching a limit including fish from 23 to 30 inches.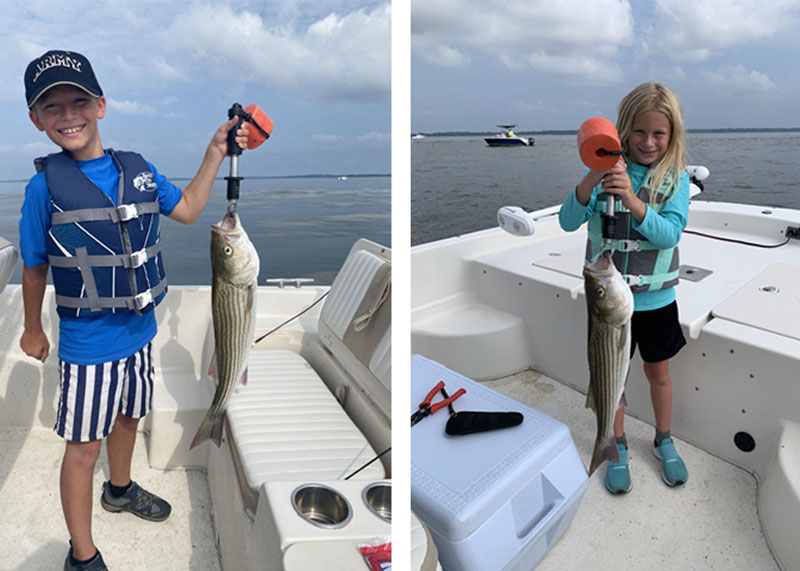 If you want to fill up the live well with spot before heading out for the rockfish (or to keep some to eat) you can find large schools of them at Snake Reef or Seven Foot Knoll. White perch and small croaker will likely be in the mix too. All you need to start catching them is a medium light set up with a bottom rig. Bloodworms, lugworms, or bloodworm flavored Fishbites are all great baits to use. These fish are also scattered about in the tidal rivers and can be caught from most docks. An angler fishing from shore in Bodkin Creek let us know that they were catching plenty of eater-sized spot this week. Those looking to target perch specifically should turn their attention to the shallows of the rivers where schools have been hanging out near rock jetties and dock pilings. A small spinner or twisty tail jig is all you need to have some light tackle fun with them.
Blue catfish are very active in the upper Bay this time of year and they can be caught along the bayfront or in the tidal rivers. Popular areas to fish for them include the Magothy and the Patapsco along ledges. The catfish are abundant and scattered throughout the waterways so anywhere you set up, from shore or by boat, you have a good chance to catch some when using cut bait. Their favorites seem to be peeler crab or bunker chunks.  We got a report of one angler fishing from shore at North Point State Park who filled a cooler with blue catfish, catching 14 during an afternoon outing. Once water temperatures begin to cool down this month, the catfish should get very active as they feed up to prepare for the colder months ahead.