Way North Chesapeake Bay Fishing Report, August 25 Update:
There are plenty of blue catfish in the upper Bay for anglers fishing from boats or shore to enjoy. Anglers at the Conowingo Dam are finding success throwing out baits in the turbine wash, but this can often lead to snags in the rocks. Surprisingly, large topwater plugs are working well for blue cats below the dam. This will prevent underwater snags but make sure you have a heavy enough setup to pull the cats out of the current. Several reader reports came in from the Perryville area, where cut fish continues to produce some whopping-big catfish. Multiple pics came in of 20-plus pounders with the biggest this week hitting 36 pounds. Both daylight and nighttime anglers enjoyed success. Many boats launching out of Havre De Grace are catching big blue cats on the Susquehanna Flats drifting cut bait, too. The cooler temperatures recently seem to have kicked the cats into feeding mode and the action should continue as summer draws to an end.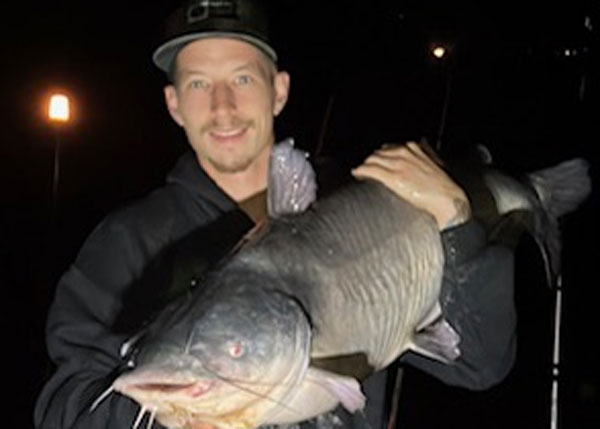 The cooler weather has also faired well for anglers targeting rockfish. Throwing paddletails in the shallows during mornings and evenings is still producing the best bites. When the Conowingo Dam is releasing water, the increased flow can turn on the bite where casting crank style baits and paddletails are producing some slot sized fish. Sarge's Bait and Tackle let us know that the night bite for rockfish from Lapidum up to the dam has also been good. Further upriver in the Susquehanna, the smallmouth bite has been great. A boat reported catching over 20 on an outing throwing spinnerbaits and chatterbaits. Most of the fish that were willing to bite were found in the cleanest water in the area. There have also been some monster flatheads caught above the Conowingo Dam. An angler fishing at night this week broke his personal best flathead three times in one night. He caught three big fish with the largest weighing 48 pounds.
---
Way North Chesapeake Bay Fishing Report, August 18 Update:
The latest reports from the Conowingo Dam are that gates are open and water is flowing. Some anglers prefer high water while others prefer low water, but fish can be caught in both conditions. Steady current increases oxygen in the water and fish will sit where the water is flowing or in eddies just outside the faster moving water. Paddletails and jerkbaits are the more popular artificial lues to throw at the dam and both will produce a mix of rockfish, snakeheads, bass, and catfish. Many anglers are searching for rockfish now that the fall season has opened. Their numbers aren't as high as early spring and late fall, but there are still plenty of fish to catch. We heard from one angler who was night fishing on his kayak that caught rockfish up to 29 inches. Another reader checked in after fishing the way north zone, encountering a nice bite on rockfish in the mid- to upper-20s, plus a fish over the slot. The fish are scattered right now but once the temperatures start to cool, they will start to school up and feed aggressively on baitfish.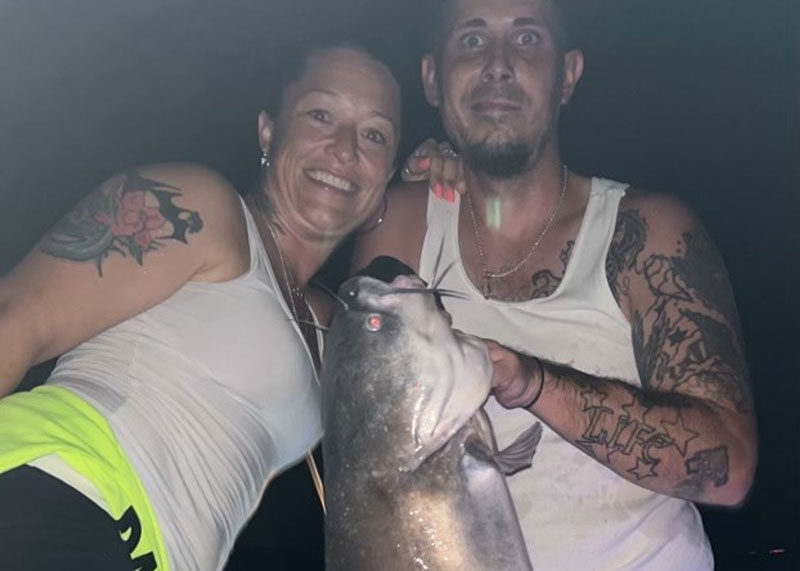 Catfish are a popular species to target and are relatively easy to catch compared to other species in the upper Bay. The catfish are also less finicky when it comes to conditions, and you can find them willing to bite on most days. Channel catfish are found in the tidal rivers, flathead catfish can be found in the Susquehanna River or below the Conowingo Dam, and blue catfish are found in all the tidal tributaries. Readers bait fishing with cut bluegill and skipjack reported some very nice catfish this week near Port Deposit. Soaking baits after sunset resulted in almost a dozen brutes with six going over the 20-pound mark and a 36-pounder topping the charts. Just about any fresh cut fish or chicken baits work great. Just put a piece on a fish finder rig and toss it out close to ledges or holes. Popular places to catch blue catfish include the lower Susquehanna, the Flats, and at the Conowingo Dam. We have seen catfish up to 50 pounds caught recently but most fish will be in the five-to-20-pound range. No matter the size they put up a good fight and are fun to catch. Don't forget that you can snap off a pic and enter the CCA Great Chesapeake Invasives Count at any time, and win some very nice prizes for catching your snakeheads, blue cats, and flatheads as a result — entry is free!
---
Way North Chesapeake Bay Fishing Report, August 11 Update:
The late summer fishery on the upper Chesapeake has been producing steady action as cooler temperatures and thunderstorms have improved fishing conditions. Edgemere Bait and Tackle let us know that the largest grade of fish has been coming from Pooles Island to areas north. The eel bite has really picked up this week and anglers drifting live ones on the bottom have caught nice sized rockfish and even some over the 31-inch maximum slot size. Up near the Flats, the early morning and late evening has still been best for targeting rockfish in the shallows. Topwater lures like spooks and poppers are working well but once the sun gets up, paddletails and other soft plastics have been the name of the game.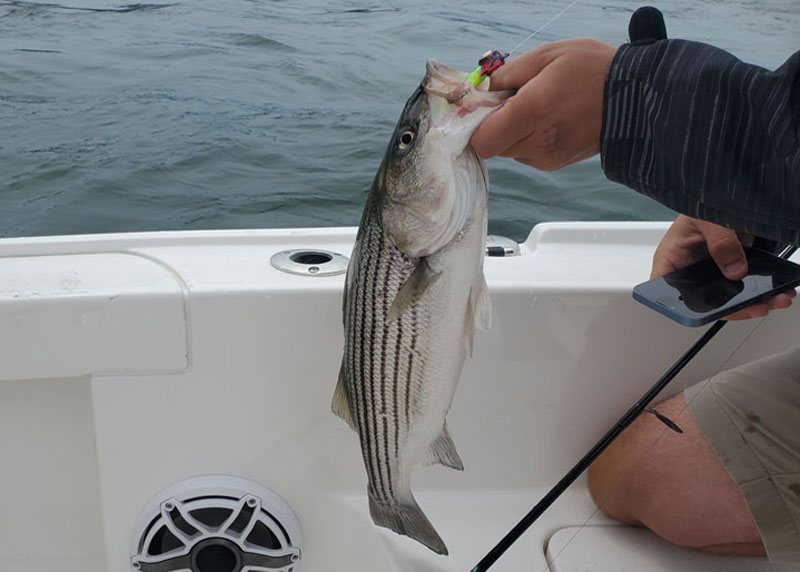 There are plenty of blue catfish cursing around this region tidal tributaries and they are relatively easy to target. Anywhere from the Susquehanna River, the Susquehanna Flats, to the tidal rivers have an abundance of these fish. There have been some very large fish caught around the Port Deposit area recently. You can target them from the shore or by boat and all you need is some cut bait. A bottom rig or fishfinger rig paired with bunker chunks, chicken, or eel should lure these fish to your line. The blue cats can range anywhere from one to upwards of 50 pounds so make sure to have some heavy gear in case you hook into a big one. Blue catfish are an invasive species to our waterways, and we always encourage anglers to target and remove them to help our native species.
Snakeheads are still a great option and two hotspots in this region are the Conowingo dam Pool and the Susquehanna Flats. At the dam, you'll want to fish the pools of slower moving water where the snakeheads will be looking to ambush bait. Paddletails, jerkbaits, and crankbaits have been catching some nice sized fish. On the Flats, the snakeheads will be scattered throughout the grass fields. Topwater frogs and other weedless baits will be your best options for hooking up when fishing the thick vegetation. If you find an area with open water, chatterbaits work great for covering ground and getting reaction bites. Keep an eye out for parents guarding fry balls because you can usually entice a bite if you throw your lure in front of them enough times. They are great on the table and will likely be at the top of the list for your favorite fish to eat once you try them. 
---
Way North Chesapeake Bay Fishing Report, August 4 Update:
The summer rockfish closure has come to an end and anglers can now get back to targeting our striped bass friends. We haven't heard of many reports of the rockfish front as of yet but hopefully that will change after this weekend. During this late summer heat, you will likely find the best bites during low light hours. Focus on shallow water structure anywhere from three to 10 feet of water. Topwater has been working well in the early mornings and paddletails are enticing bites once the sun gets up.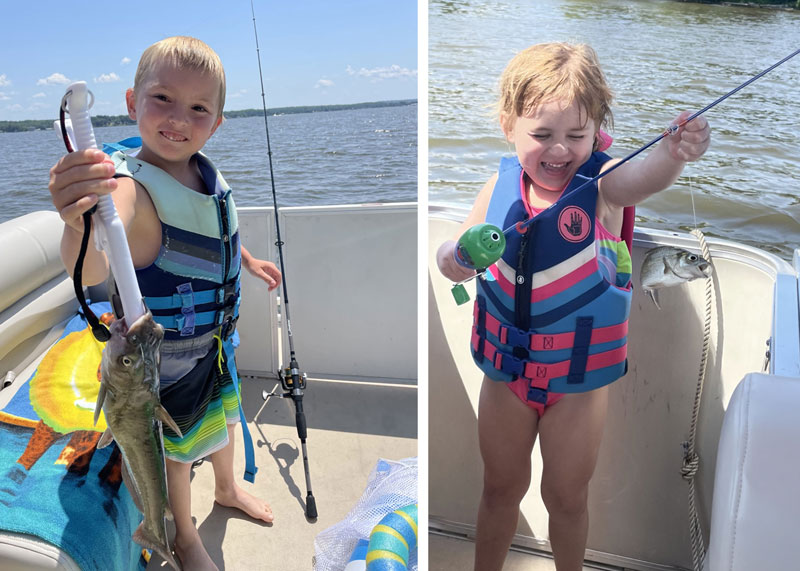 Catfish and white perch had been keeping area anglers busy during the rockfish closure, and there's been no shortage of either species with multiple readers we heard from this week who targeted them reporting success. Blue catfish are abundant throughout just about all the Way North tributaries and we encourage anglers to target them because of their invasive status. They are relatively easy to catch and make for great eating. A popular set up to target them is a fish finder rig paired with your favorite cut bait. Bunker chunks, bluegill, chicken breast, and chicken liver are all favorite baits of these whiskered bottom dwellers. Some of the more popular locations to target them include the lower Susquehanna River, the Susquehanna Flats, and just below the Conowingo Dam. One tactic that is unique to fishing below the Conowingo dam in low flow conditions, and one that normally wouldn't be used for catfish, is throwing topwater plugs. That's right, when the catfish are sitting in the shallow pools, anglers at the dam will throw large topwater plugs to get the catfish to blow up on them. This requires heavy gear and sturdy lures to handle the big catfish but is a neat way to catch them.
The white perch fishing is steady in many of the tidal rivers. Throwing small spinners in the shallows near docks and rock jetties is a popular way to fish for them. Ultra-light gear with four- or six-pound monofilament is a great setup for targeting perch. Perch also love minnows, so hooking them on a small jighead under a bobber works great too. This rig allows for precision casting and can keep your bait in the strike zone where the perch may be schooled up. Dropping down a bottom rig baited with bloodworms or Fishbites in deeper water should get the perch biting. Bottom fishing is great for anglers of all experience levels and can make for a fun day of steady action, so get out there and drop a line.