Way North Chesapeake Bay Fishing Report, July 28 Update:
The mid-summer doldrums can make fishing tough at times as summer heat has both fish and anglers limiting activity to the cooler hours of the day. The summer striped bass closure is still in effect until August 1st in the Chesapeake Bay. While the rockfish have been getting a break, other species like catfish have been keeping rods bent. Blue catfish are found all over the upper Bay tidal tributaries and channel catfish are commonly found in this region's rivers. A reader fishing the mouth of the Gunpowder said the bite for channel cats was crazy, with 30-plus fish taking his baits. Both species are fun to catch, but blue cats are a great option to target because they are invasive to our waters. They also make great table fare. These fish can be found anywhere from the Conowingo Dam south to the Susquehanna Flats and into the Bay. Channel ledges or deeper holes are great places to start looking. A common setup is to put pieces of fresh cut bait on a fish finder rig, but other popular baits include chicken breast, chicken liver, or live bluegill.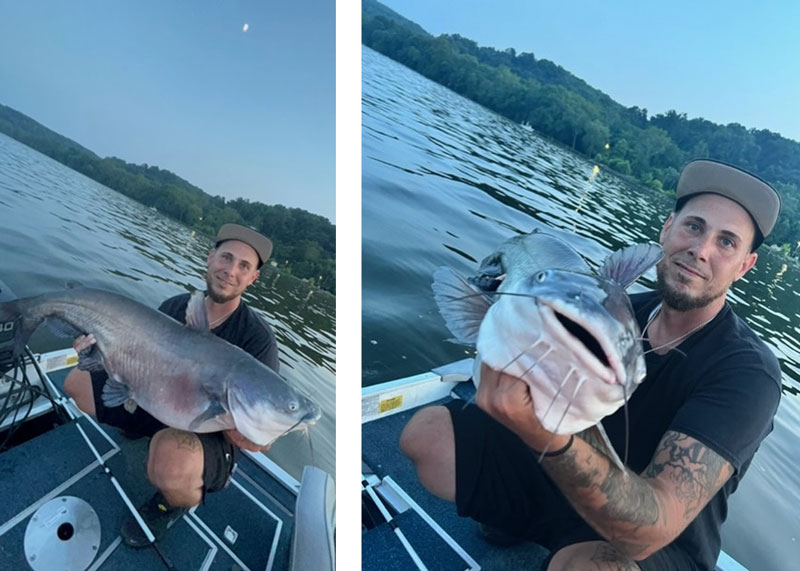 White perch are abundant in the upper Bay and are a great option for steady fishing action. One of the most fun ways to fish for them is with ultra-light tackle spinning rods and small lures such as spinners, jigs, and Beetle-Spins. The perch often school up around nearshore structures like docks, rock piles, or jetty walls. If you catch a few, there are likely others nearby. Another popular way to catch them is to put a minnow on a small jighead under a bobber. This setup allows for precision casting to keep your bait in the strike zone of where the fish are hanging. The best fishing is usually in the mornings or evening when there is a good tide running. These fish are delicious to eat so make sure to bring a stringer or cooler if you plan to fish for them. Snakeheads are also available throughout the upper Bay and are especially abundant on the Susquehanna Flats and at the Conowingo Dam. Anglers fishing below the dam are having success throwing crankbaits and soft plastics on jigs. Down on the flats, the snakehead spawn is still in full effect and searching for fry balls amongst the grass flats should yield decent results. Topwater frogs are the best bait to throw when fishing thick vegetation or if you spot parents guarding fry. The snakeheads are also great to eat and have become a favorite among many local anglers.
---
Way North Chesapeake Bay Fishing Report, July 20 Update:
The mid-summer heat has set in, and we are about halfway through the summer rockfish closure for the Bay. The closure prohibits anglers from targeting rockfish in Maryland waters of the Chesapeake Bay and runs through July 31st. While the rockfish are getting a break, there are plenty of other fish to target in the northern reaches of the Bay.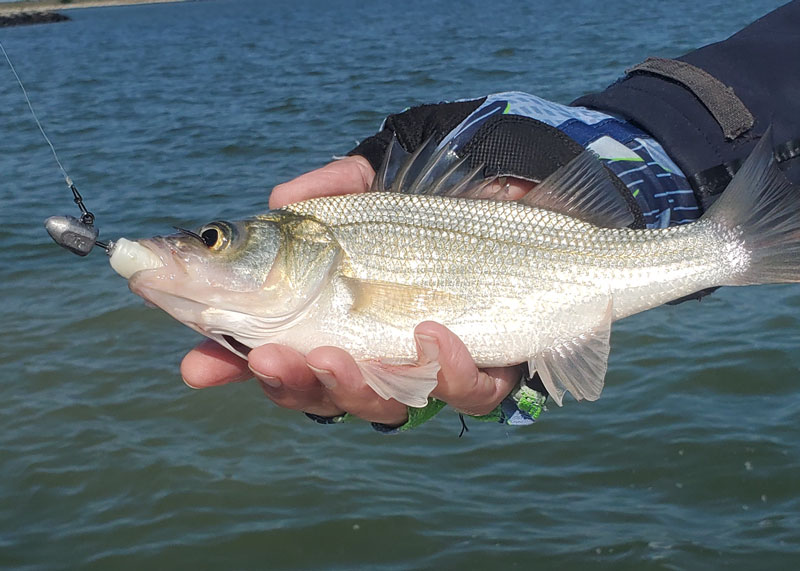 Catfish are a great option and are one of the most widespread fish in this region. They can be easily found in the Susquehanna River, on the Susquehanna Flats, and just about any other tidal tributary. Any variation of fresh cut baitfish, peeler crab, or chicken on a fish finder rig should attract these fish to your line. You can even use artificial baits to catch the blues. One angler fishing on the flats this week caught a 38-inch blue cat using a one-ounce bucktail paired with a swim bait. This region is known for big blue catfish that can reach upwards of 40 pounds. Channel cats will be more concentrated inside the rivers and flatheads can be caught in the Susquehanna. It's always a great idea to target blue catfish and flatheads because they are invasives and compete against our native fish. They both make great table fare too.
White perch are also numerous in the upper Bay, and usually willing to entertain anglers of all skill levels. Perch are found just about anywhere from tidal rivers and creeks out to the main stem of the Bay. If you are targeting them in shallow water, try throwing small spinners near structure like docks or rock jetties. The perch like to school up round these areas and if you find them, it's a lot of fun. The perch will also school up in deeper water along channel edges or oyster bottom. Small croaker and spot are also being caught in these areas. Bottom rigs paired with bloodworms, grass shrimp, or Fishbites work well. Once you find them, it shouldn't take long to put a good amount into the cooler.
---
Way North Chesapeake Bay Fishing Report, July 14 Update:
Summer fishing is in full swing for all areas of the Chesapeake Bay. Many anglers in the way north region have been focusing their fishing efforts on targeting rockfish before the closure set in. Reports were thin this week but from what we gathered, the most productive areas have been from Havre De Grace up to the Conowingo Dam. Water temperatures are getting hot and daytime temperatures are even hotter as we progress further into summer. During this pattern, you'll want to fish during the cooler parts of the day. The best bites are in the early mornings and late evenings with some anglers reporting a good night bite as well. After this week, anglers will have to focus their efforts on other species as we enter the summer rockfish closure. Targeting of rockfish will be prohibited from July 16th through July 31st in all Maryland waters of the Chesapeake Bay. Despite the closure, you won't have to stop fishing because there are plenty of other species to target.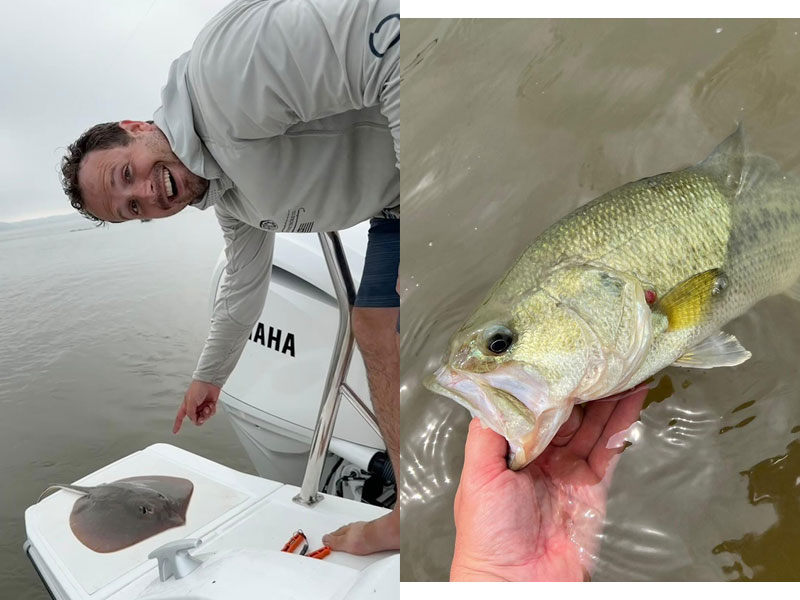 In the crazy catch category, a reader fishing near Elkton caught an Atlantic stingray, then caught a largemouth bass tossing the same lure just a few minutes later. You really never know what you might catch in the Chesapeake's waters!
We always encourage anglers to target invasive species, and now is a great time to go after some blue catfish and snakeheads. The blue cat bite has been really good lately anywhere from the Conowingo Dam down into the Susquehanna River and on the flats. We got reports from multiple anglers who reeled in fish over 20 pounds this week. Throwing out any variation of cut bait should get these fish biting. The snakeheads are spawning, so you'll want to keep an eye out for fry balls while out on the water. The grass fields on the flats are a popular place to target them along with largemouth bass. When fishing the thick vegetation, topwater frogs and weedless soft plastics will be the best baits to throw. The cooler parts of the day will usually produce the best bites but if you have to fish when the sun is high and beating down, try slowing down your retrieve. Anglers targeting the snakes below the dam are throwing paddletails and jerkbaits in the current. 
---
Way North Chesapeake Bay Fishing Report, July 7 Update:
It was a busy week on the Bay as many boaters and anglers hit the water to celebrate the fourth of July holiday. Boat traffic didn't make fishing that easy and your best bet was to hit the water in the early mornings or late evenings. The Conowingo Dam pool has been providing a variety of species to anglers in that area with snakeheads, rockfish, and catfish topping the list. One angler was fishing just down river from the dam pool and reported catching a mid 20s snakehead, a keeper rockfish, and a big flathead all in one morning of fishing. Throwing any variety of paddletails will give you a good chance at just about anything swimming below the dam. The best fishing is when the dam is releasing water, creating a steady flow of oxygenated water downstream. The fish like to sit in the current so look for this when visiting the dam.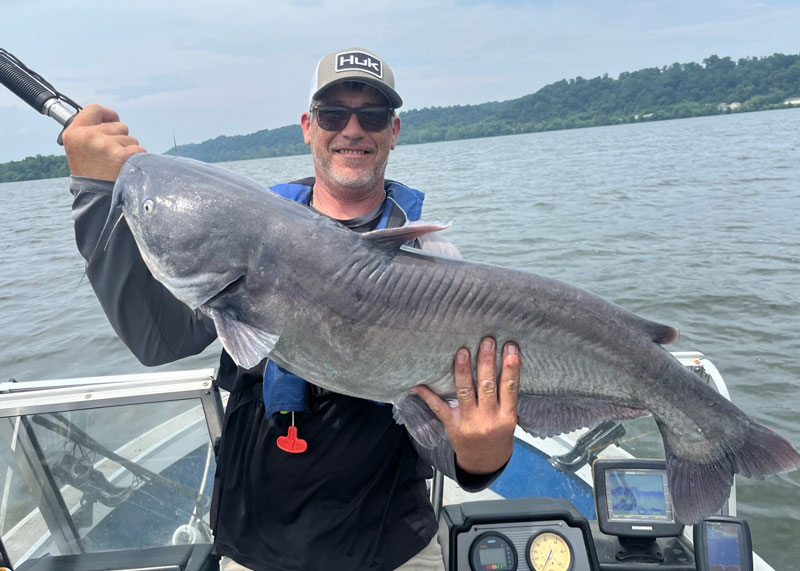 Down on the Susquehanna Flats, there is some rockfish action happening around sunrise and sunset with the bite slowing down once the sun gets up. Fish have been hanging out close to shoreline structure and along the channel edges that run through the flats. All areas of the Chesapeake Bay in Maryland waters will be closed to targeting rockfish from July 16th to July 31st, so make sure to get you fill in before the closure. Luckily, other species like catfish are plentiful throughout the upper Bay and have been providing steady action for anglers. Many big blue cats have been caught this week in the tidal rivers and on the flats. Tossing out any variety of fresh cut bait usually gets them biting in no time. Look for them in deeper holes or along ledges where they will be searching for bait to feed on.
The snakehead spawn is really kicking into gear and we are hearing from multiple anglers that fry balls are popping up more frequently. The grass on the Susquehanna Flats is a popular area for these fish to spawn but any of the shallow areas in the tidal rivers have snakeheads. Chatterbaits and topwater frogs are two of the most effective baits to throw for them. If you spot a fry ball with parents, keep pitching your bait to "harass" the fry and one of the parents will likely strike your bait. This type of sight fishing is exciting, but can also be frustrating when they refuse to bite.