Way North Chesapeake Fishing Report, June 30 Update:
The storms didn't make it easy this week, but anglers who were able to dodge them found some decent fishing up the Bay. The Conowingo Dam pool has been steadily supplying anglers with a mix of rockfish and snakehead. The snakehead bite has started to slow as they shift into spawning mode. Many fish will be heading to grass flats down river and other shallow areas. Look for fry balls to start popping up soon if you haven't seen them already. The rockfish bite has been best in the early mornings or late evenings with a solid night bite being reported as well. Jigs with paddletails and diving lures like jerkbaits are the popular lures of choice. Topwater lures have been getting some explosive blow ups in low light conditions. FishTalk's kayak fishing sharpie Zach Ditmars ventured to the way north zone last weekend and reported a fantastic bite on rockfish up to 27.5-inches in the tribs. Spooks got the fish busting and he said it was an early morning affair, with nonstop action from first light to 7:30 or so and then the fish shut down cold.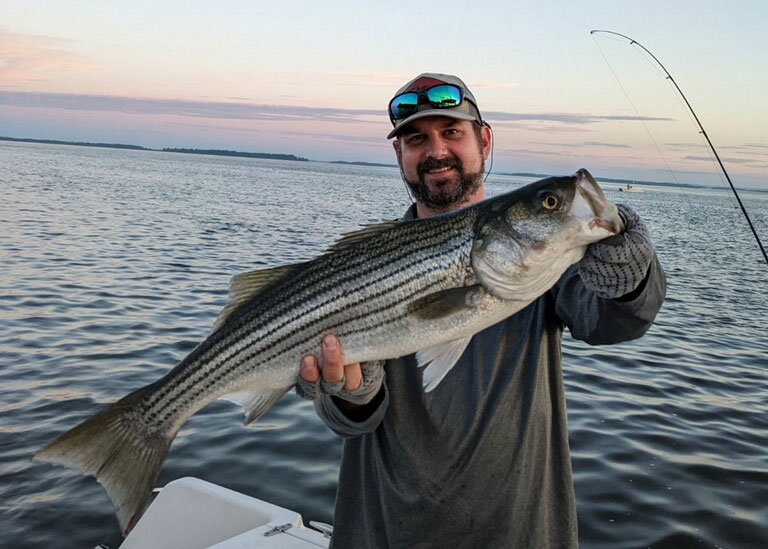 Bottom fishing has picked up now that water temperatures have moved into the mid 70s. Shore fishermen are catching a mix of white perch, spot, and small croaker just about all over the Bay and its tributaries. The larger schools of spot have been from the mouth to Patapsco south, but some are being caught up into the Susquehanna Flats. The croaker will keep you busy, but there isn't much to write home about since most of the fish are six inches or under. Blood worms and Fishbites have been the top producing baits for those throwing out bottom rigs. The white perch can be caught on the main stem of the Bay, but also in most of the tidal tribs. Using light tackle gear is a fun way to fish for them in the shallows, and they can be caught by throwing small spinners or jigs to nearshore structure. They tend to school up, so if you catch one, there's likely others nearby. Make sure to bring a stringer along because they are excellent eating.
---
Way North Chesapeake Fishing Report, June 23 Update:
We have been in drought conditions for quite a while now which has the Susquehanna running low and water releases from the Conowingo Dam infrequent. Luckily, we're currently getting some much-needed rain which should help replenish waterways. Fishing on the Flats was tough again this week and time of day seems to dictate when the fish bite. Most anglers are concentrating their efforts in the shallows near shoreline structure. Jerkbaits, paddletails, and topwater baits are all catching fish when they decide to bite. Early mornings and late evenings have been producing better fishing so make sure to time your trips accordingly.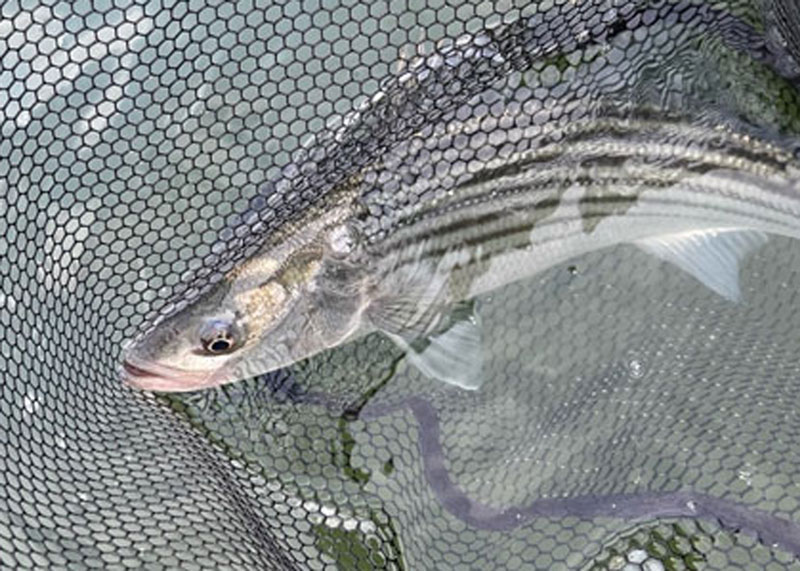 Areas from the Conowingo Dam down to the mouth of the Susquehanna have seen the most rockfish action. We got a few reports of a hot bite while night fishing in these areas. One angler was fishing just downriver from the dam in his kayak where he landed some small walleye and plenty of schoolie stripers. Another angler was had a great night catching five smallmouth bass, one channel catfish, a sunfish, and nine rockfish. He noted the night started slow but the incoming tide switch turned the bite on from nine until midnight.
Bottom fishing has been good and we are even receiving reports of small croaker showing up as far north as the Susquehanna Flats. Multiple anglers have reported catching them while fishing on the Flats and also inside the Elk and Bohemia. Along with the croaker, white perch are still hanging around and have moved into their usual summertime locations. Throwing spinners is popular along shallow shoreline areas where structure like rock jetties, docks, or submerged wood usually holds fish. Bottom rigs baited with bloodworms or small bits of Fishbites has been doing the trick in deeper water. Herb's Tackle Shop let us know that snakehead fishing in the upper Bay has been good in most of the rivers. The Bush, Elk, and Northeast were all noted as productive. Topwater frogs and buzzbaits are getting blowups when fished near grass fields and other vegetation. Chatterbaits and spinners work great for fan casting when trying to cover a lot of water. Just make sure your gear is adequate because it is becoming more common to catch snakeheads weighing double digits.
---
Way North Chesapeake Fishing Report, June 16 Update:
Striper fishing at the Conowingo Dam has been decent this week despite low flow conditions. There was a water release on the 13th which should have helped improve fishing conditions. Anglers who can get their lures into the steadily flowing water are finding more luck than those fishing close to shore. Most keeper sized fish are in the low to mid 20s. Along with the rock, there has been a good snakehead bite and even a few smallmouths caught below the dam too. All can be caught on jigs with soft plastics or crankbaits. We should start to see the snakehead spawn kick off soon where anglers can start looking for fry balls. The snakeheads are protective of their young and will usually strike a lure that gets close. Casting a topwater frog and working it slowly near the fry ball is a popular tactic. Look for them in the shallow grassy areas of the flats where largemouth bass will also be available to catch.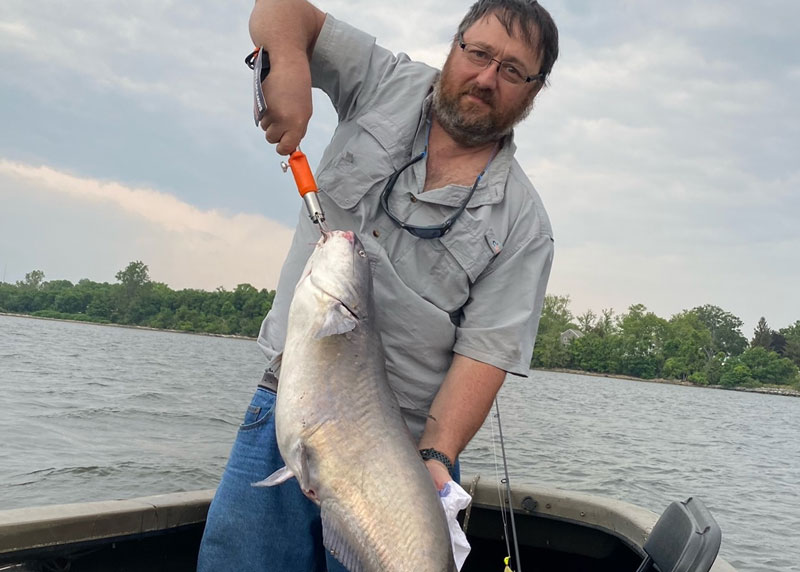 Reports of big blue catfish continue to come from the lower Susquehanna, with two readers checking in with fish pushing or breaking 20 pounds this week and one reeling in a fish weighing nearly 40 pounds. One reader also noted that the striper bite seemed to have slowed quite a bit on the Flats. The best action is still concentrated during the early mornings and late evenings. Paddletails and jerkbaits have been popular lures for anglers casting in the shallows. Sarge's Bait and Tackle reports that the white perch fishing is still good in the lower Susquehanna and that all of the upper Bay tidal rivers should have perch in their normal summertime locations. When fishing deeper waters, a bottom rig baited with blood worms or Fishbites is a sure bet to get the perch biting. While in the shallows, most anglers find good success casting small spinners or twisty tail jigs. Anywhere there is structure has a good chance of having perch nearby which makes them a great fish to target for anglers of all skill levels.
---
Way North Chesapeake Fishing Report, June 8 Update:
The lower Susquehanna continues to be a great place to catch multiple species. There have been reports of a good white perch bite near Deer Creek from anglers throwing small shad darts or spinners. Shore fishermen near Perry Point and Havre De Grace have also been getting a steady dose of perch. Casting out bottom rigs tipped with bloodworms has worked well. At the Conowingo Dam, there is a lot to target with snakehead, rockfish, and catfish topping the charts. The best fishing has been when there is a decent current caused by outflow from the dam. You will want to get there early since the shoreline can get crowded quickly and make sure to bring plenty of tackle because the rocky bottom is notorious for snagging lures. Paddletails and jerkbaits have been catching both rockfish and snakeheads. Most of the keeper rockfish are in the low 20s and we have seen some snakeheads over 30 inches pulled out of the waters below the dam this week.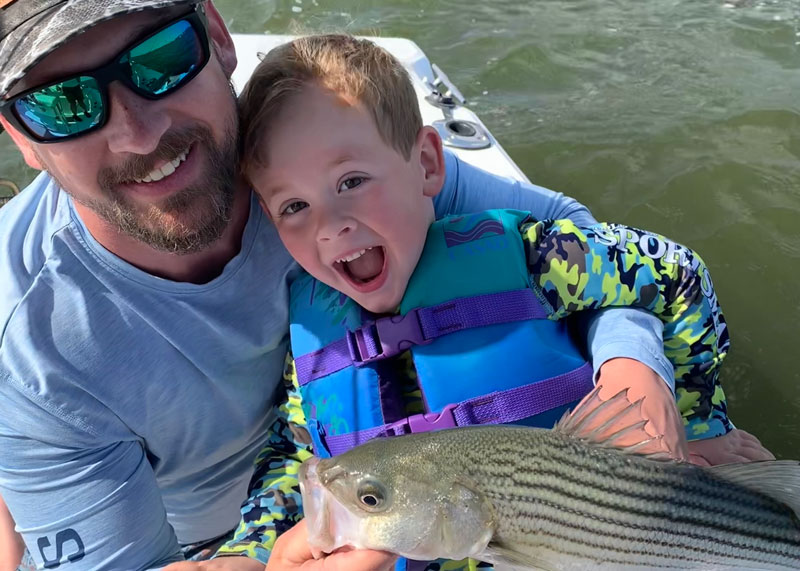 Down on the Flats, most anglers are focusing their attention on finding slot sized rockfish. There are a decent number of fish around, but the best bites have been during the first and last hour of daylight. One reader reported that the rockfish bite is almost nonexistent between 10am and 3pm. We got a report of one angler who used Bass Assassins to catch three keepers in 30 minutes during last light. Reeling fast while jigging the lure enticed the bites. On the flip side, another angler got skunked during a morning trip fishing from five in the morning until nine thirty. They marked lots of fish but couldn't get anything to bite and noted that carp were splashing around everywhere. When the rockfish aren't biting, blue cats are a great option to target. Any variation of fresh cut bait works well and we have seen multiple 20 to 30 pound fish reeled in this week. Any ledge or deeper hole will be holding fish but the blue cats will also cruise the shallows looking for baitfish to feed on.
---
Way North Chesapeake Fishing Report, June 2 Update:
Now that June is here, all areas of the Chesapeake Bay and its tributaries are open to targeting rockfish. Many anglers will be heading to the Conowingo Dam and we expect to hear reports from that area come next week. No doubt they'll also involve plenty of catfish for bait anglers, whether intentional of caught by accident. Down on the flats, where rockfish could be targeted prior to June 1, we had a few reports of solid striper action this week. One reader gave a shout after fishing the flats and enjoying an excellent striper bite over the holiday weekend on fish up into the mid-20s. Another angler headed out for a morning trip to fish the mouth of the Susquehanna. They had a bunch of short strikes and a nice largemouth spit the hook at the boat before landing a 24-inch rockfish. All of their action was in 10 to 12 feet of water. Another boat found success on the flats starting with perch that were hitting blood worms on bottom rigs. They then targeting rockfish, catching around a dozen with two being keeper size.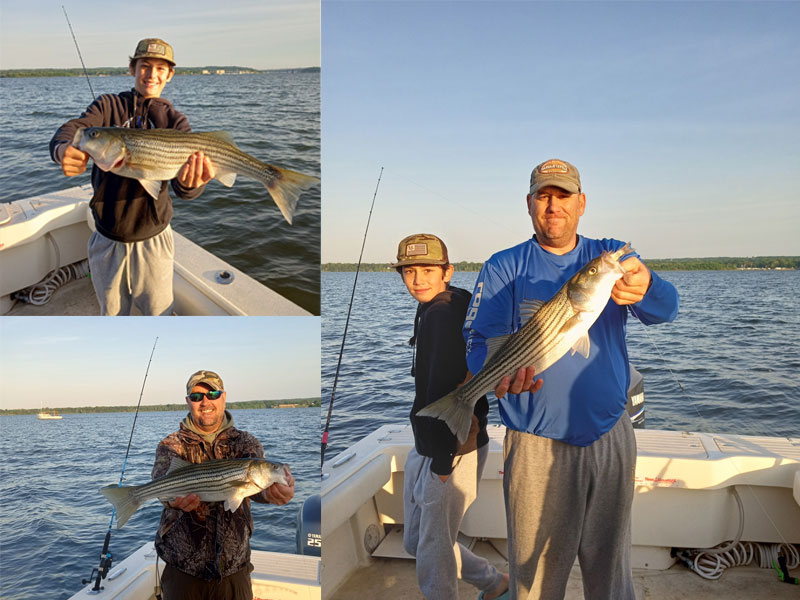 Another popular fish to target in this region are northern snakeheads. Many anglers have been finding success at the Conowingo Dam but they are also abundant on the Susquehanna Flats, Bush River, and Northeast River. The grass fields on the flats provide perfect cover that the snakes like to hangout close to. Topwater frogs or flukes work great when fishing thick vegetation.