Way North Chesapeake Bay Fishing Report, September 29 Update:
Tropical Storm Ophelia brought strong winds and plenty of rain to our region last weekend which halted most fishing efforts. The wind has stuck around this week and most of the tidal waters have been very muddy. On the bright side, the cooler weather is shifting our fishery to its fall pattern that many of us enjoy. Cooling water temperatures and overcast skies are encouraging rockfish to become more active all throughout the Bay. The bite has been lasting longer throughout the day at locations such as the Conowingo Dam pool, the lower Susquehanna River, and the channel edges on the northside of Spesutie Island. Casting paddletails, jerkbaits, and various topwater lures has produced good results.
One fish that is always on the table to target in the upper Bay is blue catfish. All the tidal tributaries have an abundance of these fish including the Susquehanna, Elk, Bush, and Chester rivers. Fresh cut bait is the most popular choice, usually in the form of bunker, bluegill, eel, or chicken baits. Channel catfish are also found in these tidal rivers and recent reports have shown that the cooler weather has them biting too. The biggest blue cats are being caught from the Conowingo Dam down to the lower Susquehanna right now. Fish upwards of 40 pounds have been reeled in this week with plenty of other double digit fish bending rods for anglers. Large topwater lures are even working at the dam, but make sure you have a heavy enough setup to pull these fish out of the rocky areas if you plan to target them this way. Water quality should improve over the weekend and next week looks much more favorable for being out on the water. If the forecast holds, we should be able to enjoy the start of some great fall fishing.
---
Way North Chesapeake Bay Fishing Report, September 21 Update:
Fall officially starts tomorrow and cooler temperatures are already starting to set in. Water temperatures in the upper Bay are still hovering around 70 degrees but as they drop into the 60s the rockfish action should start to pick up. Sarge's Bait and Tackle let us know that there has been some rockfish activity along the channel edges of the Susquehanna Flats. The bite has still been limited to the mornings and evenings. The open water bite should improve as we approach October. Baitfish should be schooling up along with rockfish who will be looking to feed on alewife and bay anchovies. Most of the more reliable fishing action in this region has still been for blue catfish. The cooler weather has triggered these fish into feeding mode. Anywhere from the Conowingo Dam onto the Flats and in all the tidal rivers can be productive for blue cats. We have also heard reports that the channel cat bite has turned on too. These fish will be more limited to inside the river but will hit the same variety of cut baits as blue cats. Try any variety of cut bunker, spot, peeler crab, or chicken baits.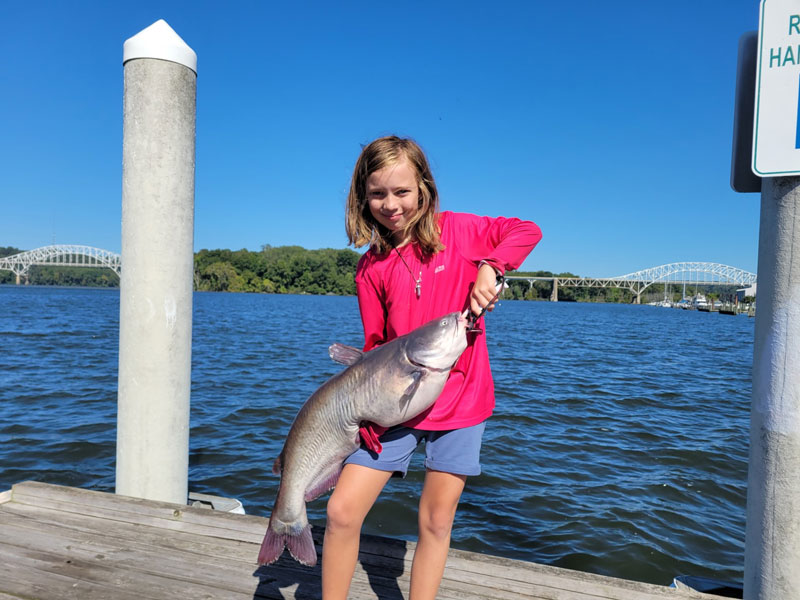 The white perch bite inside the rivers is still good. Casting small spinners and jigs near docks or rock jetties is a good way to locate the schools in the shallows. Bottom rigs tipped with bloodworms or Fishbites work great for casting out from shore or dropping down in deeper water. There have also been spot hanging around the Havre De Grace area with multiple anglers reporting them as catches. Most of the spot this far north are on the smaller side but can be used as a great option for bait if they fall short of eater status.
The smallmouth bite has been very good in the Susquehanna as overnight lows have been dipping into the 50s. This has triggered the smallies to feed more in preparation for the cooler months. One angler fishing the lower Susquehanna in Pennsylvania reported having his best day ever on big fish. His biggest five fish totaled for just over 98 inches. He also landed his biggest Susquehanna smallmouth with a fish measuring 21 ¼ inches and weighing over five pounds. Ned rigs and other jigs are working well along with chatterbaits and buzzbaits. The weekend forecast is calling for some rain to hit our region so keep an eye on the weather before planning your trip.
---
Way North Chesapeake Bay Fishing Report, September 15 Update:
It is starting to feel like fall across our region as a cold front has brought some much nicer temperatures our way. Rockfish will become more active as water temperatures drop with the cooler weather. Right now, water temperatures are still in the mid-70s but once the dip down into the 60s we can expect to see more rockfish school up to chase bait. The bite in the shallows should also improve, and this is a great time of year to throw topwater baits. Keep an eye out for birds or breaking fish while on the water because a cold front or two could trigger that action to kick off.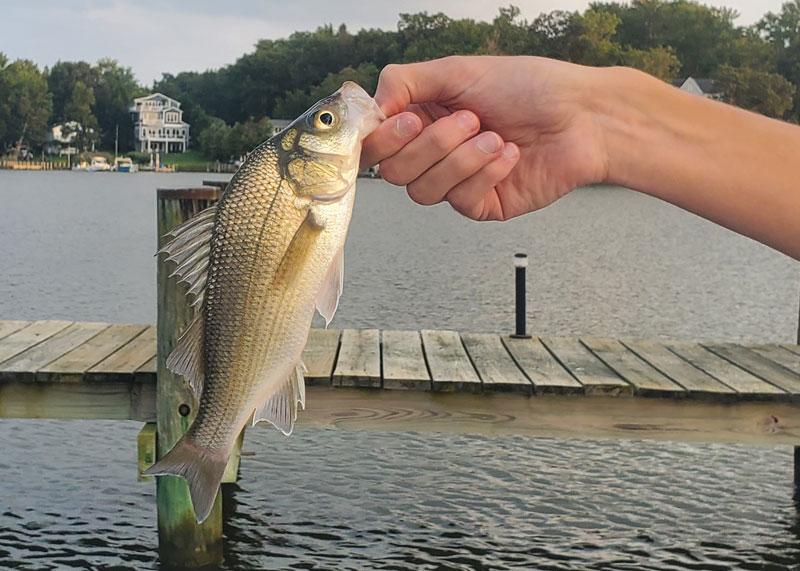 Fishing for white perch is still good in many of the tidal rivers where they can be caught close to nearshore structure. Small Beetle Spins and jigs work great near dock pilings and rock jetties, but you can't go wrong with a minnow under a slip bobber either. Sometimes you can get the larger perch to bite before the smaller ones by throwing large minnows. Bottom fishing with bloodworms or Fishbites has also been productive lately. The perch should stick around well into fall and will be at their biggest and fattest this time of year.
One of the main targets in this region of the Bay are blue catfish, and there is no shortage of them. You likely won't have to travel far to find them, and many anglers have been having luck with big blue cats recently. This invasive species is found in all our tidal waters and in the Susquehanna River. One angler fishing below the Conowingo Dam this week caught a 40-pound blue cat while throwing a large topwater plug. That's right, big catfish on topwater. It is not uncommon for anglers to catch catfish on topwater baits at the dam, but it requires heavy gear that is strong enough to pull the fish out of the rocks and flowing water. Bait fishing is also common for catfish at the dam and one angler fishing with nightcrawlers reported catching a blue cat that was nearly 25 pounds. They also caught some smaller channel catfish too. Boats venturing out to the lower Susquehanna and out to the Flats near ledges are having success dropping down cut baits. Cooling water temperatures should have these fish very active throughout the fall.
---
Way North Chesapeake Bay Fishing Report, September 8 Update:
A major heatwave brought record setting temperatures to the region this week which made fishing during the bulk of daylight hours almost unbearable. Luckily, the forecast is calling for a cooldown which should bring some relief and offer better fishing conditions. Many area anglers have been keeping their lines tight with catfish recently. We heard from Rich (the bluecat bushwhacker!) again this week and those monsters remain in feeding mode with 11 caught one morning while drifting cut bait in 30' to 40' near Port Deposit — all were over 20 pounds. He noted that even when the water's muddy they're able to home in on your baits and although they're hard to pattern, the only time the bite becomes problematic is when a strong barometric pressure change shuts them down. He also wanted to remind everyone that these are voracious predators, which will stay active through the fall and even the winter, and are eating everything and anything so we need to keep as many as possible to give native species some relief.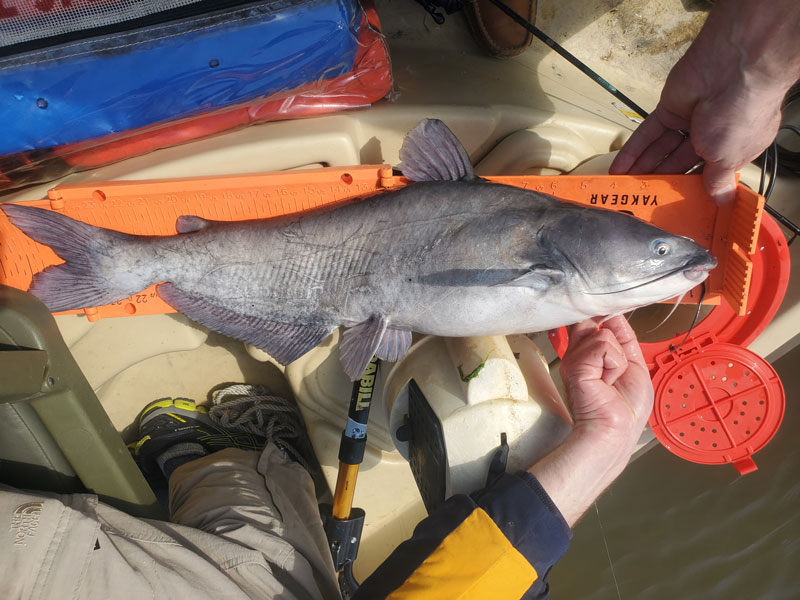 We are still experiencing drought conditions across much of the region with water levels running low in the Susquehanna and surrounding rivers. Despite the heat and low water this week, many anglers got out to catch smallmouth bass which have been offering solid action. Topwater baits like poppers and buzzbaits are working great early. Once the sun is up, jigs and jerkbaits are doing the bulk of the catching. Cooler temperatures should be here soon, so be ready to capitalize on the bite once they arrive.
The Conowingo Dam continues to follow its recent schedule of afternoon and evening power generation. The best fishing at the dam is usually when the water discharges offer some current flow. Anglers have been catching catfish, rockfish, snakeheads, and a few other species. The best lures to throw at the dam include topwater lures, jerkbaits, and paddletials. Don't be surprised if you get a hungry catfish to explode on your topwater lures because they have been known to do so below the dam.
Down on the flats, there are a few rockfish cruising around the shallows offering action during low light hours. Once we see water temperatures begin to drop, the rockfish will begin to school up and chase bait. This will be your best bet to get on consistent rockfish action on the flats, so lookout for some cold fronts this month that could spark some action.
---
Way North Chesapeake Bay Fishing Report, September 1 Update:
Fall is inching towards us, and we are already seeing some hints of it across the Chesapeake Bay region. Overcast skies and a few cooler mornings this week accompanied by a blue supermoon Wednesday night have many of our fish in feeding mode. We are starting to see some of the schoolie sized striped bass push baitfish into surface blitzes in the mornings and evenings so keep an eye out for any signs of this action. Working nearshore structure along shorelines is also providing some steady action for anglers working the edges of the Susquehanna Flats. Topwater lures like spooks and poppers are working well early while paddletails are doing most of the catching throughout the latter parts of the day. The stripers are also sitting in the turbine wash below the Conowingo Dam where moving water will make them more inclined to bite.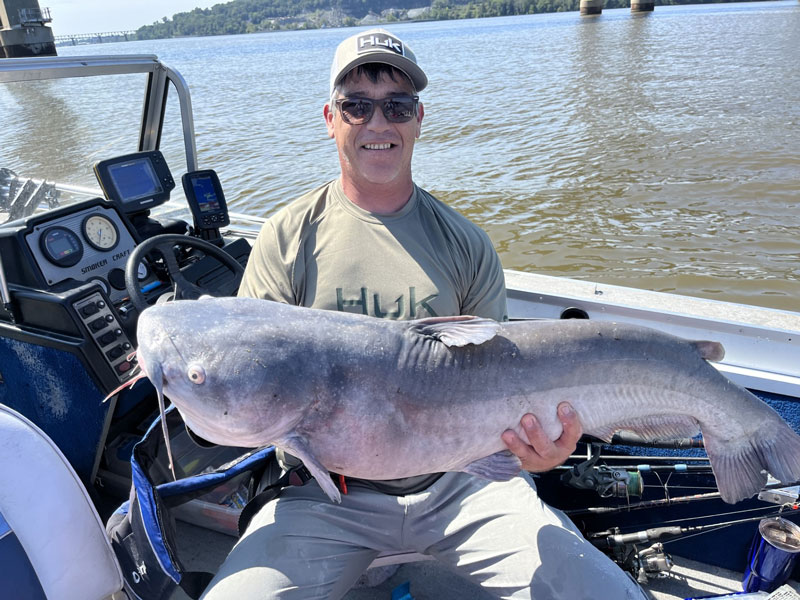 Catfish are another great option in the Way North region. Almost all the tidal rivers have an abundance of blue catfish that are eager to bite right now. We had reader reports of plenty of bites on cut bait including fish pushing the 40-inch mark. Flathead catfish are found from the Conowingo Dam north into the Susquehanna River which is where one of our most impressive catches of the week comes from. There are big fish, and then there are BIG fish – and a reader checked in after battling in a BIG one this week, a 48-pound flathead. The fish was caught in the Susquehanna above the dam and the angler also mentioned that blue cats below the dam have been biting well, too. Any variety of cut bait should work with bunker, bluegill, and chicken baits coming in at the top. Anglers at the Conowingo Dam are even catching some catfish out of the turbine wash on large topwater plugs.
Smallmouth bass fishing in the Susquehanna has been great this week. The smallies that are sitting in shallow water have been eager to bite surface lures like frogs, poppers, and buzzbaits. The jerkbait bite has also been producing quality fish and we saw reports from multiple anglers who caught fish over 20 inches this week.