Way South Chesapeake Bay Fishing Report, December 30 Update:
There are only a few days left until the new year which means rockfish season is coming to an end. The Virginia rockfish seasons will end this Saturday the 31st but other fish are still around to be caught. Strong winds and an arctic blast made fishing difficult last week throughout most of the region. Bitter temperatures froze over many creeks and portions of the tidal rivers, but a stretch of warmer weather should melt the ice as we enter January. Large ocean run rockfish have been showing up with more frequency and anglers are doing their best to take advantage of that fishery. One reader reported catching fish of 40-plus inches east of the shipping channel in 40 feet of water, jigging with two-ounce G-Eye heads and Bust 'Em tails.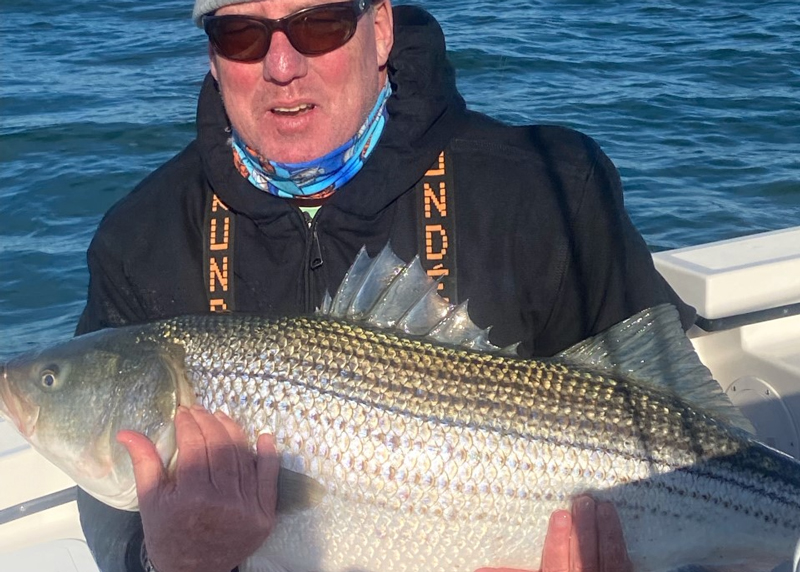 These big rockfish are icons of the Chesapeake Bay and in the winter months the big fish show up as they stage for spring breeding. It is tough fishing but can be very rewarding if you are lucky enough to hook up. Trolling live eels with 10 or more rods is a good way to target these beasts and a chance at a 50-pound fish is what pushes anglers to chase them. The larger fish are in the main stem of the Bay while the smaller fish will be found further up into the rivers and tidal creeks.
We received reports of ice covering many sheltered areas which made fishing difficult this past week but those finding open water have been rewarded for their efforts. One angler caught a citation sized 25-inch speckled trout in the Elizabeth River using a four-inch white curly tail swim bait on a half-ounce jighead. Another angler caught some quality sized rockfish in the south branch of the Elizabeth near the bridge. The rocks were caught using Yo-Zuri swim baits. Water temperatures in many areas are in the low 40s which is making fish lethargic. Specks and rockfish will be found in deeper water, often in 15 feet or more. Structure is also key to finding fish as they like to hang close to rock piles, bridges, and pylons. The warm weather to start the new year will improve fishing conditions and make fish more active so take advantage of the weather coming up.
It has been a great year of fishing with lots of cherished memories made along the way. As we enter the new year let's hope 2023 brings plenty of catches, new PBs, and exciting adventures.
---
Way South Chesapeake Bay Fishing Report, December 23 Update:
Winter has officially started with the passing of the solstice this Wednesday, and it looks like old man winter isn't wasting any time bringing on the season as our region is expected to get a blast of arctic air starting Friday and continuing into the weekend. Strong winds and bitter temperatures will make fishing difficult, but the good news is once conditions improve, there are a lot of fish still around to be caught. The Elizabeth River, Rudee Inlet, and Lynnhaven Inlet have all still been producing fish for dedicated anglers braving the cold. Speckled trout and rockfish are abundant and there is still a chance for some puppy drum in the mix.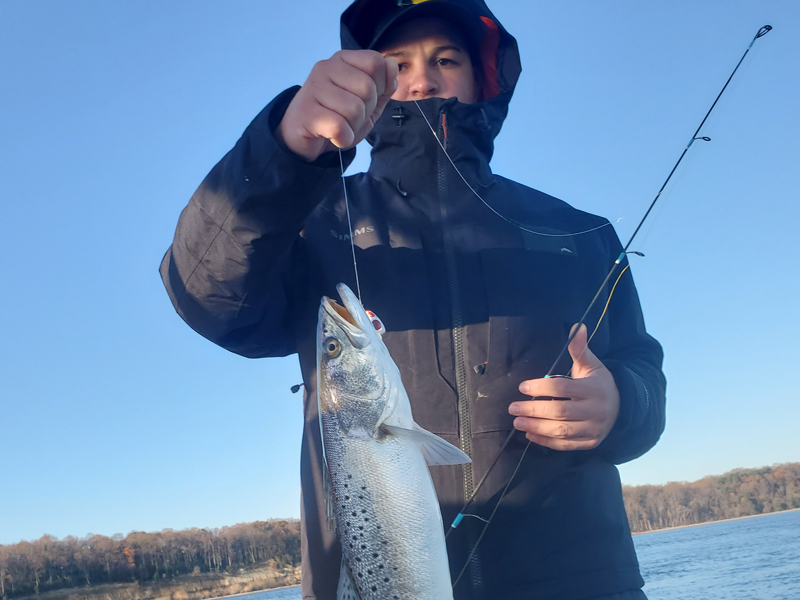 Fly fishermen seem to be outperforming other anglers and some are really dialed in on the fish in the Elizabeth. One angler reported that December has produced many citation specks on the fly including his personal best at 26 inches. On a trip out this past week the fishing was slow for most of the trip, but their persistence paid off when they found a school of specks late in the day. Long leaders and slow delicate presentations were the keys to catching. Their total catch for the day was 22 fish and all but two of them were caught in eight foot of water or deeper. The cold weather has likely pushed most of the trout to the edges of deeper holes.
Another angler fishing the Elizabeth had success on a trip out this week for rockfish, the biggest at 31 inches, and all their fish were caught casting lures to structure. The rockfish like structure such as bridges, pilons, and docks. Nighttime fishing can be particularly effective for them this time of year when you have dock or building lights illuminating the water. This attracts baitfish and thus will also attract specks, rockfish, and reds. Soft plastic rigged on jigheads and MirrOlures have been consistently catching fish for anglers throughout the fall and start of winter, so make sure to have them in your tackle bag. And don't forget, rockfish season will close in Virginia's portion of the Bay at the end of the month.
Santa is coming to town this weekend so let's hope for lots of new fishing gear under the tree to try out in the new year. Merry Christmas and happy holidays from all of us at FishTalk Magazine!
---
Way South Chesapeake Bay Fishing Report, December 16 Update:
The southern areas of the Bay are producing the most action for anglers in our region and this trend should continue through the end of the month. Virginia Beach Sport Fishing reported that the waterways inside Lynnhaven Inlet, Rudee Inlet, Little Creek, and the Elizabeth River are all holding fish. They also mentioned that MirrOLures and soft plastics are working great for specks, rocks, and reds. The most popular colors are white, pearl, chartreuse, and electric chicken because of their high visibility in the clear water. Slot sized rockfish are hanging around the CBBT and Islands. The best bites are coming at night under the lights and the bigger fish should be moving in with greater numbers shortly. There have already been a few fish over 40 inches reported. The larger fish are usually located in deep water off Cape Charles and eventually near the CBBT High Rise area. Live eels are the favored bait for the larger ones but trolling lures like the Manns Stretch are also effective.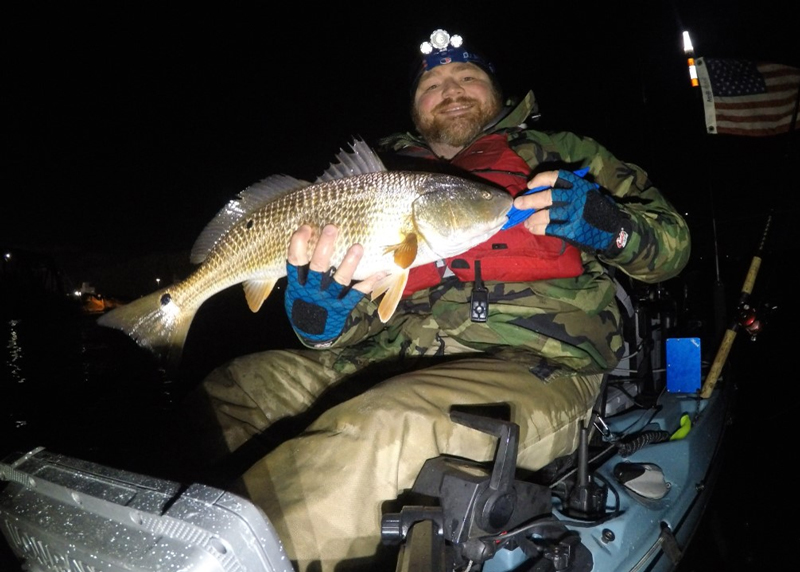 The Lower Elizabeth seems to be where the most action is taking place for light tackle, with a couple of readers reporting success on both specks and reds. The specks are far more numerous (one claimed 30-plus in a day of fishing with just two puppies mixed in) but are mostly on the smaller side with a few pushing up to the 20-inch mark, and we had a hearsay report of a 26-incher, though as temperatures continue to drop, we'd expect more bigger fish to show up as the numbers dwindle. Half-ounce chartreuse "flashabou" jigs dressed with green Gulp! was called out as a hot bait. The fly fishermen are still crushing it in the Elizabeth and the same anglers who had a spectacular trip last week reported more success this week. On one trip they boated around 50 fish. Six rockfish with the largest at 25 inches, one 13.5-inch puppy drum, and the rest speckled trout with the largest coming in at 26 inches.
---
Way South Chesapeake Bay Fishing Report, December 9 Update:
The waters at the mouth of the Chesapeake Bay have been very productive for many anglers this fall and it looks like that trend is continuing as we approach winter. Not much has changed since last week and speckled trout continue to be the talk of the town. Plenty of rockfish and a few redfish being caught in the same areas as well. The Elizabeth River, Rudee Inlet, and Little Creek are all producing bites.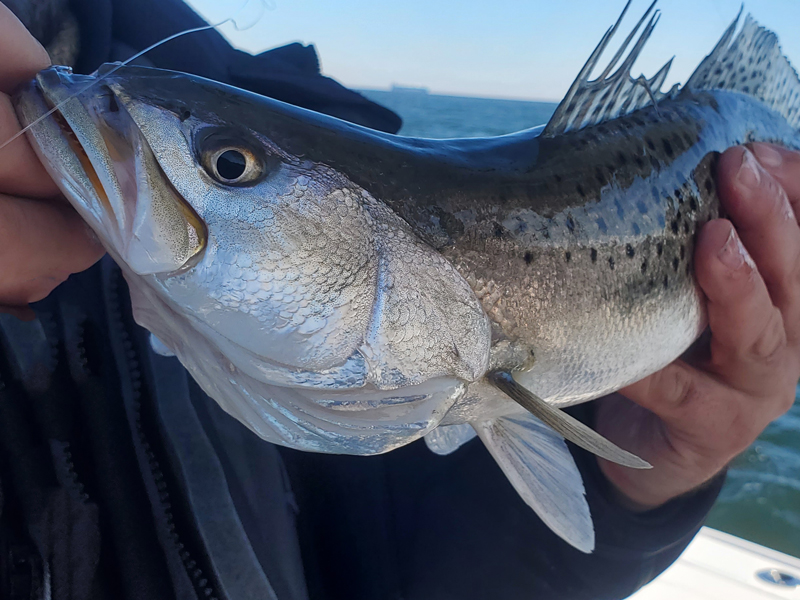 Angler James Losen reported a spectacular fly fishing trip on the Elizabeth River with his brother John this past week. The two of them caught nine puppy drum between 14 and 17 inches, six rockfish up to 23 inches, and over 60(!) specks with plenty of keepers in the mix. Now that's an epic day, and all while using fly rods nonetheless. It is worthy to note that fly fishing can outperform conventional tackle in certain situations. When the conditions are right the flies can feel more natural to the fish and they will be more willing to bite that type of presentation. Another angler reported success in the Eastern Branch catching three puppy drum at 15, 16.5 and 26.5 inches respectively. They also reported catching around 30 specks but most were between 12 and 13 inches. A 16 and 18 inch trout rounded out the trip and were kept for the dinner table. Multiple reports have shown that a lot of speckled trout are being caught in 15 to 20 feet of water. MirrOLures and soft plastics work great for specks, rockfish, and drum. Popular colors include white, pearl, chartreuse, and electric chicken. We did receive one good drum report this week. An angler fishing Rudee inlet caught 12 drum during a three hour fishing trip. All of the drum were 18 to 28 inches and were caught on visible structure in around 12 foot of water.
Big rockfish should start making their way into the Bay and we have seen a few scattered reports of fish bigger than 40 inches in the region. Rockfish season will close in Virginia waters on December 31st for fish in the 20 to 36 inch slot so make sure to get out for those last few stripers of the season if you want one for the dinner table.
---
Way South Chesapeake Bay Fishing Report, December 1 Update:
The way south scene continues to be dominated by a great speckled trout bite in the rivers and inlets. Rockfish and a few red drum are also common catches right now. Water temperatures in this region are in the mid 40s to low 50s depending on location. The Elizabeth River and the inlets continue to be hotspots for speck and rockfish action. An angler fishing in an undisclosed location got a surprise catch while targeting speckled trout — a 52-inch rockfish! He said it was quite the fight on 20-pound test but his 2500 spinfisher combo was able to handle the beast. The fish was caught in 10 feet of water and after a few quick pictures, was safely released. Now that's a story he will be telling for a long time to come.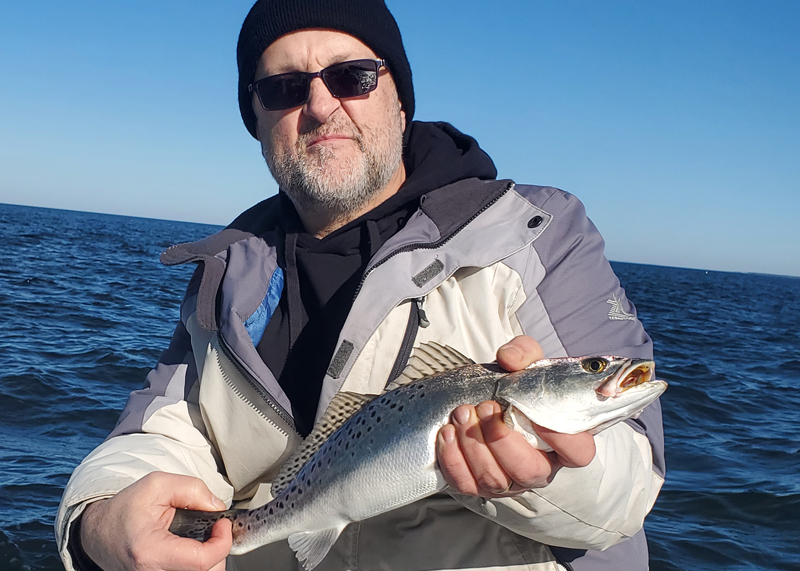 Knot Wish'n Custom Charters has been staying on the specks as well. They report that on recent trips they are still catching a lot of specks, though most of them are small with a few keepers mixed in. They expect the bigger fish to become more common as water temperatures continue to drop. Jerkbaits and paddletails are very effective lures to use. Water clarity is high this time of year which makes white and chartreuse colored baits good to throw because of their high visibility.
A few anglers are reporting some great fishing at night in the rivers. If you can find a stretch of water that's illuminated by building lights, this often draws baitfish to the area. Speckled trout, drum, and rockfish could all be nearby waiting to ambush the bait so don't be afraid to keep fishing even after the sun goes down. One angler fishing at night in a location he wouldn't give up reported catching a lot of speckled trout including a citation sized trout and a 29-inch red drum. He says the best part about his trip was that he had the water all to himself.