Way South Chesapeake Bay Fishing Report, February 24 Update:
Trees and flowers are starting to bloom which has many anglers excited for the return of spring. We are still a ways away from the fishing really turning on but some fish have become more active during the warmer weather. Speckled trout are in the rivers and anglers are having mixed success with them, most reporting slow bites. The Elizabeth River will be your best bet. One angler checked in to report catching a nice low 20s speckled trout on a Paul Brown Fat Boys suspending twitchbait. The retrieve that has been working best for them has been a slow twitch, pause, then another slow twitch. The trout haven't been aggressive and most of the bites will be very subtle. The inlets haven't seen much action from the specks, but we are hearing some reports of small puppy drum being caught.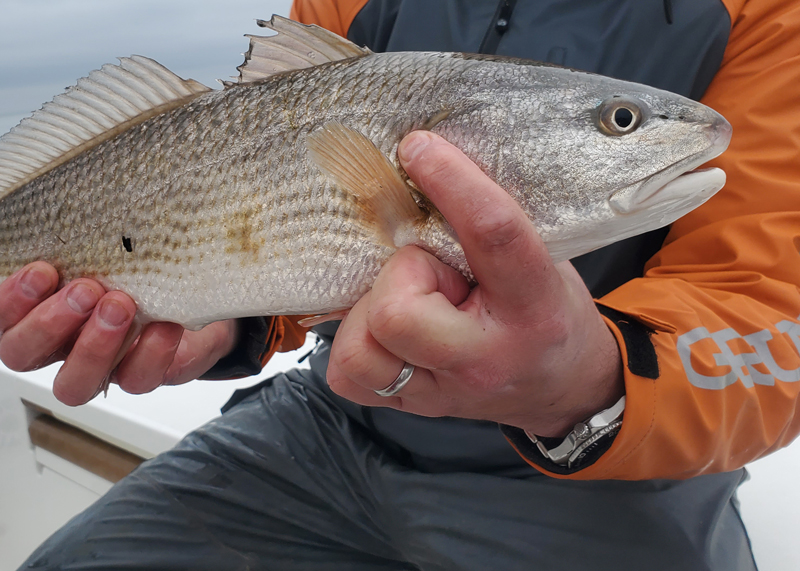 The Virginia special black sea bass season has provided great fishing opportunities all month with many boats reporting limit catches when the weather cooperates. Big black seabass and tautog have been consistently coming over the gunwales for those heading to the nearshore wrecks and reefs. Why Knot Charters checked in after a trip this past week to report a great day of fishing full of quality sized seabass. One angler on the boat even caught a citation sized five and a quarter pound seabass. They did mention that pesky dogfish sharks wouldn't leave them alone but that didn't stop them from filling their coolers.
---
Way South Chesapeake Bay Fishing Report, February 17 Update:
February's weather hasn't been able to make up its mind and the big swings in temperature have made a difference in what's biting. The inshore scene is providing decent catch and release striper action in the rivers and inlets. Night fishing near the dock, bridge, and building lights has offered the most action. The warmer weather has the speckled trout more active and although they are usually in deeper water this time of year, some may have moved into shallower areas. The Elizabeth River on the south side of the York River tributaries is a good area to target the specks. One angler reported catching some trout in the Elizabeth using a MirrOlure 52MR Mullet. They noted that there was lots of bait moving around at the tide changes. Long Bay Pointe Bait and Tackle reported that some anglers are also finding puppy drum inside Lynnhaven Inlet. Fishing should continue to trend favorable for anglers if the warm weather continues so make sure to get out there.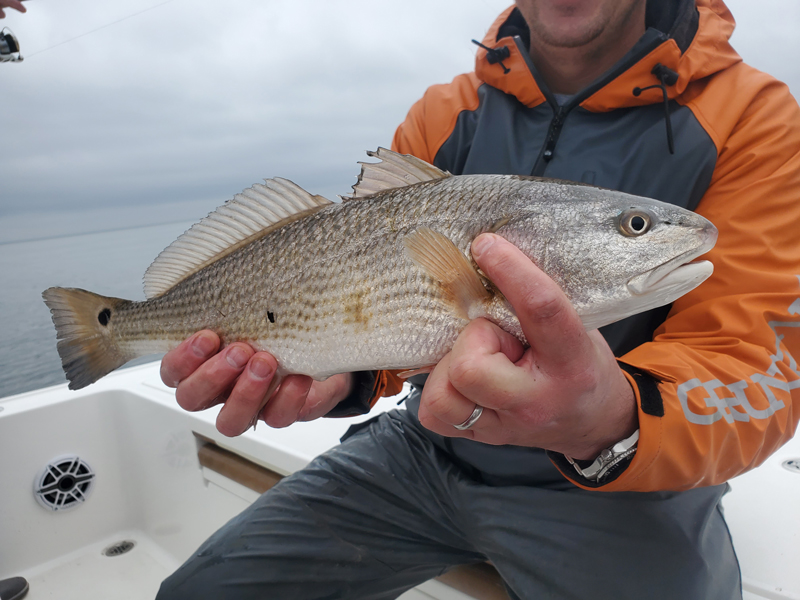 For those getting a shot at entering the ocean, the Virginia February sea bass season chugs right along, with most boats heading offshore reporting limits at the wrecks. Captain Drew on the Big Worm reported limit catches and citation-size fish plus lots of bluefish in the mix. The biggest problem is the weather, but when the winds are down the fishing is hot. Virginia Beach Sport Fishing reports that the tautog fishing out of Virginia Beach is great when the weather cooperates, too. The nearshore wrecks are producing many quality sized fish. Blue crab and blue crab flavored Fishbites are working excellent right now. Fishing Charter Reel Fish'n Va. checked in this week with a spectacular day of offshore fishing. They targeted multiple wrecks, catching fish at most, and returned to the dock with 59 sea bass and six tautogs. Many of the sea bass were "jumbos" and two of the togs reached double digits.  The special sea bass season is open until the end of the month and tautog season will remain open until May 15.
---
Way South Chesapeake Bay Fishing Report, February 10 Update:
February has brought us bitter cold and unseasonably warm weather all within the first two weeks. The swings in the weather can make for some tough fishing conditions and inconsistent bites. We didn't hear much from anglers down south this week and part of it may be due to the crappy weather last weekend. There is still some decent catch and release rockfish action in the rivers and inlets, but the fish don't always want to cooperate. The Elizabeth River will be your best chance at a mid-winter rockfish or maybe a speckled trout. Both fish will mainly be in deeper waters but if the warm weather continues, we may see some specked trout move into shallower areas. Night fishing for the rockfish has continued to produce the best bites in areas where dock and building lights illuminate the water.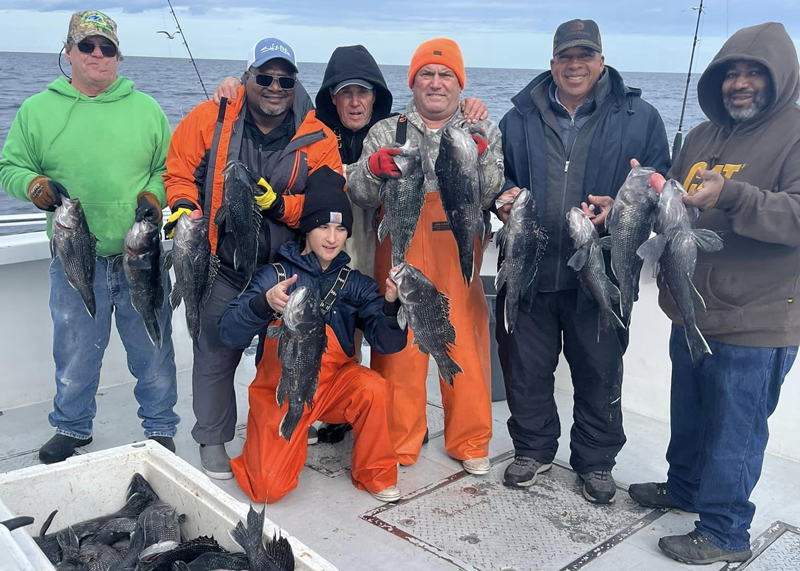 Anglers interested in getting out on the ocean have found that the Virginia February sea bass season is proving magnificent, and Captain Drew on the Big Worm is reporting limit catches on one trip after the next. He also noted an invasion of sea robins over the weekend, with them coming over the rails "three at a time." A few bluefish and sharks have also been in the mix. Many other Virginia Beach charter boats have been booking trips for the sea bass season and are reporting consistent limit catches as well. The sea bass season will be open until the end of the month with a minimum size of 13 inches and a 15 fish limit per day. Tautog fishing has also been great out of Virginia Beach when the weather cooperates. Anglers targeting them at the nearshore wrecks are catching some quality fish and double-digit togs have been fairly common this winter. Tautog season in Virginia will be open until May 15th with a four fish per day limit at a minimum size of 16 inches.
---
Way South Chesapeake Bay Fishing Report, February 3 Update:
Fishing is still slow as is par for the course in the winter but dedicated anglers are still finding fish to catch despite the colder weather. There are still a decent amount of striped bass around for anglers to target but that fishery is strictly catch and release now. One angler had a successful night targeting them this week in undisclosed locations. They caught fish up to 30 inches and concentrated their efforts in areas that were illuminated by dock and building lights. Virginia Beach Sport Fishing reports that the speckled trout fishing has slowed but should get better if the weather warms up. Unfortunately, this weekend looks very chilly but next week may bring the return of milder weather. Current water temperatures in the area are in the mid to upper 40's.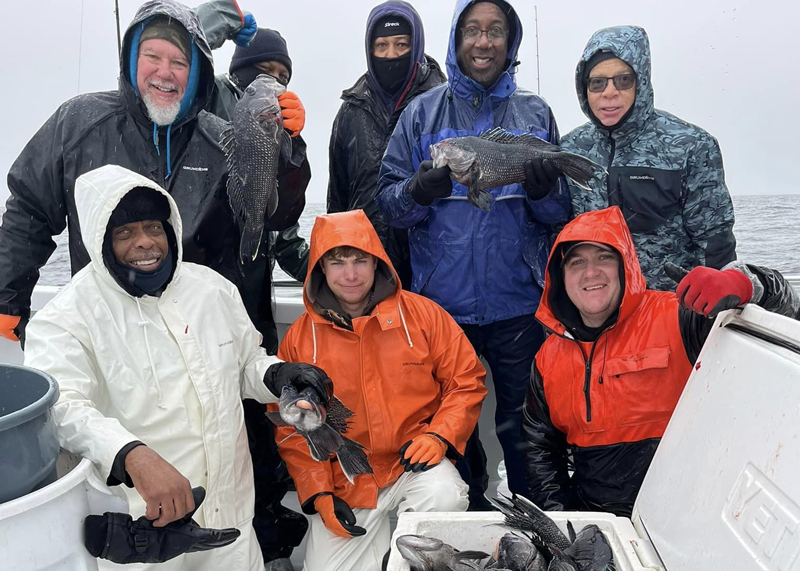 Many area anglers have shifted their sights to the now-open black sea bass fishery on the coast. Captain Drew on the Big Worm reports an excellent bite and shortly after the season opened they had a full fishbox capped off by a 6.2-pounder. If you plan on participating, make sure to read more about the special permitting and reporting requirements. Those details can be found on the Virginia Marine Resources Commission website. Wreck Dog Sport Fishing out of Virginia Beach says the tog fishing is as good as it gets right now, too. A recent trip produced six double digit fish up to 13 pounds and several eight to nine pound fish were caught too. A few recreational anglers found success at the triangle wrecks with their largest tog coming in at 10 pounds.