Way South Chesapeake Bay Fishing Report, January 27 Update:
The mid-winter fishing blues are really setting in as we eagerly await spring. The winter temperatures have really slowed the fishing in the area, but some fish are still biting. Big breeder rockfish have been out in the main stem of the Bay in deeper water. They haven't been easy to locate though and sometimes they won't even bite but the chance at a trophy rockfish is enticing for many. Metal jigs up to three ounces have been working well. Larger seven-to-eight-inch plastics on two-ounce jigheads are also getting the job done. Speckled trout are still biting here and there but bites have been inconsistent. This time of year the trout will be more concentrated to areas with deeper waters but will move into shallower areas to feed when the weather is warmer. The Elizabeth River will likely be the best location to focus efforts in search of a winter speck. We did hear from one angler who fished the Elizabeth River this past week in search of speckled trout. There efforts were rewarded with some nice sized specks. The largest was 27 inches and five other fish were boated and released that were in the 20-to-25-inch range. The anglers noted that they were fishing in six feet of water.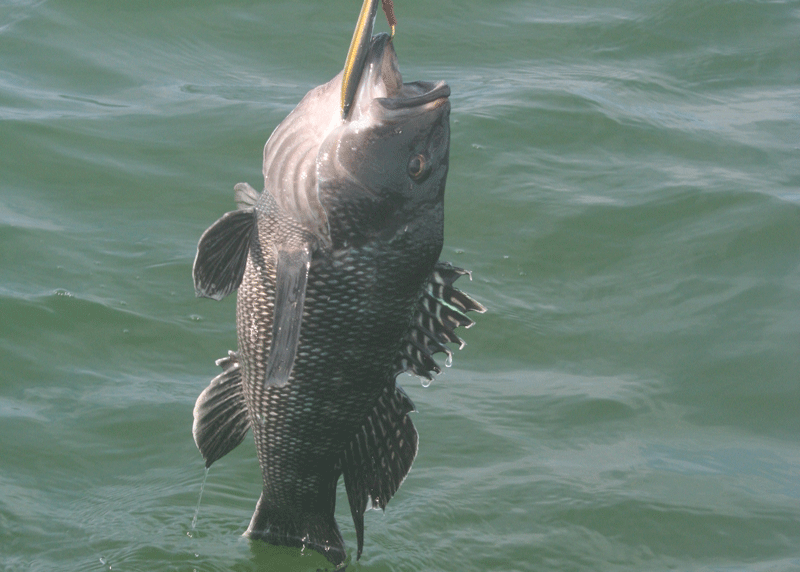 We have some great news for Virginia anglers this week! The Virginia Marine Resources Commission has voted to open a special recreational black sea bass season from February 1 through the 28 of 2023. More information regarding the special season can be found on the VMRC website. A free permit is required to participate, which can be found here. After not opening the special season last year, this is a great opportunity for winter fishing while other bites are limited. Some boats heading offshore to target tautog have been finding some nice sized sea bass in the mix so there are definitely fish to be caught at the nearshore wrecks and reefs. We are looking forward to getting some reports once the season opens!
---
Way South Chesapeake Bay Fishing Report, January 19 Update:
It seems that angling effort has really slowed down recently and there were few reports to give us insight on the fishing this week. Last week's wind and cold front likely deterred anglers from hitting the water and seems to have slowed the speckled trout bite even more. Prior to last weekend's cold front, some anglers were still catching speckled tout into the low 20s in the traditionally productive areas like the inlets and Elizabeth River. We did get reports from a few anglers fishing the Elizabeth this week who found a slow but steady catch and release bite for rockfish. Most of their fish were around 20 inches. Bank fisherman are still having some success at night near building or dock lights. Heading up further into the rivers may produce perch or catfish for those wanting to target them.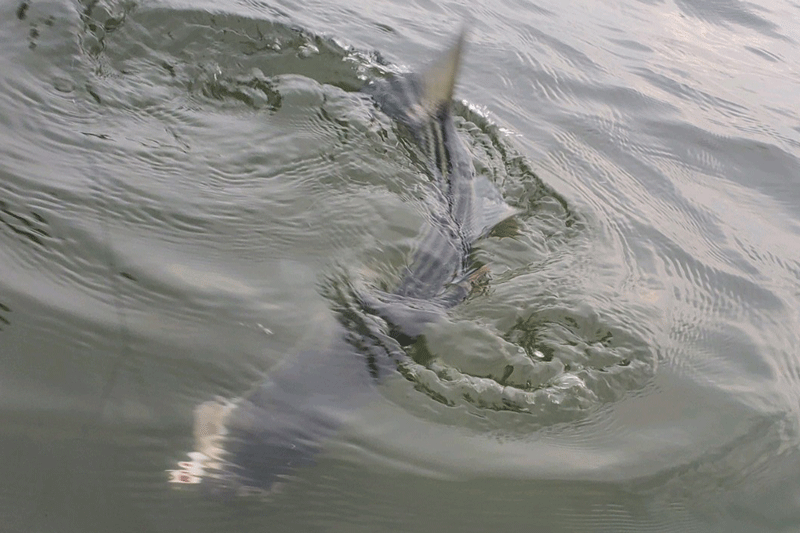 Big ocean run rockfish are staging off the coast and in the Bay before their spring spawning run, but they can be difficult to locate and won't always bite. It is, however, a great time to remind anglers how important boating safety is during winter. Wearing a life jacket and keeping a close eye on the weather are extremely important in the colder months. It is also a good idea to fish with a buddy and make sure others know your plan for the day prior to leaving the dock. Water temperatures in the 40s will cause hypothermia to set in quickly if you go overboard so make sure to take all necessary precautions while on the water. We want to make sure everyone is safe while they search for some fish willing to bite.
---
Way South Chesapeake Bay Fishing Report, January 12 Update:
January has brough milder temperatures than we are used to for winter, but anglers aren't complaining. A brief cold front is expected to come through this weekend but next week is forecasted to be back into the 50s. Make sure to take advantage of these warm days while we have them because old man winter is sure to make a return soon. Down south, it seems as though the hot speckled trout bite is finally cooling off. Dedicated anglers are still catching fish in the areas that produced in the fall like the Elizabeth River and the inlets, but not nearly as many fish are being caught. Rockfish season is still closed but some anglers have been enjoying catch and release opportunities. We have seen a few reports from undisclosed locations of fish being caught in the low to mid 20s. It appears the best bites are coming at night close to dock or building lights.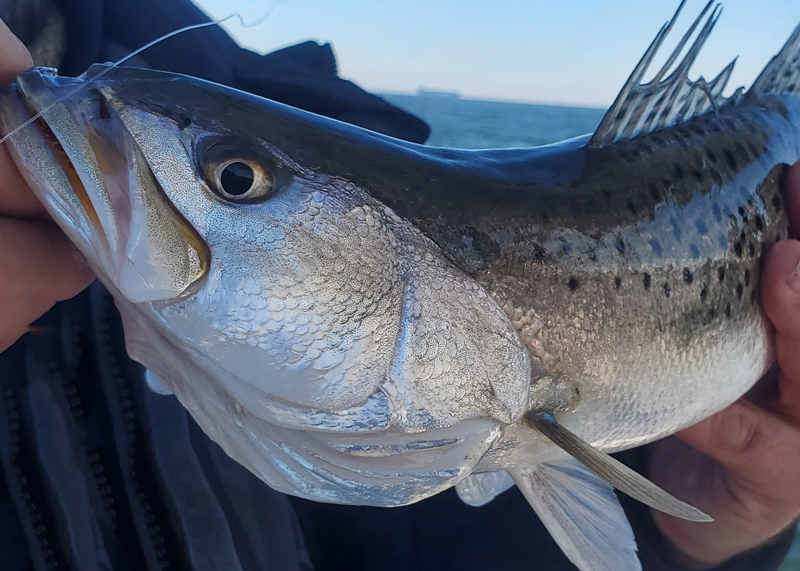 Large trophy rockfish are also making their appearance in and around the lower Bay as they stage for their spawning run. Cape Charles Virginia has been a popular location to target these fish in the winter over the years. Although they aren't as prevalent as they once were, there are still fish around that can be caught. If you can locate a school, jigging large metal spoons or soft plastics on heavy jigheads is one tactics that works for these fish. Another popular method is slow trolling live eels. Anglers are also having success along the coast with the big rocks. They are being caught in various locations along the Delmarva coastline but it's important to remember that they can only be targeted within three miles of the shore. Many of these fish are 40 inches or more so it is important to handle them with care as they are the future of the fishery.
---
Way South Chesapeake Bay Fishing Report, January 6 Update:
Happy New Year to everyone! We hope you have been enjoying the unseasonably warm weather to kick off January. The deep freeze around Christmas locked up some waterways with ice and slowed down the bite significantly but the recent warm up should have improved fishing conditions. Water temperatures in most of our southern areas in the Bay are now in the low to mid 40s. AT the CBBT it's been sitting right around the 45- to 46-degree mark, so tog fishing there is becoming a longshot. Virginia rockfish season closed on December 31st and Virginia Beach Sport Fishing told us that before it ended anglers were taking advantage of large ocean run fish along with plenty of schoolies in the area. The big rockfish school up in the Bay as they stage for spring breeding. Trolling live eels was the best way to target the up to 50-pound beasts. Catch and release fishing is still open but if you want to keep any rock you'll have to head to coastal waters.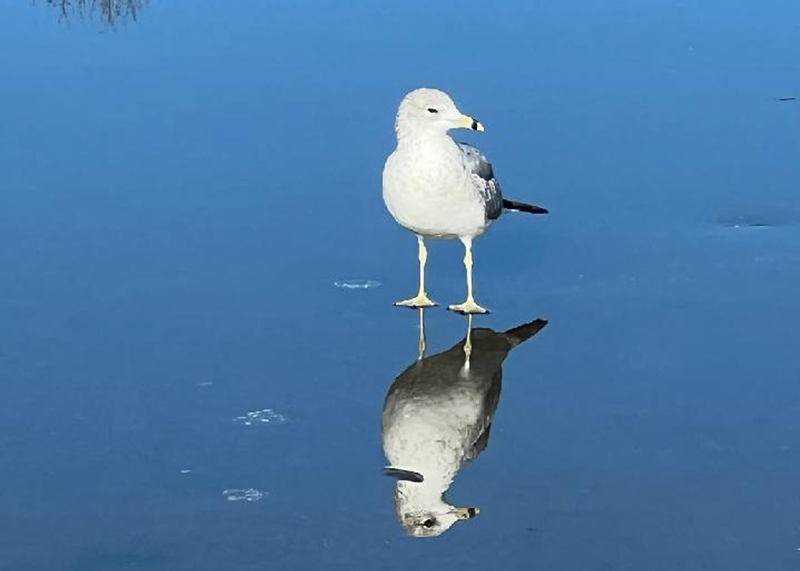 The warm weather this week should have improved the speckled trout bite in the rivers and luckily, it looks like we dodged a bullet and avoided a big cold stun disaster despite the sudden onset of the erratic cold weather prior to the recent warmup. The Elizabeth River has been one of the best locations for specks throughout the fall and winter and there should still be rockfish or some stray puppy drum in the area too. One angler reported that they found a great striper bite at night in an undisclosed location. They caught around 25 fish ranging from 24 to 29 inches on light tackle. They noted that the 20 mile per hour south wind didn't seem to slow the bite down and they returned to the dock with sore arms.
Another winter bite available is tautog at the inshore and nearshore structures. As mentioned earlier temps are marginal at the CBBT but a relatively short trip into the ocean should be all that's necessary to find slightly warmer water and feeding fish. Crab baits work best but make sure to bring plenty because they are awfully good at stealing baits. Don't let the colder weather keep you in, there are still fish to be caught this time of year. Hopefully one of your New Year's resolutions was to catch more fish, so let's make that happen!