Way South Chesapeake Bay Fishing Report, September 29 Update:
Fishing reports were slim this week from the southern Chesapeake. Last weekend's Tropical Storm Ophelia kept just about everyone off the water and this week's small craft advisories have not made fishing much easier. There were still plenty of bull red drum and cobia around the CBBT as these fish begin to migrate south. Jigging or sight fishing with large soft plastics is producing some giant fish which makes for some of the most fun catch and release fishing you can experience. Weather windows have been short this week but next week's weather looks much more favorable. One angler looking to fish the nearshore wrecks took advantage of a weather window at the beginning of the week. They made their way to the Triangle Wrecks where they found them loaded with black sea bass. They also caught scup and a big triggerfish that weighed five pounds seven ounces. They made quick work of a limit of sea bass before returning to dock. The wrecks and reefs should remain productive through the end of the month.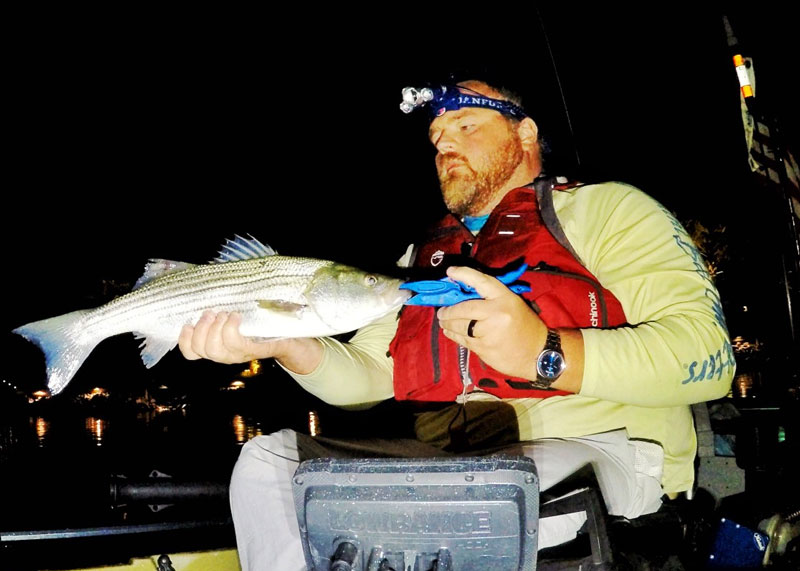 We have seen reports that the shrimp are thick in the creeks within the tidal rivers. An angler throwing a cast net in the York River caught enough to fill a five gallon bucket this week. Gamefish are moving into the shallows to feed on the shrimp which makes popping corks with shrimp imitations a great option to throw. Speckled trout have started to move into the shallows in force and the fall is one of the best times of year to catch a giant speck. The Elizabeth River is known for producing big speckled trout, and plenty of them, so the bite should continue to get better as water temperatures drop. Puppy drum are still around in the rivers and inlets providing fun light tackle action. Paddletails have been doing most of the catching but drifting cut bait or peeler crab is picking them up as well. You can really catch just about anything in this region of the Bay during the month of September as warm water species are beginning to migrate out and other fish are moving in to feed on the abundance of bait leaving the rivers. An angler fishing during an outgoing tide on Little Creek reported that the ribbonfish (cutlassfish) are there in force. These fish are likely migrating south and will be gone soon, so take advantage of them while they are here as they are delicious table fare.
---
Way South Chesapeake Bay Fishing Report, September 21 Update:
Fall has finally arrived to the Chesapeake region, bringing cooler temperatures which have been welcomed by many anglers. Right now is one of the best times of year to fish the Bay as there is a great diversity of species and fish are beginning to feed up for the colder months ahead. Along the oceanfront, trolling for Spanish mackerel is still productive for boats trolling spoons. There are still some king mackerel and albacore around as well but that has been a hit or miss bite. Virginia Beach Sport Fishing says the cobia have started their migration south and many boats have had downright spectacular days recently. Sight fishing is still the way to go but anglers drifting eels or cut bait are still picking up some cobia, reds, sharks, and rays. This time of year usually produces some of the biggest fish so if you want to catch a big brown bruiser, now is the time to do it. Just remember that cobia season is closed and these fish must be released. Action around the CBBT has been good for multiple species but there are also reports of Omega boats in the area, never a good sign. Hopefully they will depart soon before messing up the fishing too much.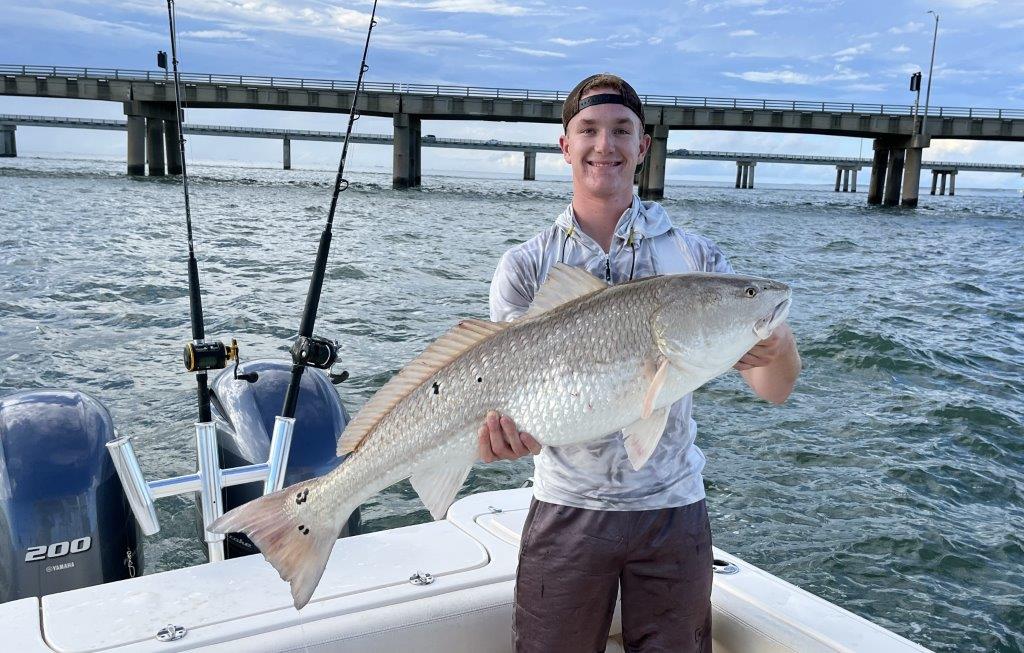 Several reader reports came in of red drum still biting around the CBBT. They've been hitting both bait and lures, with live croaker proving effective on a regular basis. The drum bite in the shallows has also been very productive with multiple anglers in multiple areas reporting successful catching. An angler fishing Lynnhaven Inlet reported a great bite this week with baitfish everywhere. Live croaker or menhaden and jigs all produced redfish between 14 and 30 inches. Many fish were hanging close to docks and there were also some quality speckled trout mixed in with them. Another found that the reds were hitting on live mullet under a float while casting along banks in the shallows. They also fished some of the oyster shoals and caught a few undersized flounder. A fisherman near Sandbridge found a hot afternoon bite catching a few drum measuring 16 to 28.5 inches.
These are all good signs pointing to a productive fall, but… Unfortunately, the fishing may be put on hold as a tropical system will move into our area by the weekend making for unfishable conditions at times. It may be best to reschedule fishing plans for next week.
---
Way South Chesapeake Bay Fishing Report, September 15 Update:
We are approaching some of the best fishing of the year as cooler weather begins to set in. We are already seeing signs of fish switching to fall patterns as the shallows have been very productive as of late. Speckled trout are moving in to feed on bait in the inlets and rivers. The Elizabeth River in particular is one of the best locations to catch speckled trout in the fall and one angler fishing from the bank along a rocky shoreline was able to catch a 15, 16, and 23-inch speck while throwing around a twisty tail grub.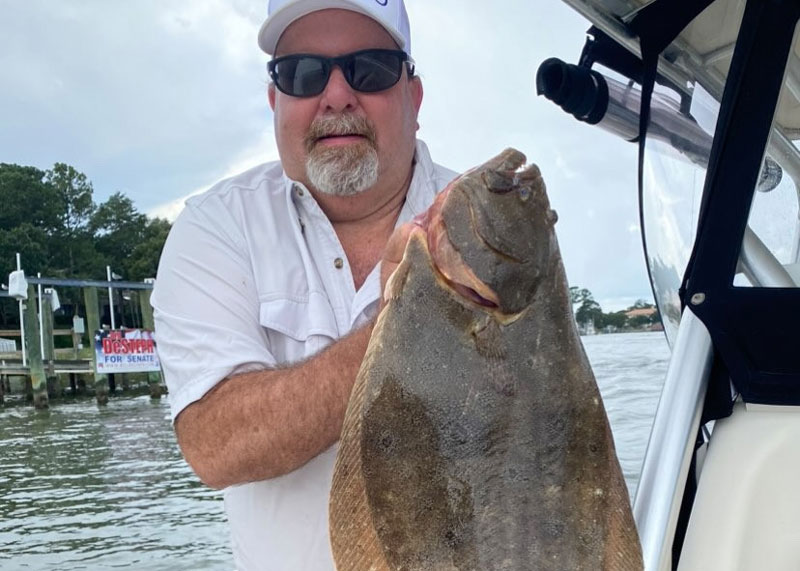 The red drum fishing has been great in the southern Bay for both bulls and puppy drum. One boat fishing in an undisclosed location reported an excellent night bite for the drum. They landed around 20 fish with most between 16-to-20-inches but also some quality slot sized fish in the mix too. Another boat fishing at the CBBT reported landing four bull reds all between 45 and 49 inches. Cobia fishing is excellent right now and should continue to be great for catch and release action as fish from further north in the Bay begin to migrate south with cooling water temperatures. Sight fishing is still the most popular method this time of year. Boats are locating the cobia then pitching large soft plastics or live eels to them. One angler reported catching a 42, 50, and 52-inch cobia during a trip this week. There are definitely big fish around.
There are evidently some very nice flatfish to be found near the CBBT — a reader checked in this week after fishing with Gulp! and reeling up a 6.5-pounder. Virginia Beach Sport Fishing confirmed the flounder reports and let us now that fishing has been improving. The biggest fish are being caught on live spot, and there are plenty around to put in the livewell before searching for the flatties. September produces some of the biggest flounder of the year in this area, so now is the time to find a "doormat". In the "I wouldn't believe it if I didn't see it category", is the report of a white marlin in the Bay near the CBBT. A boat out fishing for cobia spotted the fish and took video that clearly shows a marlin cruising along the surface. They threw everything they had at it but couldn't get the fish to bite. You never really know what you might see while fishing the Bay.
---
Way South Chesapeake Bay Fishing Report, September 8 Update:
Despite the heat this week, signs of fall are showing up in the Chesapeake Bay. As the end of cobia season nears the bite is on the upswing, and a reader targeting cobia caught a keeper throwing a large white/gray paddletail near the CBBT, while another chumming with live eels reported catching a 44-incher in 20 feet of water along a drop-off near the same string of structure. This will be one of the best areas of the Bay to catch cobia as we move into the fall. Once water temperatures drop, cobia will begin to move south to find warmer waters but must come by the CBBT, thus offering anglers a great opportunity to catch migrating fish. Cobia season will close after September 15th, so anglers will have until next Friday keep them.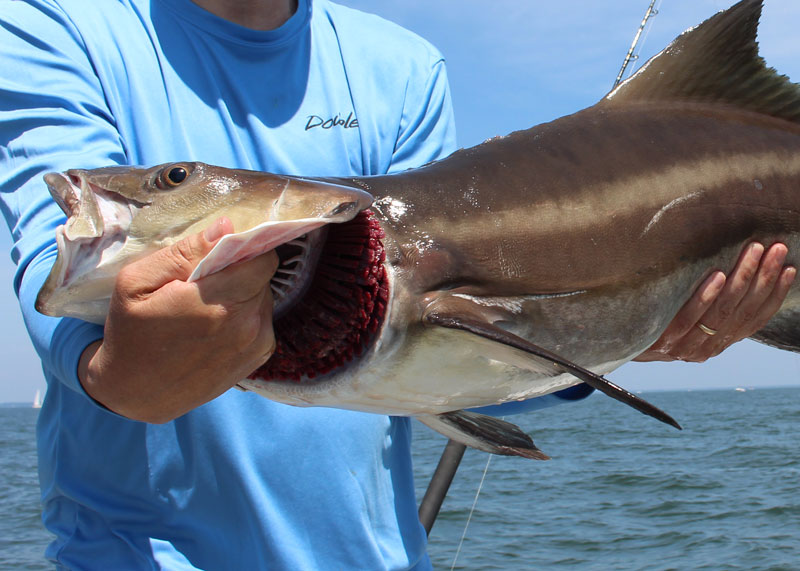 Bull red drum have been consistently found around bay structures like the CBBT and artificial reefs. Many anglers are having luck live-lining spot or croaker near the islands of the CBBT. If you can find them busting bait on top, casting bucktails or other soft plastics has been effective. Hard structures are also holding sheepshead, flounder, tautog, spot, croaker, and trout. An angler bottom fishing in the Virginia Beach area had a good day filling coolers with big spot, keeper croaker, and a few speckled trout.
Last week when water temperatures were beginning to drop, the shallow water bite in the rivers and inlets started to pick up. Though the more recent blast of heat temporarily reversed things we can expect cooling temps to trigger more action soon. An angler fishing in the Lafayette River caught a 27-inch red drum while live lining a croaker. Another angler fishing from his kayak in Rudee Inlet found some fish willing to bite crab baits dropped near structure. He managed to land a black drum in the 10 to 15 pound range along with sheepshead and a few small red drum. Way South correspondent Chuck Harrison got out last weekend to fish the areas around the Hampton Roads Bridge Tunnel and spent most of the morning searching for speckled trout and flounder. Chuck said he hooked but lost three speckled trout at the boat that were all over 18 inches. He didn't have any luck looking for flounder, so he went to another location and jigged up a bunch of small gray trout along with bluefish and a 21-inch Spanish mackerel.
---
Way South Chesapeake Bay Fishing Report, September 1 Update:
It's that special time of year where we are approaching Fall and there are an abundance of fish throughout the Chesapeake region. Oceans East Bait and Tackle told us that there are still massive sheepshead being caught at the pilings of the CBBT. The best days to fish for them are when the water is calmer because these fish hold tight to structure, and you need to drop your bait directly next the piling to entice them to bite. Many citation-sized fish have been caught this week and their bait of choice is fiddler crabs, but any variation of crab bait paired with a sweeper jig should work.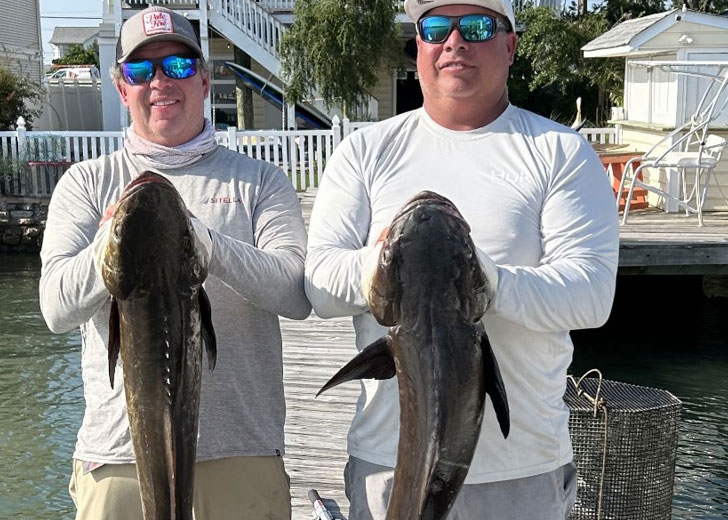 Cobia are still on the table and now is the time to get in on some great action before the season closes on September 15th. Many boats are still sight fishing with live eels, but others are starting to troll large surgical tubes. Either way you target them will give you a good chance to boat some big brown bruisers as there are plenty hanging around different areas of the southern Chesapeake Bay.
The shallows of the tidal rivers have an abundance of species for anglers to try their hand at. Warmer water temperatures at the moment have pushed some of the fish to deeper water including many of the slot puppy drum that anglers have been catching. If you can find areas of shallow flats with deep drop offs nearby, those will be good places to search. A fly fisherman in the Elizabeth River found a variety of different fish willing to bite his flies. An evening trip produced a lot of small croaker, 10 sea bass, four flounder, and one speckled trout. As we move into fall, gamefish like rockfish, speckled trout, and red drum will become more sought after as they push into the rivers to feed on baitfish.
Virginia Beach Sport Fishing says that the flounder bite has been on fire recently. Live mullet and shrimp have been working best if you can find them but shrimp, grubs, and swimming mullet artificials are working well too. Most fish are hanging out at drop offs and ledges. The rock piles at the islands of the CBBT are another great place to look for flounder and a variety of other species. A boat anchoring up at a rock pile near one of the islands of the CBBT reported that they found steady action on tautog. Interestingly enough, they only wanted to bite blue crab baits and not the fiddlers that were being dropped down. Big red drum are another popular option to go after at the islands. Boats have been catching them jigging when a school is located but anchoring up and dropping down spot or croaker has enticed some of these beasts over the gunwales.