Lower Chesapeake Bay Fishing Report, November 20 Update:
WooHoo! Welcome to late fall potential for catching trophy-size fish, anglers. Despite windy, difficult conditions much of the past week a handful of big stripers from the Atlantic have shown up in the Lower bay. Live liners and trollers are getting in on some nicer rockfish now, including a few 40-plus inch fish. The Tackle Box in Lexington Park checked in to let us know that live liners with a cache of live spot had big 40-inch rockfish come to the baits last Saturday morning and Captain Greg on the Miss Susie had big ones taking live spot all weekend. However, the Tackle Box let us know that the crazy rain we got at the end of last week chased many stripers out of the upper reaches of the Potomac. Later in the week, the biggest schools seemed to be based near the Target Ships and were also reported from Point Lookout out into the mid-Bay. Large (over-slot for release in all VA waters, of course) stripers have also showed up for those trolling from the Cell down to the CBBT, and a few very big fish breaking 40-inches were reported to Oceans East this week. Weighted umbrellas, six-inch tandems, and Mojos were all effective and white seems to be the dominant hot color across the board.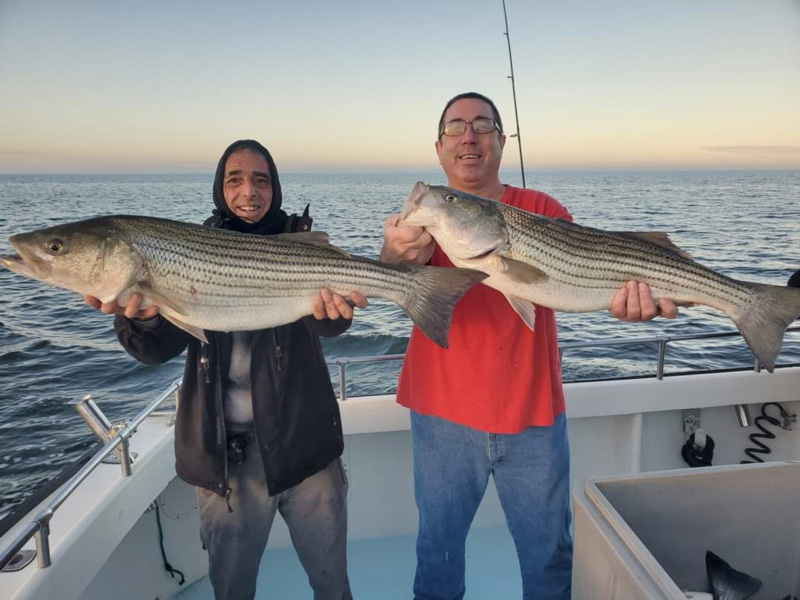 If you're looking for an un-striped option this week consider heading up the tribs for catfish, which have been biting daily. Bushwood to the district has been hot in the Potomac and although a reader reported muddy conditions up the Rappahannock earlier this week, he said the catfish were still chewing without hesitation.
Another possible play is specks and reds and although the numbers certainly seem to be dwindling at this point, we had a reader check in after fishing the Piankatank last weekend, catching several specks, small rock, and a couple small reds. Shrimp under a popping cork was the best offering. The chill in the air is probably going to end that sort of bite sooner rather than later so if you can take advantage of the incoming nice weather this weekend, now's the time to make it happen.
---
Lower Chesapeake Bay Fishing Report, November 13 Update:
There's plenty going on in the Lower Bay right now— jiggers, trollers, and even shoreline anglers all have a great shot at a fresh fish dinner. The Tackle Box checked in to let us know that the Potomac is chock-full of fish right now. Bigger fish are coming up from trolled lures on bottom. They suggested using 16- to 21-ounce inline sinkers to get down to the fish. Stripers are biting between 20 and 30 feet, between Ragged Point to Sandy Point on the Virginia side. Piney Point and St. George Island has lots of fish too, but most are under the 20-inch minimum for the Potomac. Trollers also mentioned solid bites from buoy 72A to the Target Ship, south at the Targets, and in the vicinity of the San Marcos.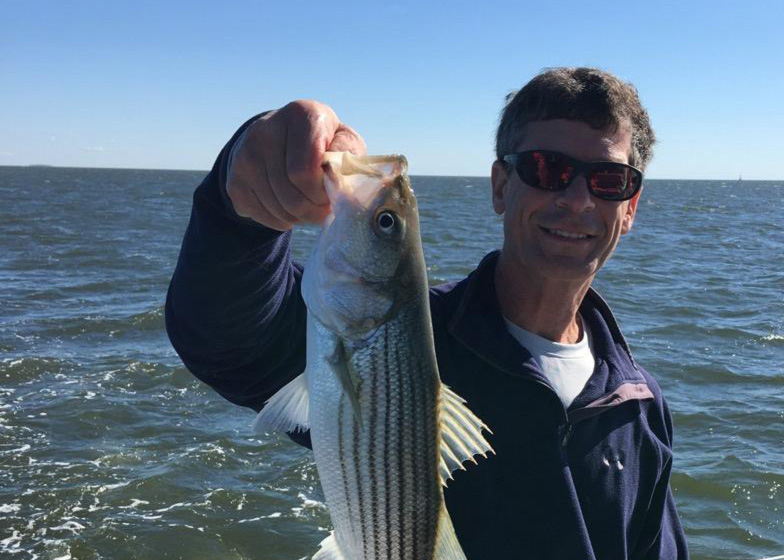 While trolling is great right now, the Tackle Box did mention that keeping an eye out for birds and igging under them is a fast way to land stripers. They haven't been shy to bite under birds. In all of the aforementioned areas, jigging has been successful for anglers who were able to locate a pocket of fish and stay on top of them. Five- and six-inch plastics in white and pearl on one-ounce heads have proven most effective, but when you get right over the fish, vertical jigging with spoons and resin spoons has also done the trick.
Specks are still in the lower portions of the Western Shore rivers, but are beginning to thin out. One reader reported that in the area of Gwynn, casting five-inch plastics produced more rockfish (including one slot fish) than specks for the first time in a long time. One 18-inch redfish also was in the mix.
If you're ready for a change of pace consider heading upriver, and targeting blue cats. Angler in Chief Lenny Rudow reports that catfishing for blue cats in the Potomac River in D.C. is absolutely off the hook right now, and in about six hours of fishing during the Fish For a Cure last weekend they caught over 800 inches of cumulative catfish on fresh bunker chunks and chicken livers. Pretty much everywhere they stopped with depths of 15 to 30 feet near the pilings of multiple different bridges produced plenty of bites, with the largest fish at 36.75-inches. Bloodworms and minnow also caught 'em, and a nice largemouth bass decided a bull minnow was too tempting to pass up, too. November is usually a great month for blue cats in many of the Western Shore rivers so if you want to feel their heavy tugs, now's the time to try for 'em.
---
Lower Chesapeake Bay Fishing Report, November 6 Update:
The Tackle Box let us know that it's a great time to be on the hunt for rockfish. Stripers are in the lower Potomac, and throughout the Chesapeake's channel edges in good numbers every day. Jiggers are doing well with six-inch white, chartreuse, and pearl Gulp! and BKD soft plastics, bounced off the bottom. However, most of the action in the Lower Bay is coming from trollers who are hitting the channel edges. The Tackle Box reported trollers using small umbrellas and 10 to 12 ounce inline weights have been catching keepers – sometimes two at a time. Some hefty rock have been hanging around the mouth of the St. Mary's River for trollers in both the shallows and on the 20-foot edges. As per usual, all boats on the water are advised to keep a lookout for breaking birds; some stripers under birds have been hitting 26 inches, with most of the keepers in the 19- to22-inch range and an oddball 30-plus fish showing up now and again. The larger fish have been found on bottom or away from the gulls, with schoolies up top. A few striper reports also came in from Cornfield this week.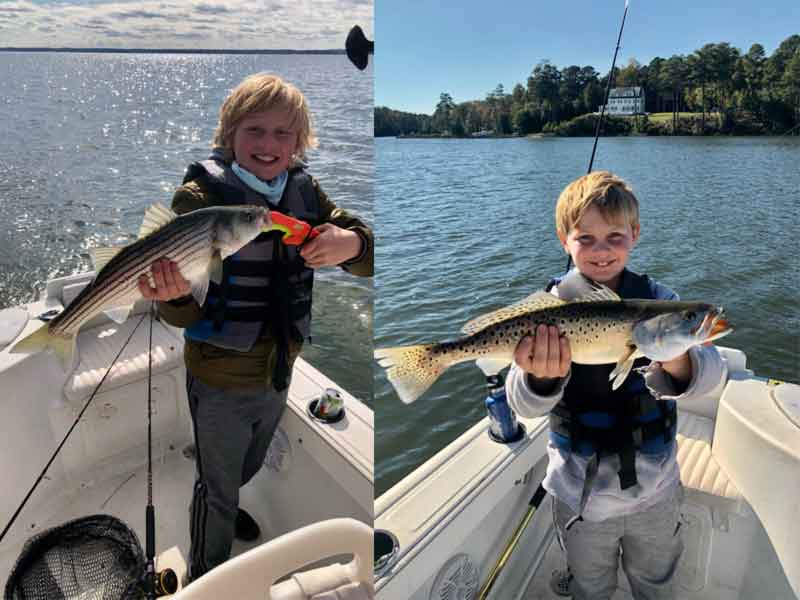 Areas to the north definitely seem to have better numbers of rockfish at the moment, and a couple of readers fishing the Rappahannock checked in to say that there were some slot rock in the lower portions of the river in 20 to 30 feet of water hitting plastics and spoons. Smaller ones were marked by birds at times, and larger ones were caught when spotted lower in the water column near bottom. Another fishing the same area but shallower waters reported a mix of striped bass and speckled trout. And a reader fishing jigs in the Piankatank reported doing better on specks than stripes, with five keeper trout up to 23 inches ending up in the cooler just before the big front passed through early this week. Hopefully, the unsettled weather didn't send them scuttling south and the recent warming trend will help extend the fall bit a little longer. Speaking of specks: southern areas have a better bite right now, with most of it concentrated on the eastern shore but plenty of fish on the west side, too.