Coastal Fishing Report, April 28 Update:
Although we heard tell of a handful of black drum caught in the surf this week, more recently, flounder have been grabbing the headlines. We had over a half-dozen reader check in after targeting the flatfish in Ocean City of Wachapreague, with reports ranging from one to six keepers in a day of fishing. In OC the Thoroughfare is the zone to fish and at Wachapreague, Green and Drawing channels. The end of the outgoing was reported to be best and minnow/squid on a Fluke Killer or Gulp! shrimp fished on a bucktail were the top offerings. The coolest catch we heard of from any flatfish angler, however, wasn't even a flounder…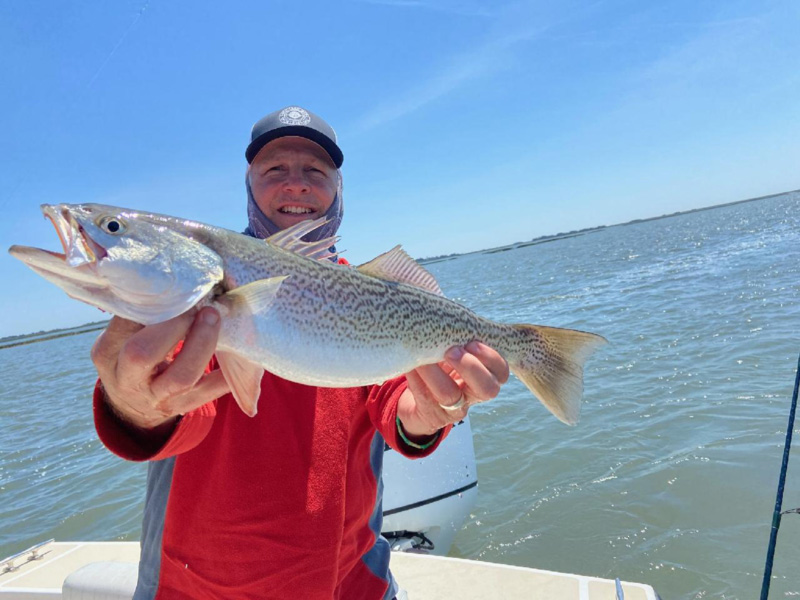 Other bites of interest for inshore coastal anglers: tautog are biting on sand fleas next to riprap and structure in Ocean City and although the vast majority are undersized, anglers sticking with it are weeding through to find a keeper or two. Better action on box-sized tog has been found at the CBBT (but more on that in the Way South Chesapeake Bay reports). Tog are also being caught at the Ice Breakers off Cape Henlopen, and Old Inlet is reporting that there are also a few (undersized) coming from Indian River. They also had word of the first panfish of the season in the surf, puffer fish and a few small kingfish. Small stripers are also making their presence known up and down the coastline both in the bays (mostly around the bridges) and in the surf, but the vast majority are in the 12- to 22-inch class. In the southern area of our range the first of the bluefish have begun to show up, along with a few sea mullet in the Virginia Beach surf and inlets.
Bigger tog are to be found outside the inlet, and Captain Monty on the Morning Star has reported some excellent days out of OC recently. He always like to remind folks about the tautog's unpredictable nature, but early this week his crew tagged and released 70 and threw back 40 more, on top of the fish they iced. Reports from Virginia Beach boats are much the same. However, Capt. Monty also notes that the Bureau of Ocean Energy Management has survey vessels off the Maryland coast in the vicinity of the Bass Grounds. In the past some of these ships have appeared to have a significant impact on the fishing in the immediate area (read the Mid-Atlantic Coastal Angler Alert for info on what happened in 2017). Thus far tog seem unaffected but when sea bass open up in a couple of weeks…
---
Coastal Fishing Report, April 23 Update:
Beautiful catches are coming out of the water close to shore right now. Black drum were caught throughout the week, with a dip in the action mid-week (surely due to the conditions), from the surf. There are also quite a few skates pestering anglers right now, stealing baits. Shark Whisperers guide Dave Moore reported hitting Assateague this weekend and despite tough conditions and winds upwards of 20 mph at times, he managed to land a 32-inch drum. He also hooked up multiple skate and a big smooth dogfish. He ended up moving to a more protected area on the bay side — where he landed half a dozen 15- to 16-inch tog!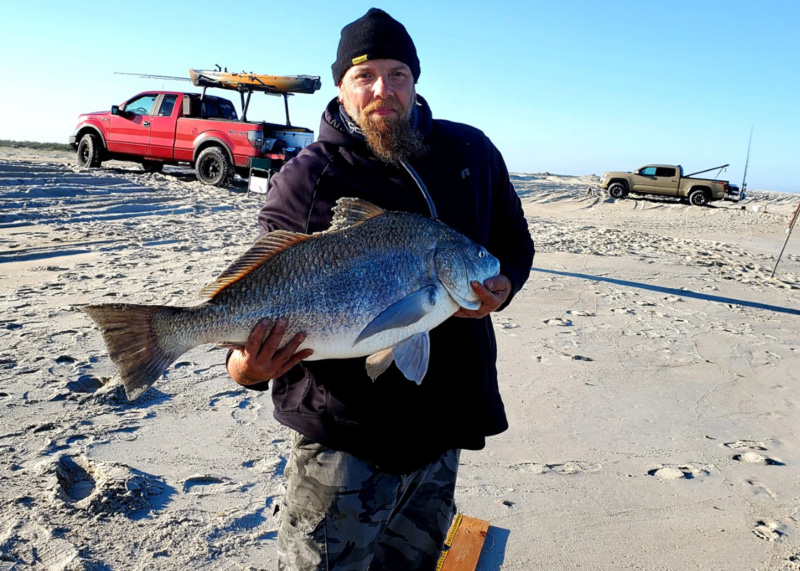 The Ocean City Fishing center reports that flounder are coming in. There have been plenty in the Thoroughfare, providing great action. They're also coming in through the surf, although less frequently. Solid reports of flounder action were also flowing in from Wachapreague and Chincoteague, although the bite dropped off mid-week when the big winds came up, riling the water and making fishing difficult. Just as soon as the waters calm down we'd expect that bite to be back in good form. Minnow/squid on Fluke Killers, and tandem bucktail rigs sweetened with Gulp! shrimp have been top producers.
Inshore, boats headed to the reefs are slamming tog all around the dial from Delaware to Virginia Beach. Capt. Monty noted seeing a 13.25-pounder come over the rail, and saw one significantly larger come unbuttoned. Plenty of 10-pound-plus tog have also come in at Virginia Beach.
---
Coastal Fishing Report, April 16 Update:
Reports are coming from Maryland south of black drum on the beach and at the inlets, being caught on whole clams and sand fleas. Angler in Chief Lenny Rudow reports that a foray to the suds of Assateague was productive on the first of the outgoing tide, casting sand fleas sweetened with a strip of orange FishBites crab flavor. When the tide switched to an incoming, lots of small rockfish plus some skates began hitting. But the best reports came from Chincoteague this week, where some anglers reported up to eight drum in a day of fishing with sand fleas and clams. No word of drum in the DE surf as of yet, but that's sure to change and by the time these reports go out we'd bet they've begun to show up at our northern beaches, too.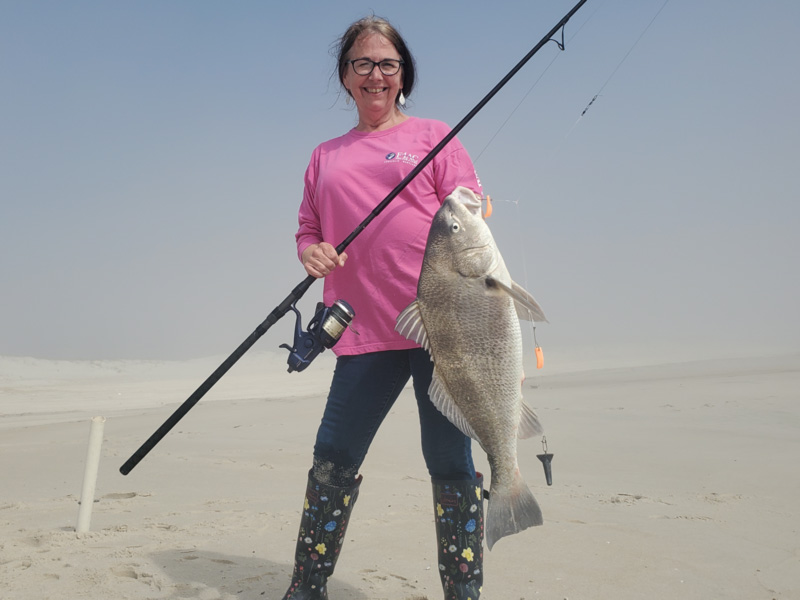 We whipped up this how-to video covering surf angling tackle and tactics while targeting black drum, for those who are interested but haven't given it a shot before:
Captain Monty on the Morning Star let us know that tog are still biting on the reefs, although the conditions have made precision anchoring difficult at times this week. They're also now beginning to show up at inlet rocks in both Indian River and Ocean City. Water temps in the inlets are hovering right around 50- to 52-degrees so this bite is probably just getting started and should pick up in the coming days and weeks.
Oceans East checked in to let us know that the redfish are still on at Rudee Inlet and they're consistently taking hard plastics. The bite has been fairly steady, and we're starting to see their expansion northward as the weather warms up. Redfish are being caught along with specks occasionally in Lynnhaven, where anglers are tending to utilize Mirr-O-Lures, a speckled trout favorite, to bring them in. Specks have also moved north and we had our first reported catch in the Pocomoke this week!
---
Coastal Fishing Report, April 9 Update:
Spring tautog anglers are finding plenty of fish to keep them busy at the inshore wreck and reef sites up and down the coast. The perennial crab baits dropped directly on the structure do the trick, limit catches were reported this week from every state in the DelMarVa region, and as the coastal waters warm up the sites closer to the beach are offering up plenty of fish eliminating the need for the longer winter runs.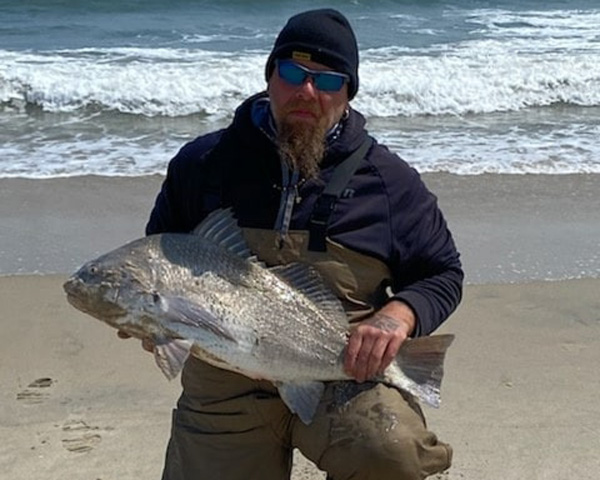 David Moore from Shark Whisperers Guided Trips checked in to let us know that black drum have been hitting strong this week on the Virginia side of Assateague alongside some small stripers. Moore reported heading out and getting two big drum, with people both north and south of him also bringing them of the surf. The OC Fishing Center didn't mention any in their report, but we also had one reader report a 20-pounder plus some small 20-inch rockfish from the Maryland surf.
The initial reports of flounder action in the back-bays have begun flowing in, with anglers jigging Gulp! Shrimp and Swimming Mullet in white and green catching a couple-few keepers in Wachapreague and Chincoteague. Sea Hawk reports they've heard of a few and Coastal Correspondent John Unkart checked in and let us know that the first of the season was also caught from Ocean City waters this week.
---
Coastal Fishing Report, April 2 Update:
Warm weather and beautiful skies allowed boats to travel out to the wrecks between gusts this week, where they were seldom disappointed. Captain Monty Hawkins on the Morning Star headed out early in the week to hit up the wrecks. After dropping a 20-reef block unit with some guest reef builders, they had a relatively slow morning until changing spots. The bite picked up, resulting in a few anglers onboard limiting. Boats running out of Virginia Beach are also on the tog bite, both at the wreck/reef sites and also at the CBBT where water temps are now in the pleasant (for tautog) mid-50s. While Captain Hawkins reported that some spots were kinder than others, they got bites at all. As is par for the course, crab baits are the ticket.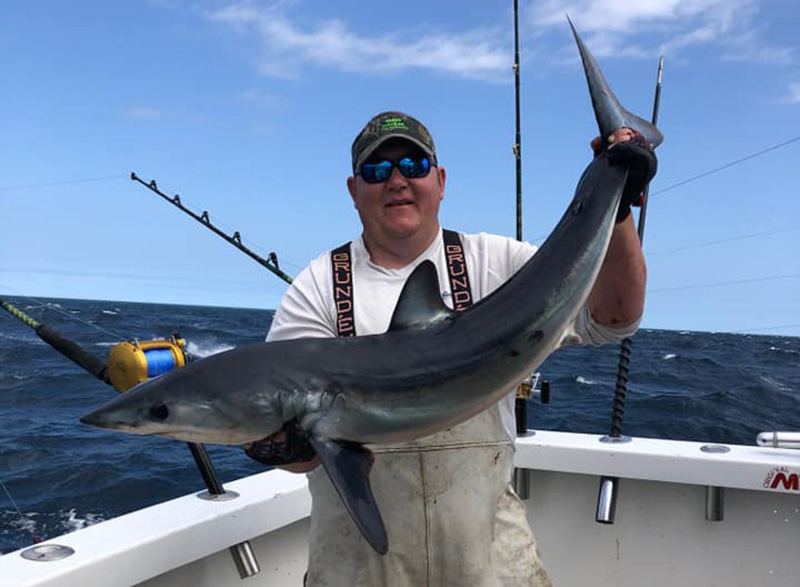 This week we heard our first solid reports of trolling for yellowfin with success — Ocean's East let us know that anglers who ran off of Oregon Inlet were hooking them up. While they're a little further south than we'd like, if you're itching to get out after true pelagics the run is worth it.
Coastal Correspondent John Unkart checked in to let us know that surf fishing in the region is once again a thing! The first black drum of the season have been caught from the beaches of Assateague, with a pair of keeper-sized fish being reeled up in the suds this week.