Coastal Mid-Atlantic Fishing Report, July 30 Update:
Tuna anglers are reporting mixed results, with some finding surprisingly large yellowfin up over the 70-pound mark and putting up to just over a half-dozen in the boat, and others coming up blank, between a mix of trollers and chunkers. The canyons have been offering a better bet than the inshore lumps recently and there have also been more billfish showing up in the past week to keep things active. The Washington was mentioned by a reader as a successful destination and the hordes of sharks that were making things difficult for a while seem to have dissipated. Most boats that aren't finding the tuna are using blueline tilefish as a solid backup plan and send squid chunks on meat-curtain rigs to the bottom to save the day.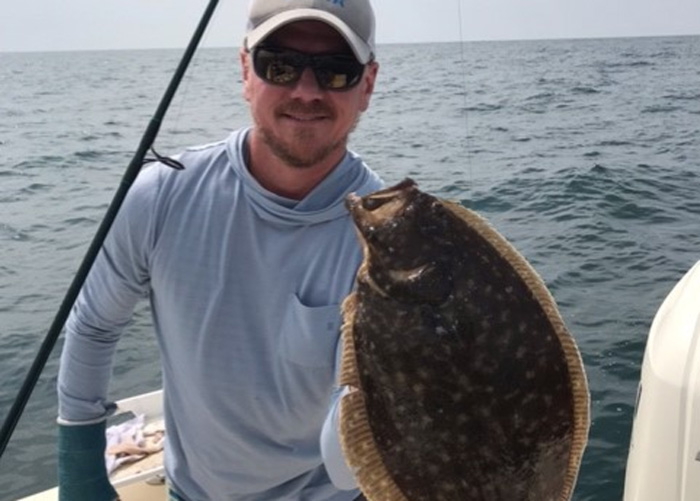 Captain Cook on First Light Charters reports that the flounder fishing at the Old Grounds is solid, with some quality fish coming into the boat for Delaware anglers. He also notes that night fly fishing trips are producing stripers plus some shad. Captain Monty is reporting good flounder on wrecks and reefs as well, but his headline fish remains the sea bass. The bass bite has continued to be strong, although he notes it takes moving around sometimes to find the willing ones. Same goes for the Virginia Beach fleet, which is also finding solid action on nice sized flatfish at the wrecks and reefs plus plenty of bass. Spadefish can be added to the list here, as they're now on just about all structure hitting clam bits in a chum slick; the Light Tower is the top pick for that species. Inshore trollers are focusing on either Spanish mackerel (mostly on spoons) or cutlassfish (mostly on plugs) from Cape Henry down off Sandbridge. Both have been on the plentiful side, with dozen-plus catches and mixed bags common. Spanish have also been reported off Fenwick Shoals.
In the back bays and surf snapper blues have begun to appear just about everywhere, but Old Inlet is reporting that most are very small in Indian River. However, croaker has been keeping bottom fishermen happy inside the inlet and also in the bay behind Ocean City. Squid strips on bottom rigs are the ticket. Dave from Shark Whisperers notes that sharks are around too and he got a 7.5-footer last week, plus small tog at the inlet rocks. Sheepshead were elusive, though. The best flatfish bite we heard of from the region's coastal bays this week was from Wachapreague, which seems to be enjoying a significant spike in the action recently; multiple limit catches including some three and four pounders are being reported.
Reports from the surf are of so-so action with most of the bites coming from a mix of spot and kingfish on bloodworms or Fishbites. Small blues are also in the mix when the spot are returned to the water in chunk form on Doodlebug rigs.
---
Coastal Mid-Atlantic Fishing Report, July 22 Update:
Offshore, the tuna bite has been iffy with some days solid, others slow, and anglers protecting their numbers, but many are coming back with one to five fish including some large yellowfin in the 70-plus-pound class. There's a mix of chunking and trolling going on, and the Talkin' Trash also encountered a big blue marlin at the canyons this week. The Virginia Beach fleet seems to be getting better numbers of tunas on average (we heard of one boat tossing a dozen-plus onto the dock), however, is also still facing shark issues and reeling in bloody tuna heads with some regularity. Everyone seems to agree that the daybreak bite is the best and leaving the dock uber-early is a critical component to success right now. Mahi are popping up as well but their numbers have been on the thin side for this time of year, all around the dial.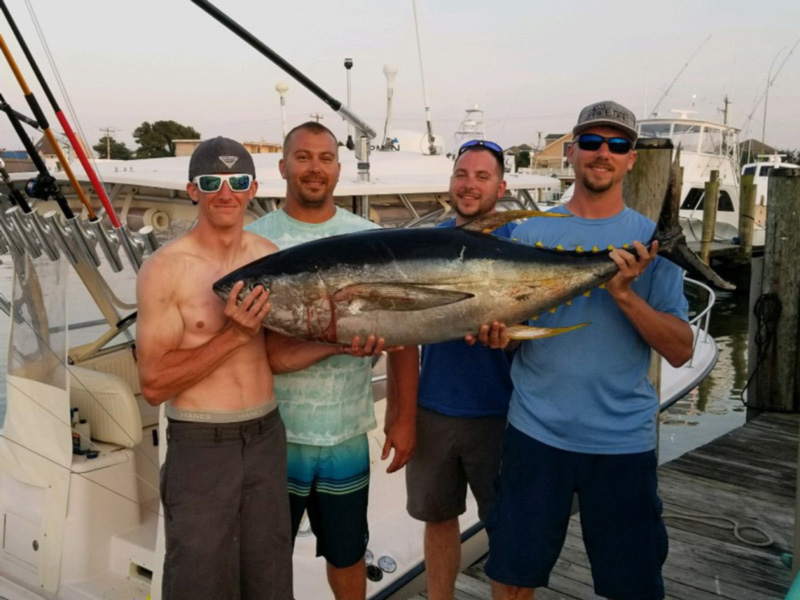 Captain Monty on the Morning Star out of OC reports decent sea bass fishing and good numbers of flounder around the inshore wrecks and reefs. A dedicated flounder trip over the weekend produced a few limit catches and at least some keeper flatties for those aboard. Trollers have found that Spanish mackerel and snapper blues are at Fenwick Shoals. Virginia Beach inshore boats are catching plenty of sea bass and flounder as well, and some amberjack have also popped up over the wrecks. Those focusing on trolling spoons behind planers have been picking up large numbers of Spanish mackerel and cutlassfish. From Sandbridge up to off Virginia Beach has been a good zone for the trollers.  
Readers fishing the bay behind OC report that sand fleas cast near the rocks and bridge pilings for sheepshead were producing mostly small tautog, with small rockfish also active in the area. Flounder fishing has been up and down, with some folks catching nice sized fish and others saying they caught plenty, but only throwbacks. Wachapreague has had better reports, with multiple doormats brought in this week. Squid strips on the drift and soft plastics bounced off bottom are doing it for the flounder. 
Coastal correspondent John Unkart continues to work the Assateague surf and early this week experienced much improved conditions, and a much-improved bite. Spot became thick enough that casting Fishbites into the trough produced double-headers (some bait size and some eating size) at times, and kingfish (roundheads) were also biting strong. 
---
Coastal Mid-Atlantic Fishing Report, July 16 Update:
There are rumblings of some bluefin on the inshore lumps, a nice surprise since they've been MIA for some years now. Most folks have remained tight-lipped about them, though, and the most intel we managed to uncover was two readers who confirmed that yes, they did catch one "or more." Kevin Mcmenamin made it offshore to the Washington on the Heat Wave captained by Dale Dirks this week, and reported that despite multiple tuna hook-ups, hammerhead shark attacks on their catch made it exceptionally difficult to boat the fish and the crew had nine bite-offs (ouch!). Other boats in the area reported boating one out of six tuna they hooked up on due to shark losses. Some boats farther north had better luck with some very large yellowfin in the 70-pound-plus class meeting the gaff.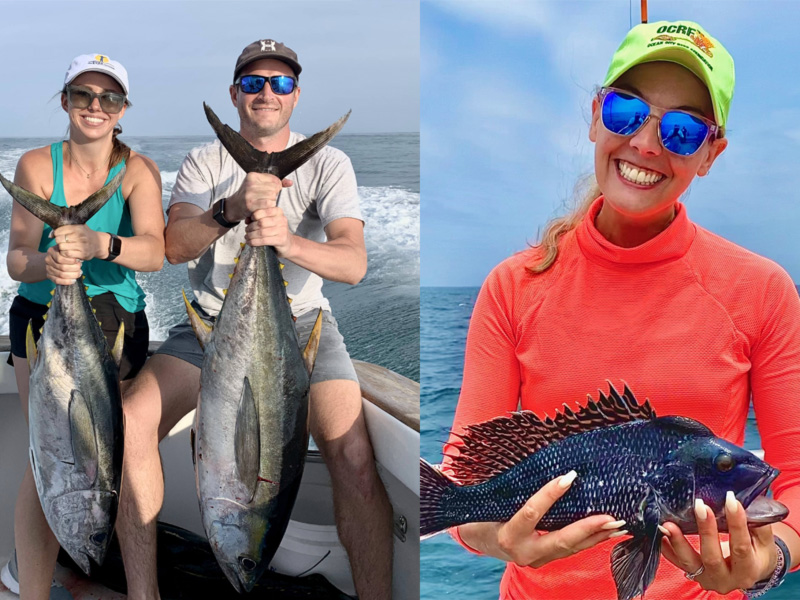 Inshore, sea bass action hasn't let up and there are flounder in the mix on the reef and wreck sites up and down the coast. Virginia's inshore fleet continues to enjoy solid and sometimes epic mackerel action trolling spoons off the beach, with Sandbridge a hot zone. There are also consistent reports of spadefish at the light tower. There are ribbonfish throughout the area as well and the ones being caught outside the Bay are as a rule significantly larger than those being found inside.
Coastal Correspondent John Unkart reports that the Assateague surf has cleaned up a bit since all the wind, but the water's still been on the dirty side and the bite was still on the slow side this week. In fact, despite casting from Assateague through several sunrises the total catch hadn't been sufficient to make up a decent dinner right up until Thursday, when improving water quality led to a better catch of kingfish and spot. That lines up with Dave Moore's report of "challenging" conditions recently. He did note that there are plenty of (short) schoolie stripers in the bay behind Ocean City, plus some flounder, and he saw sheepshead landed as well. Sand fleas and green crab were good baits for 'em. The Ocean City Fishing Center echoed this, reporting that the back bay has produced reports of flounder and striper catches, but the surf has been tough. They did hear of a few guys that enjoyed catching enough croaker for dinner in the bay.
---
Coastal Mid-Atlantic Fishing Report, July 9 Update:
While winds have forced many anglers in small boats to stay in port recently, reader reports from those who have made it out to the deep prior to the gusty conditions indicate that some of the tiny tunas making up so much of the catch last week had grown up a bit. They're still mixed in, but three or four larger fish coming to the gaff per day on average have also been reported. South would seem like a good bet, as the reports coming from Virginia Beach were better than those from OC early in the week and included a bigeye here and there as well as larger numbers of keeper yellowfin. However, with the storm Elsa passing through, you can bet that the offshore deck will be completely shuffled — all bets are officially off.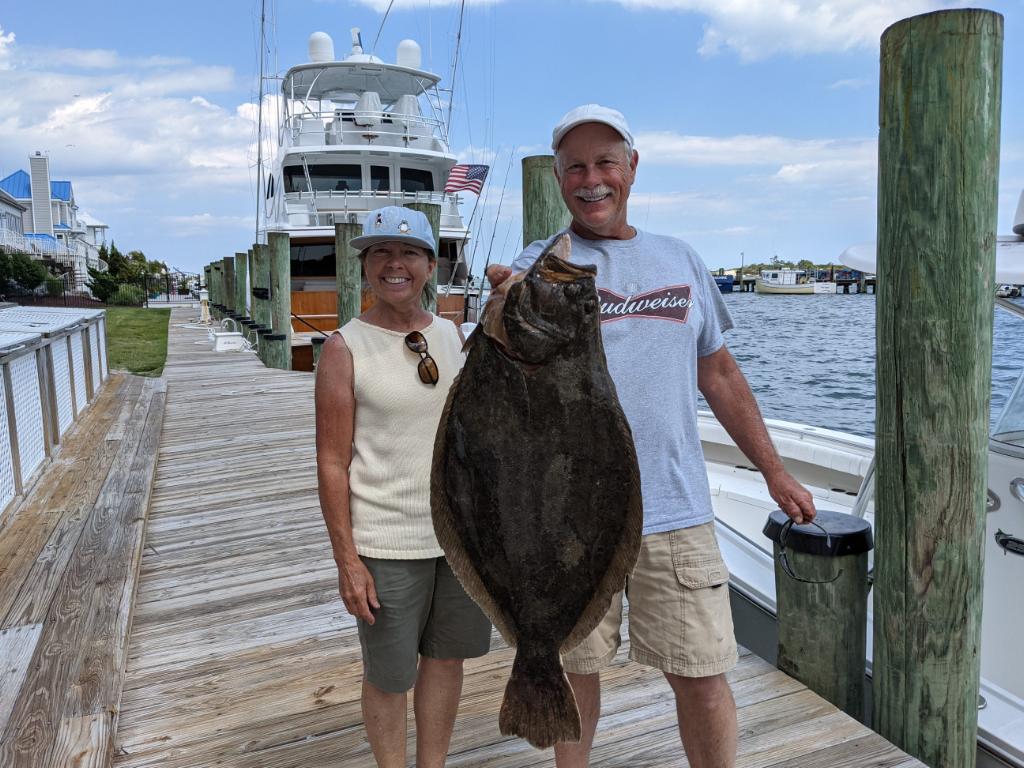 Captain Cook of First Light Charters says the flounder are biting good off the Delaware coast on the wreck and reef sites out of Indian River when you can get out and the conditions are right, but there's been plenty of wind recently and sometimes when it's going against the tide fishing has been a problem. There are also flounder being caught on the reefs off VA. Sea bass are doing great, too, and Captain Monty has been seeing plenty come over the rails of the Morning Star including some limit catches and some very chunky bass. The Ocean City Fishing Center confirmed both of these points, mentioning that the sea bass season has been as productive as they've seen in recent years. Not only are they hearing of greater flounder catches than expected, but many have been doormats including some caught recently in the bay. We also heard from a reader who said the same, noting he broke off one that looked to be around six pounds at the side of the boat.
Surf report: Dave at Shark Whisperers says the winds have been making the surf muddy at times recently, but a few kingfish are still being caught. Fishing the OC inlet area on a yak, short stripers were hitting in good numbers after dark and on half-ounce jighead with white six-inch plastics. The Ocean City Fishing Center added that croaker are anything but scarce, and many guys and gals who lugged a bottom rig into the surf were pulling in plenty. Many were itty-bitty, but eaters are mixed in.
Inshore off Virginia, Sandbridge has been the zone to look for the mackerel and there have been plenty. Catches of dozens at a time are coming in for those pulling small spoons, with some blues and ribbonfish in the mix at times. Also, the folks at Ocean's East are reporting good spadefish action at the light tower.  
---
Coastal Mid-Atlantic Fishing Report, July 2 Update:
Angler in Chief Lenny Rudow reports that a trip to the Washington on the Heatwave last weekend provided lots of action with better than a half-dozen strikes trolling for yellowfin, but some were misses, many were undersized fish, and only one keeper met the gaff. Other boats in the area had up to three in the box and boats fishing farther north also found plenty of small ones, but a slightly better ratio of keeper yellowfin and some larger fish in the mix. A drop for blueline tilefish in 300 feet proved very productive, with five fish breaking the 10-pound range (topped by a 13.5-pounder).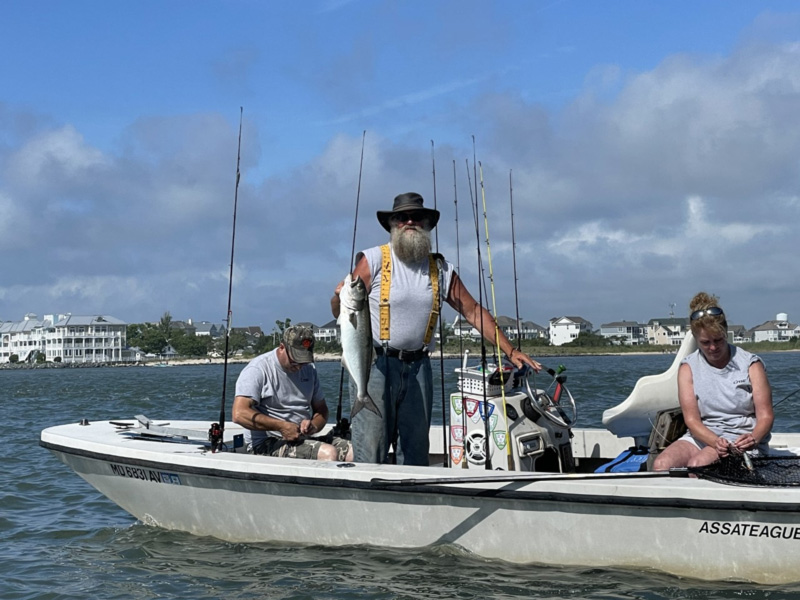 Reports from the OC Fishing Center are similar, noting that the canyon bite is iffy for tuna, with mostly undersized fish. They didn't hear much in the way of mahi, either, though they did note more tilefish hitting the docks maybe since many anglers chasing tuna have been resorting to Plan B.
There are also plenty of tilefish coming into the docks at Virginia Beach, but a better take of larger tunas including a 207-pounder caught in the Virginia Beach Tuna Tournament last weekend. A few larger dolphin have come in as well, though no real monsters (the tournament's largest mahi was 22.7 pounds). Inshore in Virginia's coastal waters there's also a great trolling bite going off, with lots of Spanish mackerel and schools of ribbonfish also in town. Off Sandbridge has been noted as a hot zone for the macks.
In the bay behind OC there are now some hefty chopper blues swimming around, and FishTalk's own Zach Ditmars found a 9.85-pounder (live-lining) to win the "big fish" Calcutta in last weekend's Fish N Paddle Slam. Several others in the 10-pound range were caught in the vicinity of the Rt. 50 bridge, but the flounder catch was thin with only a few throwbacks and fewer keepers hitting the decks.
Dave Moore from Shark Whisperers says there's not a lot to report from the beach due to rough surf conditions recently and last week was slow, though last Wednesday he managed to catch a 79-inch blacktip shark that looked to have been in a fight with something bigger, a few kingfish, and snapper blues. The Fishing Center said much the same although they did have some croaker in their report. Contributor John Unkart also hit the beach (at Assateague) with disappointing results this week, working hard to put a few (nice) kingfish into the cooler.