Coastal Fishing Report, June 24 Update:
Reader reports continued to come in of yellowfin at the Poor Mans on spreader bars and ballyhoo over the weekend, although tough weather early in the week ended the flow of intel abruptly and may have shuffled the offshore deck a bit. Meanwhile, the bluefin bite just inside the canyon seems to have more or less dried up. The best tuna bite was early, with boats leaving the dock at zero-dark-early sometimes hitting double-digits while those arriving after 9:00 commonly had a couple-few catches to show for their efforts. The Ocean City Fishing Center doubled down on this report, mentioning that they haven't been seeing nearly as many boats returning from the canyons with bluefin. Yellowfin were more common, although their bite has hinged on weather conditions. They said a couple of chicken dolphin did pop up this week as well, and the occasional golden tilefish was landed.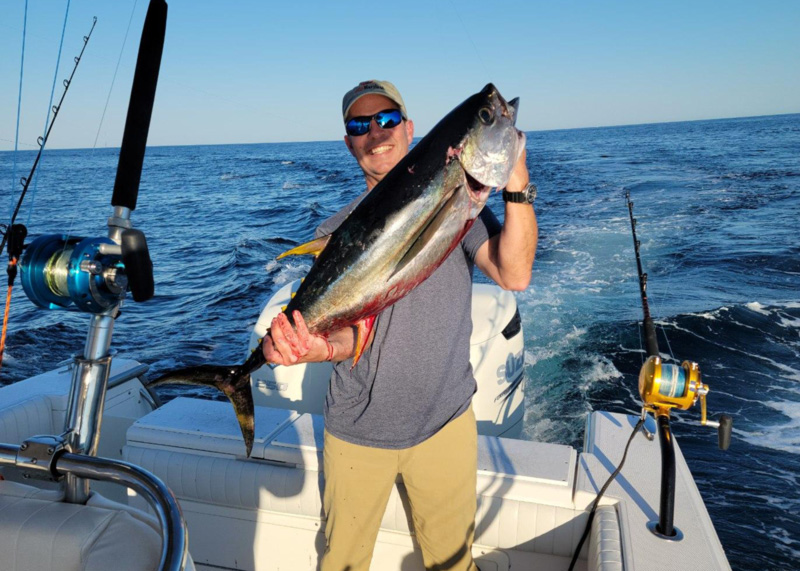 The Fishing Center was also quick to reassure anglers that there should be an excellent sea bass bite inshore on the wrecks — they said that of all the boats headed out, those fishing for sea bass easily were doing the best. This could be because the weather offshore was just bad enough boats weren't willing/able to make the run, or just another great week of wreck fishing. Capt. Monty on the Morning Star confirms the sea bass intel, and when the winds have chillaxed enough for him to get out, limit catches are not unusual. A few flounder have begun popping up on the wrecks, too.
Inshore anglers along the VA coast are making excellent catches of Spanish mackerel on spoons when the weather cooperates, with multi-dozen fish catches fairly common. Some ribbonfish are also in the mix but there does seem to be a strange rarity of blues.
Kingfish, small bluefish, and the occasional flounder were all available in the surf throughout our range this week on bloodworms or FishBites. Spot are also abundant and can be recycled as bait for the bluefish.
In the inlets from Indian River clear down to Rudee drifting squid is producing flounder. There's also continuing talk of keeper stripers caught at night from Indian River by those fishing live eels.
---
Coastal Fishing Report, June 18 Update:
Yellowfin are in, and bluefin are… still in! We had a couple of reader reports of mixed catches made this week, with (mostly relatively small but keeper) bluefin inside the Poor Man's and Wilmington, and increasing numbers of yellowfin hitting just a hair deeper out in the canyons. Most of the catches weren't epic (four or five fish being about average) but it's great to see the catch of overlapping species. Some anglers who arrived early and focused solely on the yellowfin did stack bigger numbers with over a dozen for a few boats. Spreader bars and skirted ballyhoo were the hot offerings for both species. The Ocean City Fishing Center echoed our reader reports, mentioning again that the bluefin have been on the smaller size. The good news is that most boats were hitting the docks with something in their fish boxes, one way of the other. Reports from Virginia Beach and the Washington and Norfolk are of yellowfin and more yellowfin, also out in the deep. A few nice mahi-mahi have popped up recently, as well.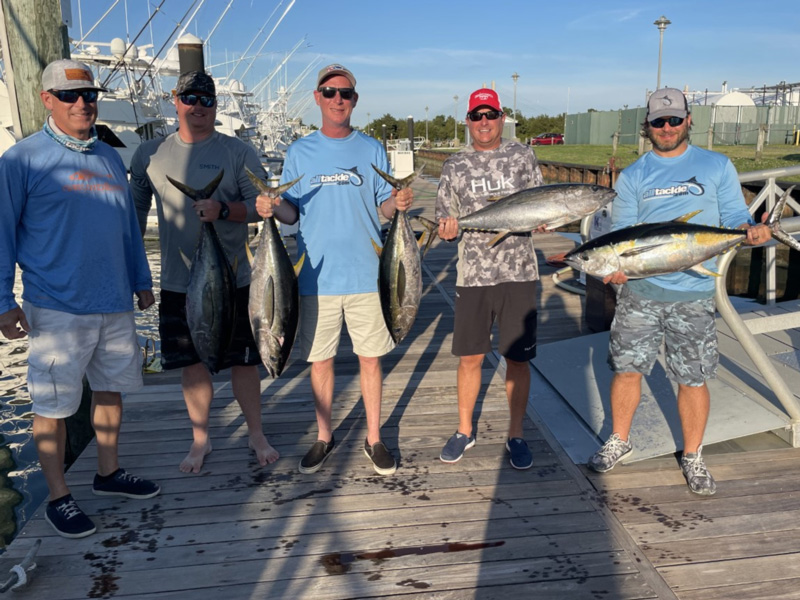 The Fishing Center also had reports of golden tilefish throughout the week, ranging in size. They've been an alright backup plan if there's a strikeout tuna fishing or if you get your bluefin and then feel the urge to crank something up from the deep. Plenty of tilefish have also been coming into Virginia Beach, both bluelines and goldens.
Captain Cook of First Light charters reports that up in Delaware waters the best sea bass bite is now a bit farther out from shore but the good news is that flounder have started showing up at the wreck and reef sites. He also mentioned that night fishing trips fly fishing for stripers out of Indian River have been productive.
Coastal correspondent John Unkart reports that surf fishing took a bit of an unexpected turn this week, with a major calico crab invasion in the suds of Assateague. Kingfish and spot were still present and hitting, but the crabs were stripping his bloodworm and Fishbites bloodworm flavor baits from his hooks in five minutes flat. The Ocean City Fishing Center also mentioned that the kingfish bite has been good, and said that some small croaker were in the OC surf as well this week.
Inshore trollers along the Virginia coast are now calling the numbers of Spanish mackerel thick, with some boats pulling spoons and planers picking up several dozen in a day plus some bluefish mixed in. On the nearshore structure, spadefish have also move in in a big way for anglers chumming clam and fishing small bits. Some of the spades caught lately have allegedly been monsters.
---
Coastal Fishing Report, June 10 Update:
Multiple reader reports have come in from Indian River, Ocean City, and Virginia Beach of bluefin smacking spreader bars and ballyhoo just inside the canyon edges. Poor Man's canyon was mentioned as a top pick multiple times, but don't forget that these fish are moving north and could quickly relocate at any moment. Boats heading south have also picked up yellowfin and a rare bigeye here and there. As was the case last week, many anglers are catching their small bluefin (finding the "overs" has been more difficult) and then switching over to deep-dropping squid chunks for golden or blueline tilefish, with excellent success reported on the tiles as well. We also had a report of some exceedingly nice bluelines coming in to the docks, in the 10-pound range. The Ocean City Fishing Center backed this up, reporting that boats hitting the docks were coming in with small bluefins when they arrived. Although the bite is good, most fish are undersized. A few reports of yellowfin came in this week too, a mixed bag regarding size. The Fishing Center also confirmed that the blueline bite is on fire. They saw great numbers of them this week, and plenty of large fish too. The Center also had reports of multiple species of shark caught and released this week.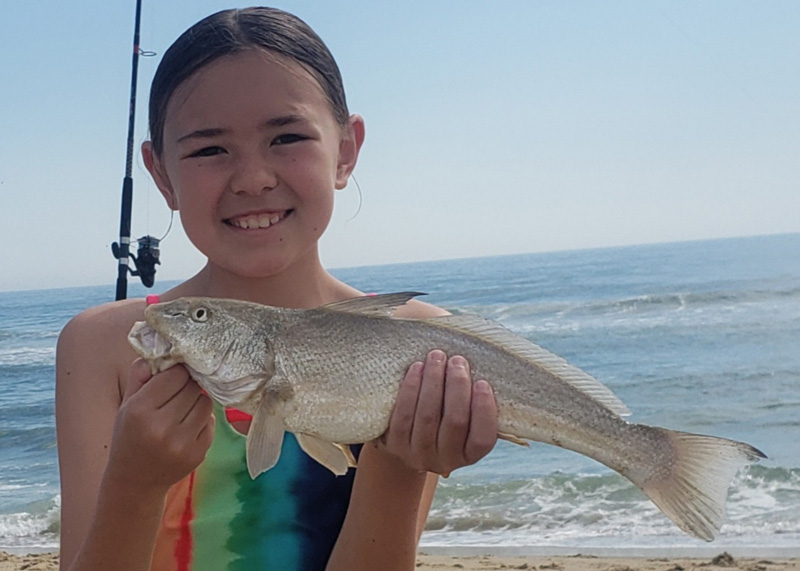 Surf fishing has gone from excellent to… well, excellent! Kingfish (roundhead) have been reported in solid numbers by anglers casting bloodworms and Fishbites bloodworms up and down the beach, from Delaware clear down to the North Carolina border — and some have been exceptionally large for the species. Spot are mixed in and surf casters chunking up the spot and sending them right back out into the breakers are catching snapper blues as well. Coastal contributor John Unkart checked in from Assateague as we put the reports together, with a full bucket of kingfish. Dave from Shark Whisperers reported action much the same plus bull, sandbar, and sand tiger sharks, noting that he had three tagged sharks up to the surf line this week. In Virginia Beach at the fishing pier, similar catches of kingfish are being made with the addition of good numbers of Spanish mackerel sometimes marauding through.
News Flash: The Virginia Beach Fishing Center reported that spadefish are ON! They're around in healthy numbers and multiple anglers were bringing in impressive catches this week. They also had breaking news in the Spanish mackerel department, as anglers consistently caught them on the troll this week and while most weren't fatties, the pickings sure weren't slim.
The OC Fishing Center is also reporting a steady flounder bite in the OC bays. It isn't great, but anglers are catching them with the frequency we've been hoping for. Doormats are not common, but plenty of dinner-plate-sized fish are heading out of the water. They reported that drifting squid chunks is the hottest way to go after them right now, followed by bouncing pink or white soft plastics along the bottom. A few flounder reports have also trickled in from Indian River, where Old Inlet suggests fishing close in to the rocks. There have also been some croaker reported there, plus some stripers for those eeling at night.
---
Coastal Fishing Report, June 4 Update:
Coastal correspondent John Unkart has been caching a nice mix of panfish while surf fishing, consisting mostly of spot, kingfish, and ocean perch, on Fishbites bloodworms. Putting the spot right back out there past the second bar has resulted in sharks. Speaking of sharks: Dave Moore of Shark Whisperers had more sand tigers to report this week along with some bigger sandbar shark in the five-foot range. Kingfish have been biting as well, and he said he had good friend Bill Greenwood of Pottsville, PA out last week and he also caught and released a striper that measured in at 47 inches.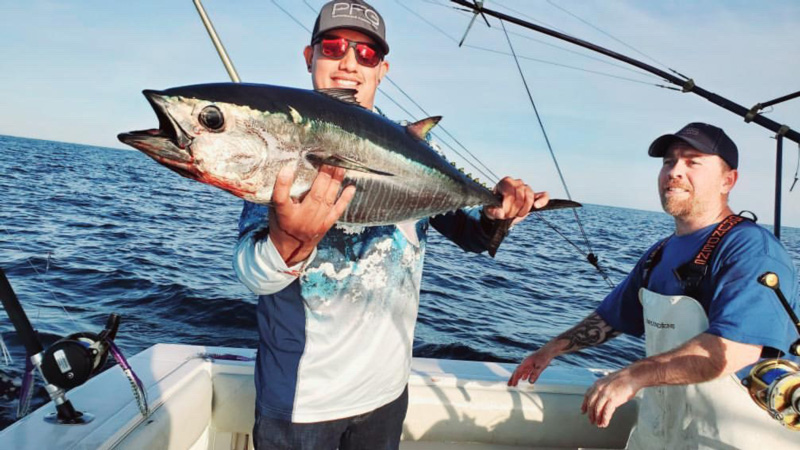 The Ocean City Fishing Center checked in with some exciting news — the bluefin bite is on at the canyons. Plenty of boats hit the docks with their legal limit, and reported catching enough bluefins that they could be choosy about what was kept. They also reported that the size of fish was a totally mixed bag, ranging from measly to Facebook-worthy. Most of the reader reports that came in backing this intel up were of generally small to medium fish in the 30- to 40-pound range, and at least a half-dozen readers reported finding them just inside the canyons in the 100-fathom zone. One reader also pointed out that they were feeding on small squid (noted after the fish began reintroducing said squid to the atmosphere, shortly after being gaffed).
With the bluefin tending to bite fast common practice recently has been to catch 'em then shift to deep-dropping, and quite a few golden tilefish were also landed this week. Some boats reported bringing their full limit of eight aboard.
Offshore anglers down the coast in VA are running in a more southerly direction and picking up yellowfin, including some very nice fish over the 50-pound mark. Most boats successfully targeting them are scoring four to eight fish and a couple of bigeye came in to the docks this week, as well.
Back inshore, the seabass bite was absolutely on fire off DE and MD (VA remains closed until the 16th). Multiple boats reported limit days, including the Morning Star. Captain Monty Hawkins reported that they even returned to the docks on time at least once this week. VA inshore anglers, meanwhile, are still keeping themselves plenty busy; Spanish mackerel have arrived in numbers increasing by the day, and a number of catch-and-release anglers have been enjoying cobia action.