Coastal Fishing Report, May 28 Update:
Coastal Correspondent John Unkart reports a fast-paced panfish bite has popped up in the Assateague surf, with dozens of kingfish, blowfish, some small gray trout, and even a nice speckled trout munching on his fresh-cut spot and Fishbites bloodworm baits. He noted that at times the bite was so fast-paced he couldn't even run two rods because by the time he made it back to the rod holder after a cast, there was a fish on the line! The Ocean City Fishing Center confirmed this, noting that while the offshore bite has been lackluster aside from the scattered boats heading out for mako sharks, the surf bite is stealing the show.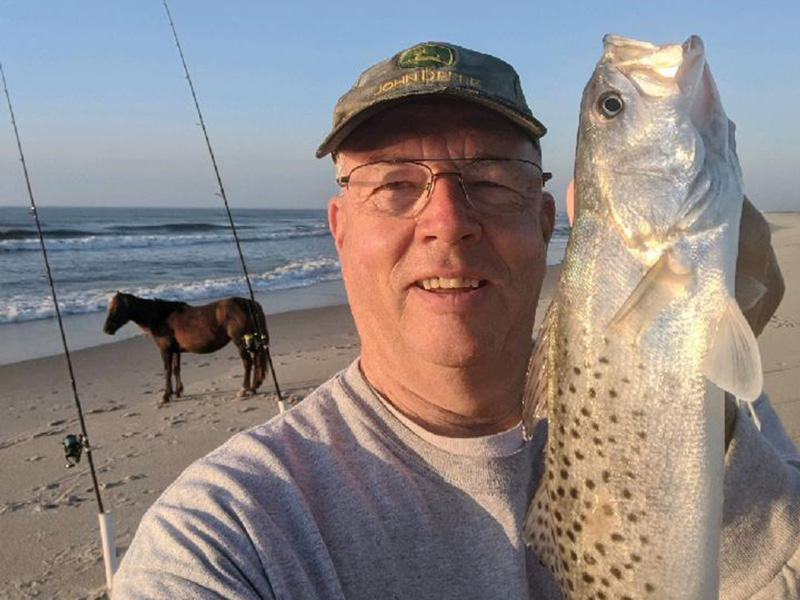 Inshore, tough conditions made for a slow week of sea bass fishing. While boats that made it out were able to land them, and Captain Monty on the Morning Star has reported some of his anglers limiting out and others taking home decent coolers, rocky water made trips difficult at times. Meanwhile, the cutlassfish binge that popped up last week calmed down, and just a few were caught this week. On the plus, the OC Fishing Center reported that *most* boats returning had fish on board.
The first of the tuna have come in at Virginia Beach, but as of this past week it took long runs to the temp breaks and the best bite is yet to come. Deep-droppers are doing well on tilefish, however, and much of the attention of anglers has been drawn away by the schools of big bull reds prowling just off the coast from Ocean View to the Bay; cobia are showing up on the ocean side now as well.
---
Coastal Fishing Report, May 21 Update:
The striper bite that flared up in the surf late last week died down a bit, and at least one crafty angler (Dave Moore of Shark Whisperers guide service) took it as a sign and tried night fishing with big baits — resulting in three nine-foot sharks tugging on the line in a big way. Kingfish are also being reported in the surf now, on bloodworm bits and Fishbites. The OC Fishing center also let us know that some flounder, skates, and small bluefish came out of the surf and bay this week. Flounder were hitting drifted squid chunks, often coming up between 17 and 22 inches. They've been consistent in size and seem to be moving up the Chesapeake as well. They're also available in inlets and the back bays, where there are also plenty of sub-legal rockfish, though we didn't hear about a consistent stand-out bite this week. We did get a check-in from Captain Cook of First Light, who says that in Indian River he's been more focused on the fly and light tackle striper bite going off after dark. He also noted that sea bass are active on wrecks in about 120 feet of water.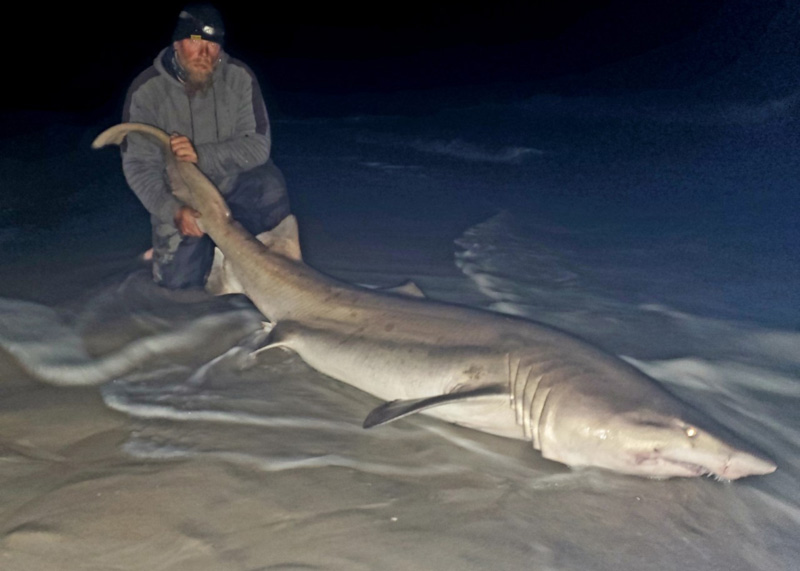 Speaking of the inshore wrecks: tog are out and sea bass are in. Preliminary reports from Captain Monty Hawkins on the Morning Star let us know that the wrecks became littered with an explosion of cutlass fish off the Maryland coast this week. While they certainly disrupted the fishing for sea bass, they added an interesting type of tasty bycatch and by no means shut the other species down. After wading through the cutlasses, his crew was able to secure a near-limit of sea bass by the end of the day.
For offshore, the OC Fishing Center didn't have much to report. Catches have been slow and until this week, few boats have been heading out. There have been a few mako reported and some of the folks heading out to the deep have been reeling up quality tilefish, both bluelines in the 300 to 350 foot range and goldens out deeper; reports coming from Virginia are much the same.
---
Coastal Fishing Report, May 14 Update:
While blue waters are quiet as of yet, the surf bites are heating up! Coastal Correspondent John Unkart checked in to let us know he landed a beautiful 46.5-inch striper last weekend during the dead low tide in Assateague surf. Flounder, blues, and even a shad were in the mix. The rockfish was tempted by a sand flea, which has also been a popular bait for black drum. Then mid-week this week he picked up a pair in the mid-30s rock followed by a 40-incher, on peeler crab chunks. The drum bite continued to quiet down this week, although a few were still being caught. While stripers and drum are a favorite target right now, other reports indicate that the surf also is producing a few flounder, skate, bluefish, and even a kingfish this week. Flounder are hitting squid strips, and bluefish are stealing cut baits (like usual). Most of the blues reported this week were small, with the occasional outlier. In the coming weeks we're hoping to see more move up the coast, hopefully alongside some extra founder. Still, not all is sunshine in the surf. When Angler-and-Chief Lenny Rudow headed down to Assateague with daughter Mollie, Finn the fish-dog, and dinghy-sailor Ryan, they struck out and despite fishing alongside our Coastal Correspondent, the day produced only one skate.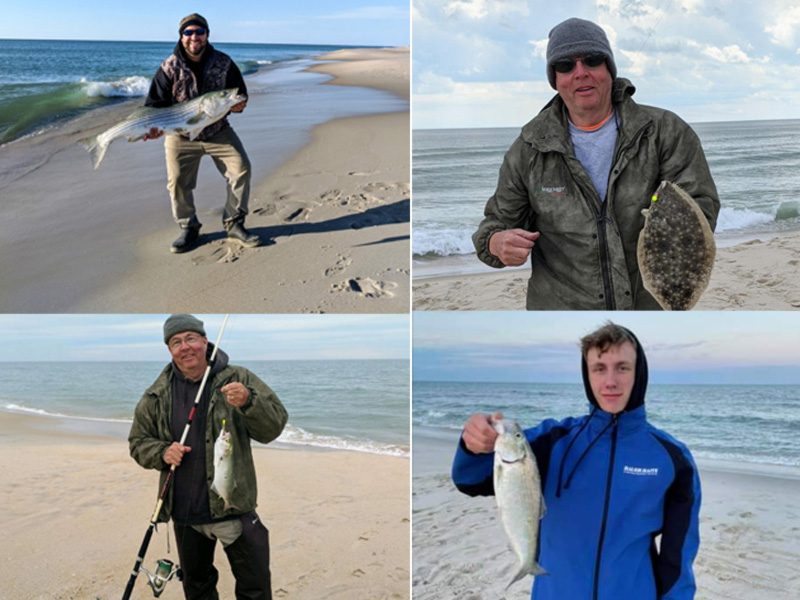 If you're in OC and itching to catch a striper, they can also be found around the route 50 bridge. Soft plastics and Roy Rigs are getting them biting. Some keepers are coming out of the water there among the many throwbacks, and the bite is more reliable than in the surf. Additionally, shad are hanging around the inlet.
At the wrecks, tautog (which closes Sunday) has slowed down quite a bit. Anglers who headed out this week reported lower catches than usual and slower days. We haven't heard of anything exciting happening offshore as of yet and neither had the OC Fishing Center when we checked in with them. Reports from Virginia indicate that there are still black drum moving through some of the inlets and a report from Wachapreague stated there were few boats out, and dogfish, skate, hake, and croaker were in the mix along with the flounder. Few boats are making limit catches of the flatfish but most are getting at least a couple-few per outing.
There have also been a number of reports of small weakfish being caught in the VA and MD surf and in multiple inlets. Most of the catches have been incidental by anglers searching for other species, fishing peeler crab or bloodworm baits. It sure would be nice to see this species bounce back!
For those who tried to tune in to Live With Lenny last night we apologize for the technical difficulties, evidently we broke the internets. The show has been rescheduled for next Wednesday evening at 5:00 p.m, when we'll have a striper season update and discuss targeting invasive species like snakeheads and blue cats with David Sikorski from the CCA.
---
Coastal Fishing Report, May 7 Update:
Anglers enjoying some surf fishing continued to have the drum bite this week, although it has dropped off. Soaking clams and crab baits is common and producing the fish. Multiple anglers reported catching bluefish in the Virginia surf — in the next week, we should see them moving into Maryland waters, and soon after Delaware as well. Stripers are also popping up in the suds up and down the coast and though the vast majority are short, we did hear of a couple of keepers this week. There's also an abundance of skates in the surf right now!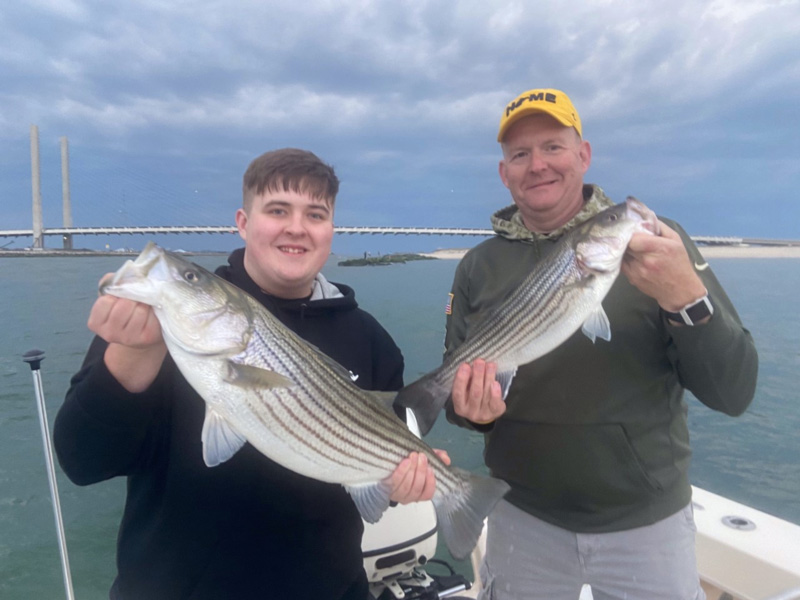 At the wrecks, tog are in abundant supply. Boats that hit the inshore wrecks reported some great days as we approach the end of the spring season. Even when the fishing was slow, multiple boats reported that they were still catching steady. Captain Cook on First Light Charters also reports that striper night-fishing trips in and around Indian River are proving successful, with some shad (which have also been reported at the OC inlet) in the mix for anglers casting fly gear.
Flounder are making their spring invasion along the coast. Anglers hitting the bays and inlets are enjoying a steady bite when the conditions are right and less action when they are not; a few are also coming off the close wrecks and surf. FishTalk team member Zach Ditmars is currently at Wachapreague and after arriving late yesterday they saw one keeper fish enter the box. As of an 11:00 check-in, this morning had produced three more keepers and a throwback plus some hake between two boats, but he reports that dogfish are getting in the way, too. We had a reader check in earlier this week and report that when the waters were riled by the winds fishing was tough, so focusing your efforts when the winds are down and the water is clear counts. Drifting squid strips is frequently being employed.
While we didn't get any reports of offshore action as of yet this week, we do want to note that NOAA has announced a change in bluefin regs running through 2021: rec anglers will now be allowed two fish at 27 to 47 inches, and one fish 47 to 73 inches.