Coastal Mid-Atlantic Fishing Report, October 29 Update:
Hi FishTalkers – due to excessive winds throughout the region much of the week, most of this week's reports date back to Monday or last weekend. The OC Fishing Center reported that rough weather made it tough to get offshore this week, but they did hear from a few boats that hit the docks with tilefish and straggler yellowfin early this week.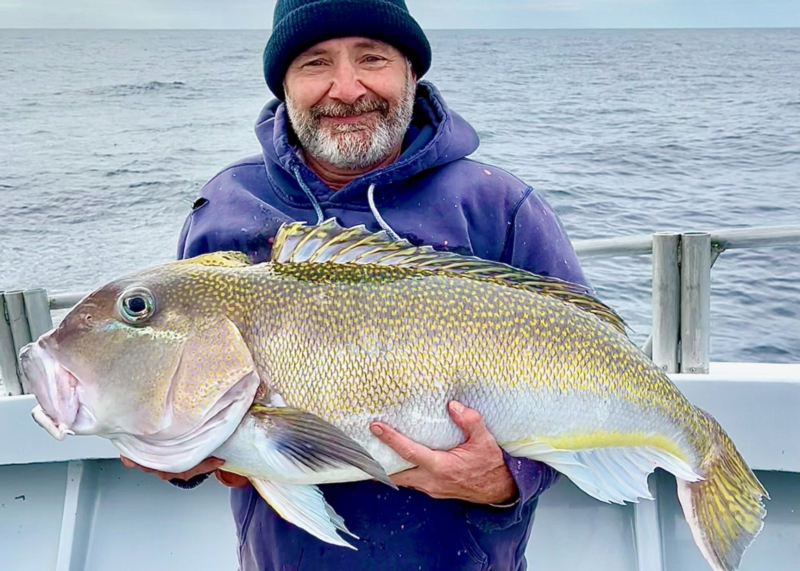 On the inshore wrecks the bass bite has been solid if not as intense as one might hope for at the end of October, with reports from the Morning Star noting that some limits were hit by anglers last week but others didn't quite hit that mark. A long run to the deep last weekend produced golden tilefish into the 50-pound range plus rose fish on squid chunks and jigs.
Sorry folks, no current reports from the beaches…
---
Coastal Mid-Atlantic Fishing Report, October 22 Update:
Offshore the tuna bite in the Washington has been sporadic on the days when the wind allows boats to get out, with some reporting incredible success and others just eeking out a fish or two. We heard from four that made it out in the past week and the catches were a single yellowfin in the 50-pound class for two of them, one boat with a yellowfin and two bigeye, and the fourth went five for eight on yellowfin. Chunking butterfish has been the main method but jigging spoons in the chunk slick has been drawing some hits, too. The Ocean City Fishing Center relayed that flags were sparse at times this week when boats could make it offshore, but they also reported that multiple boats found good numbers of tilefish on the deep drop, and mahi and white marlin are still being mentioned on the docks.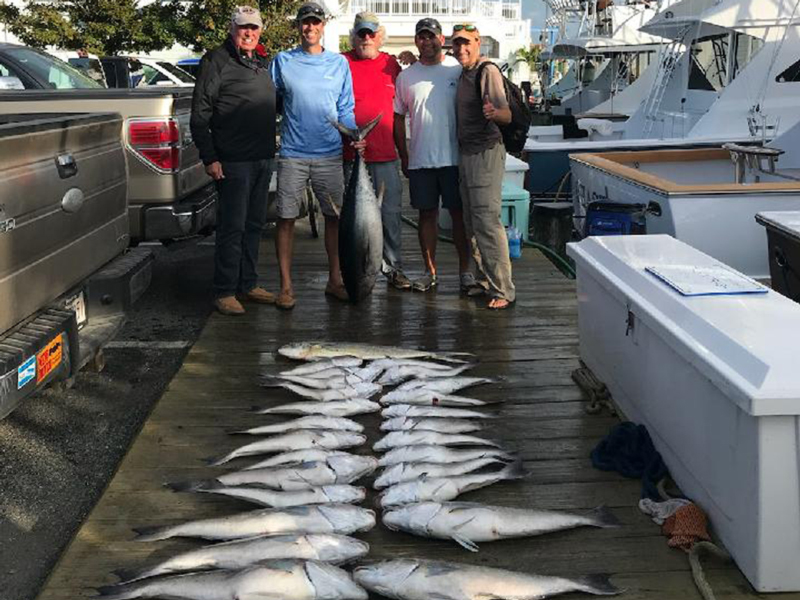 Captain Monty Hawkins on the Morning Star reported that after a long stretch of mechanical issues held him at the dock, this windy week on the water had sea bass feeling finicky at times, biting well before slowing later in the day. Boats running out of Virginia Beach are finding some Spanish and king mackerel as well as bass on wrecks, when trolling inshore areas.
In the Indian River inlet a few flounder can be found by those willing to work hard for 'em, and though we got word or no tog, they should certainly start up there soon as well. Anglers brave enough to endure sandy winds and crashing waves in the surf this week were catching despite non-ideal conditions, but were catching better when the breeze was down. A medley of kingfish, small bluefish, and the occasional big redfish or small striper all came out of the surf regularly. Most anglers reported that bloodworms or sand fleas on a bottom rig were their go to. The bull red drum cut out a bit, with quite a few fewer reports than in the past couple of weeks. Dave from Shark Whisperers said that bite had dropped to a fish or two for a 14- or 16-hour session. However, he also mentioned that the tog bite in the OC inlet had a head of steam on and although the majority are throwbacks there are a few keepers in the mix.
---
Coastal Mid-Atlantic Fishing Report, October 15 Update:
We had three reader reports from the offshore waters this week, two from the Washington where they reported yellowfin bites up to a dozen and noted that the afternoon bite from 1:00 on was best and the other said the morning bite was the ticket (go figure). Many of the boats have been chunking in the Washington, which has led to a butterfish shortage, but jigs are said to be working as well. Another angler who first hit east of the Cigar and then the Norfolk Canyon said tuna and white marlin were being caught at the first stop, the canyon produced a yellowfin and a mess of bailer dolphin on various structures, and fishing bottom in six fathoms produced tilefish and lots of sea bass. The Ocean City Fishing center checked in to confirm that the yellowfin bite has been fairly good, with flags flying as boats are entering the inlet.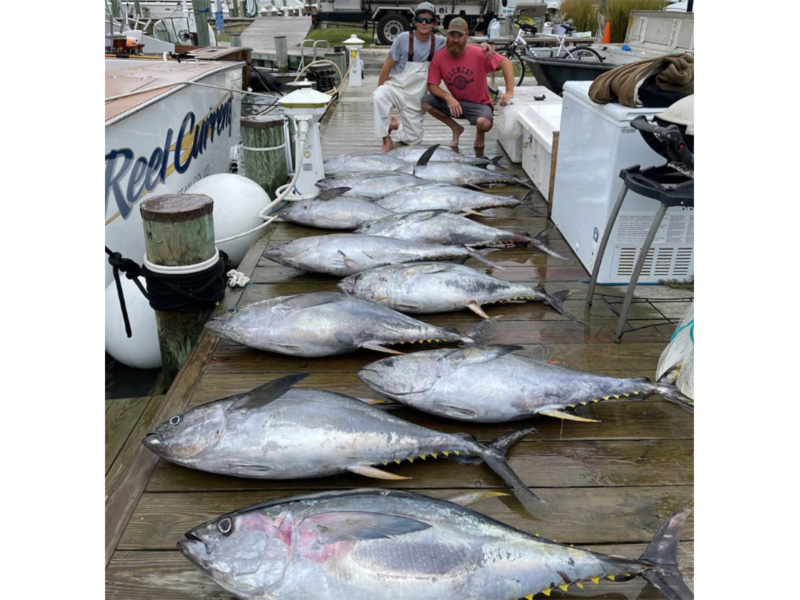 The black seabass bite remains exceptional inshore, with limit days possible. The wrecks have generally been hubs for all forms of oceanic life and flounders have also come up this week. Captain Monty reports transmission issues that have him stuck at the dock at the moment, but bass and flounder trips will resume asap.
On the beach a few more reports of big redfish caught on mullet filtered in from Assateague but not with the frequency of last week. Dave from Shark Whisperers notes that last week's stormy weather shut things down for a while but since the calm returned he has seen a half-dozen big bulls pulled through the suds, plus a couple of slot fish. He also notes a few small black drum are around as well. Anglers casting bloodworms and shrimp in the surf are catching a smattering of panfish including kingfish, a few spot, snapper blues, and a few pompano. In Virginia Beach some croaker and more puppy drum in the slot can be added to the list.
---
Coastal Mid-Atlantic Fishing Report, October 8 Update:
*We apologize for the light reports this week, but due to exhibiting at the U.S. Powerboat Show in Annapolis (come see us this weekend at booth F7) and some personal matters we have not been able to gather as much intel as usual. Stay tuned for next week's reports!
Dave Moore of Shark Whisperers Guided Trips reported that the reds have been on fire this week catching 10 drum in just in 2 days of fishing.  There are still plenty of sharks around as well. For smaller fish, spot and kingfish are abundant and mullet are in the surf but snapper blues are hit or miss. 
Denny Seabright also reported having luck sight fishing for redfish while sight fishing just off the coast.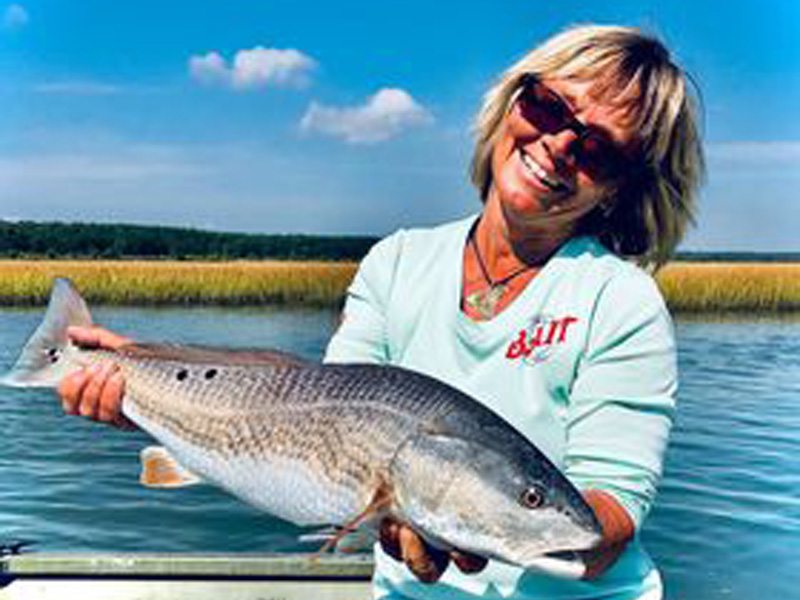 Capt. Cook of First Light Charters had solid day sea bass fishing this past weekend but has not been able to get out much due to the windy conditions lately.
Alltackle Ocean City let us know that the flounder bite in the Bay is still going steady with the usual offerings of gulp, shiners, minnow, or squid all proving to be effective. Offshore anglers have been successful chunking for tuna in the Washington canyon. They also confirm the hot red drum surf bite off the beaches.
---
Coastal Mid-Atlantic Fishing Report, October 1 Update:
A fall yellowfin tuna bite is beginning at the canyons, people! Reports from Indian River and Ocean City include boats that landed on the fish and hauled back 10-plus yellowfin and a bigeye here and there, with the biggest problem recently being wind and more wind. The word from Virginia Beach is of fewer fish but also an uptick in the action, so we can expect it to heat up as more of the pelagics push southward with cooling water temps. Some boats are reporting that the evening bite is best, and they've been running a late departure/late return schedule to get in on the hottest action. Green and purple sidewinder spreader bars have been a hot offering. A handful of swordfish have been reported as well, but most boats trying for them are still finding the bites few and far between as of yet.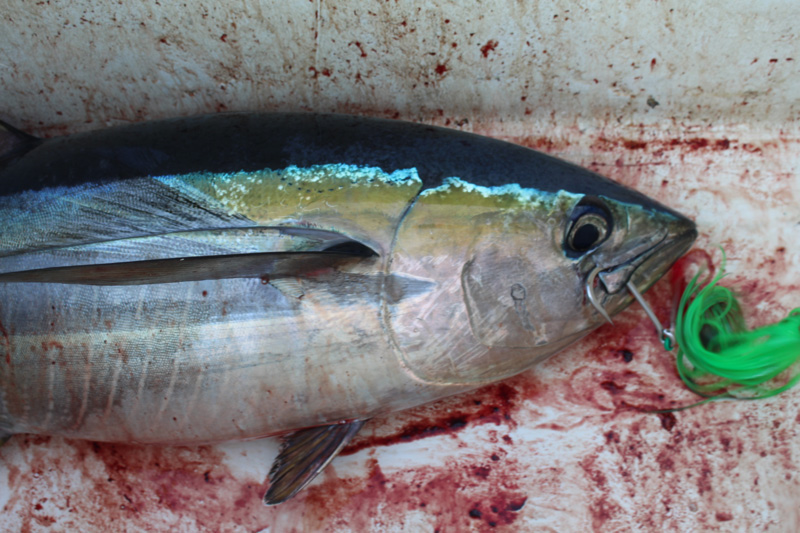 Inshore the bass bite is up and down but overall it's been up, and most of Captain Monty's reports from the Morning Star were of smiling anglers — before the boat lost a transmission and Captain Monty's own smile faded a bit. He's had a four-day gap in the action and hopes to have the boat running again asap. Meanwhile, fall flounder action is still solid and one reader who targeted them on the inshore reefs off OC reported a limit catch on fish up to 22 inches. Pink and chartreuse Gulp! Swimming Mullet on tandem Fluke Killer rigs did the trick, but he noted that strong currents and a breeze demanded 12 ounces of lead to get down and stay down. The bass are also biting off Virginia Beach but reports from southern waters are of a better flounder bite for those drifting next to structure. We also had a reader report of excellent Spanish mackerel and some cutlass fish action trolling spoons east of Sandbridge, as these species have begun pushing out of the Bay and are heading south for the winter.
Intel from the beach: Dave Moore of Shark Whisperers reports more and more redfish showing up in the Assateague surf taking a wide range of baits including mullet, peeler crab, spot, and bunker. Two days on the beach produced an amazing 10 bull redfish this week – it just doesn't get any better than that. He also notes that the peak of the incoming tide has been the hot time to fish. Reds have also been dragged out of the breakers at Virginia Beach and Sandbridge. Other species have been in the surf mix as well, including pompano, spot, kingfish, and a few snapper blues, for anglers casting bloodworm and bloodworm flavor Fishbites on smaller rigs.