Freshwater Fishing Report, August 25 Update:
School starting and cooler temperatures are indicating the coming of Fall to our region. While some people are hoping for summer to hold on a while longer, many anglers are ready for cooler weather to turn on the bite. Water conditions in many of the area rivers are still running low including the Susquehanna and Potomac. Scattered thunderstorms have occasionally increased flows in some isolated areas but they usually return to low flow conditions in a few days. While many areas may be difficult to navigate by boat, wade fishing opportunities are abundant. Shallow, clean water means that you must be stealthy in your approach to holes where bass may be sitting. Smallmouths have been eager to hit buzzbaits, spinnerbaits, and poppers. If you're willing to get up early, you may be rewarded with some excellent topwater action. Look for fish near current breaks, ledges, and deep-water pockets. Tube jigs and grub imitations are good baits to throw once the sun gets up and the topwater bite cools off.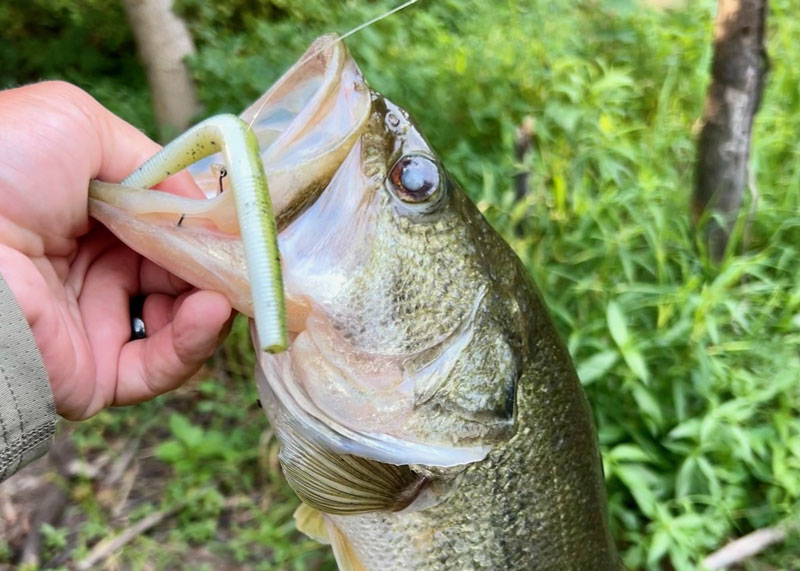 Cooler air temperatures have brought some relief to many of our local lakes and ponds. Fishing for largemouth bass is good right now and contributor Eric Packard says the bite picked up a bit with the cooler daytime temps early this week. On one trip to a local lake he not only caught plenty of bass but also saw them corralling bait up against the shoreline. A Yum Dinger five-inch rigged wacky worm style on a Spearpoint hook did the catching. While the bass usually feed during low light hours when temperatures are hot, cooler temps have been extending the bite window further into the day. Fishing along shoreline structure and shallow grass flats are still good areas to target. If these cooler temperatures persist, fish will start feeding hard to prepare for the cooler months ahead.
The panfish bite in the reservoirs and lakes was also good this week. The cooler temperatures have crappie popping bugs on the surface. Schools of these fish are often found near submerged trees and rock piles. Dropping down small plastic jigs or live minnows works great to get them biting. Bluegill and other sunfish species are also readily available in most freshwater locations. These fish aren't as picky about when they eat, and a simple bobber and hook tipped with nightcrawler works great. If you catch some big enough to fillet, they are great eating and worth bringing home for dinner. Smaller to mid-size bluegill are great bait to live line for big bass, and they are also excellent cut bait for catfish.
---
Freshwater Fishing Report, August 18 Update:
We are reaching that point in the year where the air temperatures are very hot and the bites are generally slow, but there are still a couple of god bites going off. Snakeheads are in various stages of spawning as they protect fry balls of their young. This time of year when the temperatures are hot, they are most often found in the shallows near thick grass and other vegetation. Casting topwater frogs is the best tactic when fishing thick areas but buzzbaits and chatterbaits work great for working the edges of lily pads or marsh shorelines. Snakeheads guarding fry don't normally have feeding on their mind but will protect their fry from perceived threats. Casting your lure near the fry can usually entice a reaction bite. Sometimes it takes numerous casts before getting the bite, so don't give up if they seem uninterested. Our How to Catch Snakehead on Fry Balls video showing tips, tricks, and tactics for fishing snakehead fry balls was just posted to the FishTalk YouTube channel. Make sure to check it out, there's some great info in there on how to target snakeheads effectively at this time of year.
Fishing in the rivers is another good option and has presented more consistent fishing compared to our local lakes, ponds, and reservoirs. Mossy Creek let us know that trout fishing is still going to be best on the spring creeks and tailwaters. They say tricos continue to hatch in the morning and hex are hatching then swarming in the evening hours. Warm and dry weather has the hopper population flourishing right now. Bass fishing in their area continues to be excellent as water levels are running below average and very clear. Cork poppers, deer hair bugs and frogs, wiggle minnows, soft chews, and claw dads are all getting the job done. If you can spot fish from afar, the visual eats while sight fishing will make you want to come back for more.
After a brief cool down at the beginning of the month, we are back into the "dog days" as hot temperatures are making many fish reluctant to bite in lakes. Contributor Eric Packard reports that the heat made things tough at times this week, and on two trips to a local lake he had very few bites and landed just a lone snakehead. We also heard from David Rudow that a multiple-kayak fishing trip on the upper Pax produced only a couple of catfish bites. Another reader fishing a southern Maryland pond reported similar results with only a few bass to show for his efforts. The few bites he did get didn't come until the last two hours of daylight when temperatures started to drop.
---
Freshwater Fishing Report, August 11 Update:
The late summer heat usually slows down the bite in many freshwater locations as high water temperatures make the fish lazy. However recently, we have been experiencing some cooler than normal temperatures along with some shots of rain which has helped to improve fishing conditions. Bass fishing is still best during low light hours but searching slightly deeper water once the sun is up has produced good bites. Search for them along sunken wood, grass field, or any type of structure that provides cover. Local ponds stocked with panfish are a great option right now as these fish are usually less picky about when and what they eat. A simple bobber and hook baited with nightcrawler is all you need to start catching fish like bluegill, red breasted sunfish, and pumpkinseed.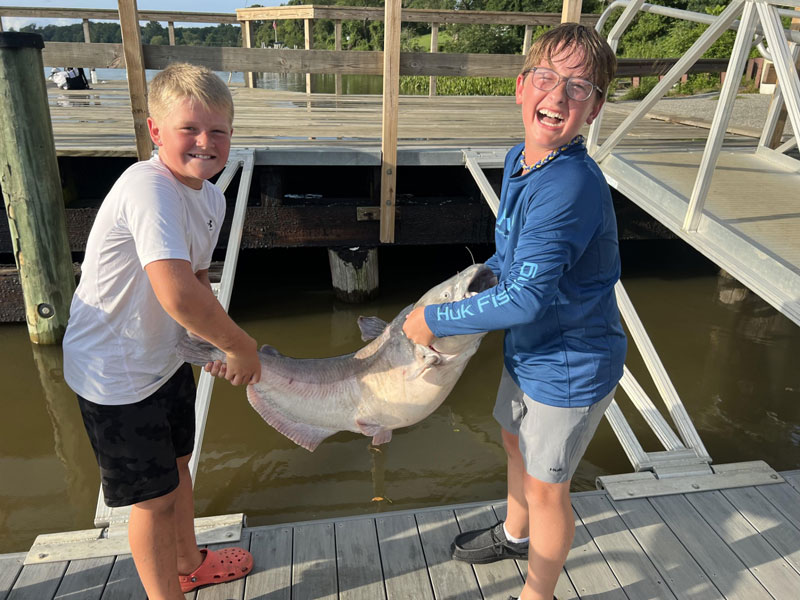 Snakeheads are in various stages of spawning and fry balls are still popping up throughout the waterways that the snakes are found in. Many of these fish are sitting in shallow water near thick vegetation. Lilypad fields and areas with submerged grasses are great places to search for them. Topwater frogs and other weedless soft plastics work great for fishing thick vegetation, just make sure your line is strong enough to pull those snakes out of these areas. If you spot a fry ball, keep harassing the fry with your bait and you will often get a reaction strike from the parents trying to protect their young. If you get a blowup, wait a second or two before second the hook because the snakeheads are notorious for short striking. The snakes are tricky to target but put on a show when you catch them and are a great eating fish so don't be afraid to keep some of these invasives for the dinner table.
Catfish are another popular species to target for anglers of all experience levels. They are found throughout the region in both tidal and non-tidal waters. The most common are channel catfish and blue catfish which are usually caught using any type of fresh cut baitfish or chicken baits. To facilitate fishing efforts for invasive blue and flathead catfish, the Maryland Department of Natural Resources instituted a regulation change regarding cut bait in the states' non-tidal waters. Anglers will now be able to use cut bait such as bluegill or sunfish, with no minimum size restrictions. There is a maximum of two pounds of cut bait allowed in an angler's possession. More information regarding the regulation change can be found on the DNR website.
---
Freshwater Fishing Report, August 4 Update:
The dog days of summer are here and the warm temperatures are making finding consistent bites tough for many freshwater anglers. Fish like Largemouth bass are typically most active in the early mornings and late evenings. During the warmer parts of the day when the sun is up, they will head to deeper water where temperatures are cooler. Areas with sunken wood, rock piles, or submerged grass will be good areas to search for these fish. What can be frustrating is that the warm temperatures can shut the bite off and even if you find them, they might not want to bite. Another popular option is to target snakeheads. These fish can be finicky with the warm water, but fry balls are still popping up just about everywhere. Sight fishing the parents off the fry balls has proved very productive for many anglers with topwater frogs enticing most of the bites. If you are in an area that isn't too thick with grass, slow rolling a chatterbait works well to get a reaction strike. These fish are found throughout the state, so odds are you won't have to travel far to find them.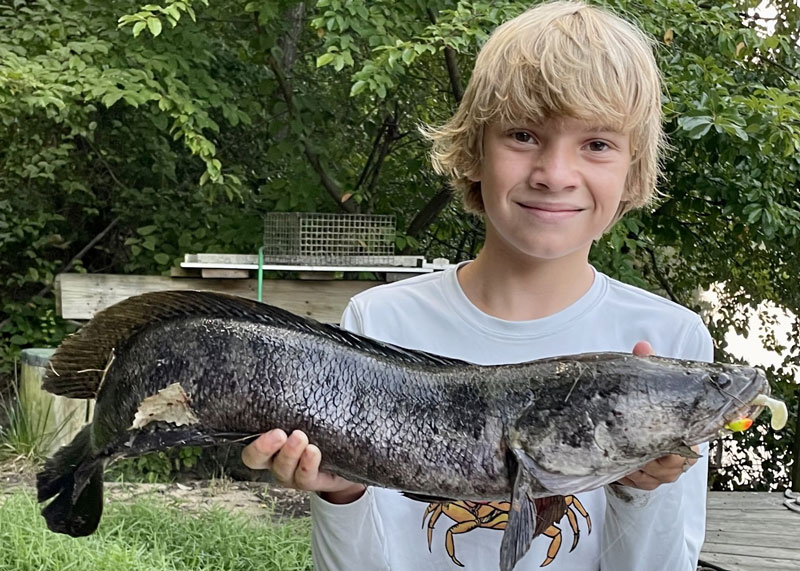 Low flow conditions are persisting through many of the regions freshwater rivers including the Susquehanna, Potomac, and Rappahannock. While these conditions are present, wade fishing is a good option, especially for targeting smallmouth bass. Slowly approaching pools of water and making long casts can yield good results. A few anglers fishing by boat on the upper Susquehanna had a good morning trip this week. They were able to catch around 25 smallies that were biting on jigs and cranks. The early morning topwater bite produced some big blowups on poppers. On cooler, cloudy days, this bite can carry on later into the morning and make for some fun action, so have plenty of poppers, baitfish, and crayfish patterns. Big largemouth will be tucked into the woody structure along shorelines right now.
At the western trout streams, many anglers are opting to give the trout a break as water temperatures are warm and are hard on the trout. Mossy Creek gave us the latest report for where to find decent trout fishing despite the summer heat, saying the spring creeks and tailwaters will likely still be your best bet for quality trout fishing this week as water flows are in decent shape. Tricos are thick on the spring creeks most mornings. Beetle season is still in full swing, and hoppers continue to emerge and mature. One of Mossy Creeks tips is when blind fishing terrestrial patterns, you can drop a nymph off the back if the fish are hesitant to take a dry fly.