Freshwater Fishing Report, July 28 Update:
The middle of summer can be a tough time to fish for many freshwater anglers. Water temperatures are hot and bite windows are often short lived, making it hard to pattern fish. Though we've had some reports of slow summer action in the reservoirs, the bite has also been unexpectedly good at times. This week contributor Eric Packard hit St. Mary's Lake with two other kayak anglers and found the fish in a very unseasonal mood – close to 50 largemouth bass attacked their jerkbaits, wacky worm rigs, and paddletails. A half-dozen pickerel and crappie plus some bluegill were caught as well. However, on a trip to a smaller lake later in the week, Packard reported that algae and weeds had progressed to the point that fishing had become tough, so anglers may want to think twice before heading for areas where this is a common problem. Local ponds that aren't plagued with algae should have some good pan fishing right now. All it takes is a small hook, bobber, and a few nightcrawlers to start catching. Bluegill and other sunfish are usually willing to hit and can make for some fun action.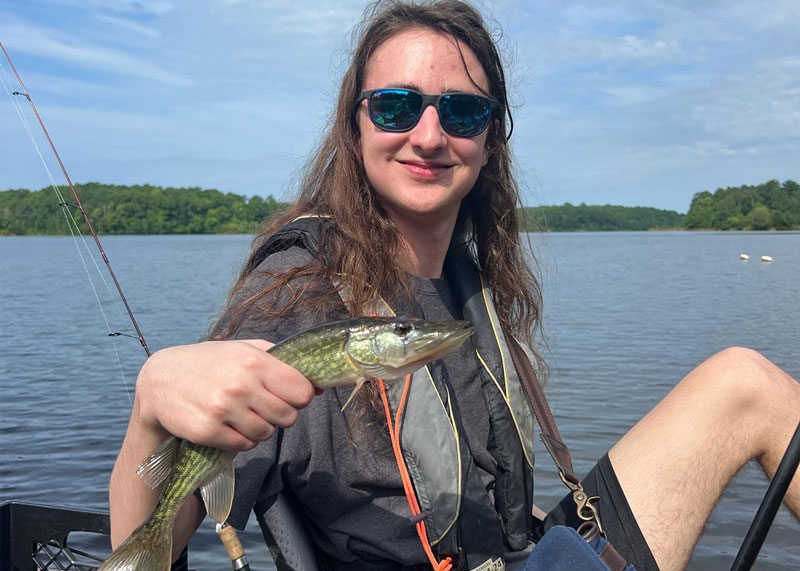 Another popular option in both tidal and non-tidal waters this time of year are snakeheads. Once the snakehead spawn starts at the beginning of July, fry balls will be popping up until September. I was able to get out this past weekend with fellow FishTalk contributors David Rudow and Mark Nicolaus to target northern snakeheads on the Eastern Shore. We headed to a tributary searching for fly balls, and it didn't take long for us to find some in the shallows. The snakes were sitting in two feet of water or less guarding their fry which made them easy to spot. Topwater frogs enticed three into the net including a 30-incher that weighed almost 10 pounds. Over the course of the afternoon, we spotted around a dozen fry balls and missed a few blowups too. The snakeheads usually wouldn't hit on the first cast, and it frequently took up to 15 casts harassing the fry ball to entice a bite. Tidal waters have been very good for snakehead fishing down on the Potomac. Apex Predators guide service has been catching fish on almost every trip. Topwater poppers and buzzbaits fished near marsh banks are catching a lot of fish. Grass fields and lily pads are other good areas to search for snakes this time of year.
---
Freshwater Fishing Report, July 20 Update:
We are in the thick of summer and temperatures are getting hot. Some freshwater bites have slowed, but if you plan your trip during the right windows, you can still find some great action. Contributor Eric Packard searched for snakeheads in the Little Blackwater this week but reports a slow bite with just two fish taking his offerings. In both cases, a chatterbait dressed with a Rapala Crushcity did the trick. We also heard from a reader fishing in Dorchester who scored four while casting a 3.5-inch paddletail. Down on the Potomac, Apex Predators guide service reported a much better bite for snakeheads this week. One trip exploring new water with another angler produced 13 snakeheads. Most of the fish were caught on custom Apex MES predator frogs. Fry balls are still popping up in just about every body of water that has snakeheads. Topwater lures are great for getting a reaction bite out of the parents when you cast near their fry. Chatterbaits and spinners work great for covering lots of water.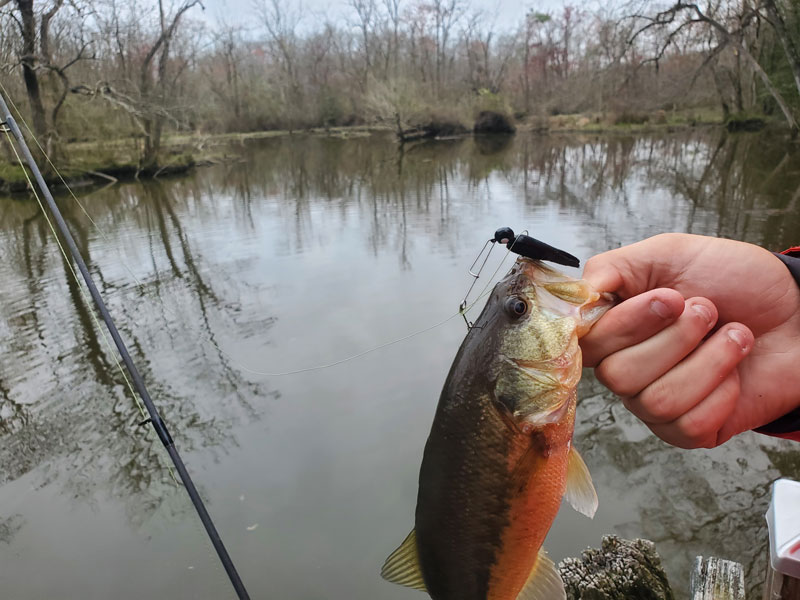 We checked in with Mossy Creek to give us the latest from our region's western streams and rivers. They said that the recent shots of rain are helping flows and keeping water temperatures cooler. The spring creeks are continuing to see tricos almost every morning and the beetle season is in full swing with hoppers continuing to emerge. The most action has been coming on cloudy days or during low light in the mornings and evenings. Streamer fishing will turn on when it is raining or if the creeks are stained. The summer trout fishing should hold up if those areas keep getting the rainfall needed to keep things cool.
The upper sections of the larger rivers like the Susquehanna, Potomac, and James are still experiencing low flow conditions. Wade fishing is still a great option for smallmouth bass. Fishing for smallies has been great this year and it seems to only be getting better. Susky Smalljaws Guide Service reported an excellent bite during a trip out this week. They landed over 40 smallmouths with some measuring in around the 20-inch mark. Topwater baits and spinners did all the catching. The fish are willing to bite, you just gotta get out there and cast a line!
---
Freshwater Fishing Report, July 14 Update:
There was some exciting news from the snakehead world with a new state record fish which is currently pending as a possible IGFA world record. The Maryland Department of Natural Resources verified the catch by angler Damien Cook who caught the fish in Dorchester County on July 5th. The fish measured more than 36 inches and weighed 21 pounds. Cook was kayak fishing with a custom baitcasting rod, 30-pound test-rated braided line, and a custom Addiction Baits chatterbait called the "Cooker" when he reeled in the massive snakehead. We encourage anglers to target northern snakeheads since they are an invasive species to our waterways. These fish continue to get bigger every year, so the chance at a potential record sized fish is always a possibility. We are also in the middle of the snakehead spawn and fry balls are popping up all over tidal and non-tidal waters. Apex Predators guide service let us know that the west-side tidal water snake bite has been best along marsh banks with soft plastic creature baits and topwater frogs being the top two producers.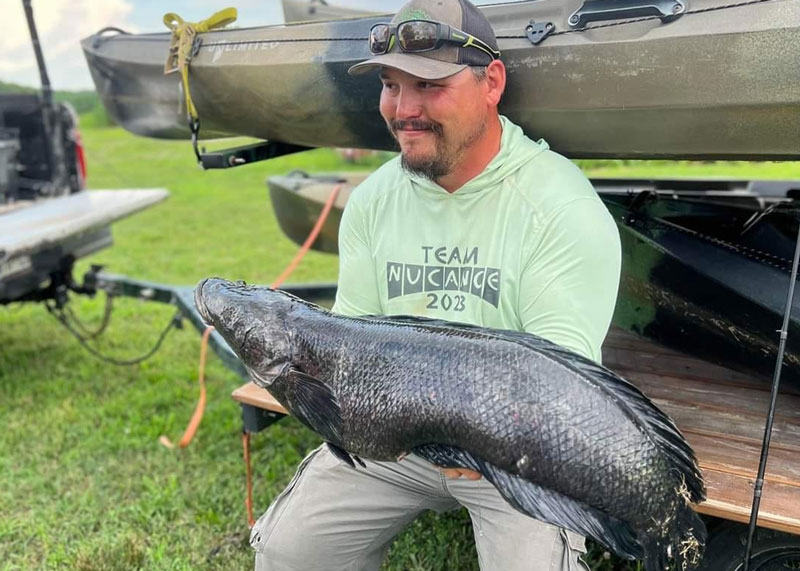 Summer heat is really setting in and water temperatures in our freshwater locations are getting hot. Contributor Eric Packard said a morning spent at Rocky Gorge produced little action, with three kayak anglers catching only a pair of small bass. It seems that in some of the reservoirs, the summer doldrums may have set in with the rising water temps. Panfish should still be an easy target in many local ponds and lakes. A simple bobber and hook with nightcrawler is an easy way to catch them. It is a fun way to introduce kids or new anglers to the amazing sport of fishing.
Rivers like the Potomac, upper Susquehanna, and Monocacy are still running low despite a few shots of rain. This allows for good wade fishing opportunities for smallmouth bass but low water usually dictates long casts so as to not spook the fish. Target pools behind large boulders, submerged ledges, and current breaks. At first and last light, casting poppers is a fun way to target smallmouth bass; tubes and swimbaits can also work well. Anglers fishing for the smallies have been reporting some impressive numbers with some boats landing over 50 fish during their day on the water.
---
Freshwater Fishing Report, July 7 Update:
The summer heat is setting in and along with it comes afternoon thunderstorms. While we are getting a little bit of rain it's still not enough to bring us out of drought conditions and has interrupted plenty of fishing trips. Mossy Creek let us know that they expect the brook trout fishing to remain good in drainages that continue to get rainfall. It is important to keep in mind water temperatures this time of year so a stream thermometer is always good to have with you. Once temperatures reach the upper 60s and low 70s it is a good time to give the trout a break. They recommend checking the USGS stream gauges to stay updated on where the best flows are occurring. Little yellow stones, ants, and beetles will be excellent dry fly patterns for the summer season.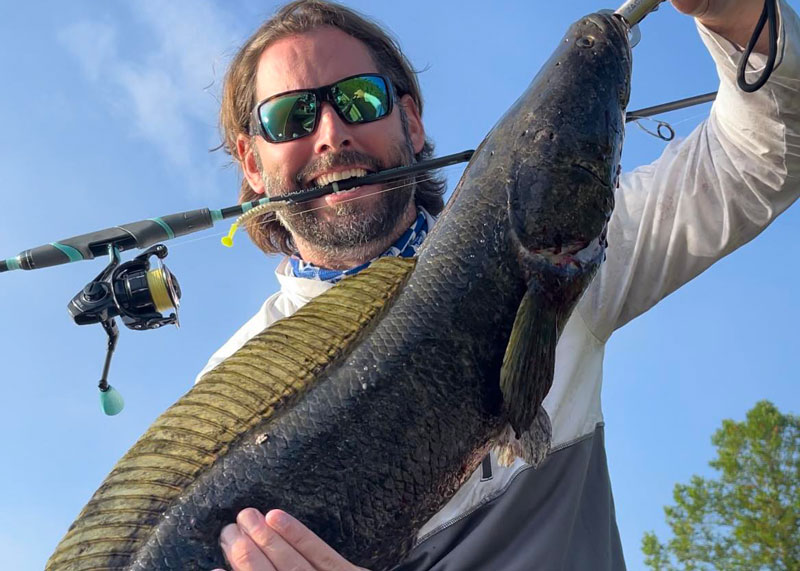 Largemouth bass are a popular summertime target for freshwater anglers. Topwater frogs and Whopper Ploppers are getting some big blow ups in the early mornings and late evenings. The fish are usually in shallow water during the cooler parts of the day and move deeper once the sun gets up. Fallen trees and submerged aquatic vegetation provide good cover for them. The snakehead spawn is really kicking into gear and we are hearing from multiple anglers that fry balls are popping up in both tidal and non-tidal waters. The snakeheads will hit just about any lure that you would throw for bass but topwater frogs and chatterbaits are a favorite among others.
The upper Potomac is experiencing low flow conditions with periodic summer thunderstorms briefly recharging flows on some days. The low water conditions can make boating difficult but provides some great wade fishing opportunities for smallmouth bass. The fish will be sitting in pools and eddies so make a slow approach and take long casts so that you don't spook them. Poppers are very effective in the early morning while tube jigs, crankbaits, and swimbaits all work well throughout the day. A new state record fallfish was certified by the Maryland Department of Natural Resources on June 30th. Angler Bryson Meyers of Oakland caught a three-pound one ounce fallfish on June 16th while fishing the North Branch of the Potomac River in the Westernport area. He was fly fishing the river while drifting in search of trout when he landed the fish which measured over 20 inches. Congrats on a great catch!