Freshwater Fishing Report, September 29 Update:
There has been a lot of wind and rain this week across much of the region which has limited fishing opportunities for many anglers. Most of the larger bodies of water have been tough to fish but the smaller, more protected lakes and ponds have seen decent fishing this week as cooler weather is getting fish into feeding mode. Contributor Eric Packard reports a steady bite in the reservoirs, with 19 bass plus small pickerel and crappie hitting small square-bill orange crankbaits. He noted that a quarter-ounce jig with a four-inch paddletail got a few bites, as well. He also found a few snakeheads willing to bite on the Chick, catching three between two anglers on chatterbaits with white paddle tails before the wind drove them off the water.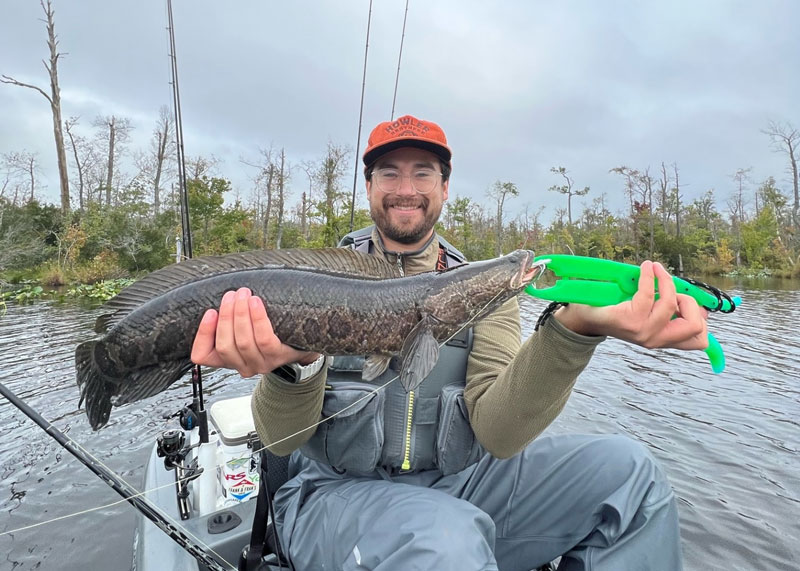 Freshwater correspondent Jim Gronaw checked in to let us know that the pan fishing has picked up considerably since the cooler weather has set in. Big crappie and bluegill have been very active in many area ponds and lakes. Jim's go-to baits recently have been Z-Man TicklerZ finesse baits, Mule Minnow finesse baits, and Bobby Garland Baby Shads in various colors. Water temperatures have cooled to the upper 60s, so midday fishing should be more productive now. Jim also let us know that he expects the smallmouth bass fishing in the smaller tributary creeks of the Potomac, Susquehanna, and Monocacy to be excellent this month. Small hair jigs and soft plastics should do well for catching smallies and a variety of sunfish. Mainstream river efforts with crankbaits and tube jigs should work to get anglers on quality fish. The smallmouth should be feeding hard throughout most of the fall, so now is a good time to catch some of the bigger fish of the year.
We checked in with Mossy Creek for the latest from the western streams. They said that despite the recent rains, the trout streams didn't get much relief as most of the rain fell elsewhere. Some of the larger rivers did get a nice bump in water levels however, and float fishing should be a lot easier over the next week. Trout anglers have been enjoying good action as hoppers, ants, beetles, and crickets continue to take fish. Mossy Creek recommends that bass anglers have a range of flies this time of year. Starting the day with crayfish and minnow patterns then transitioning to bug fishing should put plenty of fish in the boat. They also noted that musky anglers are seeing an uptick in action as the temperatures cool off. The added flows this week should make for less spooky fish.
---
Freshwater Fishing Report, September 21 Update:
The official start of Fall will be September 23rd, but cooler temperatures have already given us a taste of it. Freshwater correspondent Jim Gronaw checked in to give us the latest report from the central Maryland lakes and ponds. He said the bass bite is still best during the low light hours and buzzbaits, jitterbugs, and various soft plastics are all catching fish. Buzzbaits got a lot of attention on recent trips and the largest bass have been up to 20 inches. Jim also mentioned that the recent cooler weather has enabled some good crappie fishing. Fish in the 12- to-14-inch range have been hitting various ZMan micro finesse baits. Again, low light conditions seem to be best. Contributor Eric Packard reports an up and down bass bite this week. One morning Lake Collusion proved biteless, but St. Mary's Lake was hot later the same day and small red square-bill crankbaits produced a dozen fish in a short afternoon trip. He noted that the fish were holding in two to eight feet of water, over hydrilla. Cooler nighttime lows will continue to drop water temperatures which will likely trigger a multitude of species to feed more as October approaches.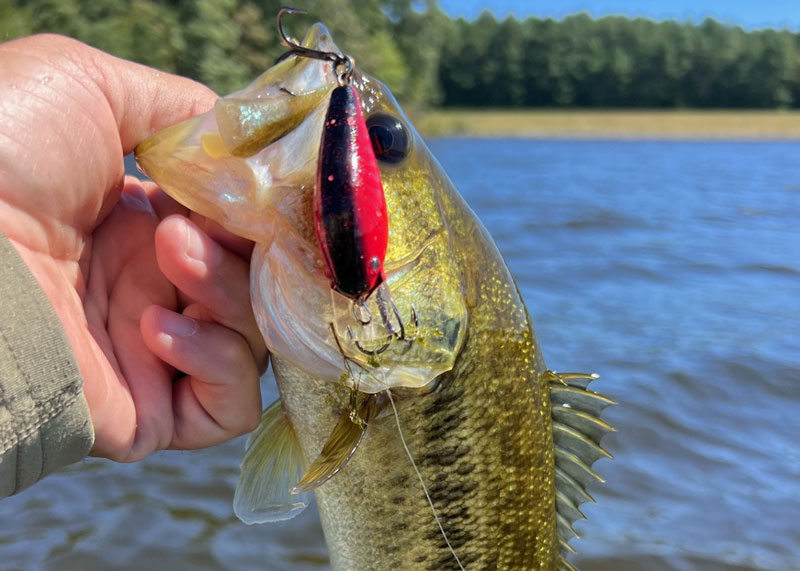 The western trout streams have been enjoying cooler weather with overnight lows in the 50s. Water levels are still relatively low with a few exceptions due to rain last week. Mossy Creek let us know that the tricos are still hatching and that the cooler temperatures may push the spinnerfall to later in the morning. Forecasted rain this weekend could improve water flows into next week. Many anglers are still focused on smallmouth fishing as they feed hard in preparation for the colder months. Crayfish and baitfish imitations work well in the mornings while cork bugs and frogs work well once the day warms up. One angler fishing the lower Susquehanna in Pennsylvania reported having his best day ever on big fish. His biggest five fish totaled just over 98 inches. He also landed his biggest Susquehanna smallmouth with a fish measuring 21 ¼ inches and weighing over five pounds. Ned rigs and other jigs are working well along with chatterbaits and buzzbaits. Mossy Creek also says that the musky bite is turning on. The low and clear water can make for exciting sight fishing. Fishing early and late or on overcast days has produced the best results.
Maryland and Virginia will begin their fall trout stocking programs in October. This is a fun time for anglers of all skill levels to enjoy the put and take areas. Stocking information can be found on the Maryland DNR trout stocking website and the Virginia DWR trout stocking website.
---
Freshwater Fishing Report, September 15 Update:
Fall is in the air as cooler temperatures gave us some of the first signs of fall this week. Water temperatures are finally starting to drop which is getting our freshwater fish much more active. Fishing for largemouth bass has remained good anywhere from small farm ponds to our larger reservoirs. The bass are still most active in the morning and evening hours where they are feeding near sunken wood, submerged grasses, and other structure. Some of the top baits to throw during the fall season include spinnerbaits, lipless crankbaits, and topwater walkers. Contributor Eric Packard racked up a dozen bass one afternoon midweek using a wacky worm and a Flicker Shad, as well as 10 crappie on a small jerkbait. As water temperatures continue to drop, the bass will start to extend their feeding activity throughout the day.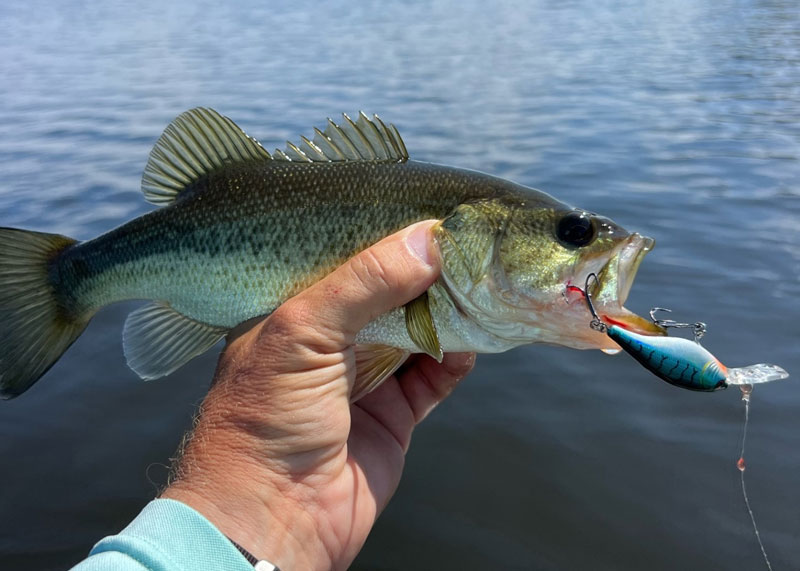 Fishing for snakeheads is good this week as the fish begin to transition to feeding mode. Most of the fry ball action has slowed down by now and moving baits that make some noise such as buzzbaits and chatterbaits are catching a good amount of fish. Topwater frogs are still a great option to throw in thick vegetation or along marsh edges. We have seen many anglers find success in the tidal rivers of the Bay and in the marshes on the Eastern Shore. A few anglers targeting the snakes this week found an on and off bite. They reported not getting a bite while the sun was up and bright but that changed once some clouds rolled in. They started catching snakeheads and bass for most of the afternoon before being run off by a few storms. As water temperatures drop and SAV begins to die off, the snakeheads will transition more to an open water bite along channel edges and transition zones.
Thunderstorms rolled through many of the areas where many of our trout fishing locations are found. We checked in with Mossy Creek to find out the latest conditions and reports. A few anglers took advantage of the increased flows and dirty water, catching brown, brook, and rainbow trout in a few of the streams. Trout anglers should still focus on the spring creeks and tailwater fisheries and enjoy throwing streamers for a few days until the water cleans up and the terrestrial fishing on top resumes. As the water drops and begins to clean up the smallmouth fishing should be a bit less technical. Visibility of about two to three feet is usually fine for good smallmouth fishing and makes it much easier to get closer to fish than when it the river is running gin clear. Mossy Creek recommends loading up on your streamers for fishing this week with the reduced visibility and the cooler weather on the way.
---
Freshwater Fishing Report, September 8 Update:
Mother nature decided to show us that summer isn't quite over yet as record setting heat arrived during most days this week. Luckily, September holds the promise of cooler temperatures, some much needed rain, and cooling water. These are all the ingredients we need to kickstart some better freshwater action. Drought conditions are still plaguing the region and most of our rivers are running low. One upside to the low water has been the abundant opportunities to wade fish for smallmouth bass. The upper Potomac is a great place to get in on this action right now. The fish will be sitting near deeper pools and grass beds waiting to ambush bait that comes by. You will want to approach these areas stealthily and make long casts to avoid spooking them.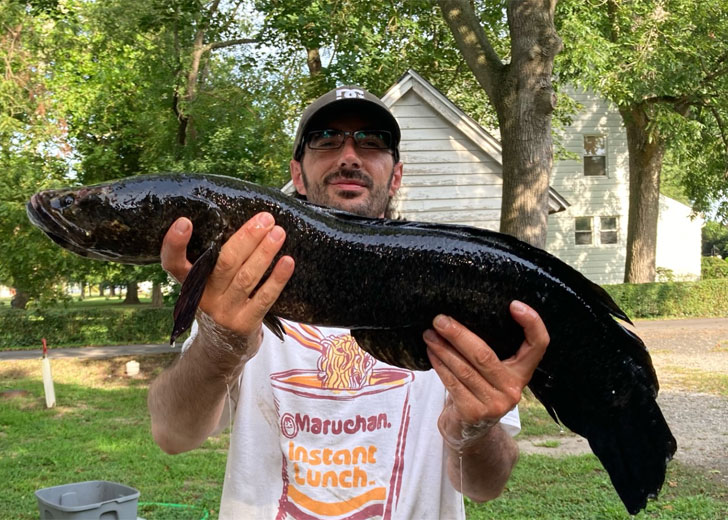 Snakeheads are beginning to move off their fry balls and are becoming more interested in feeding to build up body reserves. They are still holding in thick and shallow grass beds so topwater lures in the form of buzzbaits, chatterbaits, and soft plastics are good choices.
Now that Labor Day is over, boat traffic at the vacation lakes and reservoirs will begin to slow down. Anglers fishing at Deep Creek Lake should take advantage of this since floating docks will still be out for about another month. The docks offer good cover for largemouth and smallmouth bass, thus making them a good place to target. Other cold-water species like walleye, yellow perch, and pickerel will begin to get more active as water temperatures drop throughout the fall. Mossy Creek let us know that anglers near the mountains will find the best luck fishing the spring creeks early and late with tricos, beetles, ants, and hoppers. Rain will improve the bite in other areas, but until we get some, you'll have to stick with this pattern. They also let us know that bass anglers have been catching quite a few musky. They were very active during the last cold front we have, so if another comes our way next week, be ready for them to be feeding hard again. The musky were eating small bass streamers and some of the more conventional lures. A cooldown will help improve fishing conditions throughout many of our freshwater areas so let's hope Fall comes knocking on our doors soon.
---
Freshwater Fishing Report, September 1 Update:
The late summer lulls will soon come to an end as we get ready for fall. Low flow conditions are persisting throughout most of our region's rivers. Rain at the beginning of the week offered some brief replenishment, but most waters are still flowing low and slow. Mossy Creek let us know that the smallmouth bass fishing has been good on most days and excellent on a few. Anglers reported that the topwater bite is hot with frogs and poppers getting crushed. The trico spinnerfall hatch is till happening around mid-morning. Hex are hatching and you can expect to see a few of them popping off the creeks throughout the day and then getting thick during the evening hours. Ant, beetles, hoppers, and crickets are all in play right now. Trout fishing options will become more available once water conditions rise, but until then it is best to focus on bass fishing through September.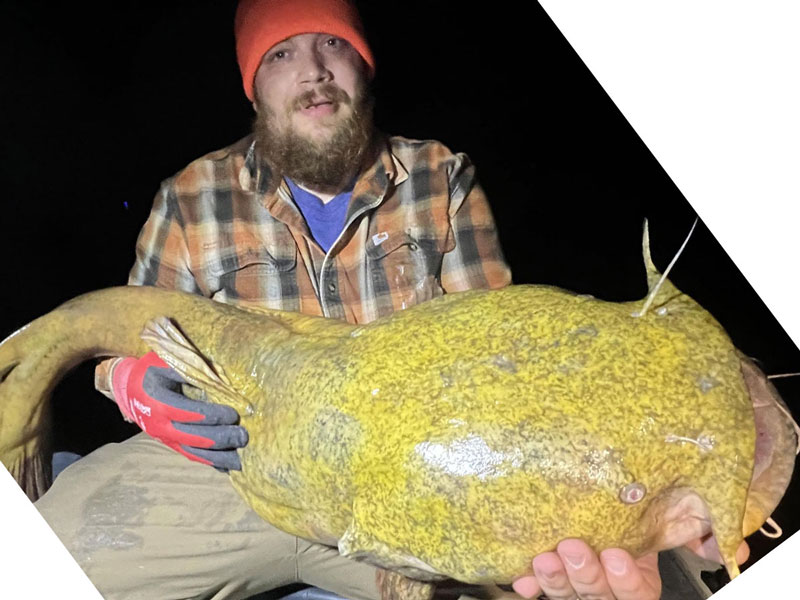 Catfish are a great option in our fresh and brackish waterways. Almost all the tidal rivers have an abundance of blue catfish that are eager to bite right now. Channel catfish are also in many of the region's rivers and the upper Patuxent near Jug Bay is a great place to fish for them. Flathead catfish are found from the Conowingo Dam north into the Susquehanna River which is where one of our most impressive catches of the week comes from. There are big fish, and then there are BIG fish – and a reader checked in after battling in a BIG one this week, a 48-pound flathead. The fish was caught in the Susquehanna above the dam and the angler also mentioned that blue cats below the dam have been biting well, too. Any variety of cut bait should work with bunker, bluegill, and chicken baits coming in at the top.
Most of our largemouth bass are still holding in their summer patterns and will continue to do so until the water temperatures cool down later this month. Topwater lures are working great in the early mornings, so if you can get up before the sun, you have a good chance at some blow ups. Once the sun gets up the bass will seek shaded area's wherever they can find it. Docks, sunken wood, and shoreline shaded by foliage are good areas to fish. Contributor Eric Packard reports a very strong bass bite at St. Mary's Lake, catching 14 in a few hours of fishing. A couple of crappie and a yellow perch also jumped on his square-bill crankbait and a jerkbait. Later in the week he had similarly strong action at another local lake.
Snakeheads are still very active and can be caught a variety of different ways. It is still warm enough that they can be found guarding fry balls so have those topwater frogs ready. Live minnows and subsurface lure are also good bets. We saw an angler who caught five one chatterbaits in an eastern shore tributary.