Lower Chesapeake Bay Fishing Report, October 29 Update:
Specks and puppy drum have cleared out of many areas north of Smith Point, making rockfish a primary target. The Tackle Box in Lexington Park let us know that the striper fishing has been great both in the Bay and throughout the rivers. Trollers are hitting stripers hard in the Potomac from Herring Creek to St. George's Island, as well as Cornfield Harbor, and off Virmar Beach. Fish have been mostly holding in 25 to 30 feet of water. In the open Bay, the Target Ships to the Cabbage Patch area is holding fish.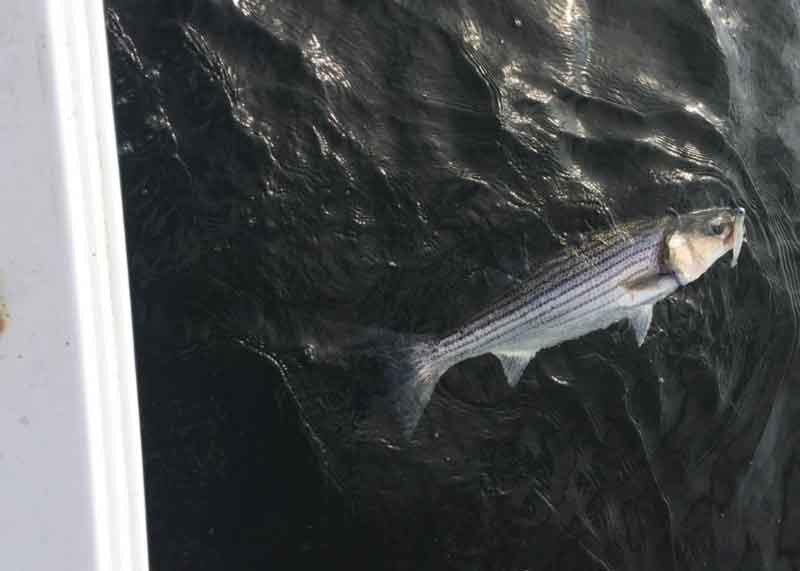 There have been numerous reports of slot redfish caught by lure casters at creek mouths and the Bay's shores from the mouth of the Potomac down. This action should be short-lived but fast-paced for the next week or so as these fish start heading down the Bay in greater and greater numbers and points south should see a nice run in the next week or two. Same goes for the specks, which have provided relatively steady action in the rivers and creeks from Smith Point down; Fleets and then Mobjack should see a temporary up-tick in the action before the bottom falls out.
---
Lower Chesapeake Bay Fishing Report, October 23 Update:
Several reader reports came from the Potomac of good fishing for stripers this week, with most of the catching getting done by trollers pulling Spoonbrellas and small umbrellas. While the bulk of the keepers being caught are on the small side, a fish over 30 inches comes up now and again. The best areas have been on the Virginia side, from around Ragged Point and off Virmar Beach. Some flocks of birds have been spotted in the afternoon off Virmar and also in the open Bay, however, most of the fish found around them generally are of of a disappointing size class.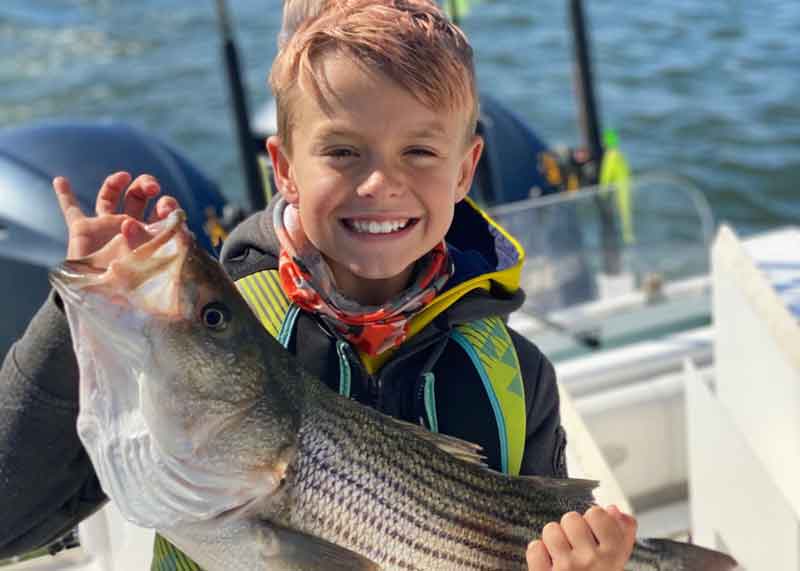 Contributor Eric Packard traveled south this week tried hitting the Piankatank and York Rivers, where casting jigs on half-ounce heads in shallow, grassy areas (mostly in the York) and along drops from six to 12 feet (mostly in the Piankatank) produced excellent catches of speckled trout up to 23" and good numbers of puppy drum in the 16- to 26-inch class. Stripers were in the mix as well, though most were small. Chartreuse popping cork rigs worked along with pink, and pink four-inch twisters on half-ounce jig heads also got the job done. He noted that pink Gulp! twisters worked particularly well for all species. We also had a report from a reader fishing around Gwynn Island of similar speck action plus a drum and some small rock.
---
Lower Chesapeake Bay Fishing Report, October 16 Update:
Well, some crazy weather typical of this year briefly interrupted Rocktober. The Tackle Box let us know this week that Tropical depression Delta caused some extreme low tides that tangled up the fishing patterns and shortened the bite times before dropping rain and wind on us early in the week. The front passing through changed all that and brought the water back to high levels overnight. They're expecting that the fish will be in some new pattern of feeding when the waters and winds settle, mixing up the bite from in weeks past. While the fish may end up being a little finicky, they did let us know that stripers are the prime target throughout the Bay right now, and trollers have been doing well with the smaller Hard Head Custom Bait umbrella rigs, tandem bucktail rigs, bucktails, jigs, and spoons. The Potomac has seen most of the action, happening this week on the Virginia side in about 30 feet of water from Dolly Parton to Ragged Point. Readers also reported having luck in the Rappahannock, from the Route 3 bridge to the Butler Rocks area. With baitfish aplenty throughout the area, we're expecting some great fishing in the upcoming weeks.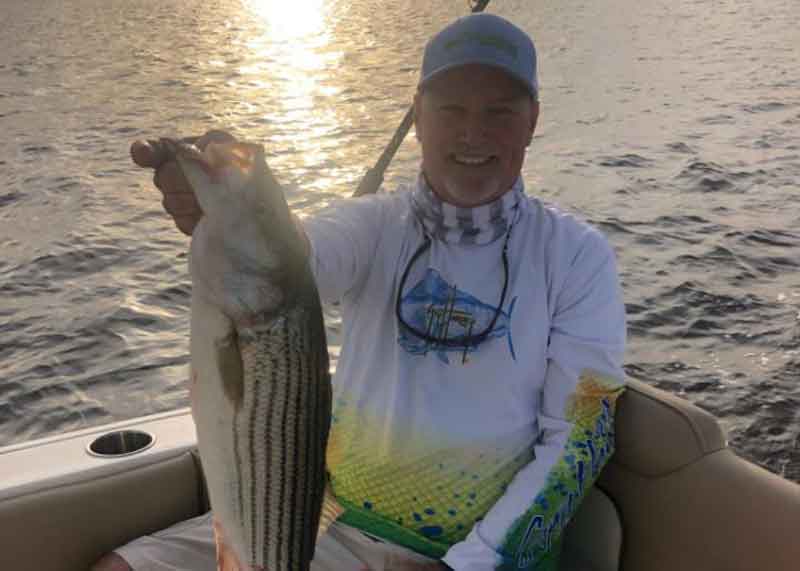 Speaking of bait aplenty: run-and-gunners hitting the open Bay with binoculars at the ready are spotting birds, though they've been scattered and can pop up just about anywhere, or some days, nowhere. Many of the fish under them have been throwback rock and small bluefish, though letting your lures sink down beneath the frenzy and weeding through a dozen or so stripers usually results in fish in the box. Afternoons have been best for finding them recently. We also had one reader report a Spanish in the mix even at this late date, fishing off Wolf Trap.
Around the St. Mary's waterfront, a surprising number of speckled trout were caught this week. Illinois-resident Ryan Gullang reported catching four, spanning from absolutely tiny to an inch shy of the legal limit. He also landed a couple of puppy drum that were also just a little too small to hit the slot, and plenty of white perch and spot. The Tackle Box suggested running across to the Sounds and Lower Shore and hitting the islands if you really want to target those specks.
If you're hoping to load up on spot, they're still in creeks and rivers from the Potomac clear down to the York. While they dominate the catch, there are a few croaker and even a weakfish or two being reported in the mix. Bloodworms on a bottom rig is a great bet for catching them. Bottom rigs baited with bloodworms or FishBites is a great way to land white perch, too, which can be expected to move further from shore as winter cold moves in.
---
Lower Chesapeake Bay Fishing Report, October 9 Update:
Welcome to Rocktober – time to gear up and get ready to chase birds! The Tackle Box and J & W both reported that Rocktober is starting off with plenty of stripers being caught. Many anglers turned to trolling and jigging this past week, with many catching multiple of fish in the 18" to 22" range. Some larger fish have been holding under the smaller fish, and are best caught with weighted trolling lures, deep diving crankbaits, or just a jig fished just off bottom. The best bites have been in the Northern Neck area, particularly in the Rappahannock. Working the down-river shallows with topwater at daybreak and jigs (white and pearl have been the hot colors) after the sun is up has been a better way to focus on stripers up into the low to mid 20s. Trolling the Middle Grounds and near the Target Ships has produced some decent sized blues as well as rockfish, for lucky anglers. The blues have slowed down a bit in general but are a saving grace for anglers casting under the flocks of working birds who have found only undersized stripers up top. The Tackle Box notes that many of the blues are decent two to three pounders.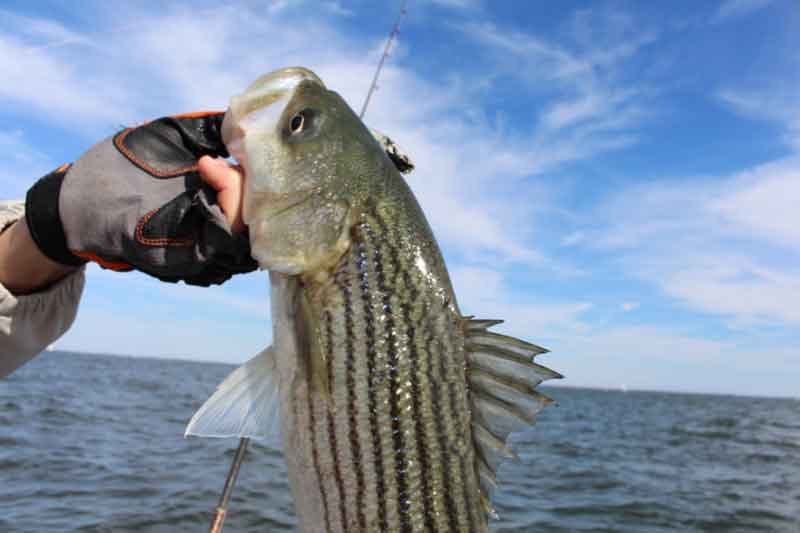 This week, we also heard of a handful of bull redfish caught by for lucky anglers fishing in the vicinity of Stingray Point, while trolling near working birds. In areas to the north they've slowed down a lot compared to past weeks, however, and after giving us a parting shot as they head south for the winter will disappear entirely in the coming days.
Spot haven't headed out of the Bay yet, and are still plentiful over shell bottom in the lower tributaries and outside the river mouths. This week, anglers fishing off the shoreline at St. Mary's College also reported that the oyster beds near Church Point were littered with small spot ranging from four to seven inches, silver perch, and white perch for anglers casting bottom rights with bloodworm-flavored FishBites. The Tackle Box reports similar action in the Potomac and J & W also has had reports from the Rappahannock of good bottom fishing for spot and perch plus the occasional puffer fish and croaker, taking bloodworms and other cut bait on bottom rigs.
Speck reports from the Potomac were a bit off this week so they may have begun retreating from northern rivers, but are still a good option in the Rappahannock and points south, where J & W reported a solid bite. We also had reader reports of some slot reds hitting jigs, and also occasionally appearing in the bottom fishing mix for those baiting up with peeler crab.
---
Lower Chesapeake Bay Fishing Report, October 2 Update:
Angler-in-Chief Lenny Rudow headed out of Point Lookout State Park with this Report Editor Mollie Rudow, son David Rudow, and Illinois-resident Ryan Gullang targeting last-chance cobia Saturday. After a morning of trolling red hoses under number one and two planers just southwest of the Target Ship with no hits the crew anchored up to chum, and the AIC hooked up on a 48-inch cobia just after the tide shifted to an outgoing low — and man, what a fish. The cobia managed to get under the boat and break water on the other side of it, then a few minutes later broke a lifetime-guaranteed net designed for cobia into four pieces. Despite one of the most hectic battles I've seen in years, the cobia was then gaffed and secured. While that was the only keeper fish of the day, it was an absolute blast. Our Illinois-resident managed to hook up on six nice puffer fish and five black sea bass, scoring first fish and most fish, dropping FishBites on a bottom rig on the nearby lumps. While the waters around the Target Ships were nearly empty on Saturday, days when the weather was drier and less blustery saw plenty of boats and The Tackle Box reported that before the season closed on Wednesday, plenty more cobia were caught on live spot and eels. Most that came in were in 18 feet of water, but most were undersized. Farewell cobia, we'll see you next year.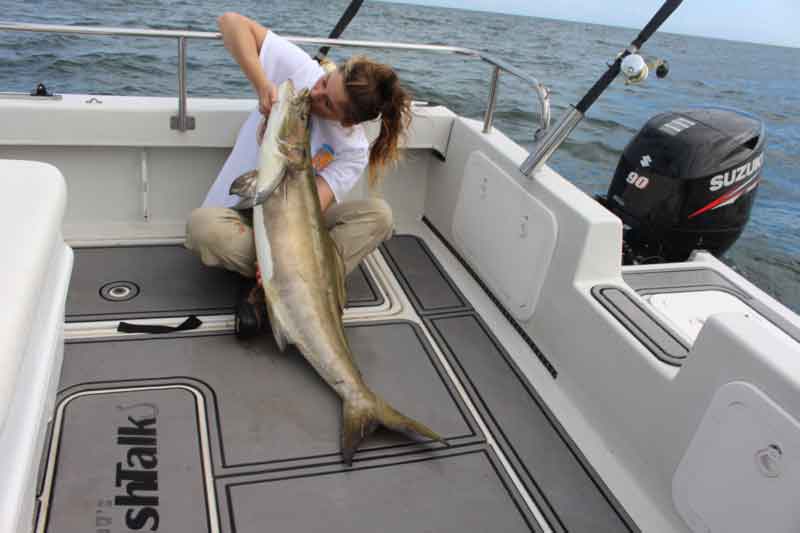 In the main stem of the Bay, the Tackle box reported that anglers are still catching large bull red drum under working birds, trolling, and also while chumming. A few slot limit drum are also popping up among the throwbacks in the rivers and creeks, mixed in with some chunky stripers. Stripers are going hard in the Potomac right now — anglers tossing soft plastics and working under birds are doing well with them. Speaking of stripers: Virginia anglers are chomping at the bit, with the fall season opening up on the 4th. While we haven't been hearing many reports of large fish schooling up to bust bait in open Bay waters as of yet, bunker are starting to move out of the tribs and you can be they're about to get ambushed. Jigging and light tackle trolling in the lower tributaries should be a good move, while those heading out into the Bay are likely to start the season off by trolling umbrellas and tandems with six-inch shad.
The rivers on the Western Shore are also holding incredible numbers of spot. Bottom rigs with FishBites or bloodworms will do the trick. Mixed in with them are some croaker, white perch, and an occasional speckled trout. There have also been a lot more (small) sea bass showing up this season.
If you want to target the specks in specific this weekend, know that far more of them are coming primarily in grassy shallows. Contributor Eric Packard let us know that he's been picking the specks up on pink and orange four-inch paddle tails.
Crabbing Report: They're still going strong — get out there and catch some fat fall crabs while you still can! They're moving to slightly deeper water right now, but are still quick to latch onto the chicken necks