Lower Chesapeake Bay Fishing Report, September 29 Update:
Small craft advisories kept many boats off the water this week, but we did hear from a few anglers who found fish willing to bite. The cooler weather has many of the bluefish that were hanging out in the middle Bay heading south. The bluefish will continue to push south as water temperatures drop, so make sure to get out on the water now if you want to keep some before they are gone. The blues are being caught at the mouth of the Potomac, Smith Point, and along the shipping channel edges. These fish have been good size and most schools are in the three-pound range with a few schools of five- to- seven- pound fish cruising around too. Small Drone Spoons are still being pulled behind number one planers, but medium and large spoons and surgical tube lures are becoming a more common addition to try for the larger bluefish and the chance of some catch-and-release action with cobia and large red drum.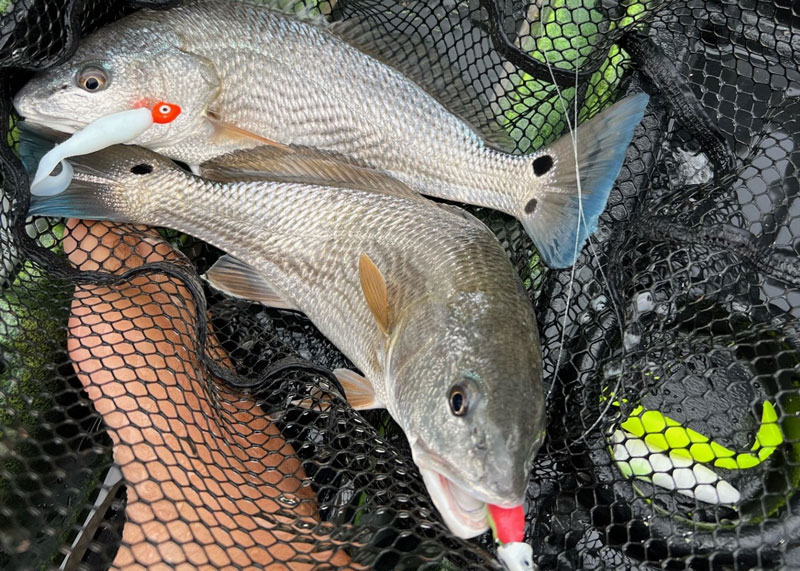 The rockfish bite in the Potomac River is picking up as water temperatures are dropping. One who fished at the beginning of the week caught some schoolie rockfish while jigging. They also found plenty of perch willing to bite in the shallows. The biggest perch was 11 inches but most were in the six- to- nine- inch range. Another angler fly fishing just south of the 301 Bridge caught four rockfish on streamers and six on topwater plugs.
The shallows of many tidal rivers have been productive to those working shorelines. Rockfish, speckled trout, and red drum are cruising the shallows to feed on bait. Paddletails work great for all of these fish but twitchbaits and topwater lures are also a good choice. We got a report from an angler who fished the Great Wilcomico who caught around 50 white perch and a few puppy drum around 18 inches. Another angler fishing in the Rappahannock got out for a morning trip this week and caught a dozen speckled trout, several bluefish, and a few small puppy drum. Five of the trout met keeper status and the biggest was 18 inches. The shallow water bite should continue to pick up as water temperatures dip into the 60s. Next week's weather looks favorable, so make sure to pencil in a fishing trip to your schedule.
---
Lower Chesapeake Bay Fishing Report, September 21 Update:
Fall is finally here, and the cooler weather has already started. While that will improve the bite for some fish, it will send others south for the colder months. The Tackle Box let us know that bluefish are still active in the shipping channel from the mouth of the Potomac to areas south. Many boats are trolling with surgical tubes and small spoons. The mackerel are quickly thinning out and most schools are heading south towards the mouth of the Bay. There are still a decent amount of bull redfish and cobia that can make for some fun catch and release fishing. Boats trolling and casting lures are scoring on these big fish, but there is no consistency to when or where they will bite. Your best chance to find these fish will be along the shipping channel anywhere between 15 and 40 feet of water where you will need to keep a close eye on your fish finder for big marks. Side-scan is usually required to spot the schools of reds.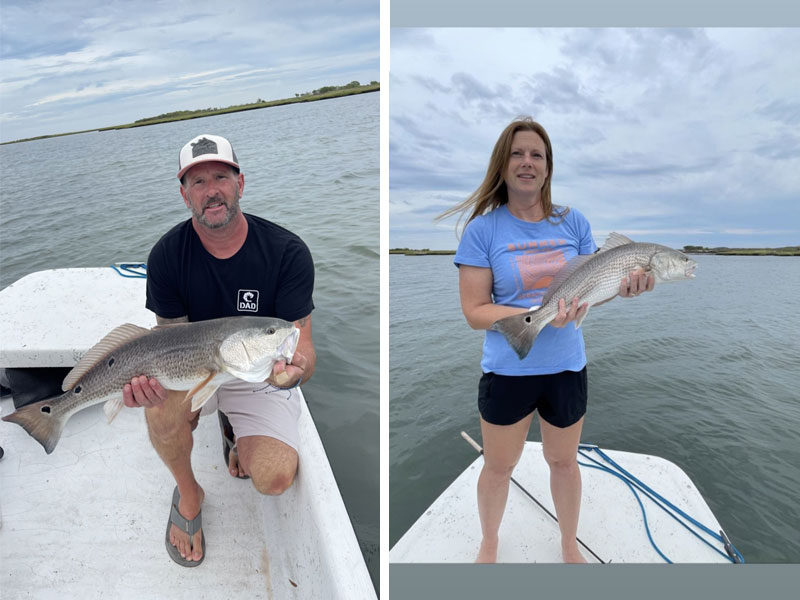 All the lower Bay rivers are very productive right now as cooler temperatures have baitfish schooling up and gamefish moving in to feed on them. Redfish are abundant, and there are a lot of other species that can be caught while fishing the shallows. An angler fishing near Quantico on the Potomac caught small puppy drum, rockfish, white perch, largemouth bass, and crappie all hanging around in the same area. Another fishing near the mouth of the Potomac from his kayak caught a "Potomac grand slam" with red drum, rockfish, speckled trout, and a flounder. Most of the fish were on the smaller side but he did manage a keeper flounder at 16 inches. A few other anglers fishing in Carter Creek off the Rappahannock got into the puppy drum during a midweek outing, landing between 15 and 20 redfish with the largest measuring just over 21 inches. They also caught a 22-inch rockfish and two speckled trout. A fisherman on the Piankatank caught a plethora of species including croaker, kingfish, puppy drum, houndfish, Spanish mackerel, lizardfish, bluefish, rockfish, and speckled trout while throwing around a three-inch Z-Man paddletail in the shallows. He noted that he added Pro-Cure Bait Scents to his lure. And a reader report from Poquoson included fish caught both sight-casting and tossing blind. Z-Mans and DOA plastics did the trick.
Anglers fishing for sheepshead are still catching them at the Target Ship and other wrecks in the from there south. Just this week the Maryland state record sheepshead was broke by angler Brian Summerlin with a 16-and-a-half-pound fish caught in the Tangier Sound near Crisfield.
That's the good news. The bad news? The weekend forecast looks to be pretty rough as a tropical disturbance is forecasted to move up the coast. Fishing plans may have to hold off until next week.
---
Lower Chesapeake Bay Fishing Report, September 15 Update:
The shallows can be very productive this time of year as most fish are looking to feed on bait to pack on the pounds before the colder months ahead. An angler fishing on the Rappahannock had a good trip this week catching a variety of fish in the shallows. They fished docks in three to five feet of water while bouncing artificial shrimp baits along the bottom and noted that most of the fish were caught right under the docks. A flounder, a dozen speckled trout, eight red drum, and a rockfish made for an action-packed trip. The two biggest fish were a red drum at 24 inches and the rockfish at 23 inches. The speckled trout have started to move into their fall patterns and many anglers are reporting a great bite in the shallows. One angler reported catching multiple quality sized speckled trout while throwing out live shrimp. It is possible to catch your own shrimp in the lower Bay this time of year. There aren't huge numbers around, but there are definitely enough to catch as bait, or even dinner if you find some big ones. You will want to look for the shrimp in the shallows of the tidal creeks and can catch them using a cast net. The farther south you go, the more shrimp should be available.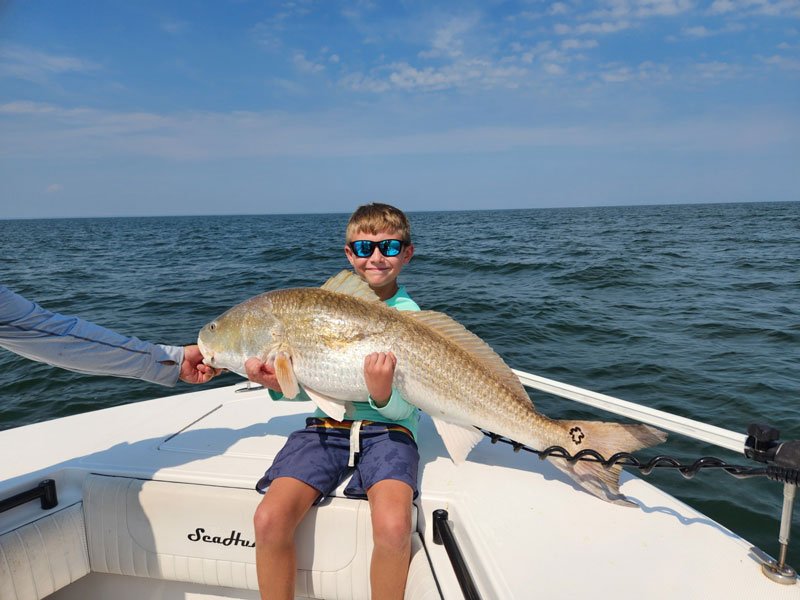 There are still plenty of bluefish and a few Spanish mackerel hanging around along the channel edges. The mackerel will head south if water temperatures continue to drop but you should still be able to target them for a few more weeks. The bluefish will stick around longer and are more abundant right now. Many boats are trolling spoons or surgical tubes to catch the blues and there have been some bigger ones in the five-to-six-pound range coming over the gunwales.
More cobia have also been caught in the lower Bay recently but the season closes today. Catch and release will still be open, and the cobia will stick around for a few more weeks for those wanting to catch some big fish. Bull reds have also been found along the shipping channel edge, but they move around a lot and can be difficult to find. I had the pleasure of getting out with Captain Drew Grahame with Griffin's Guide Service this week to target the bull reds and cobia. We fished alongside Captain Steve Griffins boat and ran the channel edges searching for fish. Captain Steve struck first and put his anglers on a school of fish where they landed two bull reds and had a big cobia that pulled the hook at the boat. We then transitioned to jigging in around 20 feet of water and our boat landed a 44- and-37-inch cobia. Steve's crew also landed two underside cobia in that area. We were using four-ounce jigheads with large eight-inch Z-Man paddletails to get the big fish to bite. Time is running out to target these fish as water temperatures are cooling off, so if you want to catch them before they leave, get out there soon.
---
Lower Chesapeake Bay Fishing Report, September 8 Update:
There's been an uptick in the cobia action south of the Targets recently and we had two readers check in with quality catches, one who caught three fish to 50" and another who boated a 44" and a throwback. Trolling tubes was the hot ticket. The Tackle Box also let us know that they have had some anglers check in after finding luck with cobia south of the Target Ship. Many boats are making the switch to trolling with large surgical tubes to catch them but chumming and tossing out live eels is still luring some into the boat. Another exciting bite has been big sheepshead at some of the Targets which continue to be caught by anglers fishing with peeler crab, clams, and fiddlers. These fish are holding tight to structure, so you'll need to get close to get your bait in the strike zone. Sweeper jigs are a popular option when targeting these fish.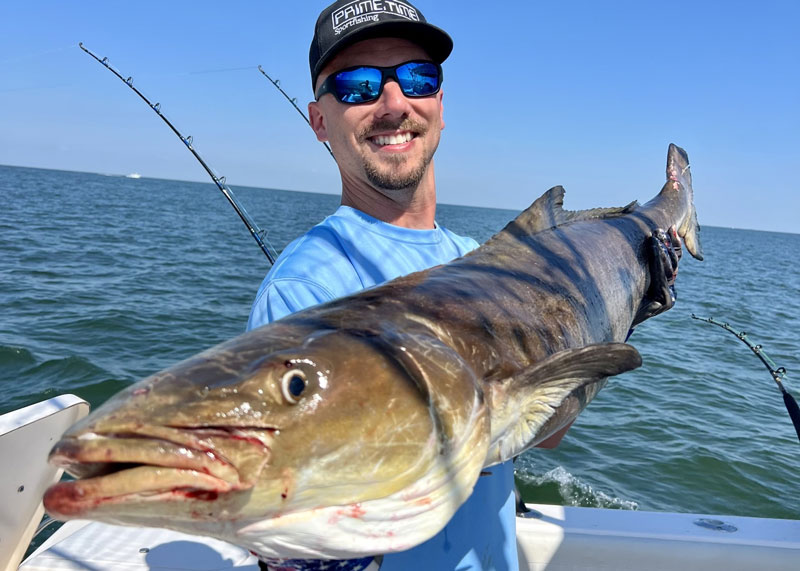 Spanish mackerel and bluefish continue to maraud around the lower Bay chasing baitfish along channel edges. These fish have been providing plenty of fun action both on trolling gear and light tackle. They should stick around if water temperatures stay warm, but they will begin to migrate south once some cooler weather sets in. The bulk of the action has been occurring around the mouth of the Potomac, Smith Point, Windmill Point, and towards the Tangier Sound. An angler trolling at Windmill Point this week caught nine mackerel and three bluefish. They were caught on a gold spoon behind a number one planer in 24 feet of water.
Bottom fishing has been excellent as spot are plentiful and big this time of year. They are just about all over and can be caught using bottom rigs with bloodworms or a variety of flavors of Fishbites. Anglers that are looking to target some flounder should be happy to know that some are being caught as far north as the Potomac with higher concentrations being found the further south you go. The Tangier and Pocomoke Sounds have had their fair share of keepers, too but a fair number are also being caught inside the Rappahannock. One angler who checke din after fishing near the Whitestone Bridge caught plenty of bluefish and a few flounder while drifting baits on the bottom. There looks to be some cooler weather ahead which should allow for some great fishing opportunities, so get out there and catch them up.
---
Lower Chesapeake Bay Fishing Report, September 1 Update:
Hints of Fall are in the air as we move into September on the Chesapeake. Blitzes of rockfish are starting to pop up as they start to feed more heavily to prepare for the colder months ahead, but they aren't as widespread as they will be once the weather cools off. Anglers searching for them where they can be boxed are doing well in the Potomac where fish are holding near shoreline points, riprap, and dock pilings. Casting a mix of topwater lures, paddletails, and jerkbaits have been working well. Speckled trout and puppy drum (including some slot drum) are being caught in the shallows from the Potomac south, as well. A few fly anglers fishing the Poropotank River had a great day catching a mix of different species. Most of their catches were white perch, but croaker, puppy drum, and some rockfish rounded out their day. The biggest fish was a 22-inch rockfish. Contributor Eric Packard noted catching a couple of puppy drum on a Ned rig head with a white Gulp! but also noted that a day of trolling tubes south of the Targets failed to produce any cobia. Unfortunately, in some areas there have been a ton of jellyfish that are clogging lines and lures. They will start to leave our area once water temperatures begin to drop but expect them to be around for a while longer.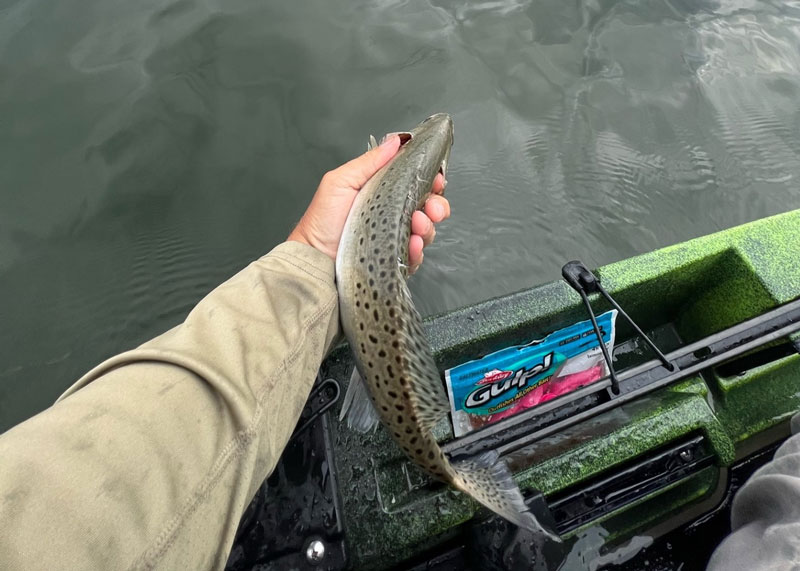 The Tackle Box checked in to let us know Spanish mackerel are still abundant but won't be around much longer now that we are approaching Fall. September will be your last month this year to get on them good. Boats are trolling Drone and Clark spoons around Smith Point. Red Drum are another great option that can be challenging to fish for, but extremely rewarding when you catch one. Atlantic Coast Fishing Charters found some great midweek action out of Deltaville. Their anglers landed six red drum between 43 and 47 inches on top of catching some Spanish mackerel, rockfish, and cow nose rays.
Cobia have been few and far between, but a few are being caught which has motivated anglers to try and get on them before the season goes out on September 15th. The best areas have been Smith Point and the lumps south of the Target Ship but keep an eye out for them cruising along the surface no matter where you are. Chumming or drifting liver eels will work but many boats are transitioning to trolling large surgical tubes. The Tackle Box also let us know that some nice size sheepshead have also been caught at the Target Ship this week which has been a nice surprise for anglers. Any wreck or reef in the lower Bay could be holding these fish so keep that in mind while out on the water.