Coastal Fishing Report, August 28 Update:
Reports on the tuna bite out of Ocean City and Virginia Beach were sporadic this week, with a few boats reporting they found yellowfin and pounded on 'em (11 being the biggest number reported) but many other boats striking out and utilizing effective backup plans to catch a mix of mostly golden and blueline tilefish and mahi-mahi. The OC fishing center backed this up; they saw sparse flags flying this week. We did also have two reports of daytime swordfish coming in. Marlin anglers have been having more consistent action, particularly those running out of Virginia Beach. With the Virginia Beach Billfish Tournament wrapping up last weekend, catches of four or five marlin in a day were not unusual and the winner (Sea Toy) had a nine fish day and ended the tournament with 12 whites and a blue. Along with the 400-plus marlin reeled up between the 80 boats in the tournament, four spearfish and six sailfish were caught. There are also good numbers of mahi in the southern canyons these days, and a few wahoo are popping up in the trolling catch as well.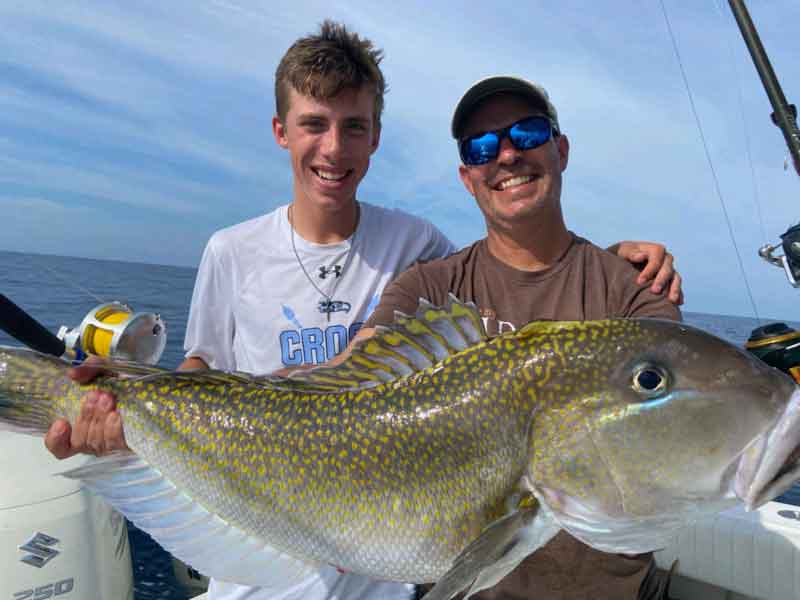 Inshore, both Captain Cook out of Indian River and Captain Monty on the Morning Star report a good bite, with flounder and sea bass on the inshore reefs. There are also solid numbers of mahi inshore at the bass pots; they aren't huge but they are plentiful. Farther south, Spanish mackerel plus a few kings and blues are in the mix for trollers. Those who locate the cutlassfish are pulling up solid numbers of those strange beasts, as well.
On the beach there's still a mix of kingfish, spot, and bluefish. However, Coastal Correspondent John Unkart checked in from Assateague this week to mention that at times the black flies were so numerous that surf fishing was practically impossible.
---
Coastal Fishing Report, August 21 Update:
After a (very) difficult trip in high seas late last week the Angler-in-Chief reports that there are a few mahi on the balls of the Baltimore Canyon, but just a few. Other boats working the deep with naked ballyhoo in tow did report catching some marlin, including a rare blue here and there. All was reported quiet at the Hot Dog; of course the tunas could show back up at any time, but at least for the past week it's seemed like maybe a done deal. Anglers fishing out of Virginia Beach are reporting an even better billfish bite, with some boats racking up double-digit white releases recently again with a blue popping up here and there.
Inshore, one reader reported excellent flounder fishing on the reefs off of Virginia Beach, with a limit catch followed by a nice pick on ribbonfish while fishing on the Wreck Dawg. Trollers pulling spoons and plugs a bit closer to the beach encountered a nice mix of Spanish mackerel, bluefish, and ribbonfish this week, with some fishboxes overflowing. Which of these species was dominant in the catch did seem to vary widely and while some boats had two-to-one blues versus mackerel, others had the exact opposite. Inshore off Ocean City the sea bass bite also remains excellent, with some limit catches on the wrecks, and the Morning Star reporting better numbers of flounder lately.
In the surf, kingfish, croaker, and small blues are common catches. Fishing with a bottom rig cast way out is popular. Peeler crab, sand flea, and bloodworm are all solid bait choices.
---
Coastal Fishing Report, August 13 Update:
Readers report a very up-and-down bite for yellowfin while chunking at the Hot Dog. One day all the rods in sight are bent, and the very next everyone's singing the blues and hoping for a hookup or two to break the monotony. Most of the more recent reports have been downs, not ups. The Ocean City Fishing Center stayed in line with that report, with mixed results for boats hitting the docks. Fewer boats came in flying tuna flags than in past weeks. They also didn't hear a whole lot about mahi mahi, although those that did come in were found around flotsam. Boats returning from the canyons with tuna or marlin often have had them in the box. The VA Beach fleet is also having a tougher time locating tuna recently, with better reports of mahi and billfish for trollers and bluelines for droppers; inshore boats are seeing plenty of blues, mackerel (both Spanish and kings), and ribbonfish.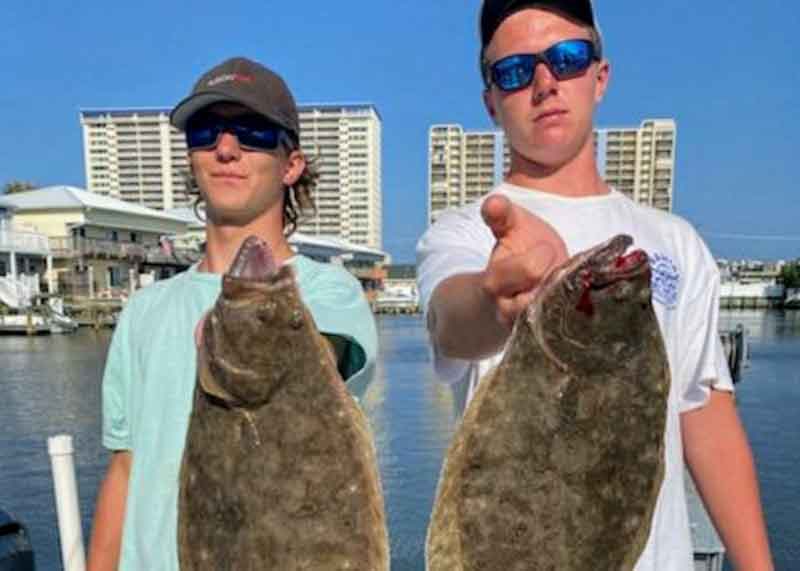 Inshore, sea bass fishing remains absolutely phenomenal. Boats hitting the wrecks are returning with limit catches common. Large flounder are also coming off the wrecks. Flounder have been biting in the inlets as well, where drifting baits or bouncing white and pink soft plastics off the bottom have been key to getting them in.
On the beach, coastal correspondent John Unkart reports a rather spectacular surf bite and regularly filled coolers with a mix of mostly kingfish, spot, and snapper blues. The best bite has consistently been at daybreak. However, he also caught several flounder in the breakers of Assateague this week, and we had a reader check in to let us know that when he focused solely on flounder in the surf (exact location undisclosed) he caught four keepers in one day this week.
---
Coastal Fishing Report, August 7 Update:
Attention FishTalk Readers: Due to the impact of the storm Isaias on our region, we want to caution that regardless of whether you fish freshwater, the Bay, or the ocean, the fishing deck has been shuffled. Much of the intel we received this week was gathered prior to the storm so we have to question its efficacy. While we did also get some info in on Wednesday evening and through Thursday, we'd note that this week our reports may not be as helpful as usual in forming effective game-plans for the weekend's fishing.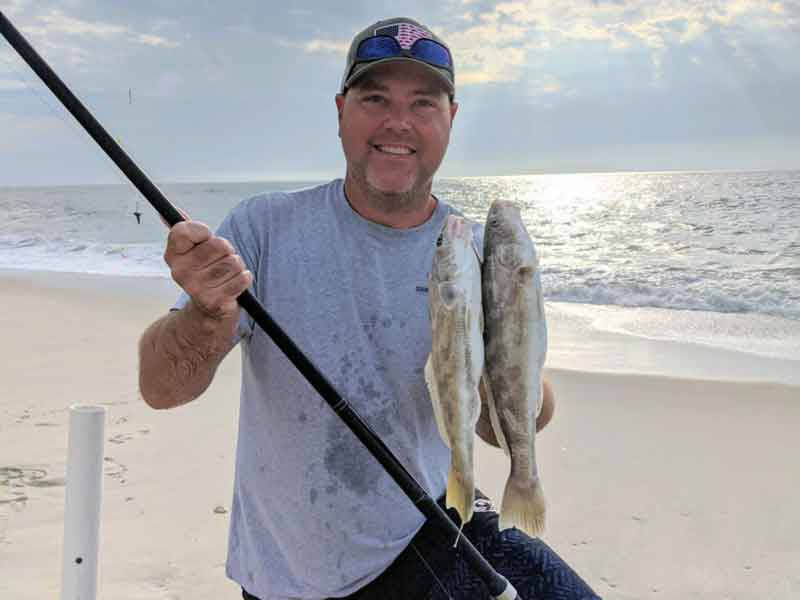 Offshore, boats who got out this week battled some turbulent seas after the storms passed by. The Ocean City Fishing Center reported that boats headed out as the White Marlin Open began were hitting the docks oftentimes empty-handed. The past few days have been rough, and boats that did come in with fish in the box (regardless of whether they were fishing the White Marlin Open or not) were predictably tight-lipped about where they caught.
Inshore, the sea bass bite remains unusually good. Limit catches are not uncommon or unrealistic and the sea bass must be feeding well, because they're chunky. Flounder are on the reefs and wrecks as well. We haven't had many dazzling reports of large flounder but Captain Cook on the First Light, fishing out of Indian River, reports a solid flounder bite and that some triggerfish have moved into the inshore reef sites. He also noted that a few cobia are now being spotted inshore on the coast as well. Also inshore, FishTalk team member Brooke King reports that casting bait and Gulp! for mahi around the bass pots off OC produced a handful of fish, though all were on the small side and rough conditions made the fishing difficult. Inshore off VA the bite is still dominated by Spanish mackerel and ribbonfish, however, more and more kingfish are showing up including some very nice ones. Remember that if you catch some ribbonfish close to home and then hit a deeper shoal and rig it on a harness with a long stinger, those kings absolutely love tearing into 'em.
In the back bays of DE and MD, (mostly throwback) flounder and small blues are in great abundance. Especially the blues, which are either terrorizing anglers or providing great fun if they're targeting them. Keeper blues are present, too. Flounder are taking soft plastics bounced off bottom and drifted baits. To the south, reports from Ocean's East are that that throwing a pink paddle tail has been producing some speckled trout here and there, while fishing bait has produced flounder and the occasional sheepshead, in Lynnhaven around the rip-rap.
In the surf Coastal Correspondent John Unkart continues to find kingfish, spot, and snapper blues all willing to strike including after the storms passed through. He reports doing best catching the spot on small rigs and then cutting it up fresh, to tempt the larger fish. He also picked up flounder in the surf again this week.