Tangier, Pocomoke, and Lower Shore Fishing Report, August 25 Update:
While school is getting back in session, fishing action is increasing as we approach the start of fall. Sea Hawk Sports Center let us know that the best news from the Chesapeake Sounds this week is the start of the red drum spawn. This spawn occurs every year during the last half of August, and they can be caught anywhere from the 72A buoy down to the Cell Reef. The Sea Hawk crew has been concentrating their fishing efforts from buoy 42A up to the areas of Pungoteague Creek. An assortment of cut and live baits such as kingfish, spot, and croaker on a fish finder rig with an 8/0 circle hook have landed plenty of citation sized fish recently. The best activity has been in the evenings near shoals and sloughs in 15 to 30 feet of water. Along with the reds, cobia are highly sought after this time of year. Many boats are making the transition from bait fishing to trolling large surgical tubes. We heard of decent action from charter boats fishing around the Target Ship this week, so it may be worth dropping some lines over to troll for the man in the big brown suit.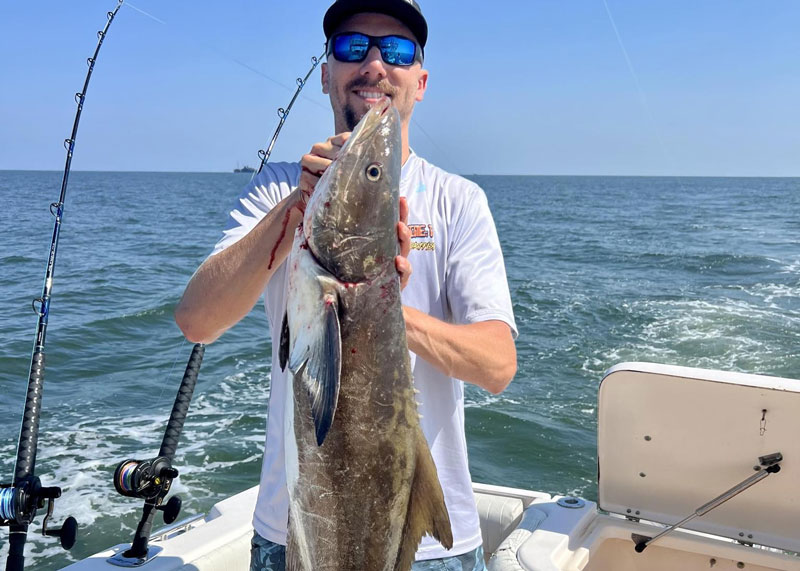 Right now is primetime for Spanish mackerel and bluefish as they chase schools of baitfish throughout the Bay. Most boats are trolling small Drone and Clark spoons along channel ledges between 15 and 40 feet of water. Keep an eye out for bird action and blitzing fish on the horizon. If you can find a frenzy, it offers fast paced action that is very fun on light tackle. The larger bluefish are still holding close to wrecks, but the occasional chomper blue has been mixed in with the larger schools. A reader fishing near Tangier Island reported finding a nice class of bluefish near wrecks. The blues were eager to hit paddletails, but often cut their line before making their way into the boat. After some retying, they managed to land eight bluefish in the two-to-five-pound range. While jigging near the wrecks, a lot of small black sea bass were short striking their jigs. A few were big enough to get hooked but fell well short of keeper size.
---
Tangier, Pocomoke, and Lower Shore Fishing Report, August 18 Update:
Chesapeake light tackle anglers love the late summer for the variety of fish that migrate into our waters. The Tangier and Pocomoke Sounds are arguably the most diverse fisheries in the Bay and we are seeing some great bites come to fruition. Many anglers are spending their time searching the shallows for rockfish, speckled trout, and redfish. Water temperatures are still very warm so targeting the shallows in the low light hours is providing the best bite. Once the sun gets up, the fish head to deeper waters to sulk in cooler temperatures. If you can find wrecks and reefs in deeper water anywhere from 10 to 30 feet, you have a good chance of finding fish. Captain C.L. Marshall of Tangier Sound Charters has been on some spectacular trips lately. He has regularly been catching double digit different species with specks, rockfish, reds, croaker, perch, mackerel, and sharks making up most of the catches. The more surprising catch of late has been nice sized pompano. Casting soft plastic paddletails in the shallows has tempted many fish into the boat but drifting chunks of peeler crab has proven just as effective.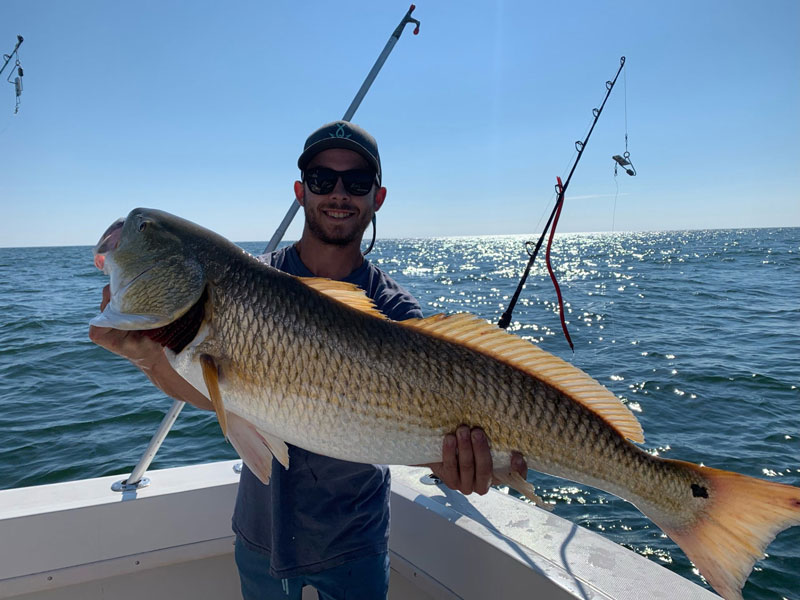 This region of the Bay has still been producing some of the larger bluefish this year. Most of the bigger fish are holding close to submerged structure like wrecks and reefs but the occasional chomper has been caught mixed in with the schools chasing bait. Sea Hawk Sports Center says Spanish mackerel are also around in good numbers and can be seen jumping out of the water as they chase schools of bait. Trolling near channel ledges between 20 and 40 feet of water is a good way to search for them but keep an eye out on the horizon as birds often give away the location of breaking fish. Chartreuse, pink, gold, and silver Clark spoons fished behind number one planers have helped coax these toothy fish over the gunwale.
Cobia reports are still slim, and we haven't seen the big push of fish we were hoping to get this summer but there are still some out there to be caught. The grounds south of the Target Ship and just West of Tangier Island are areas that boats live lining eels have been picking up fish. Sight fishing or dropping down chunks of cut bait are also viable options and as we get later in the season more boats will start trolling large surgical hoses. Trolling seems to work better later in the season right when the bigger fish start feeding hard as they prepare to migrate south for the colder months.
---
Tangier, Pocomoke, and Lower Shore Fishing Report, August 11 Update:
Late summer on the Chesapeake Bay often provides a sampling of all this amazing fishery has to offer. The Tangier and Pocomoke Sounds are home to some of the most diverse fisheries in the Bay and anglers have been taking full advantage of the late summer opportunities. Captain C.L. Marshall with Tangier Sound Charters is finding this firsthand with over 15 different species coming across the washboards during a trip this week. His catches included red drum, rockfish, speckled trout, croaker, kingfish, blue catfish, channel catfish, sand perch, white perch, and many more. He even landed some nice sized pompano. Captain C.L. has also been finding good luck with big red drum while drifting peeler crab. He expects this fishery to get better as we get into the month of September.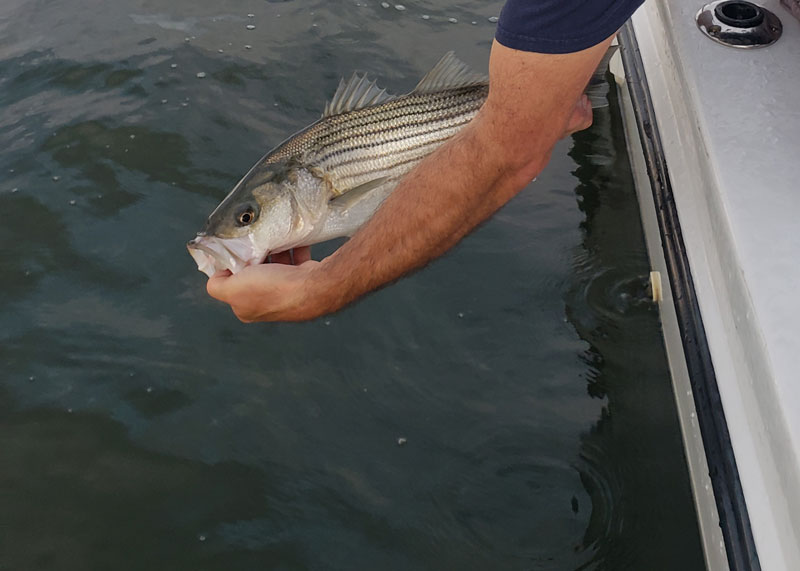 A nice grade of bluefish is still being caught in this region of the Bay. School of bluefish and Spanish mackerel are abundant along channel edges anywhere from 15 to 40 feet of water. They are usually found feeding on bay anchovies so keep an eye out for bird action or breaking fish when out on the water. A pair of binoculars is always a good idea to have on board to scan the horizon for signs of fish. The largest of the blues have been caught near underwater structure like wrecks and reefs. Metal jigs or soft plastics like paddletails are getting slammed when casted near these area's so make sure you have the appropriate gear and line to handle these toothy fish. Cobia are still a popular target but their numbers have been lacking this season. The good news is it only takes is one big fish to make the day. This is the time of year where we start to see bigger cobia move north, so we will let you know when those reports start rolling in.
Inside the seaside inlets, summer flounder fishing has been good. Sea Hawk Sports Center let us know that the flatfish have been keying in on teaser style high low rigs in chartreuse, white, pink, and orange colors. Minnows and silversides or squid strips and Gulp! baits have been tempting fish into the boat. As is usually the case, the most crucial factor is clear water which seems to be more prevalent on the end of the flood tide. Take this into consideration when planning your next trip.
---
Tangier, Pocomoke, and Lower Shore Fishing Report, August 4 Update:
This time of year, we tend to get a good variety of species throughout the Chesapeake Bay and the Eastern Shore sounds offer one of the more diverse fisheries in the Bay. We had a reader report of a nice black drum caught off Onancock Creek, after being tempted by a live croaker. Another checked in to let us know that trolling Clark spoons provided bites from bluefish and then he caught his first Spanish mackerel of the year this week. The mackerel bite has been spotty up to now, but it seems that we got a push of fish north this week. Schools of bluefish are more abundant, but mackerel will be cruising through the same areas or even mixed in with the blues. Trolling a bit faster than you would for bluefish can help pick up more mackerel and anywhere between six to nine knots should do the trick. Schools of breaking blues and some mackerel have been popping up sporadically on most days. Keep your eyes on the horizon to search for bird action as they frequently indicate where these schools of fish are feeding.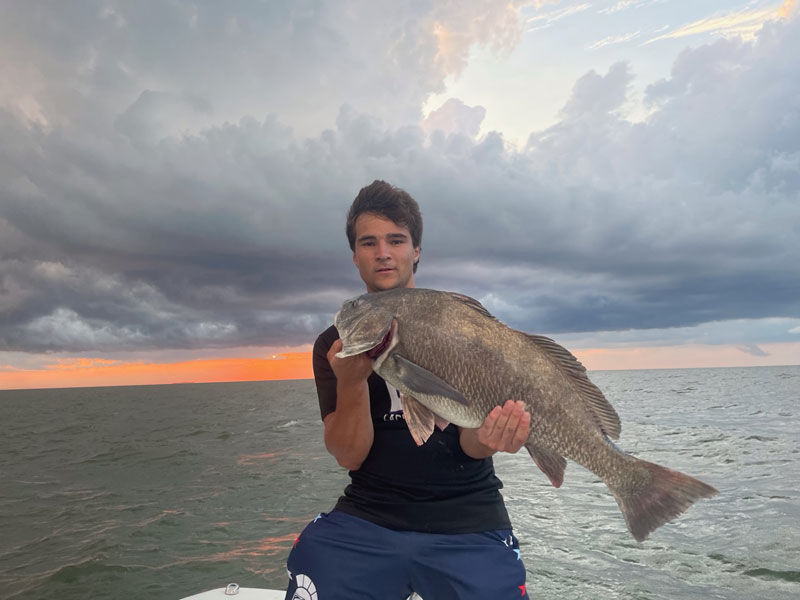 The dog days of summer have warmed bayside water temperatures which has made the shallow water bite very difficult. There are still some fish near the grass beds and nearshore structure, but many fish are seeking cooler temperatures in deeper water. Anglers who are seeking to catch specks are generally not finding an abundance of fish. However, their efforts have been rewarded with some quality trophy sized fish up to 28 inches. Rockfish have been more abundant than specks in the shallows near shoreline points and submerged structure. Captain C.L. Marshall of Tangier Sound Charters has been catching rockfish and specks on most of his recent trips. Soft plastic paddletails have been working great for both fish.
The flounder bite has been good at the seaside inlets so plenty of area anglers are heading east. Sea Hawk Sports Center let us know that anywhere between the Quimby Inlet and Chincoteague has provided steady action for the flatfish. The bite is best where the water is clean, and the best activity is culminating during the end of the incoming tide and at the start of the outgoing. The water tends to clean up during this tidal driven timeframe. Gulp! baits paired with squid strips or minnows and any variation of pink, chartreuse, white, or orange teaser rigs are enticing bites.