Upper Chesapeake Bay Fishing Report, June 24 Update:
The Tolchester/Hodges zone remains the best game in town, heck on the entire Bay when it comes to rockfish, with multiple readers reporting significant catches on stripers up to 32-inches mostly on live spot but also a few via jigging. As has been the case recently, the bite has been early and late with stretches of doldrums midday. We also had some reports that it's been common for one boat to own the school and catch fish after fish while others within eyesight remained bite-less. Searching around for pockets of fish with the depth finder and setting up on top of them has been the move, landing many boats their limit. We also got word from Big Worm charters that when the fish are under the boat and turned on the action can be fast and furious, and having plenty of frisky spot close at hand is key. The Famous Frankie Backlash from Rusty Hook Bait and Tackle also let us know that all reports of striper are coming in from up north of the Bridge, with the area between Love Point and Tolchester producing most of the keep. Bowley's Bait and Tackle mentioned that there are stripers near Poole's Island, too, but they've been tough to figure out from day to day. As usual for this time of year, livelining spot is the most effective way to go after them. Speaking of spot: the mouth of the Chester has been holding 'em, in 10 to 12 feet of water. Bloodworm-tipped Chesapeake Sabikis are doing the trick.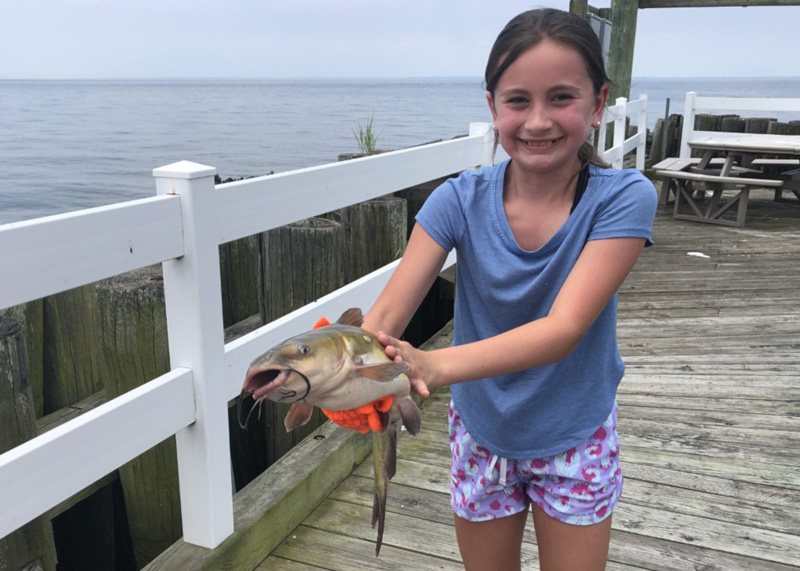 Bowley's and the Rusty Hook also both mentioned that perch are wide open right now, and fairly easy to locate. They're happy to hang around structure and their activity has been on and off depending on the position of the sun. Like most other species right now, they're far less active under oppressive heat (tip: look for and cast into the shade, during midday hours).
Crabbing report: Solid reports are now coming from the Magothy, where trot-liners working in six to eight feet had a ball filling their baskets last weekend.
---
Upper Chesapeake Bay Fishing Report, June 18 Update:
Readers who attempted live-lining or chumming at Swan Point and the mouth of the Chester, Tolchester, and Hodges over the weekend reported mass crowds, one saying it "was like the Blue Angles were doing another show." Perhaps as a result, fishing was sporadic. We had several reports of fishfinders lit up with awesome marks but few fish willing to take the baits during much of the day. As one might guess, the best bites were at daybreak and at sunset, and we did hear that it was as epic as it was short-lived when the fish were turned on. The bite mid-week was better, but still on and off with some anglers reporting solid action and others missing the bite. Tochterman's agreed, but mentioned that anglers who hit the Key Bridge enjoyed a perky white perch bite, too. Quite a few reports came in from the area, where perch were plump and active this week.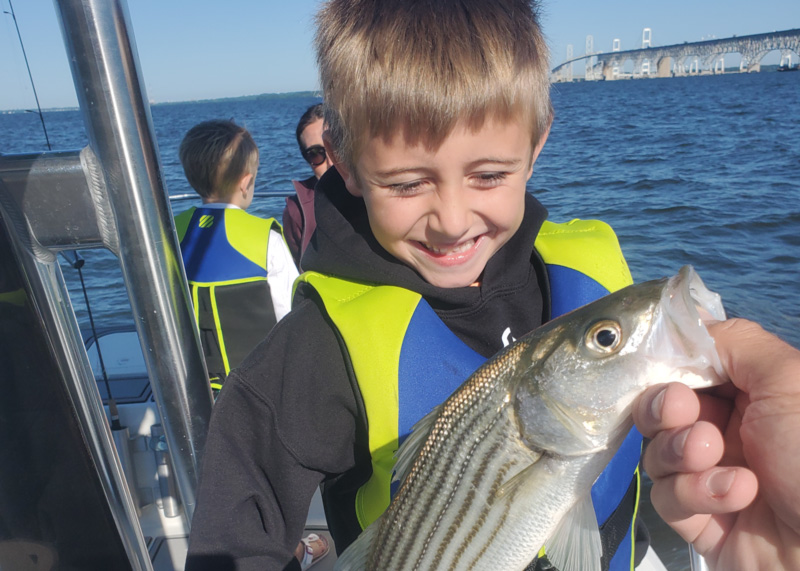 Livelining was the ticket to most of the catches for many anglers who chose to hit these areas. At the points, jigging was producing a mix of undersized fish and keepers, although the bite was really, really slow at times. Fish were more active at the aforementioned locations than around either bridge and more keepers were present. Using spot or small white perch to liveline was common and the mouth of the Chester was a common place for liveliners to stock up on bait. 
Angler in Chief Lenny Rudow reports fishing the Bay bridge and finding lots of fish willing to hit five-inch paddletails and jigging spoons and said he also saw some schools of fish breaking water early in the day, but all were undersized. Even the boats dropping spot were coming up blank or catching almost all throwbacks. Clyde's heard about the same, although some anglers did report catching keeper fish at the Bridge. Again, catch reports were somewhat scattered and included primarily undersized fish with space between hits. They also had reports of white perch at the Bay Bridge, taking bloodworms on bottom rigs. Fresh bloodworms were outperforming FishBites, but the Bites worked in a pinch.
As per usual, catfish were a common nuisance for anyone fish the bottom in hopes of other species. Anglers who did target catfish with freshly cut baits had no trouble wrangling them!
---
Upper Chesapeake Bay Fishing Report, June 10 Update:
Maybe it was the heat, maybe it was the boat traffic, or maybe it was the pressure systems and fronts pushing through, but for whatever reason we've been hearing from readers and from our Angler in Chief that this past week (and especially over last weekend) some days striper fishing became very tough during the midday hours. Fish have been hitting well at daybreak and again for a very brief burst of action just before the sun sets, with live-lining offering the best opportunity. Fish are also being caught on jigs (white skirted in chartreuse being the move), but again, mostly during brief windows of opportunity. We heard that even the white perch have been acting finicky in open Bay waters during the midday hours, with a better bite to be found close to shorelines under docks and in shaded areas. Hopefully, the recent weather will shuffle this pattern and late risers won't get denied.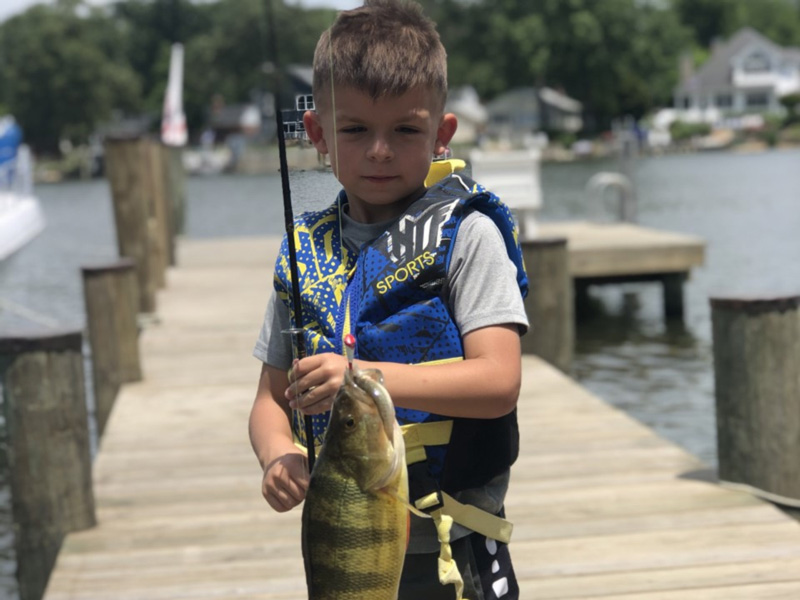 Anyone visiting Love Point or the mouth of the Chester River last weekend probably spotted more boats than fish… but Love was still the Upper Bay spot we heard the most reports of success from, by live-liners fishing un-weighted spot hooked through the back in front of the dorsal in 15 to 25 feet of water. Tochterman's suggested using a number seven or eight circle hook for them. One reader noted that while the pack at the mouth of the river looked bored, dropping his spot away from the masses on the other side of the Chester's channel produced fish up to 26 inches. Tochterman's echoed this, mentioning that there are fish in the Chester, but that most live liners are finding them (when they aren't fighting the heat or the fleet) all the way from Love Point to Rock Hall. Clyde's reported that the largest concentrations of stripers are north of Tolchester. They let us know that there were reports of dolphin pods around the Bay Bridge throughout the week, possibly driving those stripers farther and farther north. Clyde's also suggested live lining and reports that anglers using spot or eels with less than an ounce of weight in areas around 20-feet of water are catching.
Angler David Rudow reported that in the Patapsco white perch are in masses hitting on bottom rigs and bloodworms, and says that a moving tide has been key to rackin' up those perch. He also reported that channel cats are in the Inner Harbor and oddly enough, one this week smacked his jerk bait. If you're hoping to fish for cats in the Inner Harbor, using bunker chunks or chicken liver is probably your safest bet. That said, just about everything is getting them to bite, from Berkeley Power Bait to chicken liver to cheese to whatever that mystery meat is in the back of the freezer. The Upper Bay is carpeted with them right now, and they'll eat just about anything, including our indigenous species that really, really don't need any additional pressure right now. If you're headed out, it'd be a good move to take some rigs and bait for catfish. Even if they aren't your target species, they're a great backup plan or fish to go after if stripers didn't satisfy that need for the tug. (As an aside, if you have kids we can guarantee they'll be thrilled to reel in a fat cat and hear the croaking noise they make. Never met a kid who didn't love catfish, just as long as they're steering clear of their barbs.)
Tochterman's had excellent snakehead reports from the Middle River, Dundee Creek, and Bush River. Angler's who headed out were crushing them with Mepp's Aglia number three and four plain spinners, plastic frogs, and chatter baits. They're protecting their brood right now, so you've gotta give them some action to entice a bite.
---
Upper Chesapeake Bay Fishing Report, June 4 Update:
The Angler in Chief reports that the lower Chester is holding pockets of roving rockfish from 16" to 26". Stacks of boats are live-lining with spot (when they can find baits, which haven't been easy to locate north of the Bridge) or white perch, and chumming with bunker, with solid success. Jiggers willing to spend some time hunting in 15' to 24' of water can get 'em biting on white and pearl skirted BKDs jigged right on bottom. The key to success early last week was travelling up-current until going over a school, them immediately casting behind the boat and snapping the jigs down deep right on bottom. Additionally, readers report that the live lining bite at the Bay Bridge is producing some keeper fish. Small white perch and spot were being gobbled up on the incoming tide. However, once the weather cleared up the whole fleet was out last weekend around the bridge, making for a bit of a madhouse situation around the pilings at times. Clyde's mentioned the same and suggested heading out early in the morning to beat the fleet.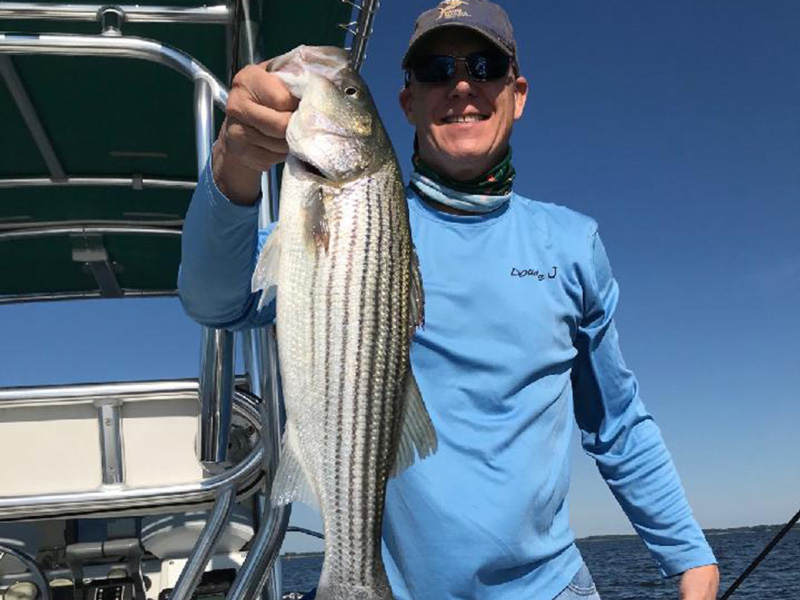 Clyde's also recommended hitting the rivers to stock up on white perch before heading out — they're biting around structure in the creeks. Finding them has been easy, as most of your favorite fishing holes should be holding them by now. Tochterman's also mentioned that there are some around the Key Bridge and Inner Harbor. Kayak-angler David Rudow reported hitting the Inner Harbor this week and racking up a bunch of white perch.
Tochterman's also let us know that catfish are still abundant all throughout the Upper Bay. It hasn't really mattered too much where you're heading for them — they're all over the place! Finding some fresh-cut bait and weighing it down on bottom should be sufficient to tempt them in. They've been reported by chummers looking for rock at Podickory, near the mouth of the Patapsco, and by chummers in the Chester.