Way North Chesapeake Fishing Report, January 27 Update:
Fishing has really slowed down this month and we haven't received many reports from up the Bay. Frequent wind and poor weather are partly to blame. Yellow perch are showing up in the tidal tributaries but will not be in full spawn until mid to late February. The perch spawn is hard to predict and can vary depending on temperature and other weather events. Live minnows are the best bait for the perch and can be fished under a bobber or paired with a shad dart to be bounced on the bottom. Right now, focus on deeper holes and channels. Don't be afraid to bounce around if things are slow because one area may produce zero bites while others may be loaded.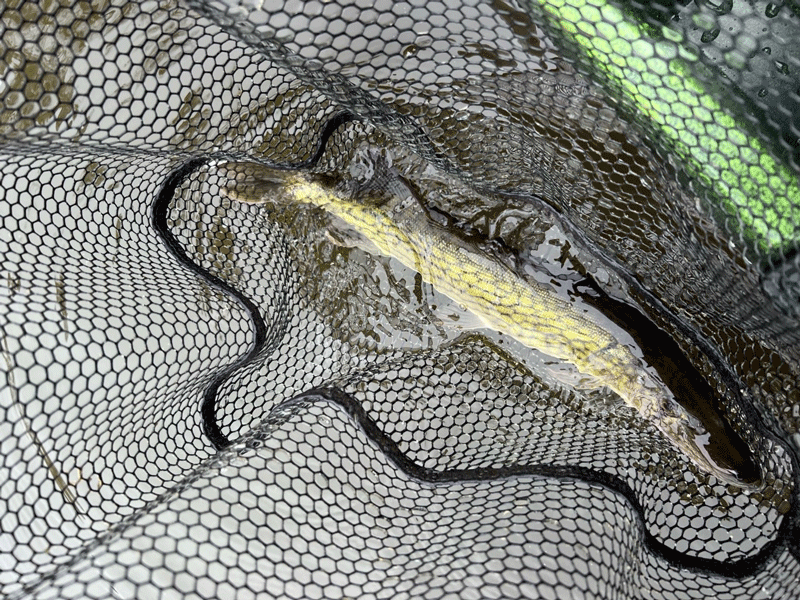 Pickerel fishing is still good right now in the tidal tributaries. Jerk baits and spinners are great artificials to throw for the pickerel. Shiny baits or baits that rattle work well at getting their attention and enticing them to bite. Live minnows work especially well in the colder temperatures. There is still time to register for the CCA Pickerel Championship which runs until the end of February. Blue catfish are also very active this time of year and provide good fishing opportunities for both shore and boat anglers. The catfish sit in deeper holes and channels but like to be close to flats where they often feed on shad and other fish. It is a good idea to get on a ledge and cast baits shallow and deep to find where the fish are more concentrated. Fresh cut bait like shad or chicken breast work great. It is important to remember that the blue cats are invasive and are very harmful to many native species so keeping them to eat is a good idea. They also taste fantastic and can provide plenty of fillets for a fish fry so don't be shy to fill a cooler with them!
---
Way North Chesapeake Fishing Report, January 19 Update:
Fishing hasn't been great for the past few weeks and some areas have been locked up in ice  on and off after cold nights, but some anglers are still braving the cold to chase a bite. We haven't received any reports from the Conowingo Dam and angling effort elsewhere seems to be predominantly focused on catfishing. As usual, blue catfish will be found in almost all tidal waters and channel catfish will be more concentrated to the tidal rivers. Using cut bait will produce the best results when targeting them. Yellow perch are currently staging in the deeper holes and channels of the tidal tributaries in preparation for their spring spawning run. We are hoping to see the perch run really take off over the next few weeks. They have been relatively quiet in our way north areas thus far, but we are hoping for that to change soon. Minnows fished on shad darts along the bottom has been the most productive technique for the few anglers targeting them.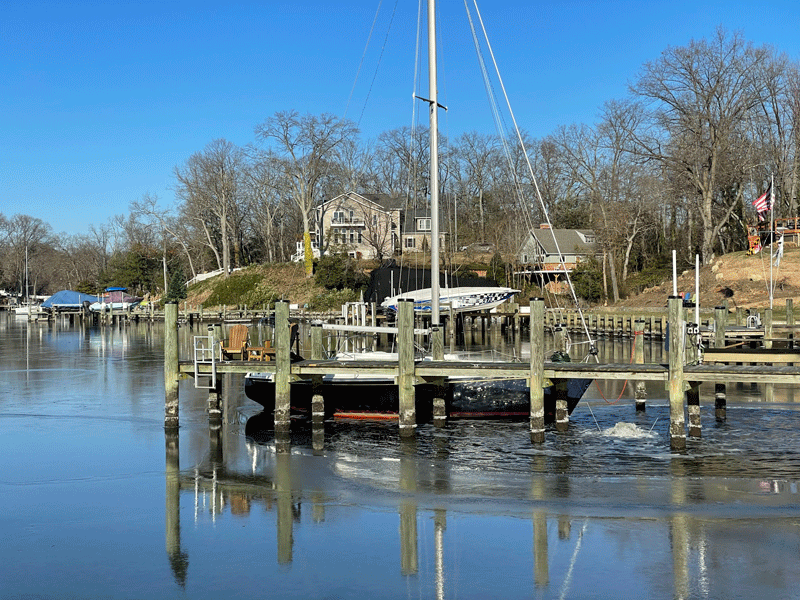 Now is a great time to remind anglers how important boating safety is during winter. Wearing a life jacket and keeping a close eye on the weather are extremely important in the colder months. It is also a good idea to fish with a buddy and make sure others know your plan for the day prior to leaving the dock. Water temperatures in the 40s will cause hypothermia to set in quickly if you go overboard so make sure to take all necessary precautions while on the water. We want to make sure everyone is safe while they search for some fish willing to bite. The extended forecast looks to show cold weather returning to our region this weekend and continuing through next week. Nighttime lows below freezing may start to ice up waterways again so make sure to get out before water gets iced over.
---
Way North Chesapeake Fishing Report, January 12 Update:
A mild first half of January has given us some great fishing days for anglers wanting to wet a line. A brief cold front is expected to come through this weekend but temperatures look like they will be back into the 50s next week. Take advantage of the warmer days while you can because old man winter is sure to bring on colder weather soon. Yellow perch have been very active this month and are staging in the deeper holes. Minnows on shard darts bounced along the bottom has been working well but small spinnerbaits are also getting the perch to bite. By the end of the month, the yellow perch will begin to run up creeks and tributaries as they begin their spawning runs.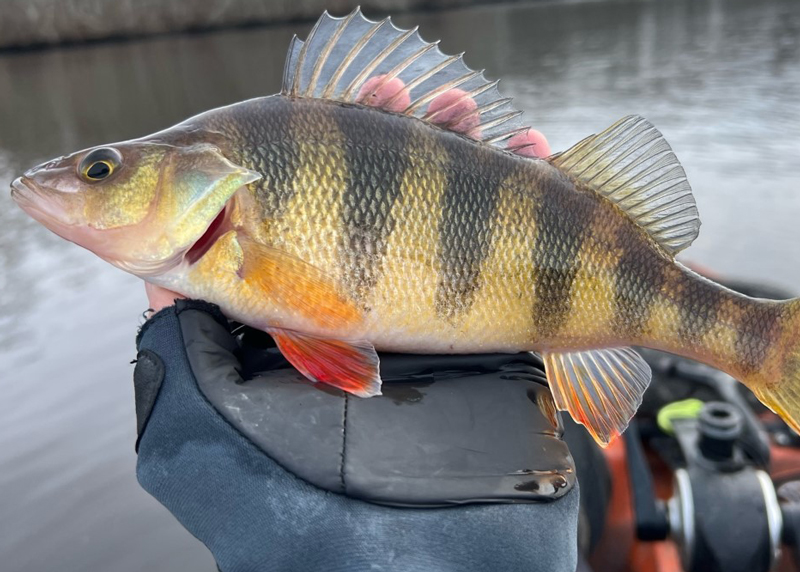 Pickerel fisherman on the have been doing well and jerkbaits have seemed to be the hot bait. Areas near structure or channels can be productive for the pickerel as they like to hold in places where they can ambush bait. Spinnerbaits or bladed jigs also work well but you can never go wrong with a live minnow fished under a bobber.
At the Conowingo Dam, there is the opportunity for some walleye along the rocky shorelines. Paddletails and jerkbaits worked slowly or bounced along the bottom can get these fish to bite. Bright colors, especially white, are good options to throw. Be prepared for snags though as strong currents and rocky bottom can easily snag lures. Patience is important when targeting these fish. Blue catfish can be found all over the tidal waters and are very active this time of year. They can be caught in the deeper holes and channels but will feed on the flats as well chasing baitfish. Fresh cut bait will always work well for them. Added some sweet scents or flavors can increase your number of bites as well.
---
Way North Chesapeake Fishing Report, January 6 Update:
It was an unseasonably warm start to the New Year with near record high temperatures this week. We aren't complaining about it though, because this weather has given us some great conditions for getting out on the water. Fishing is slow right now up north but dedicated anglers can still find some fish willing to bite. Yellow perch are starting to stage right now. This means that they are in the deeper holes in the upper parts of tributaries like the Elk and Northeast Rivers. As we get closer to February, they will begin to move into shallower areas. Small jigs work great for them, but live minnows will be the best bait to use when targeting the perch. Pickerel are also active this time of year and the recent warm weather has improved the bite for them this week.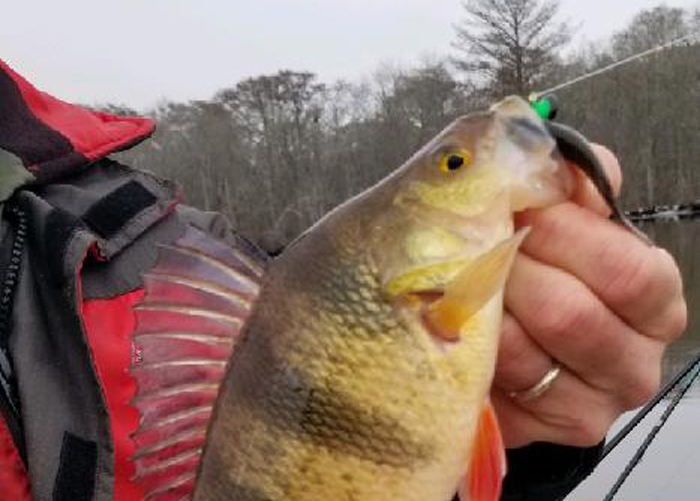 The upper portions of the creeks in these tidal tributaries is where you will find the pickerel. Spinners, bladed jigs, and live minnows all work great for the pickerel. Focus on areas with structure or ledges nearby. Some recent rain may have muddied the waters so if you are fishing in murky conditions, throw dark, natural colored baits for better results. Make sure to check out the CCA Pickerel Championship which runs until the end of February. There are plenty of divisions for anglers to enter along with some great prizes.
As always, catfish are plentiful, especially blue catfish. They will be found in all the tidal waters while channel catfish will be more confined to the tidal rivers. Chicken breast or chicken liver cut into chunks has been working well for catfish anglers this winter. Don't let the cold keep you from hitting the water, and let's make catching more fish one of our resolutions in 2023!