Lower Chesapeake Bay Fishing Report, September 25 Update:
Anglers: due to all the blustery weather the past week, we had a tough time getting our usual data dump. Reader reports were down and several of our usual sources simply said they haven't been able to get out. We've gathered what info we could, but have to warn everyone that this week's reports are on the thin side.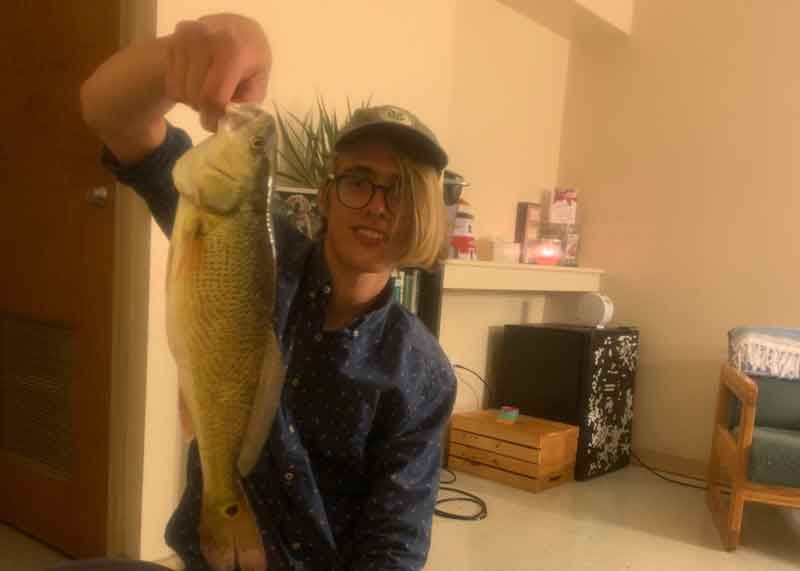 The lower Potomac and the lower Rap are full of spot, with many large enough for the cooler, plus a few croaker. Bottom fishermen dropping Fishbites and Bloodworms are also catching occasional (small) specks and reds. The Tackle Box notes that some of the puppies are keepers these days, a notion confirmed by FishTalk Report Editor Mollie Rudow, who observed her friend Ryan pull up one over 18-inches while fishing the St. Mary's with a bottom rig and Fishbites (croaker and spot were also in the catch). The Tackle Box also pointed out that in some areas the spot are numerous enough to "catch a mess" of 'em and we saw a couple pictures of coolers stuffed to the max this week.
The cobia bite is winding down for sure, but it's not over just yet. Contributor Eric Packard let us know that trolling near the target ship mid-week was slow, but did produce two smashing hits — one that ended in heartbreak when a "really, really big one" broke off just a few feet behind the boat, and another that ripped the hook right out of his red surgical hose. Ouch, that stings. A second trip later in the week produced similar results with two hits, one from a keeper-sized cobia and another from a throwback. We heard from one other reader who caught one keeper, also trolling tubes, and also on red.
Again we have to note, the blustery winds kept most folks off the open Bay much of the week, but just before putting these reports together we heard from one angler who trolled post-windstorm and did catch a handful of mackerel but mostly blues (plus a few released stripers) in the 10- to 14-inch range under birds northeast of Stingray Point. Silver Drones behind number-one planers were the ticket.
---
Lower Chesapeake Bay Fishing Report, September 18 Update:
With waters temperatures dropping fishing patterns are beginning to change, however, seasonal species haven't headed too far south yet and multi-species fish are still hitting the decks in the Lower Bay. Many anglers are hoping to get in on the last of the cobia bite and the Tackle Box reported that cobia have been concentrated to the north on the 25-foot edge of the eastern shore, primarily between buoys 74 and 76. After it was let slip that a pod was moving through over the weekend, they said that a big pile of boats fleeted up in the area. Cobia are also scattered throughout the shipping channel and will take large trolled surgical eels in all colors, although red and orange are top picks.  We're didn't hear about great numbers in general at the Target Ship, but one reader did check in to let us know he got two keeper cobia trolling tubes in the vicinity of the target and another took a 45-incher south of there, also on the troll. The Tackle Box suggested setting your drags easy; they've heard of several break-offs this week as the fish busted lines before the rods could be taken out of their holders.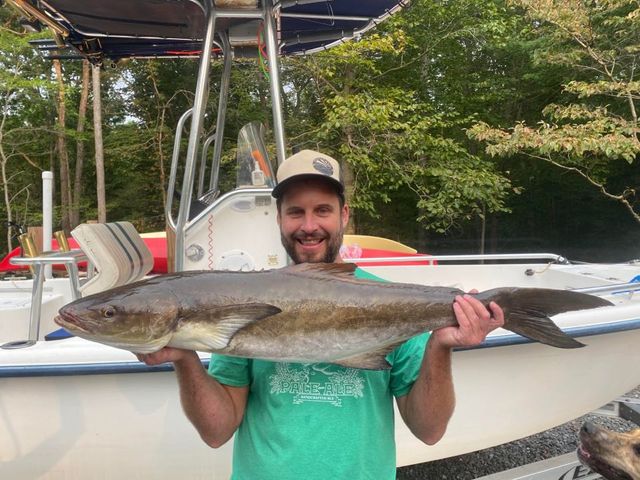 Spanish mackerel are still much more prevalent in the reports than they were up north this week, with readers letting us know small spoons behind number-one planers were hauling in catches ranging from good to massive in the vicinity of Smith Point and Windmill Point. Blues are in the mix as well, though few are better than a pound. As for the pan fish, fishermen are loading up on spot daily while bottom fishing and some croaker are being pulled up as well, but most are smaller than the spot.
Specks and small reds remain the main targets in the lower tribs, with plenty of the specks sized for the cooler but the vast majority of the redfish under the slot. Both are hitting small plastics with paddle-tails in white, pearl, chartreuse, and pink, but we also heard from one reader fishing the lower Potomac that topwater at sunset generated some heart-thumping strikes, and from another fishing behind Gwynn's that shrimp tails bounced along the bottom on a bare jighead was productive. Riprap and points with current have generally been the best bets. Bottom fishermen are loading up on (eating sized) spot pretty much wherever they drop bloodworms or Fishbites to the bottom over shell and structure in the eight to 20 foot range.
Crabbing Report: It's on, people, bait up your trot lines!
---
Lower Chesapeake Bay Fishing Report, September 11 Update:
Spanish mackerel are in fine form in the Lower Bay, with multiple reader reports of fast action just south-west of the Target Ship, off Smith Point, off Windmill Point, and along the channel edges and off the tributary mouths going down the Bay. Bluefish are also in the mix though most are on the small side. Finding birds has been a key to success but they haven't always been present, so trolling fast (don't forget to calculate "Mack Speed") and moving until you find 'em has been important. The Tackle Box let us know that big catches of mackerel were made off Point Lookout in what used to be known as "The Hotel", but is now better described as near the fishing pier. They also mentioned that while there are Spanish mackerel in the Potomac right now, they've been difficult to find. Some large croaker were reported at Cornfield Point in the lower Potomac, a viable backup plan for that area as well.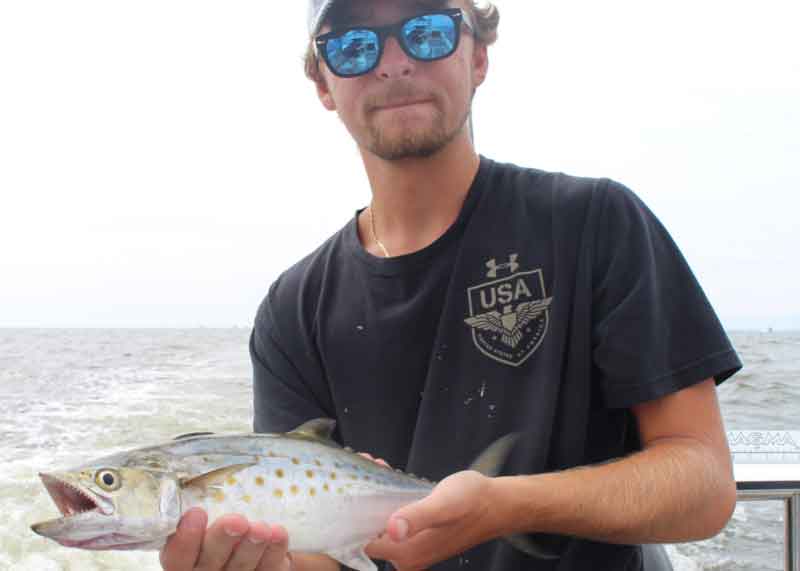 FishTalk Fishing Reporter Mollie Rudow also found puppy drum around Church Point at St. Mary's College — her fishing trip between classes produced one on a chartreuse and white soft plastic combo. Anglers fishing near the docks at St. Mary's have been slamming spot recently, as well. Additionally, the Tackle Box suggested searching the shallows for speckled trout and puppy drum, which are showing up in abundance. They reported that some keeper slot redfish was caught in the creek mouths this week, and anticipate that keepers meeting the slot will be much more common this season as we approach cooler weather.
There are still some flounder being reported from The Cell, where bottom fishermen probing the shallower water just to the east are also catching a few flounder, spot, croaker, and also a few kingfish (whiting). Very good bottom fish catches were also reported in the New Point Comfort area, with a reader letting us know he filled his cooler with large spot, a few croaker, and one weakfish.
---
Lower Chesapeake Bay Fishing Report, September 4 Update:
There's an excellent mix in the Lower Bay tribs right now, and Contributor Eric Packard checked in after hitting the lower Potomac near St. George's Island to let us know that a morning of casting pink plastics on half-ounce heads mid-week produced a great variety of species including speckled sea trout, stripers, bluefish, ribbon fish, and a small flounder. Reader reports from the other Lower Bay tribs were similar, with flounder (mostly small) and puppy drum (also mostly small though we did hear of legal slot-fish from the James). The Tackle Box confirmed the reports and let us know that mackerel have been breaking all up and down the shipping channel. They mentioned Point Lookout to Smith Point as the hottest areas, and suggested pulling spoons. Having larger spoons in the mix is also attracting big bull reds to bite. In general, anglers have been locating puppy drum throughout the shallows. Bluefish are in the mix as well, although they're more scattered. The Tackle Box noted that although they've been difficult to pin down location-wise, once anglers are getting into them, the bite is good. In the Tribs, white perch and spot are both abundant.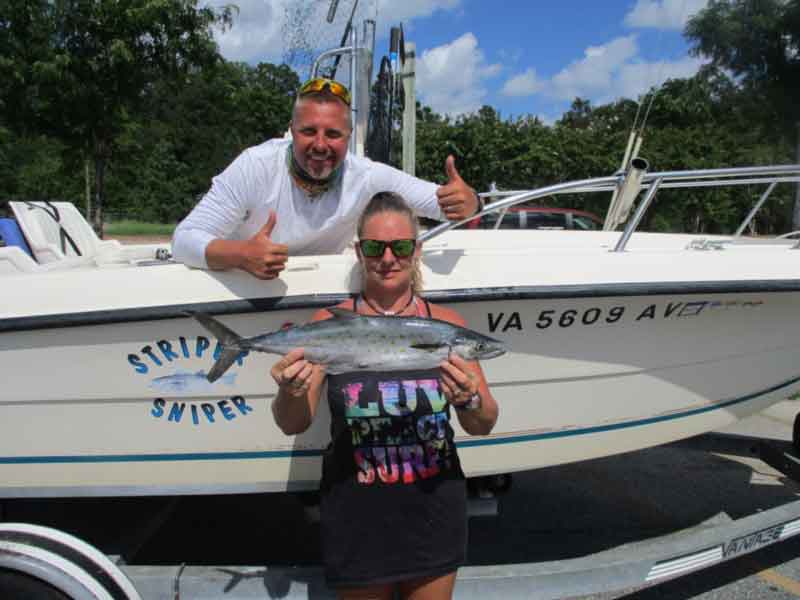 There was also a slight up-tick in the cobia bite this week, with a few boats reporting catches of one or two while pulling red or green tubes, mostly in the vicinity of the Target Ships. One reader checked in to let us know there are some flounder in the vicinity of The Cell.