Lower Chesapeake Bay Fishing report, August 28 Update:
Like much of the Chesapeake it seems the Spanish invasion is in fine form here, too, with multiple reader reports of fast action just south-west of the Target Ship, off Windmill Point, and basically popping up along all the channel edges and off the tributary mouths clear down to the mouth of the Bay. Blues are also in the mix. Exactly where they show up at any given time is a bit of a roll of the dice, as they're chasing schools of bait in open water as opposed to sticking around any sort of structure, so keeping the binoculars handy to look for birds and staying on the move until you locate fish has been key.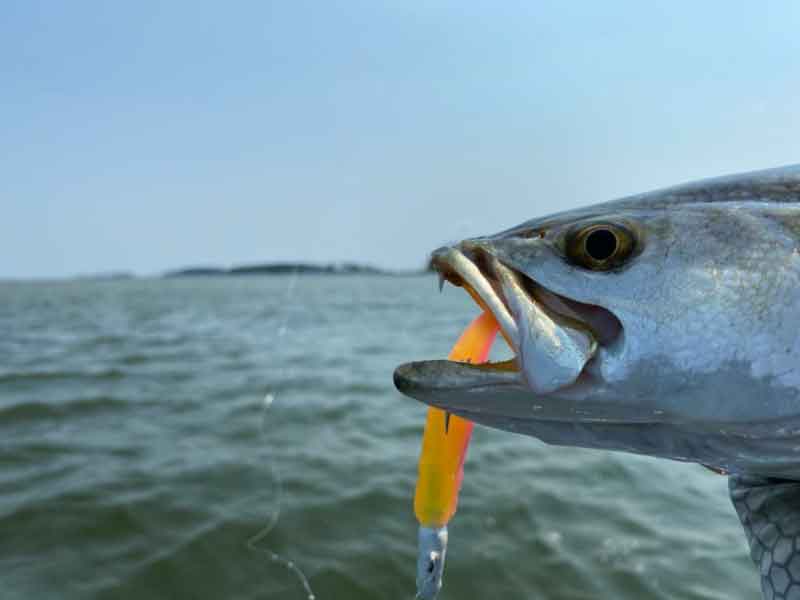 In the trib mouths, speckled trout remain fair game. Small plastic paddle and shad tails on half-ounce heads have been a good bet, especially when the color pattern includes some pink. Reader reports of success on between one and six keepers came in from the Potomac and the James, so the shorelines of the entire Lower Bay hold promise right now.
We had two reader report of big redfish joining the frenzy under some of those birds in open water, one who caught one jigging deep with heavy metal southwest of the targets and another who had one strike a spoon on the troll "sort of near" the San Marcos. Cobia have resurfaced in the reports after a bit of a hiatus, too, with a chummer at the Middle Grounds reporting one keeper and one throwback early in the week, a reader who trolled tubes around the Target Ship catching one just shy of the limit, and one sight fishing "south of the Rappahannock and north of the James" enjoying multiple throwbacks and two keepers for his efforts. If this year is like last year we may well get another blast of action from the cobia before they turn tail and head south for the winter, and after their recent slowdown we could be glimpsing the beginning of that right now.
---
Lower Chesapeake Bay Fishing report, August 21 Update:
Remember folks: targeting striped bass is illegal through August in Maryland portions of the Chesapeake Bay, and in Virginia waters, until October. In the Potomac, they reopen today (August 21).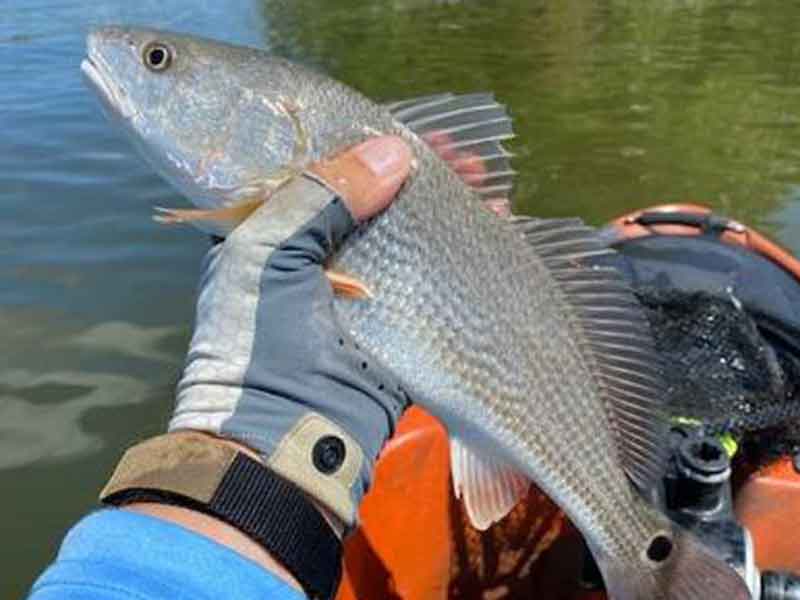 Anglers across the Lower Bay right now are switching gears to target speckled trout in many areas — with stripers out and the bite hot, many are enjoying productive days in the shallows. The specks can be located throughout grassy areas and off points in all the western trib mouths these days. They've been providing lots of action during mornings and evenings when the bite is hot, with some puppy drum (mostly throwbacks in the 10- to 15-inch range in northern areas but a few slot fish popping up from Gwynn down) adding to the action. Tossing four-to-five inch four-to-five inch curly/twisty tail soft plastic is the move. Chartreuse, pearl, white, and pink are all working, although tossing in some sparkle can liven up the action. One reader reported catching 10 reds in one outing on a green Beetle Spin with a silver blade, and while the largest of his batch was only 13 inches, he reported it was great catch-and-release fun.
Out in open water, meanwhile, Spanish mackerel are providing a fun fishery for trollers. Trolling the channel edges with Clark and Drone Number One spoons in gold is putting the bend in rod tips. Readers reported finding them in the area of buoy 68 and near the targets. We also heard of a couple of big reds that hit spoons under the working birds.
We had one lone report of a flounder at the Cell this week, and we'd bet there's still a good shot at 'em there right now for those willing to work at it. What about the cobia? We did hear from three readers who spent some time fruitlessly attempting to catch cobia this week (Windmill Point and Wolf Trap) with only one reporting success (and just a lone fish), so it seems these fish were still in lockjaw mode, at least for the most part, the past week.
---
Lower Chesapeake Bay Fishing report, August 13 Update:
The Lower Bay is providing abundant opportunities for anglers fishing from shore and by water. The bite for bottom fish is great right now, with plenty of species available. Spot, perch, catfish, and croaker are all in good supply, with the dominant species depending on your specific location. Dropping a bottom rig with bloodworm, grass shrimp, or FishBites is bringing nothing but good news.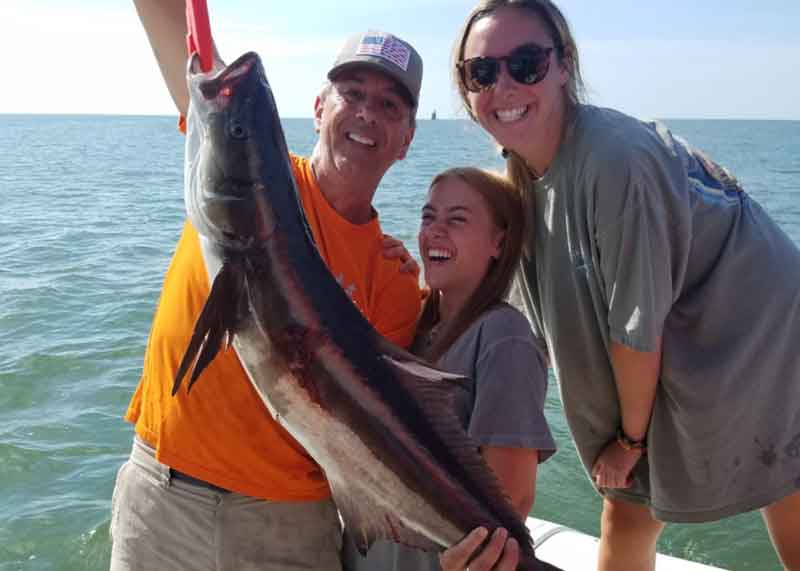 The Tackle Box let us know that the most exciting news this week is that Spanish mackerel and bluefish are widely available. They're hanging out from the shipping channel all the way up and down the Lower Bay with the Targets and Windmill Point both drawing extra attention. Pulling Number One gold Clarks and Drones is a favorite tactic right now. If you're hoping for mackerel, remember to keep for trolling speed north of what you do for rockfish, they like the faster troll. Some notably large blues are also coming out of the water right now, and we're hearing more talk of them absolutely destroying soft plastics. Although the cobia bite has been tough (a few are still being caught by the Target Ship, off Windmill Point, and in the Wolf Trap vicinity), trollers targeting other species are picking them up here and there by adding a hose into the mix of spoons.
Additionally, there are some huge redfish schooled up and moving throughout the Lower Bay at a quick pace from Point No Point to Smith Point, on the Middle Grounds, and at the Mud Leads. They're follow the mackerel and blues around looking for a feast, so birds are a good indicator. We had several reports this week that they were not only being jigged from under the frenzy, but also boiled on the surface themselves.
Speck fishing is also awesome right now. They're hitting curly/twisty-tailed white, pearl, and pink soft plastics with some sparkle in the shallows and grassy areas at the tributary mouths. Puppy drum are also around and eating everything that moves, however, most are very small.
---
Lower Chesapeake Bay Fishing report, August 7 Update:
Attention FishTalk Readers: Due to the impact of the storm Isaias on our region, we want to caution that regardless of whether you fish freshwater, the Bay, or the ocean, the fishing deck has been shuffled. Much of the intel we received this week was gathered prior to the storm so we have to question its efficacy. While we did also get a trickle of info in on Wednesday evening and through Thursday, we'd note that this week our reports may not be as helpful as usual in forming effective game-plans for the weekend's fishing.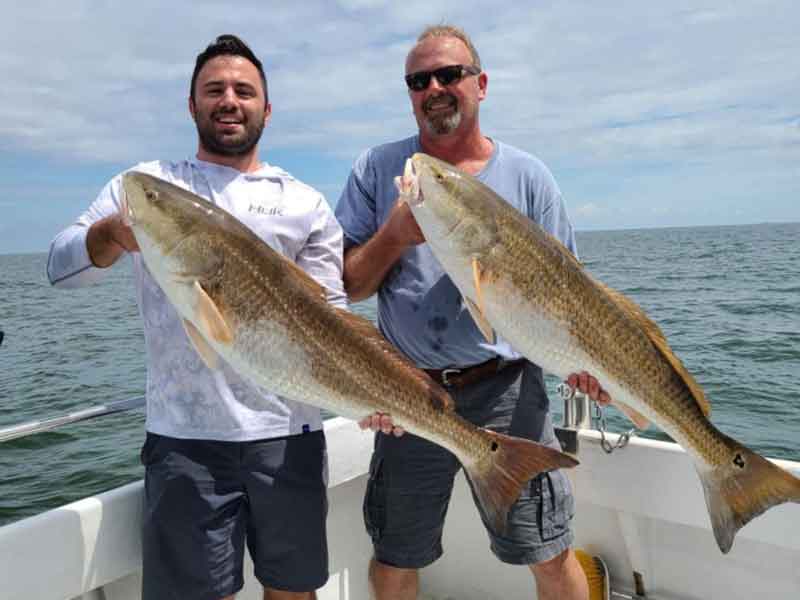 The most exciting news this week: the Spanish Mackerel bite has begun to come on strong. The Tackle Box reports that after a stellar Saturday around 72A, they've moved to the Target Ships, and reader reports also came in from Windmill Point of spectacular catches including one breaking the two-dozen mark. Trollers moving at a quick pace with planers or inline 12-ounce weights and Drone, Clarke, or Hard Head Custom spoons are slamming them. We're hoping that the influx of fresh water brought by Isaias and the following thunderstorms hasn't turned those fish around.
Flounder have swooped into several areas as a remedy for the ailing cobia bite, which has been a lot tougher recently as they spawn. We heard of a few cobia trolled up on hoses at the Targets, but just a few - and a handful of big reds, when spoons were in the spread. The flounder, meanwhile, are loving soft plastics bounced off the bottoms and drifted live bull minnow. A reader mentioned that (along with some small stripers and specks) they landed several keeper flounder in the mouth of the Potomac, another reported decent flounder fishing near the Cell, and one said it was also good on the Eastern side ledges and drops in the same vicinity. (However all these reports were pre-storm).
The bottom fishing is absolutely off the hook right now, with spot and (mostly undersized but a few keepers) croaker absolutely everywhere in the rivers and creeks. They're accessible to anyone with a rod who can find a shoreline, dock, pier, or boat to fish from. The Tackle Box reports that Bloodworm and FishBites are the preferred bait, but that they'll take squid bits or nightcrawler in a pinch. Additionally, they mentioned that boats hitting the oyster bars in the Potomac and Rappahannock are getting them big-time. White perch are also providing fun for lure casters using tiny spinnerbaits like Beetle Spins and Perch Pounders in the shallows, but even more fun are the small puppy drum that are also hitting these lures in increasing numbers. They aren't slot-sized, but they certainly make for a great fight.
Speaking of the shallows, lure casters targeting speckled trout have been tossing pink, chartreuse, white, or pearl sparkly twister tail and paddle tail soft plastics. While casting the shallows for specks we note that you'll likely encounter some stripers as well. Please keep in mind that the Potomac River is closed to stripers until August 21, Maryland waters are closed for stripers from August 16 to the 31, and Virginia waters are closed until October 4. If you catch a rockfish, handle it with care and try to unhook the fish in the water to reduce stress on them.